Answer: No, Nutella is not vegan.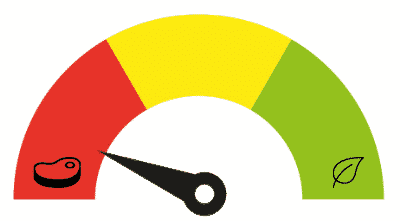 Wondering if Nutella is vegan? We're sorry to break your heart, but this famous hazelnut spread is not vegan as it contains skim milk powder.
More on Nutella
Nutritional Value of 100 g of Nutella
| | |
| --- | --- |
| Calories | 533 kcal |
| Total Fat | 30.9 g |
| Total Carbs | 57.5 g |
| Protein | 6.3 g |
Not many varieties of butter can offer the rich, creamy texture and flavor of Nutella. This hazelnut spread has forever been a popular choice for many types of toppings, fillings, and spreads.
The original version of Nutella contains roasted hazelnuts, cocoa, and skim milk. It has a chocolatey taste with a slightly roasted nut flavor.
Although Nutella seems like a perfect kitchen ingredient for many food items, the sad news is that it is not vegan.
It is especially disheartening if you have grown up with Nutella's taste in your meals without knowing it is non-vegan. Let us check out the ingredient that makes Nutella incompatible with vegans.
What Makes Nutella Non-Vegan
According to its official website, the famous hazelnut spread Nutella contains only seven ingredients:
Hazelnuts
Palm oil
Sugar
Skim milk powder
Cocoa
Lecithin
Vanillin
Lecithin works as a blender for other ingredients to create consistency. It might seem like a problematic ingredient as most are egg-based. But in Nutella, it follows another ingredient that is soybeans. Since soybeans are plant products, you can cross out this ingredient from the non-vegan list.
The main problem here is skim milk powder. It is not vegan as it is an animal by-product. It comes from the milk of cows after undergoing heating and drying to produce a powder form.
Alternatives
While it is saddening to give up on your favorite spread, it doesn't mean that you can never have Nutella again. Several alternative kinds of butter can replace Nutella for a healthier lifestyle.
The best advice would be plain nut butter. Plain but butter are not only delicious, but they also offer several health benefits. This makes them an excellent choice for toppings and spreads.
Instead of milk, most plain nut butters make an excellent replacement minus added oil and sugar. It also provides a good amount of healthy fats and protein.
Types Of Plain Nut Butter
Peanut And Almond Butters
These vegan kinds of butter are high in protein and offer 7 g of protein in 2 tablespoons.
This butter is another healthy vegan option. It provides 5 g of protein in 2 tablespoons.
You can make your own vegan Nutella spread with these plain but butter for all you know if you have the time and interest for it. But if not, don't worry. There are several vegan alternatives to Nutella that are just waiting for you to buy. We will cover that later on.
Homemade Hazelnut Spread
If you want to make your vegan hazelnut spread at home, you can't go wrong with this recipe.
List of Ingredients
Hazelnuts
Dark chocolate
Maple syrup
Hazelnut milk
Vanilla extract
Salt to taste
Coconut oil
Roast the hazelnuts in an oven. After that, grind them into a thick and creamy paste with a food processor. Make sure you wait until the paste gives off a creamy and consistent texture.
Now add the other ingredients to the blender and blend it again. When you finish blending, you will be looking down at your very own healthy vegan Nutella spread.
Vegan Alternatives for Nutella
Here are the top vegan alternatives for Nutella you can directly purchase.
Justin's Chocolate Hazelnut and Almond Butter
This spread contains a combination of hazelnuts and almonds and a string of vegan ingredients. It includes cocoa powder and butter, powdered sugar, palm oil, and sea salt.
Justin's Chocolate Hazelnut and Almond Butter is vegan and offer a taste close to the real Nutella.
Peanut Butter & Co Dark Chocolately Hazelnut Spread
With all vegan ingredients, the Peanut Butter & Co Dark Chocolately Hazelnut Spread is a spread you should try.
Don't worry about the lecithin in the product. It comes from organic sunflowers, so you don't have to worry about violating your vegan lifestyle.
Artisana Organics Hazelnut Cacao Spread
Another delightful organic hazelnut spread, Artisana Organics Hazelnut Cacao Spread, is rich in antioxidants. It contains a collection of vegan ingredients, including hazelnuts, cacao powder, coconut MCT oil, coconut sugar, and vanilla.