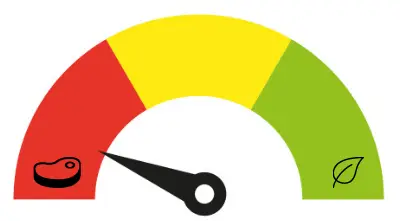 Cereals have long been a breakfast staple on tables around the globe but are much more popular in North America. Fun fact, cereals were invented in New York by James Caleb Jackson in 1863. He was a vegetarian, and the first cereals were made from crushed graham flour dough and soaked in milk overnight.
If you haven't seen our graham crackers post yet, you can check it out here.
The first name given to this dry breakfast cereal was granula but later changed to granola by John Harvey Kellogg, elder brother to Will Keith Kellogg, the namesake of the brand Kellogg's multinational food manufacturing company.
Are Mini Wheats Vegan?
Unfortunately, Kellogg's Frosted Mini Wheats aren't vegan as the product contains gelatin and collagen notoriously derived from animal skin, cartilage, flesh, and bones. Gelatin is actively used in Mini Wheats for its nutrients, texture, and flavor-enhancing properties.
Gelatin is an uncommon ingredient in most cereal mixes, but in Kellogg's Mini-Wheats, it's included in the frosting; yikes! According to the US Kellogg's website, they honestly proclaim that the gelatin used in this specific product is from beef, not pork. Poor cows!
Due to this, Mini-Wheats aren't vegetarian either.
Vitamin D3 is the most common food additive in mainstream breakfast cereals that vegans should avoid. It's usually derived from lanolin, a waxy substance obtained from wool. This is why most, if not all, cereal boxes would indicate vitamin D in their ingredients, even when there's 0 mg of it in the product.
Vitamin D3 is an essential nutrient that helps the body improve the absorption of calcium and phosphorous, vital minerals for building and maintaining strong bones. Our bodies naturally produce this vitamin via sunlight exposure, but supplements from special algae are being developed as "vegan vitamin D3."
Whey protein, casein/caseinate, and honey are other ingredients to watch out for when picking up a cereal box or any other snack product. They're derived from animals, even when a brand refuses to claim them.
Mini Wheats Ingredients
The full ingredients in Kellogg's Frosted Mini Wheats are as follows: whole grain wheat, sugar, less than 2% of brown rice syrup, gelatin, BHT for freshness, vitamins and minerals: reduced iron, and folic acid or vitamin B9.
The available nutritional values of one serving (25 mini biscuits or 60 g) of Frosted Mini Wheats consist of the following:
210 calories
1.5 g fat (1 g polyunsaturated fat)
10 mg sodium
51 g carbs (12 g total and added sugars, 6 g dietary fiber, 5 g insoluble fiber, less than 1 g soluble fiber)
5 g protein
18 mg iron which is 100% of the average person's recommended daily intake
160 mg potassium
400 mcg folate/vitamin B9, which is 100% of the average person's recommended daily intake
10% each of the average person's RDI of thiamine, niacin, phosphorus, magnesium, and zinc
These values typically comprise other breakfast cereals and will change depending on the type of milk (almond, soy, oat) you would add-in. Cereal snacks are usually high in calories with low protein and fat content, but they can also make up for 100% of your RDI of iron and folate, essential minerals.
Kellogg's Frosted Mini Wheats isn't an option, but there are a lot of other vegan cereals out there that would cater to your breakfast and dietary needs. Giving you the good food and boost you need for the first light of day.
Interestingly, Kellogg's also manufactures a vegan-friendly version of Mini Wheats. The Unfrosted Mini Wheats Bite-Sized variant doesn't contain gelatin or other animal products, but it's currently out of stock, so it's hard to find.
If you're from the United Kingdom, W.K. Kellogg's No Added Sugar Granola is vegan, vegetable-based, and the latest addition to their vegan breakfast collection. The VegNews sums it up in this article.
Even more power to vegans in the United Kingdom is Nestle's shelf full of vegan-friendly cereal options, including:
If you're from the United States or any other part of the world, you might want to keep reading.
Vegan Breakfast Cereals
Whether you like eating cereals as bite-sized snacks or with plant-based milk, in the morning or at night, whole-grain or gluten-free, we've got the right stuff for you. What's better is that we present to you only the best and tastiest vegan varieties that we've thoroughly checked so that next time, you don't have to think twice and read the labels for a few minutes to get your groceries done.
Preferably, you'd want to go for a breakfast cereal that is non-GMO or contains naturally-produced ingredients such as organic cane sugar, organic whole-grain wheat flour, or organic vegetable oil preservatives. Although they'd come slightly more expensive than the usual picks, they're worth the price and are also vegan.
Next, you should go for those that contain natural sugars, fewer added sugars, no less than 2 g fiber per serving (6 g is preferable) for optimum gut health, a good amount of plant-based proteins for added nutrition, and finally, yummy flavor and crunch.
Barbara's Cereals
Barbara's Organic Cereals And Snacks are committed to non-GMO whole grain products and are always happy to serve you their tasty treats with only the best and healthiest ingredients for the good of you and your family.
More than a handful of cereal options under Barbara's would deserve a place on your shelf.
Puffins Original
Puffins Peanut Butter
Puffins Cinnamon
Puffins Multigrain
Puffins Peanut Butter & Chocolate
Morning Oat Crunch Original
Multigrain Spoonfuls
Shredded Wheat – 100% wheat only and 0 g sugar
Organic Crunchy Cinnamon Raisin Bran
Organic Original Honest O's
Organic Corn Flakes
Organic Brown Rice Crispies
What's best about Barbara's Cereals is that they're made with natural, whole grains that are USDA organic and non-GMO certified. Their cereals are low in sugar and contain no artificial sweeteners, preservatives, and other additives.
Most of their products are also infused with tocopherols, antioxidants known as vitamin E, and sustainably sourced from high-quality vegetable oils. Vitamin E is then used as a natural preservative for food products. While most of their products contain vitamin C, none contain vitamin D.
They specify the sugar they use as cane sugar, which may also be organic, and according to the U.S. Department of Agriculture, organic cane sugar cannot be filtered through bone char.
Nature's Path
If you want cereals that have added plant-based, healthy fats, are a bit sweeter, and are great for kids, then Nature's Path vegan cereals might be for you. 43 out of their 58 cereal boxes are vegan. They also have gluten-free options for people with celiac disease.
They use organic ingredients and endear endangered animals by partnering with animal protection and environment-friendly organizations. This is clearly stated in their EnviroKidz line, in which buying one box would help fund the preservation of endangered animals and their habitats.
Their Flax Plus line contains added flaxseeds to supplement ALA omega-3 fatty acids, which are great for reducing inflammation and improving heart health.
Their Sunrise line mixes gluten-free, ancient grains such as buckwheat, quinoa, and amaranth.
They also have Mesa Sunrise, which puts Flax Plus and Sunrise into a new line that features non-GMO cornflakes.
Other products worth noting are the Optimum Power Blueberry Cinnamon Flax which is packed with 9 g of protein per cup, SmartBran Cereal which contains 13 g of fiber for digestive health; Qi'a (chia, buckwheat, and hemp cereal); and Love Crunch.
Kashi
Kashi Cereals are sold worldwide and packed with plant-based nutrients and the company's passion for creating good food for good health and people.
Kashi has four main cereal lines, Protein, Fruit and Cereal Flakes, Whole Wheat, and Family Favorites. Most of them are vegan and contain rich, plant-based ingredients that aren't found in other vegan brands.
The brand also promotes non-GMO products and ingredients with natural preservatives and organic sweeteners.
Protein Cereals / Kashi Go
Dark Cocoa
Cinnamon Vanilla
Toasted Berry Crisp
Chocolate Crunch
Peanut Butter Crunch
Cinnamon Crisp
Coconut Almond Crunch
Every box of Kashi Go breakfast cereals contains no less than 9 g of protein and 6 g of fiber, and they achieve this by using blended grains and plant-based proteins such as soy, lentils, peas, and chickpeas. They also use guar, acacia, or tapioca starch gum bases.
Fruit And Cereal Flakes
Organic Blueberry Clusters
Organic Strawberry Fields
Whole Wheat Cereals
Autumn Wheat
Berry Fruitful
Island Vanilla
Cinnamon Harvest
Simply Raisin Whole Wheat Biscuit – uses vegetable glycerin
Family Favorites
Kashi's cereals are great if you like snacking on bite-sized crunchies without milk, especially if you prefer diversified breakfast cereals that contain a plethora of healthy plant proteins, whole-grain nutrients, fruity bits, and powerful flavors.
Conclusion
Despite the popular Frosted Mini Wheats being non-vegan, there's no need to fret for us vegans who have more than enough options to choose from. Barbara's, Nature's Path, and Kashi are only three of the dozens of other vegan-friendly cereal brands out there, and they each have unique flavors and innovations, so it's very tempting to try them all!
Whatever your diet, hobbies, lifestyle, and tastes are, there's a vegan cereal out there for you that you can enjoy with your choice of vegan milk and other yummy toppings.
Breakfast cereals are quick and easy meals you can have any time of the day, and they may be loaded with carbs. Still, those carbs are essentially what you'll need for energy throughout the day. They also contain many essential minerals and vitamins, such as iron, fiber, and vitamin C.
Other cereals are packed with protein for muscle building and are perfect for those who like spending their time in the gym. Always eat what you enjoy, and enjoy what you eat!