Answer: Yes. Palm oil is vegan and extracted from palm fruit. It is a plant-based vegetable in its raw form.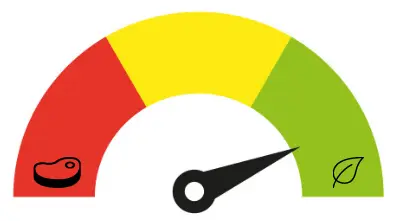 Is Palm Oil Vegan?
I'm getting ready to fry my homemade cauliflower nuggets and reach out for the oil to heat in the pan. Then I wonder, my food is 100% plant-based but is the palm oil vegan as well?
Palm oil is a plant-based product extracted from the mesocarp or pulp of palm fruit. Vegan acceptability is mixed because of issues on the land used for palm tree plantations.
Knowing the origins of my cooking oil is plant-based assures me that I can eat and enjoy the dish I made. I choose not to get into the politics behind it, as I know the oil I bought has a sustainable label on my palm oil.
What Is Palm Oil?
Palm oil comes from the palm tree fruit. It is a widely produced oil and is distributed all over the world. There are two kinds of oil extracted from palm trees. Palm oil is taken from the fruit pulp, while the kernel palm oil is from the seed.
Palm oil is semi-solid at room temperature and processed into liquid cooking oil. It is an ingredient for vegetable oil, shortening, and margarine. It is resistant to oxidation, so your products last longer and can handle high-temperature heat when you fry your food.
How Is Palm Oil Made?
The process of making palm oil is pressing the mesocarp or reddish-orange pulp peeled out from the fruit. A reddish liquid color is extracted and processed by separating the palm stearin or solid and olein or liquid. It is then melted to take out impurities. The last step is filtration and bleaching to remove the odor and color.
Palm Oil Derivatives
You can spot palm oil and its derivatives in many products. When you read the ingredients, you will see other names used aside from palm kernel, palm fruit oil, and palm kernel oil. Names listed can be seen on different labels or indicated in the ingredients.
Elaeis Guineensis
Vegetable fat
Glyceryl
Stearate
Stearic acid
Palmitic acid
Palm stearin
Palm olein
Palmitate
Palmate
Red Palm Oil
Red palm oil comes from the palm fruit's seed and flesh. The refining process removes fewer nutrients than bleached palm oil.
Vegan Foods That Contain Palm Oil
Palm oil is present in sweet treats such as pastries, ice cream, and chocolate. It is mixed in the chips that you like to munch. Bread and biscuits, vegan cheese, and margarine have palm oil mixed into the ingredients.
Many vegan foods have palm oil listed in their ingredients. Here are some popular vegan foods that contain palm oil. You will likely encounter others, but these are some popular brands with palm oil ingredients.
Earth Balance Vegan Butter
Palm fruit oil is from sustainable sources in Malaysia.
Justin's Nut Butter
The palm fruit oil is from a sustainable farm in Brazil. It minimizes oil separation in its products.
MaraNathan No-Stir Organic Nut Butters
Organic Nut Butters uses organic palm oil to prevent oil separation in its ingredients. It does not list its palm oil sourcing.
Tofutti Vegan Ice Cream
Tofutti's ice cream flavors Vanilla, Vanilla Fudge, Vanilla Almond Bark, Chocolate, Wild Berry Supreme, and Better Pecan contain palm oils.
CLIF Builder's Bars
The USDA-certified organic palm kernel oil is mixed in CLIF Builder's Bars.
Against The Grain Cookies
This cookie brand used Roundtable on Sustainable Palm Oil and Rainforest Alliance-certified palm oil.
Liz Lovely Cookies
This vegan cookie uses palm oil from Spectrum ingredients that use land used for crops and has no trace of an animal inhabitant.
Glow Gluten-Free Cookies
This cookie brand uses organic palm oil but is not listed where the palm oil source originates.
Caveat Issue With Palm Tree Plantations
Palm oil comes from plantations in Africa, Asia, Malaysia, Indonesia, and some parts of America. Large tracts of land 10 degrees from both sides of the equator can grow this tree for palm tree plantations. This is the same land that was the home and ecosystem of different animals, even endangered species.
Vegans have divided opinions on whether to use this oil in their cooking or not. The motto of veganism is to live a life that will avoid any form of cruelty or exploitation of animals. By disturbing the natural ecosystem, the animals have fled and found another area to survive.
The palm oil used for biodiesel production contributes to greener energy. But the poorly regulated toxic use of fertilizers and chemicals contaminates the crops, soil, and groundwater. The untreated palm oil is spilled into the rivers and terrains, making it a hazard to the environment.
Vegans are pushing for sustainable palm oil production. The producers are accountable to the consumers. They take responsibility for the environment and for caring for the animals inhabiting the land. They assure vegans of their commitment by having their brand certified as RSPO or undergoing the Roundtable on Sustainable Palm Oil.
Is Palm Oil Healthy?
Palm oil, measured in a one-tablespoon serving, contains 120 calories and 14 grams of fat. It is considered a tropical oil and has 50% saturated fat. It has a good fatty acid composition compared to kernel palm oil and coconut oil and has 85% saturated fat. Palm oil is much better than high-trans fat shortenings and butter.
Palm oil became the favored alternative to trans-fat oils. It is less saturated than butter and has zero trans fat.
Benefits
When you use palm oil, is a good source of vitamin E and is rich in antioxidants. It boosts your immunity and contains beta-carotene. It aids in treating vitamin A deficiency and reduces age-related macular degeneration.
Drawbacks
One tablespoon of palm oil will give 55% of the recommended value of saturated fat. Palm oil boosts bad LDL cholesterol and triglycerides more than liquid vegetable oils. It reduces the good HDL cholesterol, which is not healthy like olive oil.
Vegan Palm Oil Brands
There are a few brands that you can buy on Amazon or your local grocer. These brands have the RSPO or the sustainable label on their products, therefore acceptable to vegans.
Omni Red Palm Oil
Praise Red Palm Oil
Folebe Oil 100% Pure Natural Red Palm Oil
High Oleic Healthy Supreme Palm Oil
Botanical Beauty Organic Red Palm Fruit Oil
Essential Depot Palm Oil
Other Vegan Oil Alternatives
You can choose from different plant-based oils if you are still hesitant about using palm oil because of its controversial issues.
Olive Oil
Olive oil is extracted from the seeds of olives that come from the olive tree. It has 14% saturated fat. 73% is oleic acid, monosaturated fat, and 11% is polyunsaturated with omega-6 and omega-3 fatty acids.
Soybean Oil
Soybean oil is extracted from the seeds of soybeans. It is a highly refined oil with polyunsaturated fatty acids and is rich in omega-6 fats. It is also rich in vitamin K, which helps strengthen the bones and reduce fractures.
Coconut Oil
Called a superfood, the fatty acids of coconut oil have a positive effect in raising good HDL cholesterol in the heart, boosting brain function for Alzheimer's disease, and reducing appetite while burning fat.
Corn Oil
Corn goes through a highly refined process that is complex to produce corn oil. It has 122 calories, 14 grams of fat, and 13% of vitamin E.
Sesame Oil
Called the queen of oilseeds, sesame oil comes from pressed sesame seeds. It has medicinal, culinary, and cosmetic benefits. It is high in antioxidants and anti-inflammatory.
Sunflower Oil
Called a healthy oil, sunflower oil is extracted from sunflower seeds with unsaturated fats with high linoleic or omega-6 or oleic acid or omega-9 for cell and tissue strength.
Grapeseed Oil
Grapeseed is extracted from the seeds of grapes. It has 10% saturated fat, 16% monosaturated fat, and 70% polyunsaturated fat. It also has some vitamin E components in the oil.
Peanut Oil
Known as groundnut oil or Arachis oil, it is taken from the peanut plant flowers. It is put together in the category of walnuts and almonds but belongs to the pea and bean family. Peanut oil has 119 calories and 14 grams of fat.
Pumpkin Seed Oil
Pumpkin seed oil is cold-pressed from pumpkin seeds for culinary and cosmetic purposes. It can heal wounds faster and has a high level of antioxidants to help fight disease. It has 120 calories and 14 grams of fat.
Canola Oil
Canola oil is extracted from rapeseed which is a flowering plant. It is a highly processed oil that contains monounsaturated and polyunsaturated fats.
Endnotes
Palm oil, in its raw form, is vegan without question. But it is surrounded by the controversial issue of land use. The area where the plantations are is affecting the natural environment of animals. A good compromise is a Roundtable on Sustainable Palm Oil wherein the palm oil producers are held accountable for their produce and care for the animals.