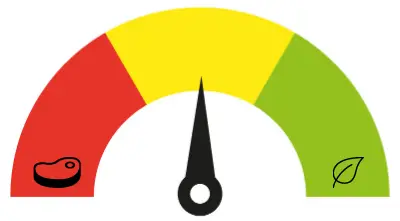 Wilton food coloring is a cheap, chemical-based brand of edible pigments that are very easy and frugal to use. The basic set comes in 8 colors: lemon yellow, orange, pink, Christmas red, brown, leaf green, sky blue, and violet. While the original price of this set is around $11.49 on Amazon, it's on sale for a dollar per color.
Wilton Brands also sells a set with 12 colors for $11.20 (on sale) on Amazon. Wilton food dyes are gel types, and since they're more concentrated than the standard liquid types, you'd be using much less of these for your sweets and desserts.
Please note that we're not affiliated with any of the product links we provide, so we don't get any commissions dependent on your purchases. So rest assured, it's all truth and honesty here!
Wilton food coloring is vegan, at least, according to Wilton Brands. However, their colors contain glycerin derived from animals, plants, and petroleum. Wilton Brands produce cheap and vibrant food coloring, so opting for their products is up to personal preference.
Wilton food coloring is also easy to find almost everywhere; whether you're in the states or other countries, Wilton food coloring is available almost worldwide. You can also easily order from their website (which is under maintenance until early June) or Amazon.
This article will discuss the numerous ingredients used in Wilton's food coloring and how to use their colors effectively. We'll include the details about their gel-type food coloring and their latest Color Right food coloring set.
About Wilton Brands
Wilton is one of the world's leading brands of bakeware and dessert decorations and has been a reliable friend to home bakers since 1929. Wilton Brands is owned by Dr. August Oetker KG, a German-based, multinational company that largely produces world-renowned baking products: baking powder, cake mixes, frozen pizza, pudding, cake decoration, cornflakes, party candles, etc. and holds 125 years of remarkable customer service and quality production.
Wilton aims to bring the love of baking and decorating to everyone, and their interactive and creative products are ideal for families. Not only are their products interactive, but Wilton company itself poses a unique business model that combines education, marketing, and social networking to boost the sales of their products while giving their customers the utmost knowledge and satisfaction from their various activities.
The Wilton School of Cake Decorating and Confectionery Art in Darien, Illinois, has taught more than 1,400 students a year across the United States and 88 other countries for the past 85 years. Now that's a lot of history!
Wilton Brands also aims to create products that inspire people to be creative, independent, and economical. The brand mainly sells cake wares, tools, and decorations to encourage people into fulfilling DIY projects; they barely sell any premade pastries or confectionaries. Also, their products are economical as they catch fair and affordable prices in the market, especially their food coloring.
Wilton Icing Colors
Wilton's food coloring is most effective for dyeing icing on cakes or perhaps merengue. Their food colors have uniform ingredients, with only a few variations per color. All of Wilton's icing colors are gel-based, but they won't affect the consistency of your mixes.
Lastly, the products are made in the United States and are Kosher, but they're also produced in factories that process milk, soy, wheat, peanuts, tree nuts, fish, and shellfish products. So, be mindful of your allergies.
If 0.000001% of milk in a product bothers you, you don't have to guilt-trip yourself into buying it. Levels of veganism depend on one's personal preference, and there's no exact standard that defines all. Such as 0.00000001% of milk or eggs is bad or acceptable.
However, PETA does warn us to neither be oblivious nor obnoxious of such trace presences in the products we buy and eat, especially if they're coming from manufacturers that aren't 100% sworn vegan-friendly.
Such warnings include not to be too demanding of products or restaurant food to contain 0% of animal-based ingredients, not to be too dogmatic that people process their products or food on separate equipment, and not to discourage your friends and neighbors from becoming good vegans by being overreacting or imposing over such minuscule matters.
There's a fine line between logic and idiocracy. So encourage your friends to become vegans themselves by being more compassionate, patient, and understanding. Converting more people to the great vegan lifestyle helps animals more than complaining about the tiniest bit of honey in our food or cosmetics. No one likes an obnoxious religion, you know what I mean?
Anyway, enough with the sermon, and let's go back to the product review.
The ingredients of Wilton's gel-based icing colors are:
Water
High Fructose Corn Syrup (HFCS)
Corn Syrup
Glycerin
Sugar
Sorbitol
FD&C Yellow 6
Food Starch Modified (Corn)
FD&C Yellow 5
FD&C Red 3
FD&C Blue 1
FD&C Red 40
Carrageenan
Agar-Agar/Agar Gum
Sodium Benzoate (preservative)
Potassium Sorbate (preservative)
Salt
Citric Acid
FD&C Blue 2
Gums
Carrageenan and agar-agar gums are plant-based substitutes for the notorious, animal-based gelatin, and they're responsible for the jelly consistency of the gel-type colors.
Sweeteners
HFCS, corn syrup, glycerin, sugar, and sorbitol are active sweeteners and thickeners added to confectioneries and cake decorations. Despite Wilton icing colors having all these, a pinch application may not readily affect the sweetness or flavor of your product.
Watch out for HFCS, though. According to Healthline, HFCS is the worst type of sweetener for anyone as it causes unhealthy weight gain, increased inflammations, insulin resistance, high blood pressure, and risk of type 2 diabetes.
Sorbitol is a sugar alcohol naturally occurring in fruits, berries, and vegetables. Sorbitol is 60% sweeter than sugar at only 60% of calories. It's commonly added as a less-calorie sweetener in confectioneries, especially in soft candies and jellies, and in trace amounts only since 20 g per day is reported to cause bloating and diarrhea. Even 10 g a day may already cause gastrointestinal discomfort. Is it a healthy ingredient? Not really.
Glycerin
Glycerin is the only controversial ingredient here by vegan standards because it can be derived from animal fats. Historically, glycerin was first found in animal fats and fossils, but today, most products use vegetable glycerin derived from vegetable oils such as sunflower, rapeseed, and even palm.
Glycerin can also be petroleum-based and was named from the Greek word glukus, meaning sweet, such as in glucose today.
Petroleum
Petroleum, by definition, is crude oil obtained from dead microorganisms buried under layers of rock since forgone ages. In a sense, petroleum is vegan since no animals are harmed or exploited in processing it, but it's not exactly "environment-friendly."
Petroleum spills are perhaps one of the most hazardous man-made disasters in aquatic habitats, endangering centuries-old coral reefs and dependent species. Other than that, the production or refinement of crude oil is already harmful to the Earth's atmosphere due to greenhouse gases, and the emissions only continue as petroleum is used for fuel.
Petroleum-Based Colors
As we've already laid out the background of petroleum, did you know that if you observe petroleum under light from different angles, they produce a rainbow or streams of various colors?
This is why most artificial or synthetic food coloring is made from petroleum today. Synthetic colors are cheaper and last longer than their natural counterparts, which is why they're more commonly used today. Most of them also are FDA-approved for food consumption. If you'd like to know how food coloring is derived from petroleum, visit this educational site later on.
FD&C Yellow 6 – Sunset yellow. An orange-azo dye derived from petroleum.
FD&C Yellow 5 – Tartarzine. An azo dye from petroleum. Maybe allergenic and carcinogenic, according to VeryWellHealth.
FD&C Red 3 – Erythrosine. A pink organoiodine compound derivative of fluorone, not fluorine. It's synthetic and chemical-based.
FD&C Red 40 – Allura. A red-azo dye derived from petroleum, also known as E129. Not to be confused with red 4, carmine, or crimson, derived from cochineal beetles.
FD&C Blue 1 – Brilliant blue. Comes from the vibrant hue of coal tar or an oil base. Food grade but poorly absorbed by the body, and traces are present in feces.
FD&C Blue 2 – Indigotine. The synthetic version of plant-based indigo. Blue colors are naturally obtained from minerals and plants. They are seldom, almost never, derived from animals or insects.
Wilton Food Coloring Versions
Wilton food coloring will not alter the consistency of your fondant, frosting, icing, or cake mix. May add a bit more sweetness to the final product, depending on how much you would use. A toothpick worth is enough for a bowl of cake mix.
Icing Colors 8 Set
Includes: Leaf Green, Lemon Yellow, Christmas Red, Sky Blue, Brown, Orange, Pink, and Violet
Contains eight 0.5 oz. (28.3 g) jars
Certified Kosher; made on equipment that also processes milk, soy, wheat, peanuts, tree nuts, fish, and shellfish
Made in the USA
$8.00 sale on Amazon
Icing Colors 12 set
Includes popular colors in 0.5 oz sizes; pink, royal blue, black, golden yellow, lemon yellow, brown
Includes specialty colors in 0.5 oz sizes; kelly green, violet, no-taste red, copper, burgundy, teal
Certified Kosher
Made in the USA
$11.20 sale on Amazon
Color Right Performance Food Coloring 8 Set
Baking supplies come with 8 concentrated liquid food coloring (same as the original 8 colors set) with built-in droppers for accuracy
Food coloring liquid gives vibrant colors and won't change the consistency of batter, icing, or frosting
Wilton food coloring includes a QuickCount chart to find the perfect color combinations
Creates bright colors or pretty pastels in royal icing, cake batter, fondant, frosting, and more
Wilton Color Right Food Coloring is made in the USA
$28.90 on Amazon
Bottom Line
Wilton Brands icing colors are definitely one of the most popular, go-to food coloring in the states due to their affordability and availability. They're the home baker's long-lived and reliable friend, even the vegan or vegetarian home baker.
Still, if glycerin or cross-contaminants are a big no for you, then there are other vegan-friendly food coloring brands to consider. TruColor, Nature's Flavors, and Americolor are a few examples.