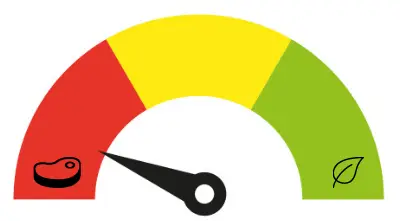 Do you enjoy bagels? Yeah, me too. And I know several brands that are vegan-friendly. Unfortunately, I don't include Lender's Bagels on my list, although many people dig this product.
Some of Lender's Bagels ingredients, including a dough conditioner called L-cysteine, are derived from duck feathers and sometimes from the bristles and hooves of pigs. Also, most monoglycerides are animal-sourced, so most vegans don't consider Lender's Bagels plant-based.
If you're here to find out more about Lender's Bagels, you're on the right page. Let's check about the product and what other alternatives we can have.
What Are Bagels?
Bagels are widely linked to the Jewish community known as Ashkenazi Jews in Poland in the 17th century. They're traditionally shaped by hand like a ring and are boiled first in the water before they're baked. The result is chewy, dense, and doughy on the inside and crunchy or crisp on the outside.
Bagels became widely popular in Poland and North America and are often topped with sesame or poppy seeds. However, bakers have explored different varieties, such as adding sweeteners or different flavors as the demand increases.
Who Is Lender's Bagels?
Lender's Bagels has been in business since 1927. For 90 years, it has delivered different kinds of bagels that have become a staple for breakfast. Lender's shape their bagels to ensure that they're unique in size.
The bagels are boiled in the water and hearth-baked straight in the oven with Lender's original recipe to promote authenticity. Lender's Bagels are known for their crunchy on-the-outside, and chewy on-the-inside texture delivered fresh to local grocers.
To meet the growing demand for authentic bagels, Lender's produces different varieties of their product with several flavors, as you can see below.
Refrigerated Bagels

Blueberry
Cinnamon Raisin Swirl
Egg
French Toast
Onion
Plain
Frozen Bagels

Blueberry
Plain
Onion
Whole Wheat
Egg
Lender's iconic and authentic bagels have won the hearts of many. But bad news for all vegans. These bagels include animal byproducts that all vegans avoid.
Lender's Bagels Ingredients
Let's dig a little deeper into Lender's Bagels' ingredients to make their iconic bagels. I know we're hoping that they can vegan-friendly. But by the looks of it, these bagels are highly possible to include animal-sourced ingredients.
The good thing about Lender's Bagels is that some are kosher and low-fat. However, that doesn't mean they're vegan. Let's take a closer look at their ingredients:
Enriched Wheat Flour. As we discussed in this article, enriched flour doesn't involve any animal products during the process. It usually contains folic acid, vitamin B, and iron. This works great for bagels, cereals, bread, cookies, and more. So, it's safe to say that this ingredient is vegan-friendly.
Water. You know that this is a no-brainer, right?
High Fructose Corn Syrup. Despite its controversial health effects, high fructose corn syrup is 100% vegan-friendly. It's simply a product from a mixture of some special enzymes and corn syrup.
Yeast. This is simply a member of the fungus kingdom and not an animal. Yes, it's vegan-friendly. It's widely used for fermentation and leavening food like bread and beverages such as beer, hard ciders, and more.
Salt. Most types of salt, such as sea salt, table salt, kosher salt, and pink Himalayan salt, are vegan-friendly. We couldn't determine which salt is used for Lender's Bagels, but most salt used for cooking are the ones we mentioned above.
Vital Wheat Gluten. This is packed with protein that's usually used in many vegan dishes. Sometimes, it's also called seitan.
Soybean Oil. This is made solely from soybeans and is safe for vegans.
Calcium Propionate And Sorbic Acid. These preservatives are not sourced from animals and are therefore vegan-friendly.
Mono And Diglycerides. These are among the controversial ingredients that Lender's Bagels have. They are fat types that are often derived from soybean oil and act as emulsifiers. However, some are also sourced from animal byproducts. Thus, most vegans don't consume food that involves mono and diglycerides.
Calcium Sulfate And L-Cysteine. These are dough conditioners. While calcium sulfate, also called gypsum, is vegan-friendly, L-cysteine isn't. It's an amino acid that helps prolong the shelf-life of commercially produced food like bread. What's more is that L-cysteine is sourced from chicken and duck feathers, cow horns, and most of all, human hair, which is commonly used in food. Yikes!
Wheat Gluten Enzyme. Yes, this is plant-based, although this is avoided by many people with celiac disease and gluten sensitivity.
Xanthan Gum. This is a food thickener and an emulsifier commonly used in baking. It's usually produced by plant-based sugar and bacteria fermentation, which meets vegan requirements.
Yellow Corn Meal. What I like about the yellow corn meal is that it's dairy-free, gluten-free, and 100% vegan. It's made of dried corn kernels ground into fine, medium, or coarse textures.
So, in a nutshell, Lender's Bagels can't be considered vegan-friendly because of mono and diglycerides and L-cysteine. What bothers me the most is how L-cysteine is sourced from. Thinking about eating something that is sourced from animal and human hair already sounds gross.
Lender's Bagels Nutrition Facts
For plain Lender's Bagels, each serving, around 81 g, gives 210 calories. Let's do that math. The bagels are really good. And if you're not bothered by L-cysteine, and you choose to eat Lender's Bagels instead, you may need to consider how it affects your calorie count.
Lender's Bagels are quite heavy for a snack, especially when you eat more than three or four bagels. Eating four bagels would give you 840 calories, and that's only for a snack. What about your breakfast, lunch, and dinner?
In general, the FDA recommends limiting your calorie intake to up to 2,000 daily. Eating four Lender's Bagels for a snack is way too much. Yes, it's too much; you may need to burn that the whole month. I'm serious.
The FDA has warned that excessive intake of calories leads to obesity and overweight. Does that sound great to you? I don't think so. And to think that the 210 calories are only for the plain flavor of Lender's Bagels. How much more with the other flavored bagels?
Vegan Bagel Brands
Lender's Bagels have controversial ingredients that most vegans avoid. But there are many vegan bagels that you can get from your local grocers or supermarkets.
These are even PETA-recommended and are worth the budget.
Cobblestone Bread Co.
Rudi's Organic Bakery Bagels
Sara Lee Bagels. All flavors are vegan-friendly except the varieties Soft & Smooth.
Thomas' Bagels. Vegan flavors include Onion, 100% Whole Wheat, Cinnamon Swirl, Blueberry, Cinnamon Raisin, Plain, Everything, and Plain Made With Whole Grain.
Thomas' Bagel Thins. Flavors such as Cinnamon Raisin, Everything, 100% Whole Wheat, and Plain are vegan-friendly.
Thomas' Mini Bagels. Vegan-friendly flavors include Cinnamon Raisin, Blueberry, Plain, 100% Whole Wheat, Brown Sugar Cinnamon, and Plain Made With Whole Grain.
Trader Joe's Bagels. The flavors Plain and Whole Wheat are vegan-friendly.
Western Bagel. All flavors are vegan, excluding Whole Wheat, Egg, and Original Bagelettes Wheat.
Noah's Bagels
What To Eat With Bagels
Bagels go best with cream cheese, peanut butter, and jelly. When you're starting to make vegan bagels part of your diet, you should also determine what goes best. Of course, we're talking about vegan cream cheese and more.
Many vegan options go well with bagels, which are worth trying.
Hummus
Chopped Parsley
Sun-Dried Tomato
Pickle Relish
Peanut Butter
Mashed Banana With Apples
Vegan BLT With Apples
Blackberries
Tofu Cream Cheese
Dark Chocolate
Coconut Butter
Vegan Cream Cheese With Herbs
Cucumber Slices With Vegan Cream Cheese
Pumpkin Seeds
Cranberries
If you're a cream cheese fan, these brands are perfect for you:
Kite Hill. Vegan-friendly flavors include Garden Veggie, Everything, and Plain
Daiya Cream Cheeze Style Spread. Vegan flavors are Chive & Onion, Strawberry, and Plain.
Miyoko's Cultured Organic Vegan Cream Cheese. The flavors Classic Plain, Cinnamon Raisin, Fish-Free Lox, Everything, and Savory Scallion are vegan.
Violife Just Like Cream Cheese. Flavors like Garlic & Herbs, Cheddar, and Original are vegan.
Simple Truth Plant-Based Cream Cheese
Trader Joe's Vegan Cream Cheese
Earth Grown Vegan Cream Cheese Style Spread
The Bottom Line
Lender's Bagels are not vegan-friendly due to their controversial ingredients, such as L-cysteine and mono and diglycerides. These ingredients are animal-sourced and therefore don't meet the vegan requirements.
Luckily, we can still enjoy bagels with cream cheese and other toppings, especially since many vegan brands are available in stores. Even the toppings are easy to find. You just have to check the ingredients involved thoroughly.
Our lists below will guide you throughout your vegan bagel journey for easier options. Everything that we listed above is safe for vegans. So, go start checking them out and thank us later!