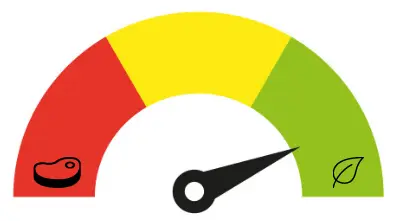 Authentic panko bread crumbs are vegan-friendly. They don't contain eggs, milk, soy, peanuts, tree nuts, or casein, and sometimes, they're also gluten-free.
The original panko bread crumbs are only made with simple and basic ingredients that are not animal-sourced. These are Japanese-style bread crumbs that are widely used as an addition to any vegan cooking such as fried, soup, boiled, sauce, and more. Panko bread crumbs are a staple to Asian cuisine and have made it to Western cooking as well.
If you're exploring the world of cooking, this is high time to check what are the best ingredients you can have. Panko bread crumbs will be your top choice, and we will find out why these are a great addition to your kitchen.
What Are Panko Bread Crumbs?
Panko bread crumbs are Japanese-original flaky bread crumbs that are made with yeast, wheat flour, oil, and salt. Panko is derived from the Japanese words pan meaning bread, and ko meaning flour.
Traditional panko is made with white bread without the crust. But there's another type of panko, which is called tan panko. It's made from the whole loaf of white bread.
There are other bread crumbs that may use additional seasonings and dairy products such as milk, egg, or honey. However, panko is commonly used in many dishes, especially since it doesn't contain any artificial flavorings or seasonings. This means that it doesn't change the taste of the dish nor make it weaker.
You can't find gluten-free panko all the time, but there are a few varieties that are made with rice flour and other flower options.
Vegan-Friendly Panko Bread Crumbs
It's never difficult to find vegan-friendly panko nowadays. There are many food manufacturers that produce plant-based breadcrumbs that don't give you the guilt. Most breadcrumbs brands are naturally made without any involvement of animals.
Also, most of these products are available at your local stores or at the supermarket. Alternatively, you can also order them on Amazon. Make sure to check the ingredients first before adding them to the cart.
Here are our top picks for panko bread crumbs:
Signature Select
Kikkoman
Good & Gather Gluten-Free Panko
Edward & Sons Organic, Non-GMO Panko
Ian's Gluten-Free Panko
Jeff Nathan Creations Plain Panko
Upper Crust Enterprises Japanese-Style Panko
How Healthy Are Vegan Panko Bread Crumbs?
Vegan panko is typically lower in calories, fats, and sodium. This makes panko a great ingredient for vegan or non-vegan cooking, especially in dishes that need breading.
Aesthetically, panko also looks great as toppings or coating due to its bigger particles that add more texture to a dish. Panko also absorbs less oil than regular breadcrumbs, which makes it a great coating for fried dishes. The food's taste also gives a lighter and crunchier mouthfeel.
Compared to regular breadcrumbs that contain roughly 400 calories per 100 g, panko bread crumbs typically give only 100 calories in a 100 g pack. That's way lower than the regular breadcrumbs, and at least not too daunting to burn.
Per the USDA, the average adult should limit their calorie intake to 2,000 per day, but this varies according to size, age, and physical activities. Panko bread crumbs are lower enough in calories that would let you eat whatever breaded dish you may have without worrying about your calories.
Are All Panko Bread Crumbs Vegan?
The majority of panko bread crumbs are vegan-friendly, especially since the original Japanese-style panko doesn't contain animal byproducts. However, there are panko brands that contain dairy products like eggs and milk. Obviously, these are not suitable for vegans.
The list above are our top picks for panko bread crumbs that are all vegan-friendly, and some are even gluten-free. To ensure that you're buying vegan bread crumbs, always check the label to see the ingredients used.
Vegan Substitutes For Panko Bread Crumbs
If you run out of panko, there are other vegan alternatives:
Rolled Oats. You can use a blender, a food processor, or a mortar and pestle to grind these oats. They're rich in fiber and can be useful in your cooking. You can mix it with other vegan seasonings, herbs, and spices.
Cereal or Corn Flakes. Make sure to get the vegan cereal to use as an alternative to breadcrumbs. You can either crush them or leave them as is if you're breading a dish. They give that crispiness that breadcrumbs do.
Potato Chips. More often than not, potato chips are vegan-friendly, but always check the label to ensure that there are no animal-sourced ingredients involved. There are different flavors, but choose the classic one that won't overpower the taste of your dish.
Pretzels. Are you surprised? Yes, pretzels are mostly vegan, and we've covered it too in this article. You can crush them into small pieces as a coating, or grind them for mixture purposes.
Crackers. The good thing about crackers is they're mostly vegan. We recommend Saltines. If you want a sweeter taste, try Ritz crackers.
Nuts. Any kind of nuts should work if you're looking for a crunchy coating.
Seeds. All kinds of seeds that you like work great with any dish that needs coating. Flax seeds, chia, sunflower, sesame seeds, and more are our best bet.
Shredded or Grated Coconut. This is very common in cooking, especially when you want a slightly sweet but milky, nutty taste.
Almond Flour. This is both vegan and gluten-free, which is perfect for those who are gluten-sensitive. It gives a nutty taste with a coarse texture.
Top Vegan Dishes With Panko Bread Crumbs
Have you ever heard about vegan meat? I bet you did. These are the vegan substitute for real meat.
With that being said, we have listed our personal favorite vegan meat dishes with some of the best plant-based foods that are seasoned, topped, or coated with panko bread crumbs. Oh, we know you're drooling. We are too!
Let's see which one is your favorite on the list below. Take note, these are all vegan substitutes.
Chickpea Meatloaf. Some of the ingredients include ketchup, panko, nonstick cooking spray, dried oregano, and more.
Eggplant Parmesan. This includes vegan parmesan, sea salt, dried oregano, eggplant, panko, among others.
Baked Tomatoes: Ingredients include panko, tomatoes, olive oil, and salt.
Veggie Burgers. Okay, this is one of our top picks. It includes chili powder, panko, cooked brown rice, walnuts, coconut sugar, black beans, and more.
Tempeh Meatballs. It includes black pepper, panko, garlic powder, salt, olive oil, marinara sauce, and more.
Potato Balls. This one involves mashed potatoes, panko, and canola oil.
Crispy Onion Rings. Here's a dish that panko works great, and definitely our favorite too! It includes pepper, onion rings, panko, flour, and more.
Sunflower Seed Crusted Tofu. This needs extra firm tofu, garlic clove panko, olive oil, sunflower seeds, among others.
Crispy Filet of Aubergine Sandwich in Sweet Potato Sriracha Sauce. Okay, I'm drooling right now, This is so delish, and a must-try. It includes sweet potato, soya milk, panko, Brussels sprouts, purple cabbage, and more.
Coconut Curry Kale and Chickpea Ball Soup. This needs Asian chili paste, panko, curry powder, lime juice, among others.
How To Make Vegan Breadcrumbs
Of course, we can't deny the fact that we too, can make our own vegan breadcrumbs at home. Why not? If we can't handle the trip to the grocery store just to buy panko, then we should do it at home.
It's really easy to make, and the ingredients you need also come in handy.
What you'll need:
Vegan white bread
Baking sheet
What to do:
Slice the bread into smaller cubes. Leave them overnight to dry out.
Once dry, put them on the baking sheet and toast at 400°F in the oven for at least 15 to 20 minutes.
Remove them from the oven and cool down. Check if they're already firm and crispy.
When crispy enough, put them into a food processor until they crush like breadcrumbs.
Store in a mason jar or any airtight container to keep them fresh.
Takeaway
The authentic panko bread crumbs are vegan-friendly with no other seasonings or flavorings. There are also other panko brands that are suitable for vegans although some panko already contains dairy.
On the plus side, making your own vegan breadcrumbs is very easy and painless. Don't be lazy, okay? Vegan bread is very accessible these days!