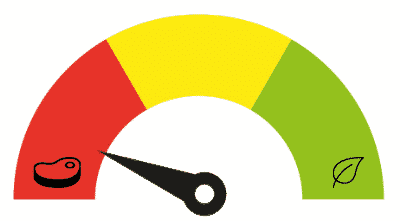 The holidays are here, and so are the plethora of mouthwatering cornmeal delights. Hoecakes, spoon bread, hush puppies, and cornbread are all variant delicacies made from cornmeal, a mix of flour, and other emulsifiers, leaveners, and shorteners. Although these types of bread are popular and perhaps a favorite of yours before switching to a vegan lifestyle, can they be once again redeemed for the sake of your craving appetite?
Generally, cornbread mixes are non-vegan because they contain traditional ingredients such as milk, eggs, and butter, which play vital roles in the proper preparation of cornbread. Through my research, I did find one vegan-friendly brand, and there are also dozens of recipes out there to guide you in making your own "best" vegan cornbread.
After all, who could simply get away from the steaming, fragrant aroma of freshly-baked cornbread and the sound of the slightly crunching texture of the loaf when sliced? Everything about cornbread just seems to call out to you, right?
Non-Vegan Cornbread Ingredients
As I've said, there are non-vegan ingredients in traditional cornbread that are necessary for the preparation, but they are not at all irreplaceable. So to start off, let's first look at what makes most cornbread mixes and traditional ones non-vegan-friendly.
Dairy Gives the Unique, Buttery Mouthfeel
Authentic southern cornbread makes full use of milk or buttermilk because either of these induces the sweet, mellow tangy flavor and the smooth, buttery texture of the bread. Buttermilk also contains fatty acids that aid in the leavening process since yeast is not present in gluten-free cornmeal.
However, these ingredients can easily replace plant-based milk such as oat or almond milk. To aid the leavening, use baking powder (100% vegan) instead of baking soda (baking powder already has an acidic component that activates in liquid), and there'd barely be any difference in the taste and texture.
For the vegan buttermilk, you can use oat milk with apple cider vinegar or white vinegar to curdle the milk and give it a nice, tangy complexion. If you choose vegan buttermilk, baking soda would be as fine as baking powder.
Egg Proteins Bind the Ingredients Together
It's no mystery why eggs are as staple as milk in traditional baking, and this is primarily because of the proteins and fats contained in the egg that act as binders and emulsifiers. The white of the egg mostly contains the necessary proteins that, when whipped, become a blanket that traps air bubbles like CO2 from the acid-base reaction of baking soda and acid or baking powder and water, which then leads to the leavening action of the batter. The egg yolks contain fats and lecithin that act as emulsifiers that bind the wet and dry ingredients together with perfect consistency and uniformity throughout the mix.
Seeing just how important eggs are in baking makes it a little daunting for vegans to figure out an effective substitute, but worry not, my friend; it's not impossible at all.
Corn is already gluten-free, and since it doesn't contain natural yeast nor binding proteins that would make cornbread rise and stay cohesive, we would need a binder and emulsifier that are just as effective as eggs. Apparently, Bob's Red Mill egg replacers and flaxseed eggs are great solutions to your predicament.
Bob's Red Mill egg replacers are made with four simple ingredients: potato starch, tapioca flour, baking soda, and psyllium husk fiber. It's completely gluten-free and comes as a powder that can be mixed with water. This product's emulsifying and thickening properties are just like a real egg but have a few limitations.
Flaxseed eggs are made of one tablespoon of ground flaxseed and three tablespoons of water. This makes one serving equal to one whole egg with fewer calories, cholesterol, and protein but high in soluble fiber and omega-3 acids that are great for heart health, making it a very nutritious substitute for egg.
You should note that flaxseed eggs' emulsifying abilities are quite meager and unfitting for most gluten-free flour, such as cornmeal. So, why do I recommend it? Those can be easily fixed if you use a half-cornmeal, half-wheat flour variety for your cornbread. Flaxseed eggs work best with quick-bread recipes from wheat or oat flour, and the outcome is still very delicious and nutritious. A complete guide to flaxseed eggs can be found in this highly informational article.
Basically, if you want a 100% cornmeal-based cornbread, use Bob's Red Mill eggs, but if you're okay with the half-cornmeal, half-wheat type, then flaxseed eggs would also be a good option.
Butter Makes the Bread Moist and Smooth
Butter can be added in or to most cornbread recipes, and when it's added in, it gives a salty, buttery taste to the bread and adds a bit of moisture to the crumbly structure. It can also be smeared on the surface of the bread and drizzled with maple syrup. Whether you like mixing it in with wet ingredients or slathering it onto baked bread, butter is special for its identifiable flavor and texture.
The good news is that vegan butter is not hard to come by. There are a lot of great substitutes, such as margarine and vegetable oil shortening, and you can also make it yourself. Nut-free, soy-free, dairy-free butter recipes are like Christmas lights in December.
Animal Shortening (Lard) Is Traditionally Used
Animal shortening, or lard, comes from hog fat and creates a distinct taste and structure in the southern-style cornbread recipe, but for vegans, replacing animal lard with vegetable oil like sunflower and canola or otherwise, vegan butter makes animal-free cornbread just as good and heavenly, also healthier. Lard contains high amounts of saturated fat, which aren't healthy as they stick around the body as extra cholesterol.
The widely popular favorite, Jiffy Corn Muffin Mix, does contain animal lard to achieve the authentic taste of the original Southern recipe:
Wheat flour
Degerminated yellow cornmeal
Sugar
Animal shortening
Baking soda
Sodium acid pyrophosphate and monocalcium phosphate
Salt
Wheat starch
Niacin, reduced iron, thiamine mononitrate, riboflavin, folic acid, tricalcium phosphate, citric acid, and tocopherols (Vitamin E)
BHT preservative, BHA preservative, and silicon dioxide
Man, just looking at the ingredients is enough reason for me to always make my cornbread homemade instead or with a vegan version with much fewer preservatives and chemicals.
Vegan Cornbread Brand
I've checked out all the ingredients and allergen info on this particular mix, and I'm happy to assure you that it's vegan-friendly. According to an honest article from All Recipes, Open Nature Gluten-free is the best gluten-free brand in the market because it is very affordable, neutrally sweet, voluminous, non-GMO, fat-free, and doesn't contain too many complicated ingredients.
Yellow cornmeal
Sugar
Rice flour
Potato starch
Baking powder
Tapioca starch
Salt
Xanthan gum
That's all the ingredients in the ready-mix, and although they advise you to use non-vegan ingredients to make the batter, once again, those can be easily replaced with no problem. Flaxseed eggs would be very effective for this product as it already contains most of the basic binding and leavening ingredients of Bob's Red Mill eggs.
However, Open Nature's Gluten-free cornbread mix is quite dry when baked, so I advise you to pour in a generous amount of vegan milk or butter to achieve the smooth, moist, buttery texture you love.
Is Cornbread Healthy?
I'd tell you straight away that Jiffy's cornbread isn't healthy, and a much better option would be to make your own vegan cornbread from highly-rated recipes online or grab a pack of Open Nature's Gluten-Free Cornbread mix and bake it with flaxseed egg, almond buttermilk, and vegan butter.
Though vegan cornbread has fewer calories, carbs, and saturated fats than traditional ones, it also sacrifices protein content. That shouldn't be a problem since cornbread isn't meant to be a protein bar. Cornbread is still bread, and whether you like it sweet or not, with chili or none, it's all up to you because there are so many ways to tweak the original recipe according to your dietary preferences.
Cornbread is relatively high in carbs with can spike blood sugar levels in excess, but since it's mostly paired with savory, low-carb dishes, it makes up for a well-balanced diet. There's no absolute nutrition table with cornbread, especially when you try to make it vegan. You can use flax eggs (2-3 g protein per serving) for lower carbs and calories with a good amount of healthy fatty acids. You can even use applesauce or bananas instead to give the bread a much sweeter flavor and moist texture. You can use organic cane sugar or stevia extract when you're cutting on sugars. You can use almond, soy, oat, and even traces of coconut milk in your custom batter.
The recipes are endless, and the health benefits you can reap from homemade cornbread ultimately depend on you, but remember that too much of anything isn't always good.
Conclusion
So at the end of the day, almost 99% of branded cornbread mixes in our stores are non-vegan because they contain trace amounts of eggs, milk, and butter, but one product that gets into the 1% class is Open Nature Gluten-Free Cornbread mix. However, if you're still wary of the traditionally packed cornbread instant mixes, then feel free to make a recipe of your own or find a recipe online that you like.
You can also make the other variants of cornbread with the same vegan ingredients that I've recommended here, and I can assure you that they will turn out well as long as you pay careful attention to your ingredients and preparations. Jessica in the Kitchen has a pretty interesting recipe for cornbread and a few good tweaks here, and there that would help you fashion your desired version. However you make your cornbread, always remember to eat what you enjoy, and enjoy what you eat.