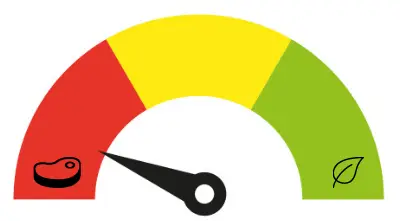 Ghirardelli Brownie Mix contains animal byproducts such as milk, which makes it unsuitable for vegans.
Ah, vegan brownies. I love baking these at home, which is easy… No kidding! Brownies aren't just delicious. They're also the healthier option for snacks.
Ghirardelli Brownie Mix, unfortunately, contains animal-sourced ingredients, including milk and eggs. Apparently, these are not vegan and animal-friendly. There are about nine Ghirardelli Brownie Mixes, and all of them contain animal byproducts.
If you love baking, or if you're just starting, brownies would be the best bet to make at home. In this article, we will learn more about Ghirardelli Brownie Mix and its vegan counterpart to help you with your baking journey.
Ghirardelli, Your Premium Chocolate Company
Born in Rapallo, Italy, in 1817, Domenico Ghirardelli started his chocolate trade works at a very young age, having been hired as an apprentice of a local candymaker. He then traveled to Uruguay, then to Lima, Peru, with his wife to start his confectionery business that involved coffee and chocolates.
His then neighbor, James Lick, moved to San Francisco, California, in 1847 carrying a handful of Ghirardelli Chocolate.
Two years later, in 1849, Ghirardelli moved to California after the news about the Gold Strike, also known as California Gold Rush. From there, he sold confections and supplies to his fellow miners through his tent-based store in Stockton.
The Italian chocolatier opened more stores, but a fire in May 1851 destroyed them. But Ghirardelli was unstoppable and started another business venture. He imported cocoa beans which have continued to grow since.
Apart from selling chocolates, he has also sold coffee and different spices to Mexico, Japan, China, and the United States. He also tried selling alcoholic products alongside his confectioneries.
After his death in January 1894, his sons took over the business and added more signature confectioneries such as the Ghirardelli Ice Cream Sundaes. By 2019, they have introduced more than 15 sundaes packed with their signature hot fudge chocolate sauce.
In 1998, after several acquisition attempts from Golden Grain Macaroni Company, Quaker Oats, and a private investment group, Ghirardelli was acquired by Lindt and Sprüngli, a Swiss confectioner.
Ghirardelli Chocolate Company, with 20 other companies in 2015, were warned by a non-profit organization after discovering that their products contained lead and cadmium. These toxic metals are known to be harmful to humans and the environment. It was later settled in 2018.
Ghirardelli Brownie Mix Is Not Vegan
Alongside several other products of Ghirardelli Chocolate Company, the brand also produces brownie mixes with different flavors. Unfortunately, for us vegans, these are not suitable to use on our brownies.
Let's find out the common ingredients that make Ghirardelli Brownie Mix non-vegan.
Sugar. This can be a controversial ingredient, especially since most sugars used underwent a refining process involving animal bone char.
Enriched Bleached Flour. This also involves enzyme, which is mostly vegan-friendly. However, there are also animal-sourced enzymes such as lecithin, which are not suitable for vegans.
Semi-Sweet Chocolate Chips. Besides sugar, cocoa butter, unsweetened chocolate, soy lecithin, and vanilla extract, this involves whole milk powder. Unfortunately, whole milk powder is an animal byproduct.
Cocoa
Soybean Oil, Palm Oil
Bittersweet Chocolate Chips. This includes cocoa butter, unsweetened chocolate, sugar, soy lecithin, vanilla extract, and milkfat. The latter is obviously an animal byproduct.
Milk Chocolate Chips. This has the same ingredients as the semi-sweet chocolate chips, which also involve whole milk powder, an animal byproduct.
Salt
Artificial Flavor. This can be either vegan or non-vegan. According to the FDA, artificial flavors are not derived from fruits, plants, vegetables, meat, fish, poultry, or dairy products. But except when these are sourced from natural sources like plants, they can be considered vegan-friendly.
Baking Soda
Wheat Starch
Corn Syrup
Preservatives
So, these are the key ingredients of Ghirardelli Brownie Mix with mostly non-vegan ingredients. Therefore these are not great for making vegan brownies.
If you're curious about the brand's brownie mixes, the flavors mostly involve chocolate, but they all include milk, which is an animal byproduct.
Double Chocolate Brownie Mix
Salted Caramel
Caramel Turtle
Walnut Brownie
Dark Chocolate
Ultimate Fudge
Chocolate Supreme
Triple Chocolate
Triple Fudge
Ghirardelli Chocolate Company also produces chocolate bars, cake mixes, cookie mixes, coffee supplies, ground cocoa powder, and more.
Best Vegan Brownie Mixes
When baking at home, it's important to pile up vegan-friendly ingredients to ensure you're getting the best out of it. Luckily, your local grocers or supermarkets now have many options, including vegan brownie mixes.
Now that we've learned that there's no way for us to use Ghirardelli Brownie Mix, I have collected ten of the best vegan brownie mixes that you can buy. The first one on this list is actually my personal favorite mix to pair with Hershey's Chocolate Syrup, which is also vegan-friendly. You can also get it from Amazon.
Miss Jones Organic Fudge Brownie Mix
Partake Foods
Namaste Foods
Snacktivist Foods
Better Batter
Julie's Real Dark Chocolate Brownie Mix
Foodstirs Junk-Free Bakery
Annie's
King Arthur
XO Baking Co
Best Vegan Brownie Brands
Of course, we always have lazy days. Sometimes, when I don't feel like cooking or baking, I look for vegan-friendly brands. And these brands don't disappoint when it comes to brownies.
Look for these brands at Target, Walmart, and more.
Nature's Bakery Brownie Bars
Abe's Choco Fudge Brownies
Ben & Jerry's Brownie Chocolate Ice Cream
Larabar Choco Chip Brownie
Aloha Organic Plant-Based Choco Fudge Brownie
Orgain Organic Chocolate Brownie
Bobo's Oat Bites
Soylent Squared Choco Brownie
Enjoy Life Mint Chocolate Brownie
Lucy's Triple Choco Brownie Crisp
BelliWelli Fudge Brownie
Ghirardelli Brownie Mix Nutrition Facts
Keeping your calorie count is crucial in following a healthy, vegan lifestyle. But whether or not being healthy is the main reason you're going vegan, it's still important to eat healthily.
Calories, for instance, when consumed excessively, can lead to bloating, increased risk of cancer, and other chronic health issues. And, of course, excess fat leads to obesity. Calories are very hard to burn even after a few days of working out.
So, it's important to limit your calorie intake to 2,000 per day, as recommended by the USDA.
If you're curious about what you can get from Ghirardelli Brownie Mixes (of course, we can't have them on our brownies), here's what the label says. There are about 16 servings per container of Ghirardelli Brownie Mix.
Per serving, you'll get the following.
Calories. 190
Total Fat. 3.5 g
Sodium. 125 mg
Total Carbs. 27 g
Fiber. 1 g
Protein. 1 g
Iron. 6%
Vegan Brownies Are Still A Healthier Option
Because we don't get too many calories and sodium from eating vegan brownies, it's safe to say they're the healthier option. Compared to their non-vegan counterpart, vegan brownies have less calorie content.
For instance, about 100 g of vegan brownies usually have 211 calories and 98 mg of sodium, while the non-vegan ones have 466 calories and 340 mg of sodium. See the difference? That's more than half of the calorie and sodium content.
In a nutshell, seeing these numbers are scary. Excessive calories and sodium intake increase the risk of chronic health issues. And we want none of them, for sure.
The Bottom Line
Ghirardelli Brownie Mix isn't vegan-friendly due to its milk content, which is an animal byproduct. Although most of its ingredients are vegan, some of them involve milk, which is definitely not suitable for those who are following a vegan diet.
So the best thing to do is to get one that doesn't contain animal derivatives if you're baking at home. There are many vegan brownie mixes to consider.
Otherwise, there are ready-to-eat brownies that you can buy from your local grocers. You can refer to my list above because those are the best ones you can find in the market.
However, you will need to be mindful of these brands' calories and sodium content. Just because they're vegan doesn't mean they're already healthy for you. Several brands still contain high calories, sodium, and fat, which is no good if you want to keep things healthy.
Always check the labels, and if you want to know more about a controversial ingredient, you can always ask the manufacturer when possible. Many companies are willing to give you the details of their ingredients.
Other manufacturers, though, are a little reluctant to give out the details of their ingredients. If this happens, it's better to just put the brand back on the shelf and look for something else with clear labeling, especially regarding vegan-friendly products.
But here's a good thing. Most certified vegan products will be labeled on their packaging to make it easier for vegans to identify. For some accidentally vegan products, you may have to check thoroughly with the manufacturer if they're willing to help.