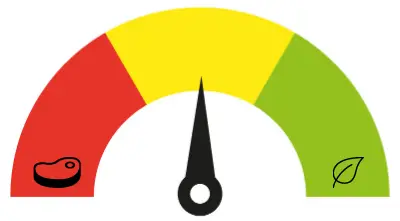 Smartfood has many different popcorn flavors, but most of them are non-vegan except for Sweet & Salty Kettle Corn, and Smart 50 Sea Salt.
Ah, popcorn! Don't we all need this when we find ourselves slouching on our sofa watching Netflix, or at the movie theater? I do! But I need it to be vegan-friendly, of course.
Smartfood Popcorn is famous for its delicious, crispy popcorn, but I hate to break the news to you. It only has two flavors that are vegan-friendly, Sweet & Salty Kettle Corn and Smart 50 Sea Salt. Other flavors involve animal byproducts such as buttermilk and cheese.
So, if you're like me who's always on the lookout for vegan popcorn, and of course, movies, let's find out together about Smartfood Popcorn!
Smartfood, Your Cheesy Popcorn
In 1985, a couple in Hampton, Connecticut, Andrew Martin and Annie Withey with a colleague Ken Meyers started to produce popcorn that's made with real cheese. It was registered under the brand name Smartfood in the same year and started manufacturing in Marlborough, Massachusetts.
Martin said that they wanted to change the negative image of pre-popped popcorn – not fresh and not delicious. Together, they produced ready-to-eat popcorn that stands the test of time. In 1986, Frito-Lay purchased Smartfood, which contributed to the company's continued increase in sales.
Today, Smarfood remains in the limelight and showcases tasty popcorn recipes. Its products are available in-store or online on Walmart, Target, or Amazon.
Smartfood Popcon Vegan Flavors
Luckily, Smartfood isn't just about the cheesy, buttery, milky popcorn. It also has two flavors that are suitable for vegans, and we're living for it.
If you find yourself in your local grocer looking for vegan-friendly popcorn, check these Smartfood vegan flavors.
Smart 50 Sea Salt Popcorn

Popcorn
Sea Salt
Vegetable Oil (Canola, Corn, and/or Sunflower Oil)

Sweet & Salty Kettle Corn. This includes soy and is prepared in equipment that also makes products that contain peanuts and tree nuts. So, if you're allergic to nuts, this isn't an option for you.

Sugar
Popcorn
Canola Oil
Corn Syrup
Salt
Soy Lecithin
Caramel Color
Natural Flavors
Rosemary Extract
Ascorbic Acid
Smartfood Vegan Popcorn Nutrition Facts
You may also have to look out for the calories of these Smartfood Popcorn vegan flavors, but I'm happy to tell you that it has zero trans fat. It's worthy to note that this type of fat lowers your good cholesterol and increases bad cholesterol.
So as long as you consume it in moderation, you're all good. These are also air-popped, which is the healthiest type of popcorn as they're relatively low in calories.
Check this nutrition information about how much you get from a bag of Smartfood Popcorn vegan flavors.
Sweet & Salty Kettle Corn. This is air-popped and has no Artificial Flavors and Preservatives. Each bag has a serving size of 1 1/2 cups or 28 g. It also includes 12 g of Added Sugars in case you need to know and only 8 g of whole grain per serving.

Total Fat. 8% of the Daily Value (DV)
Sodium. 5% of the DV
Total Carbs. 7% of the DV
Protein. 1 g

Smart 50 Sea Salt Popcorn. Each bag has a serving size of 3 3/4 cups or 28 g. It also has no added sugars. This is also air-popped, no Artificial Colors, Flavors, or Preservatives, 100% whole grain, and gluten-free.

Calories. 140
Total Fat. 8% of the Daily Value (DV)
Sodium. 7% of the DV
Total Carbs. 6% of the DV
Protein. 3 g
Iron. 2%
Pro Tip: It's worth noting that the USDA's recommended calorie intake per day is at least 2,000 while sodium intake is 2,300 mg for healthy adults.
Other Smartfood Non-Vegan Flavors
You may also need to know these Smartfood Popcorn non-vegan flavors to ensure you don't accidentally add them to the cart when you go to the grocery. Most of them include cheese, milk, and butter, which makes them non-vegan.
White Cheddar
Flamin' Hot White Cheddar
Caramel & Cheddar Mix
Movie Theater Butter
Smart 50 Sweet & Salty Caramel
Smart 50 White Cheddar
Popcorn Ingredients To Look Out For
Sure, popcorn itself is harmless. Most of the time, it's whole grain and gluten-free except when it includes chemically processed ingredients that can pose dangers to human health when consumed excessively. Additionally, microwave popcorn can be toxic, so you may have to re-consider it next time.
If it's worth your time, check these ingredients that you may have to avoid when eating or making popcorn.
TBHQ (Tertiary Butylhydroquinone). This is a chemical preservative used on microwave popcorn, which is associated with asthma, obesity, ADHD, dermatitis, and more. It's an antioxidant that helps increase the popcorn's shelf life. It's widely used in many food products as it can prevent fats from oxidation.
Diacetyl. This is also a chemical compound that's widely used in microwave popcorn to give its yellow and intense buttery flavor. It's common in caramel or butterscotch flavors as well as in sweeteners. While it gives aroma to your popcorn, excessive inhalation or intake can lead to severe lung damage, fatigue, mouth, nose, eye irritation, and more.
Per- and Polyfluoroalkyl Substances (PFAS). Here's another chemical compound that can be found in microwave popcorn, which contains multiple fluorines. When the body absorbs excessive fluorine, it can harm your kidneys and can cause osteoporosis and teeth decay.
Perfluorooctanoic Acid (PFOA). This is a man-made chemical that's found in microwave popcorn, which is also used in making non-stick materials like Teflon. PFOA is already burnt in the making or during the process. However, according to the American Cancer Society, excessive exposure to this chemical can still increase the risk of prostate, ovarian, testicular, and bladder cancer.
Perfluorooctane Sulfonate (PFOS). Here's another man-made fluorinated hydrocarbon, similar to PFOA, which is used as non-stick, oil-resistant, and stain-resistant coatings. It's also found in microwave popcorn and is now considered a global pollutant. Excessive exposure to PFOS can cause cardiovascular, pulmonary, reproductive, immune problems, among others.
Top Vegan Popcorn Brands
Vegan popcorn isn't hard to find. These days, there are several food manufacturers who are already pushing for vegan-friendly products. Among them are those who produce popcorn.
So, if you're here reading this article, you're in luck. I've sourced out several vegan popcorn brands that you can either order online or grab from shelves at your local supermarkets.
But please take note that there are flavors of these brands that are also non-vegan. A good rule of thumb is to always check the label to ensure that you're adding the vegan flavor to the cart.
Pipcorn
Pop Secret
Pop Zero
Angie's Boom Chicka Pop
Poppy Handcrafted Popcorn
Orville Redenbacher
LesserEvil
Newman's Own
BjornQorn
Skinny Pop
Nature's Nate
365 By WFM
Bohana
Safe + Fair
Cornucopia
Good & Gather
Latejuly
Quinn
Pop Art
Bob's Red Mill
Tiny But Mighty
Popzup Popper
Amish Country
Make Your Own Air-Popped Vegan Popcorn
Of course, air-popped popcorn is the healthiest kind that we all need, especially when we're trying to avoid the harmful chemicals that microwavable popcorn brings. But if you're adventurous enough, you can also make your own vegan popcorn at home.
Assuming that you already have your own air-popper, check out what you need to do below. Otherwise, Presto Poplite Hot Air Popper on Amazon is up for grabs!
Ingredients:
1/2 cup unpopped popcorn kernel
1/4 tsp. onion powder
2 tbsp. olive oil
1/4 tsp. Italian seasoning
1/4 cup nutritional yeast flakes
1/2 tsp. garlic powder

1/4 tsp. celery seeds

1/4 tsp. dill

1/2 tsp. salt

1/4 tsp. cayenne pepper (optional)
What to do:
Pop your kernels using the air-popper into a large bowl.
In a bowl, mix the garlic powder, onion powder, nutritional yeast flakes, celery seeds, dill, Italian seasoning, cayenne paper, and salt well.
Spray your popped popcorn with olive oil, and toss it into the seasoning mixture.
Serve, and enjoy it on your couch with Netflix!
Vegan Popcorn Seasoning
We're not just for popcorn alone. We're also for its vegan-friendly seasoning. Although most popcorn buttery flavors are suitable for vegans, it's always safe to use the brands that are certified or labeled as vegan-friendly.
Here's a list of my personally picked vegan popcorn seasoning.
Sabatino Tartufi Truffle Zest
FreshJax Premium Gourmet
LesserEvil
Franklin's Gourmet
Dutchman's
Sari Foods
NOOCH IT!
Seed Ranch
Bragg
JADA
Flavacol
Jolly Time
However, if you want to have it homemade, it's very easy to make one yourself. I've shared a recipe in this post if you'd like to check. The ingredients are accessible to you. And of course, it's always fun and more passionate when you eat something homemade!
The Bottom Line
Smartfood Popcorn has eight different flavors, but only two of them such as Smart 50 Sea Salt and Sweet & Salty Kettle Corn, are vegan-friendly. These are also air-popped, which is a healthier kind of popcorn.
If you're using microwavable popcorn, you need to take it easy, especially since these kinds of popcorn contain chemical compounds that can be harmful to your health. Of course, moderation is the key.
If you want to make sure your popcorn is healthier, make your own at home alongside the vegan seasoning. Remember, there's always happiness with homemade!