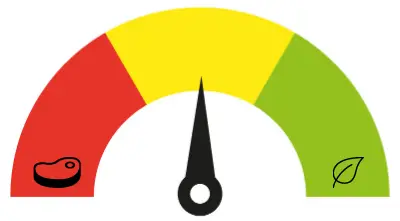 Most movie theater butter is vegan-friendly, but some chains don't offer vegan buttery toppings. Others use clarified butter but are often not classified as vegan.
Are you hitting the cinema? Well, good news. Most popcorns and buttery toppings at movie theaters are vegan, but you may have to choose which one you should include in your popcorn.
Movie theater chains such as Regal Cinemas and Landmark Theaters use vegan-friendly butter. Most butter toppings are made with soybean oil, beta-carotene, and natural flavors. However, some other cinemas, like AMC, use butter that contains milk.
If you're a movie-goer searching for vegan-friendly treats such as popcorn with vegan butter, you're in the right place. Let's find out more movie theaters that offer vegan snacks.
What's Really In That Movie Theater Butter?
While other movie theater chains use real butter on their popcorn, most cinemas don't, which is great news for vegans. Well, for that buttery flavor, it's made of Flavacol, a yellow powder that's salty, according to Extra Crispy's Stacey Ballis. It's made of extremely fine salt and yellow food coloring, both vegan-friendly.
Yes, it tastes like butter, but it's not really butter. How cool is that?
The butter that movie theaters use is made with partially hydrogenated soybean oil, also known as trans fats. It also includes beta carotene, which acts as the coloring agent, a preservative called tertiary butylhydroquinone (TBHQ), and natural flavors. These give the buttery flavor that most movie theaters put on your popcorn.
What Is Vegan Butter?
Vegan butter is plain plant-based and doesn't include any animal-sourced ingredients. It's widely used in vegan cooking that requires butter for texture and taste.
Plant-based butter is a non-dairy substitute, often made with a combination of any vegetable oil and water. Most vegan butter is made with olive oil, avocado oil, coconut oil, palm kernel oil, or a combination of different cooking oils.
Additional ingredients may include salt, colorings, emulsifiers, and natural flavors. Vegan butter is similar to margarine, although the latter mostly contain some dairy.
Here's an estimated figure of nutrition that one tablespoon of 14 g of vegan butter provides:
Calories: 100
Cholesterol: 0 mg
Total Fat: 11 g
Saturated Fat: 3.5 g
Monounsaturated Fat: 5 g
Polyunsaturated Fat: 2.5 g
Sodium: 120 mg
Vegan butter is generally high in calories and fats. However, it's definitely way better than real butter, which is way higher in calories, fats, and cholesterol.
For instance, 100 g of regular butter contains a whopping 700 calories, 81 g of total fats, and 215 mg of cholesterol. That would be too difficult to burn, right?
Movie Theaters With Vegan Butter
Fortunately, a few movie theaters offer vegan popcorn and buttery topping, including Regal Cinemas. Other theater chains offer vegan-friendly popcorn, but not all toppings are plant-based, such as AMC and Cinemark. These movie theaters offer vegan-friendly popcorn but not their buttery topping, especially since they're made with dairy.
Regal Cinemas
The Knoxville, Tennessee-native movie theater pops its popcorn using coconut oil and canola oil. And its buttery topping is made with hydrogenated soybean oil, beta-carotene, and natural flavors.
You may need to check with your local cinema about the natural flavor ingredient in its vegan butter for strict vegans. It's worth noting that the FDA has pointed out that natural flavors may come from meat, fish, poultry, vegetables, fruits, and plants.
But the good news? The FDA also said that most natural flavors derive from vegetables and plants. So, if you're good with that, you can opt for Regal Cinemas popcorn with buttery topping. Its popping oil and popping salt are also vegan-friendly. That's really cool!
If you'd like to check more about Regal Cinemas' vegan popcorn and butter topping, you can navigate to this article for more helpful tips.
Landmark Theaters
The largest specialized cinema chain in the U.S. offers vegan-friendly popcorn. However, its butter suppliers vary by location, so it's not really a confirmation that its buttery topping is vegan.
To ensure that you're eating the right way, in case you end up at Landmark Theaters, ask the crew how or what type of butter is used on the popcorn. Otherwise, you can just get plain popcorn without the butter.
Landmark Theaters also offers vegan cookies, edamame, and more.
Best Vegan Popcorn Seasoning And Oil Brands
There are many vegan popcorn seasonings apart from the buttery topping. These are even accessible to you. You can find them at your local supermarkets or grocers or buy them from Amazon, such as Franklin's Gourmet Popcorn Butter Flavored Salt. It's vegan and Kosher-certified.
Check out these vegan seasoning brands that you can try for your popcorn.
Seed Ranch Spicy Queso Seasoning
NOOCH IT! Dairy-free Cashew Grated Cheeze
Sari Foods Nutritional Yeast Flakes Garlic Parmesan Flavored
Flavacol Popcorn Seasoning And Buttery Flavor
FreshJax Premium Gourmet Spice Blends, Spicy and Salt-free
Dutchman's Popcorn Buttery Coconut Oil
Franklin's Gourmet Popcorn Butter Flavored Coconut Oil
Sabatino Tartufi Truffle Zest Seasoning
Bragg Premium Nutritional Yeast Seasoning
Jolly Time Popcorn Seasoning Salt, Butter Powder Shaker
LesserEvil Organic Popcorn "No Cheese" Cheesiness
JADA Spices Chicken Salt Spice and Seasoning Original Flavor
How To Make Your Own Vegan Popcorn Seasoning
Yes, I know how it feels when your favorite movie theater doesn't have vegan popcorn seasoning. But the good news is that most of their popcorn is either gluten-free or vegan-friendly. And another good news is that there's no harm in bringing your own vegan popcorn seasoning to the cinema!
So, if you're up for some vegan popcorn seasoning, let's try making one at home. It's very easy, and the ingredients may even come in handy. Yes, you might have them already at home.
Assuming that you already have an Air Popper, you're ready to go. But if you're popping your popcorn on a stovetop, there's a great method to do so you can have even results.
Ingredients:
1/4 cup of Popcorn Kernels
2-3 tsp. of Salt
2 tbsp. Nutritional Yeast
2 tbsp. Paprika
2 tsp. Turmeric
3 tbsp. Vegan Oil
What to do:
Put the popcorn kernels on the Air Popper, and pop until they're ready. If you're doing it on the stovetop, you will need to heat more oil and put the kernels in a while shaking the pot at least every 20 seconds. When the last kernel pops, remove the pot from the stove.
Mix the salt, paprika, nutritional yeast, and turmeric using a fork in a small bowl.
When the popcorn has popped and while it's hot, sprinkle oil over the popcorn using a spoon.
Sprinkle half of the oil and the cheesy mixture. Mix it using your hand, and sprinkle the remaining half of the oil and cheesy mixture.
Serve, and enjoy your movie time!
Pro Tip: If you're into buttery popcorn, toss 3 tablespoons of oil and 3 teaspoons of salt and mix well.
What Is Clarified Butter?
Some movie theater chains prefer using clarified butter as a substitute for regular butter, especially since it has a higher smoking point. It doesn't burn easily and can endure high temperatures, which is perfect for popping popcorn.
Regular butter burns easily and definitely not ideal for popping popcorn. The fat has also been removed from clarified butter, and its shelf life is way longer than regular butter. When it melts, it's also clearer compared to regular butter.
Some people make their own clarified butter at home by just simmering the regular butter over low heat for about 40 minutes. When the butter stops bubbling, it can be run through a strainer or filter to remove the saggy solids.
Clarified butter gives the popcorn a buttery flavor, richer and crispier. However, this is not suitable for vegans, so we can skip this instead.
Cooking Oil Substitute For Popping Popcorn
Since clarified butter isn't suitable for vegans, many vegan-friendly cooking oils are used for popping popcorn even though the fat has been removed. These are even healthier, plant-based, and have a higher smoking point.
Coconut Oil
Sunflower Oil
Olive Oil
Avocado Oil
Canola Oil
Grapeseed Oil
Peanut Oil
The Bottom Line
Movie theater butter is mostly vegan-friendly such as Regal Cinemas and Landmark Theaters. However, cinemas like AMC, Cinemark, and Cineplex may not have vegan-friendly butter flavors, and there might be cross-contamination. Their popcorn is vegan and gluten-free except for the buttery flavor.
However, it's harmless to ask the cinema you're in to ensure you're eating popcorn the vegan way. Better yet, you can bring your own vegan popcorn seasoning and buy the popcorn alone without the topping. I do this often, especially since not all movie theaters offer vegan-friendly toppings.
If you're too lazy to make your own vegan popcorn seasoning, there are many brands that you can buy straight from the shelves or on Amazon. Just be mindful of the ingredients before adding them to the cart. I have listed above most brands I really like, so that would be easier for you.