Answer: No. Apple Jacks are not vegan because they contain vitamin D3.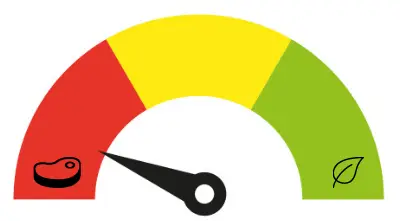 The Routine Cup of Apple Jacks
Picture this. It is early morning, and you have just served yourself a nice cup of crunchy Apple Jacks. As you munch on the sweetened, multi-grain cereal, you nod as the cinnamon and apple flavors explode in your taste buds.
As your eyes fall on the cereal, you find yourself lamenting the smaller size of the cereal loops and the absence of flavor crystals that should be attached to the circles, just like in the old days. You feel nostalgic for the old Apple Jacks that were more flavorful and crunchy to the last bite. You sigh and reluctantly accept that things have changed. Well, things are about to change.
Are Apple Jacks Vegan?
Having carefully checked the ingredients for making Apple Jacks, you are satisfied knowing that no dear animals were harmed in making your precious bowl of cereal. You safely assumed that Apple Jacks are 100% vegan. You are very sure about your deduction.
That is where you make a mistake. You overlook one crucial ingredient, vitamin D3, also known as cholecalciferol. This is the ingredient that renders Apple Jacks a non-vegan cereal. If you are a stern vegan, your dream of occasionally enjoying a bowl of Apple Jacks has crashed and burned.
Why Vitamin D3 Disqualifies Apple Jacks From Being Vegan?
Vitamin D3 is an essential nutrient that is derived from animals. The primary source of vitamin D3 is oily fish and sheep lanolin. Tunas and salmons must lay down their lives for this cholecalciferol to be extracted from their liver and other fatty tissues. Sheep are not spared either, as they give up their skins to extract this vitamin. Simply put, to produce every gram of Apple Jacks out there, some innocent animal is cruelly killed, which contradicts the whole philosophy of veganism.
It is true that throughout the years, one of Apple Jacks' main selling points has been the appealing colors that have won the hearts of the youthful populace. Of course, there is no doubt that these artificial colors are vegan since they are petroleum extracts. However, there have been concerns that animals are harmed during the refinement of these colors. The truth is that animals such as mice and even dogs are used as test subjects to determine whether those manufactured colors are safe for human consumption or not. This animal exploitation further strengthens the argument that Apple Jacks is non-vegan.
Health Concerns
People have questioned whether Apple Jacks are suitable for their health in the long run. The truth is that Apple Jacks isn't the healthiest breakfast cereal out there. The fact that Apple Jacks contain 42.9% sugar means for every cup of Apple Jacks you eat, you ingest roughly 12g of sugar. This factor alone makes Apple Jacks cement a spot as one of the 10 most sugary bowls of cereal. Add this to the fact that Apple Jacks' other primary ingredient is flour – it might send your insulin level spiraling.
Another cause for health concerns is the artificial colors present in Apple Jacks. The red 40, yellow 5, and yellow 6 colors have been linked with cases of hyperventilation and allergies.
The presence of partially hydrogenated oils will run you the risk of coronary heart disease. To worsen the situation, the butylated hydroxytoluene used as a preservative in Apple Jacks is carcinogenic.
Vegan Alternatives
Understandably, after learning that Apple Jacks is a non-vegan product, you will wonder which vegan cereal to turn to. Here are a few good options you can eat in place of Apple Jacks.
Cascadian Farm Organic Berry Vanilla Puffs
Cascadian Farm Organic Berry Vanilla Puffs is a 100% organic snack with no artificial colors, flavors, or hydrogenated oils. It prides itself on being a non-genetically engineered, gluten-free cereal containing wholesome ingredients.
Perhaps its most striking feature is the natural distinctive berry and vanilla flavors, irresistible to kids and adults. Every 1¼ cup serving contains 1.5g of total fat and 11g (21%) of added sugars compared to Apple Jacks' 42.9%.
Cascadian Farm Organic Cinnamon Crunch
The crunchy cereal squares are the most notable feature of the Cascadian Farm Organic Cinnamon Crunch breakfast cereal. They are made from 100% whole-grain oats with sugar and cinnamon added to give them a unique flavor. This cereal prides itself on being an organic, non-genetically engineered, and Fair Trade Certified vegan cereal. Every cup serving of 36g contains 15g of whole grains, 3g of fiber, and 3g of net fat, making it a healthy alternative to Apple Jacks.
Cascadian Farm Organic Chocolate O's
This low-fat organic cereal made from real cocoa is something of a novelty. It has a rich, delicious cocoa flavor, and once you try it, you will return for more. It is a perfect source of fiber and contains 10g or more of whole grains per serving. Moreover, this tasty cereal contains no artificial flavors or preservatives, making it a healthy choice. Do note that it has wheat and may contain soy and sesame ingredients.
Cascadian Farm Organic Fruitful O's
Cascadian Farm Organic Fruitful O's are yummy O-shaped natural corn and oat cereal. It contains natural fruit flavors with no other artificial flavors and colors whatsoever. It is non-genetically engineered and contains 10 g of whole grains and 12% daily fiber per serving. You can serve it for breakfast, as a late afternoon snack, or even after your evening ice cream.
Kashi Organic Promise Autumn Wheat
Nothing can substitute that tasty whole-grain taste you experience whenever you munch on Kashi Organic Promise Autumn Wheat biscuits at breakfast. The biscuits are made from wholesome wheat with just the right amount of organic sweetener added to give them an irresistible taste. With 6g of fiber, 1g of fat, and 53g of whole grains per serving, Kashi Organic Promise Autumn Wheat is one of the healthiest breakfast cereals you can get.
Kashi Organic Promise Island Vanilla
This ready-to-eat snack can be eaten alone but is just as delicious when taken with nut milk. It is made from whole-grain wheat and sweetened by adding organic cane syrup, ground vanilla, and small amounts of vanilla extracts. This perfect combination gives Kashi Organic Promise Island Vanilla an enticing aroma that makes your breakfast or snack experience heavenly. With 6g of fiber, 1g of fat, and 50g of whole grain per 59g serving, this vegan cereal is rightfully classified as a healthy breakfast cereal.
Barbara's Organic Corn Flakes
Barbara's Organic Corn Flakes is a vegan, non-genetically engineered, USDA Organic-certified crunchy cereal that guarantees a memorable breakfast experience. It is gluten-free, and its 3g of sugar per serving makes it a safe option for those seeking to avoid high-sugar diets. Barbara's Organic Corn Flakes is a healthy cereal choice because it has 0% net fat, 11% net carbs, and 1g of dietary fiber per 1¼ cup serving.
Barbara's Brown Rice Crisps
This crispy 'n crunchy cereal is made from 100% organic brown rice and sweetened with fruit juice. It is no surprise since brown rice is a go-to food for healthy eaters. Barbara's Brown Rice Crisps is a gluten-free, Non-GMO Project verified, and USDA Organic certified cereal. It has no artificial flavors, colors, or preservatives, making it a perfectly healthy choice. Nutritionwise, each 30 g cup serving of these brown rice crisps contains 1g of sugar, 1g of total fat, and 1g of dietary fiber.
Endnote
Apple Jacks is undeniably a great breakfast cereal. It has weathered the test of time and stands as majestic as the day it was introduced back in 1965, albeit with a few changes. But sadly, this is where its legend ends. As you know, Apple Jacks is no longer an option for you if you are strictly vegan. You have also seen some of the health concerns that are associated with the consumption of Apple Jacks. Luckily, you have opened your eyes to a new world of healthier and truly vegan alternatives. You can now relax knowing you have a range of tasty breakfast cereals.