Answer: It depends. Wishbone Italian Dressing can be vegan or non-vegan as it contains animal-sourced ingredients that are considered controversial.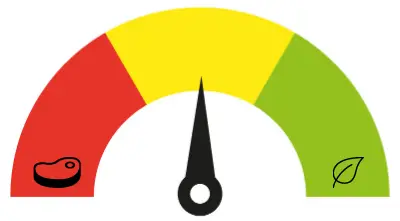 Green salad with a delicious vegan dressing, please!
Wishbone Italian Dressing (Wish-Bone) is a delicious blend of vinegar, oil, herbs, and spices. Two of its key ingredients are Xantham Gum and Natural Flavor, which are sometimes controversial for their unknown sources. This brand has made its way as one of the known vegan-friendly dressings.
Let's clear some doubts about Wishbone Italian Dressing in this article.
What Is Italian Dressing?
A common misconception of Italian dressing is that it originated in Italy.
However, it was first made in 1941 in Framingham, Massachusetts, by Florence Hanna, a daughter of Italian immigrants.
Her husband, Ken Hanna, owned a restaurant serving salad dressing. It quickly gained attention and many customers ordered the dressing to use at home.
Because of its dramatic popularity, a family nearby owned a manufacturing business proposed to the Hannas to create a bottling production of the dressing.
That was the start of producing Ken's Salad Dressing, which now has different varieties and flavors.
The Hannas production of Italian Dressing was followed about seven years later by the Wishbone company.
Although its name is Italian dressing, it's not used in Italy.
Italians use vinegar or sometimes balsamic, olive oil, salt, and lemon juice to dress their salads, which is different from the style in North America.
In North America, particularly in the U.S., Italian dressing is used for stir-frys, meat, vegetables, marinade, sandwiches, and sometimes pasta salad.
The traditional Italian dressing is made with vinegar or lemon juice, water, bell peppers, sugar, vegetable oil, salt, oregano, dill, and fennel.
These ingredients are popular in North American countries and are still used in many homemade Italian dressings. Some would also use garlic, onions, and corn syrup instead of sugar.
In its purest form, the traditional Italian dressing is vegan-friendly.
What Is Wishbone Italian Dressing?
Wishbone or Wish-Bone Italian Dressing is one of the products of the American brand Wish-Bone.
The brand manufactures marinades, salad dressings, pasta salads, and dips.
Former soldier Philip Sollomi and his mother, Lena Sollomi, created the recipes for Wishbone's salad dressings in 1945. The Sollomis were of Sicilian origin, a region in Italy.
The dressings were served at Wishbone Restaurant in Kansas City, Missouri, quickly gaining popularity.
Because of their growing demands, the Sollomis started a separate production of the dressings.
Lipton, a subsidiary of Unilever, later acquired Wishbone in 1958.
In 2013, Wishbone was acquired by Pinnacle Foods, which also became a subsidiary of Conagra Brands in 2018.
Wishbone has more than 30 varieties of salad dressings, including the Italian dressing with five other types.
House Italian, Robusto Italian, Fat-Free Italian, Light Italian, and Creamy Italian are the different types of Wishbone Italian Dressing.
Wishbone Italian Dressing May Not Be Vegan-Friendly
Wishbone Italian Dressing is one of the additions to many salad lovers' pantry repertoire.
The dressing gives aromatic, tangy, and zesty flavors from its ingredients, particularly lemon juice concentrate, which makes it bolder with a floral hint.
The ingredients seem to project as vegan-friendly as they're mostly sourced from plants and vegetables.
Let's check them out.
Distilled Vinegar
Water
Soybean Oil
Salt
Sugar
Wishbone Italian Dressing also contains 2% or less of these ingredients.
Garlic
Onion
Red Bell Peppers
Natural Flavor
Xantham Gum
Spice
Rosemary Extract
Yeast Extract
Annatto Extract
Lemon Juice Concentrate
If you notice, most of them, in a quick look, is a plant or naturally sourced. But sugar, Xantham Gum, and Natural Flavor are considered controversial.
Sugar

Except for beet and coconut sugar, which are never processed with animal bone char, other types of sugar are controversial.
Wishbone's website description of its Italian Dressing ingredients says that the sugar included is refined.
Refined sugar undergoes a filtration process, which uses animal bone char to whiten it.
This is already a controversial ingredient for some vegans.

Xantham Gum

Xantham Gum is widely used in many salad dressings, baked goods, desserts, and beverages.
Its texture and stability make it a good ingredient for many condiments because it can adapt well to acidity and temperature changes.
It acts as an emulsifier, thickening agent, and stabilizer.
However, Xantham Gum is also derived from whey or lactose, commonly used in salad dressings and shampoos.
On the other hand, Xantham Gum can also be derived from fermented plant-based sugars and bacteria.
In Wishbone's case, it's unknown whether it uses plant-based or whey-derived Xantham Gum.

Natural Flavor

According to the FDA, natural flavors are sourced from plants, vegetables, meat, poultry, fish, dairy products, and fruits.
Most natural flavors are derived from plants, vegetables, and fruits.
But just like Xantham Gum, it's unknown whether Wishbone uses vegan-friendly natural flavor.
The only good thing about Wishbone Italian Dressing is that it only contains 2% or less of Xantham Gum and has a Natural Flavor.
If you're not too strict about these controversial ingredients, Wishbone Italian Dressing doesn't boldly include animal ingredients.
If you're good at that, you can use it with caution. You've been a vegan and have done a tremendous part for the betterment of animals and the environment.
Some vegans don't mind using Wishbone Italian Dressing on their salad. But still, it depends on how conservative you are as a vegan.
Is Wishbone Italian Dressing Healthy?
As a general rule of thumb, anything excessive is already unhealthy. This goes the same with Wishbone Italian Dressing.
If you do it with vegetable salad, better. It's particularly high in sodium, so you should pile up on more fiber and flavonoid-rich fruits and vegetables.
Over time, excessive sodium intake leads to many adverse health issues, including kidney disease, stroke, and heart issues.
According to the Dietary Guidelines for Americans, an adult should limit his sodium intake to up to 2,300 mg a day or less. Try not to exceed regularly to keep health problems at bay.
For what it's worth, let's see the nutritional value of every 2 tbsp. or 30 ml serving of Wishbone Italian Dressing.
Calories. 80
Total Fat. 7 g
Cholesterol. 0 mg
Sodium. 350 mg
Total Carbs. 5 g
Protein. 0 g
Something to note is that Wishbone Italian Dressing isn't a good source of calcium, iron, potassium, and even Vitamin D.
However, it has zero trans fat and cholesterol. But you also must note that it has 4 g of added sugars.
The American Heart Association recommends limiting your added sugar intake to 36 g per day, equivalent to 9 teaspoons.
Wishbone Italian Dressing doesn't contain high added sugars, but it still pays well if you keep watch of your intake.
Excessive added sugars stored in the body can lead to obesity, kidney disease, heart issues, diabetes, liver disease, and many others.
It may sound scary, but all these can be avoided if everyone eats healthily.
Best Vegan Italian Dressings to Spice up Your Diet
If you're one of the strict vegans who remains doubtful about Wishbone Italian Dressing, don't fret.
There are a lot of different brands of Italian Dressings that are vegan-friendly and even healthier.
Some of these are organic and non-GMO, which makes them more desirable for consumption.
Primal Kitchen Vegan Ranch
Daiya
Garlic Expressions Dressing
Anni Organic Goddess
Simple Truth Organic Italian Dressing
Tessemae Classic Italian Organic Salad Dressing
Annie's Tuscany Italian Dressing
There are hundreds of vegan dressing brands to choose from if you want to stay away from Italian dressings.
Store-bought ones are readily available in most supermarkets, but you'll have to check the ingredients first, especially when it's not labeled vegan.
Non-vegan Ingredients to Look Out for in Italian Dressings
Not all Italian dressings are typically made vegan. Some of them contain controversial ingredients or those that are still in the gray area.
Let's check the list of non-vegan ingredients common in Italian dressings.
Milk
Eggs
Honey
Xantham Gum
Cheese
Mayonnaise
Take note that many non-vegan ingredients work well with Italian dressing, depending on how it's made.
But the list shows the most common non-vegan ingredients used in Italian dressings. Beware of those if you were to shop from supermarkets.
The Bottom Line
It's not yet known whether or not Wishbone Italian Dressing is vegan because of its three controversial ingredients.
Xantham gum, sugar, and natural flavor remain in the gray area regarding clarity for ingredients in different food items.
Unless a product is labeled vegan, it's simple to understand that those controversial ingredients were not sourced from animals.
However, if you're not one of the strict vegans, it's up to you if you would want to use Wishbone Italian Dressing.
You've come this far in protecting our animal friends and mother nature by becoming vegan, although you must do it with caution and at your own risk.
Also, if you want to use other vegan-friendly salad dressings, Just Ranch is also available for purchase, which I detailed in this article. Check it out too!