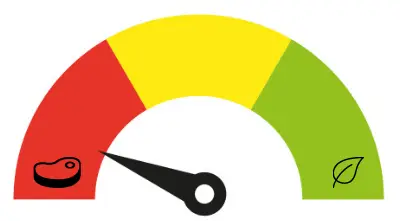 Are Circus Peanuts Vegan?
Circus Peanuts are essentially peanut-shaped candies that were first manufactured in the 19th century in the United States. There is a reason why Circus Peanuts are not vegan. They contain ingredients that are animal products, such as:
Pork gelatin
Carmine (Made from crushed female cochineal insects)
Refined sugar (might include bone char)
The vegan diet excludes all animal-related products, so vegan dieters need to know the ingredients of the food they consume. It is essential to know that Circus Peanuts are candies and have nothing to do with peanuts. Below is a discussion on vegan-friendly candies.
Are Candies Vegan?
Generally, candies contain several non-vegan ingredients. Most candies are also unhealthy as they have high sugar content. Fortunately, there are several vegan-friendly candies, such as:
Airheads
Dark chocolate (most versions)
Swedish Fish
Smarties
Jujubes
Oreos
It is essential to keep in mind that being a vegan is more than changing up your diet. It is about ending animal cruelty or reducing it to an extent.
Vegan-Friendly Candies
Below is a list of some vegan-friendly candies:
Wholesome Surf Sweets Organic Fruity Bears
YumEarth Organic Sour Beans
SmartSweets Sweet Fish
Unreal Dark Chocolate Crispy Quinoa Gems
Hu Chocolate Bars Variety Pack
Nelly's Organic Chunky Almond Butters Bars
Organic OCHO Coconut Bars
Unreal Dark Chocolate Peanut Butter Cups
Original Cocomels Coconut Milk Caramels
YumEarth Organic Pops
Lovely Organic Hard Candies
The Ginger People Gin Gins Spicy Tumeric Ginger Chew
Wholesome Surf Sweets Organic Fruity Bears
The Wholesome Surf Sweet Organic Fruity Bears are a vegan-friendly, naturally flavored variety of candy. This version of gummy bears is also free of artificial flavor, preservatives, and additives.
These gummy bears have an organic certification from the Department of Agriculture (USDA), are certified gluten-free, and are non-GMO verified.
Most gummy bears in the market contain gelatin and red 40, a type of food coloring. Surf Sweets are a healthy option for vegans, and they come in the following flavors:
Turmeric
Blueberry
Annatto extract
Carrot
Black currant
Instead of refined sugar, these gummy bears are sweetened by:
Pear juice
Cane sugar
Organic tapioca syrup
YumEarth Organic Sour Beans
Finding jelly beans that are vegan-friendly is challenging, as most varieties contain shellac or beeswax to produce the shiny exterior coating. However, YumEarth Organic Sour Beans are vegan-friendly.
These sour beans have a coating of carnauba wax, a plant-based wax. The YumEarth Sour Beans are also free of artificial flavoring and use flavors extracted from fruits such as apples.
YumEarth is a specialist when it comes to producing high-quality, allergy and gluten-free candies. Other products of this company are:
SmartSweet Sweet Fish
SmartSweet Sweet Fish has a low sugar content but is good enough to satisfy your sweet tooth. The SmartSweet Sweet Fish is healthier than the Swedish Fish and contains 3g of sugar and 13g of fiber per bag.
SmartSweet is also free of artificial sweeteners and sugar alcohols; instead, it contains natural sweeteners like monk fruit and allulose extract. In addition to being low in sugar, these candies are also:
Gluten-free
Free of allergens
Non-GMO verified
SmartSweet also offers other types of vegan-friendly candies:
Sour Blast Buddies
Sweet Chews
Peach Rings
Sourmelon Bites
Unreal Dark Chocolate Crispy Quinoa Gems
Unreal is a company that is famous for making organic, gluten-free, and vegan-friendly candies. The Unreal Dark Chocolate Crispy Quinoa Gems are made from fair-trade chocolate and contain natural vegetable colors.
These vegan candies have a crispy texture and rich flavor; they are also high in fiber and low in sugar.
Hu Chocolate Bars
If you are in the mood to try high-quality vegan chocolate, then the Hu Chocolate Bars are for you. Hu offers a wide variety of vegan-friendly chocolates. The company produces several flavors of chocolate:
Hu Kitchen's Chocolate Bars
Vanilla Crunch Dark Chocolate
Cashew Butter With Vanilla And Orange
All the varieties of chocolate manufactured by Hu are:
Paleo-friendly
Gluten-free
Vegan-friendly
Organic
Non-GMO verified
Hu chocolate bars are also free of:
Palm 0il
Additives
Sugar alcohols
Refined sugar
Nelly's Organic Chunky Almond Butter Bars
Nelly's chunky almond butter bar is an organic product and comes in several flavors, such as:
Butter
Coconut
Caramel Nougat
German Chocolate
These chocolate bars are also:
Gluten-free
Soy-free
Palm oil-free
Additionally, unlike other vegan chocolate bars in the market, Nelly's organic bars are free of plant-based protein powders. These chocolate bars are famous because of their crunchy & creamy almond butter center and dark chocolate coating.
Organic OCHO Chocolate Coconut Bars
OCHO, a candy company, produces quality vegan-friendly treats made of organic ingredients and contains fair-trade chocolate. While OCHO does not exclusively manufacture vegan products, these coconut chocolate bars are free of animal products.
Not only are these bars free of animal products, but they are also:
USDA certified organic
Gluten-free
Non-GMO verified
These coconut bars have a dark chocolate coating and consist of the following ingredients:
Soy lecithin
Vanilla extract
Sea salt
Coconut flakes
Cane sugar
Dark chocolate
Tapioca syrup
Unreal Dark Chocolate Peanut Butter Cups
This is another quality vegan product from Unreal. These peanut butter cups have a dark chocolate coating and a creamy center filled with peanut butter. In total, these butter cups have just eighty calories and 5g of sugar.
The Unreal Dark Chocolate Peanut Butter Cups are:
Non-GMO verified
Gluten-free
Soy-free
Corn-free
Certified vegan
Original Cocomels Coconut Milk Caramels
Usually, caramel contains heavy cream and butter, which makes it a non-vegan product. However, Cocomels Coconut Milk Caramels are not only vegan but also contain the following ingredients:
Organic brown rice syrup
Organic coconut milk
Dried cane syrup
Xanthan gum
Sea salt
YumEarth Organic Pops
YumEarth Organic Pops are a type of lollipop that is vegan-friendly. Although traditionally, lollipops are made from animal products, the YumEarth lollipops contain food colors derived from vegetable and fruit concentrates.
These lollipops are also free of fructose syrup and consist of healthy ingredients. Each bag of these lollipops contains these flavors:
Watermelon
Cherry
Pomegranate
Mango
Peach
Strawberry
Grape
Lovely Organic Hard Candies
The organic hard candies by Lovely Organic contain natural flavor, are colored with vegetable and fruit juices, and do not contain fructose syrup. In addition, this product is free of artificial flavors, which are usually tested on animals.
Refined sugar used in some candies may make the candy non-vegan. Sometimes during the manufacturing process, regular cane sugar is also bleached with bone char.
However, the Lovely Organic Hard Candies contain organic brown rice syrup and organic cane sugar. Not only are these candies vegan-friendly, but they are also:
USDA organic certified
Gluten-free
Soy-free
Each bag of these candies comes with these flavors:
The Ginger People Gin Gins Spicy Tumeric Ginger Chews
This candy comes with a spicy flavor and is made from locally grown turmeric. These turmeric ginger chews are made from five quality ingredients and are also:
Vegan-friendly
Gluten-free
Non-GMO verified
Free of artificial flavors and sweeteners
These turmeric ginger chews also come with health benefits, as they can help treat an upset stomach and nausea.
Which Vegan-Friendly Candy Should You Choose?
The most critical and obvious product detail that you need to consider is whether the candy is vegan or not. Here is a list of ingredients that vegans should avoid:
Eggs
Cream
Whey
Milk
Food glaze
Casein
Shellac
Gelatin
Natural glaze
Resinous glaze
Artificial food dyes
Beeswax
White sugar
If there is still doubt in your mind, go for candies that have a vegan-friendly label on them. Secondly, you should look for sweets with few ingredients, free of additives, preservatives, artificial flavors, and colors.
It is also recommended that vegan dieters consume candies that are low in sugar. In the end, pick the vegan candy that has the right flavor and texture and will fulfill your sweet cravings.
Conclusion
In this article, there was a thorough discussion on the vegan status of Circus Peanuts. However, the debate did not end there as above is the list of the twelve best alternatives for Circus Peanuts.
It is important to discuss one more ingredient that might end up in these candies – palm oil. Palm oil comes from a tree, so it is vegan, but it is causing deforestation all around the globe.
Forests in Africa, Asia, and South America have been destroyed for palm oil cultivation. So if you are vegan, and want to have a candy, ensure that it is free of palm oil.