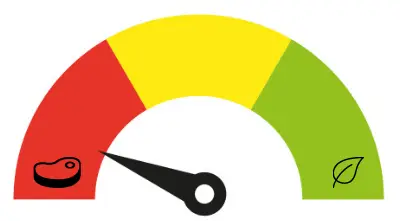 Original Kisses are manufactured from milk chocolate and hence contain milk products such milkfat, milk, and milk solids. Dairy is also present in dark chocolate Kisses. Sadly, neither the milk chocolate nor the dark chocolate types are vegan-friendly.
The Hershey Company is without a doubt one of the most known brands in America, if not the world. Since 1900–over 120 years–its main product, the classic Hershey's chocolate bar, has captivated taste senses and was once described as "The Great American Chocolate Bar".
Hershey's Kisses is the best-known chocolate brand produced by The Hershey Company. Chocolate, like many other items, can be vegan, but it frequently contains animal-based components, notably dairy.
Many people really love chocolate. Humans have been consuming it for roughly 2,000 years, according to historians. Recent research, however, indicates that chocolate eating may date back three or four millennia. Chocolate, how I love you. With so many positive attributes, it's no surprise that one of the first things people ask when considering an animal-friendly lifestyle is, "Wait a minute, can vegans eat Hershey Kisses?"
What we'll do in this article is go through the different reasons Hershey's Kisses aren't vegan and then discuss alternatives on the market that are suited for 100% plant-based eating.
The Health Benefits of Eating Chocolate
A square or two of dark chocolate each day provides some additional health advantages. According to the Harvard T.H. Chan School of Public Health, dark chocolate includes flavonols, which are naturally occurring compounds that may help protect the heart against cardiovascular disease. Flavanols have also been linked to blood pressure reduction. Short-term studies have shown that flavanols in chocolate can raise insulin sensitivity, which means they may lower the risk of diabetes in the long run.
Here is also the list of the nutritional value of a 1g bar of dark chocolate with 70 to 85 percent cocoa solids.
| | |
| --- | --- |
| Calories | 604 |
| Protein | 7.87g |
| Fat | 43.06 |
| Carbohydrates | 46.36g |
| Dietary Fiber | 11g |
| Sugar | 24.23g |
| Iron | 12.02mg |
| Magnesium | 230mg |
| Zinc | 3.34mg |
Why Hershey's Kisses Are Not Considered Vegan?
Original Hershey's Kisses
The fact that they are composed of milk chocolate is the first hint. It also has milk and milk fat in it.
Any time you come across a piece of chocolate candy with a lighter look, consider it a red flag. That is not to imply that all black chocolates are vegan, but lighter chocolate is almost probably made with milk. The food makers add milk, which displaces a lot of the naturally dark cocoa solids, giving the candy a pale color.
White Chocolate
Hugs are the white chocolate version. Hugs is a variety produced by the Kisses brand, not a brand on its own. A Hug is a variation of the original Kiss, therefore let's talk about it here as well.
Hugs are not 100% white chocolate, since they combine white chocolate and milk chocolate in a striped pattern, as though the white and milk chocolate stripes are hugging each other. They also have a milk chocolate core.
They are not vegan since the milk is made from dairy, and the white chocolate includes milk fat and milk solids.
Dark Chocolate
This is the only variant that may possibly be vegan. Because it is not needed by law for dark chocolate to include any milk ingredients.
They do, however, include two milk components: milk fat and milk.
So, why do they use milk if they don't have to? Milk, on the other hand, has a number of helpful characteristics in the candy-making process. It contributes to the flavor of chocolate and gives it a pleasant, smooth texture.
In fact, Hershey's is recognized for its smooth and creamy texture, so they're probably less inclined to depart from that distinctive texture solely to cater to vegans and others with milk allergies.
Are There Any Vegan Options at Hershey's?
Every stylish millennial and Gen Z-er appears to just have plant-based milk in their refrigerator. It's oat milk, almond milk, coconut milk, soy milk… pretty much anything but the original! Many businesses have caught on to this, pivoting to providing lactose-free options.
So it's no surprise that Hershey's has jumped on the vegan chocolate bandwagon. The new chocolate bars, which are manufactured with oat milk, are available in two varieties. The Dark Chocolate Original With The Extra Creamy Almond & Sea Salt. They are presently available at a variety of shops, including Target.
Both of these tastes are non-GMO, prepared with Rainforest Alliance-certified cocoa, and 100% vegan.
Other Vegan Chocolate Options
Since Hershey's doesn't have anything to offer yet for all the vegan folks out there. We provided a list of alternative vegan chocolate for you to try.
Vego
Vego, founded in Germany, claims to have created possibly the best chocolate bar in the world, combining fair trade cocoa with excellent Italian hazelnut cocoa cream, hazelnut paste, and whole hazelnuts. It has a creamy and crisp texture that is similar to milk chocolate. It also comes in tiny sizes.
The Vego bar is one of the world's most delicious vegan chocolate bars. It is composed of the best chocolate with hazelnut paste put in, resulting in smooth and creamy chocolate that is liberally packed with real hazelnuts. It is fairly traded, organic, and gluten-free.
Raaka
Raaka, based in Brooklyn, makes chocolate from cacao obtained directly from cooperatives and organizations that prioritize field support, sustainability, market access, and premium rates for farmers. Coconut Milk and Dairy-Free Oat Milk bars are available, as is the delicate Pink Sea Salt Dark Chocolate Bar. You don't have to pick between these because they're all included in one gift bundle.
Hotel Chocolat
Hotel Chocolat, a luxury British chocolatier, offers a range of vegan choices, including a 75 percent Coffee-Dark Chocolate Bar and 45 percent Nut Milk Chocolate Batons. The firm believes in utilizing cocoa from Ghana and Saint Lucia that has been responsibly sourced.
On the Hotel Chocolat website, you may also purchase a 75 percent Coffee-Dark Chocolate Bar.
Equal Exchange
Equal Exchange's Organic Coconut Milk Chocolate Bar contains coconut sugar and coconut milk. It includes caramel and toasted coconut overtones for a thick, smooth, and luxurious taste.
They are produced in an allergen-free factory that does not handle tree nuts, peanuts, eggs, milk, soy, or gluten-containing products such as wheat.
Hu Kitchen
Chocolate and orange complement each other like Sandy and Danny. Hu Kitchen's vegan chocolate bar is crafted with creamy cashew butter, 72% dark chocolate, and 100% orange oil. Hu Kitchen makes chocolate without the use of refined sugar, palm oil, emulsifiers, sugar alcohols, or soy lecithin.
Pana Chocolate
In this royal fruit and nut mix from Pana Chocolate, raw cacao combines crunchy pistachio bits and strawberries. It's sweet, fruity, and tangy. All Pana Chocolate products are vegan, soy-free, and preservative-free.
Homemade Vegan Chocolate Kisses
We may not be able to buy vegan Hershey's Kisses at the supermarket, but making your own is fun and easy with a few basic tricks and ingredients.
Here are the simple ingredients you need to prepare:
2 cups of dairy-free chocolate chips you prefer.
1 tablespoon of coconut oil
â…› teaspoon of salt if you prefer some saltness
Simple Instructions:
Here is just a simple way to make your DIY vegan chocolate kisses at home. You can search video tutorials online for a more detailed process.
Melt the chocolate and combine it with the coconut oil and salt in a mixing bowl.
Put the mixture into big chocolate chip molds and lightly tap them on the counter to eliminate any air bubbles.
To carefully slide the molten chocolate down into the tip of each mold, use a toothpick.
Freeze the chocolate in the molds for about 30 minutes, or until it is hard.
Remove the kisses from the molds and place them in an airtight container.
Does Vegan Chocolate Taste the Same?
The quick answer is no, vegan chocolate does not taste the same as classic milk chocolate bars like Hershey's or Cadbury.
However, dairy milk isn't required in chocolate. Several of the products listed below have attained a creamy texture by including dairy-free ingredients such as oat milk, coconut milk, cashew milk, and even hazelnut butter.
Some food-tech businesses are focusing on developing dairy-free milk proteins that manufacturers can employ to produce goods, so we may eventually have genuine vegan milk chocolate.
Conclusion
The only remaining question is if there are vegan substitutes for Hershey's Kisses.
Unfortunately, no vegan chocolate could imitate the distinct flavor and texture of Hershey's Kisses.
Vegan semi-sweet chocolate chips are the greatest option, although they're barely distinguishable from traditional dark chocolate.
Don't be misled; vegan chocolate is delicious, and dark chocolate is beloved even among non-vegans. The Hershey Company, on the other hand, has a patented procedure as a trade secret for producing Hershey's Kisses. It couldn't just be any ordinary chocolate.
Hershey's Kisses are undeniably delicious, but their vegan options are very restricted. While you wait for their vegan chocolates, you may explore any variety of vegan chocolates at the market.
Just remember to read the labels and keep an eye on your consumption as you embark on your delicious vegan path.