Answer: No. M&Ms are not vegan.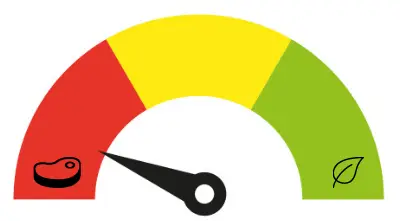 Now you may ask "can vegans eat M&Ms?" Unfortunately, they are not. Keep reading to know why.
More on M&Ms for Vegans
Who can't say to these multi-colored, delicious, button-shaped chocolates? With a history extending more than 80 years back, M&Ms are available in almost every part of the world. This popular candy comes with the letter 'm' printed on one side and is available in different flavors.
The sad news is that none of them are vegan. And naturally, it has got to do with the fact that they are made from milk-based ingredients. That means they are also not dairy-free and mostly not for those who are lactose-intolerant.
But it's not just milk that makes it non-vegan. In fact, there are quite a few other ingredients that don't make them vegan-friendly. To understand better, let's take a look at the ingredients that go into making M&M's Milk Chocolate:
Milk chocolate (sugar, chocolate, milk fat, skim milk, lactose, cocoa butter, salt, soy lecithin, artificial flavor)
Sugar
Cornstarch
Dextrin
Gum acacia
Coloring (Red 40, Blue 1 Lake, Blue 1, Yellow 6, Yellow 5, Red 40 Lake, Blue 2 Lake, Yellow 6 Lake, Blue 2)
Going through this list, you may realize that the main reason why M&Ms are not vegan is due to the presence of dairy. And again, other ingredients like the coloring also make them non-vegan.
For instance, food colors like Yellow 6 and Red 40 don't usually contain animal-derived ingredients. However, you will be surprised to know they are tested on animals.
M&M's Alternatives for Vegans
Although it's sad to learn that M&Ms aren't safe for vegans, don't lose hope! That's because you will find some vegan M&M alternatives to satisfy your craving. Listed below are three alternative M&M brands which are vegan. What's more, they are easily available on Amazon, too.
Here's a chocolate company you can try to eliminate your desire for M&Ms. Of course, not all of the UNREAL chocolates are vegan. But the company mainly emphasizes vegan-friendly chocolates. That being said, there are currently two UNREAL vegan M&Ms called Gems- Dark Chocolate Crispy and Dark Chocolate Peanut.
The brand has become very popular in such a short time. Today, they are available in well-stocked supermarkets like Whole Foods. What's more, you can also find them on Amazon.
Think of vegan M&Ms, think of Little Secrets! Based in Colorado, this chocolate company is all about dark chocolate treats. At present, they offer plenty of vegan products. They also have M&M copies called Pieces.
Some of the vegan M&Ms you can try by Little Secrets are Sea Salted Peanuts, Sea Salted Almonds, Dark Chocolate, and Peppermint Pieces, a limited Christmas edition.
Like UNREAL, Little Secrets is also available on Amazon and would be the best place to buy them. That's because they are a little difficult to locate in stores.
The third option to replace M&Ms is the chocolate company No Whey. It is an all-vegan brand offering a diverse range of chocolates. They are all dairy-, egg-, and allergen-free, including tree nuts and peanuts.
The vegan Choco No No's can be a favorite of the many candies and chocolates they offer. These are great substitutes for M&Ms. They are also suitable for people who suffer from food allergies.
Currently, the company offers only two types of these vegan chocolates- Chocolate No No's and Peppermint No No's. However, they offer seasonal products while also updating their selection regularly. You will also be pleased to know that the brand also offers peanut-free peanut butter cups! These are definitely one of their most delicious products.
The best way to find vegan No No's is to order them directly from Amazon.
So, there you have it- the three ways you can enjoy M&Ms without spoiling your vegan diet. If you want to try out other vegan candies and treats, you can always go for Smarties, Oreos, Jujubes, Airheads, and Swedish Fish. Although these are vegan brands, always read the label before you feast on these delicious treats!