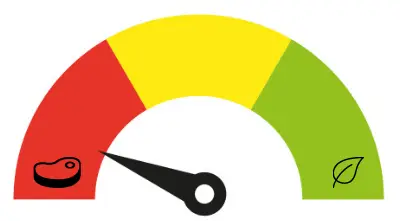 Cocoa Puffs are not vegan because they contain an animal-sourced vitamin not suitable for vegans.
Who doesn't love Cocoa Puffs, though? They used to be one of my favorite cereals as a child, but when I started veganism, I had to chop them off my list.
Although Cocoa Puffs don't include non-vegan ingredients, a vitamin used in making them is derived from animals. One notable vitamin is Vitamin D3, which is mainly sourced from lanolin, a waxy substance obtained from sheep's wool.
So if you're eating Cocoa Puffs right now, it's time to let it go. Let's find out more about this cereal.
Cocoa Puffs, Munchy, Munchy, Chocolatey!
It was in 1956 when American food manufacturer General Mills introduced the brand Cocoa Puffs to the market.
The cereal is made up of little orbs of corn and rice flavored with cocoa. The company also repeatedly stated that it uses real Hershey's cocoa for Cocoa Puffs.
But in 2009, General Mills cut down the sugar content of its cereal products, including Cocoa Puffs, to less than 10 g per serving.
This means that there's a 25% decline in sugar content from the first original level.
Also, in 2020, General Mills decided to bring back its retro recipes for its cereal products, which include Cocoa Puffs. This resulted in less chocolatey-flavored puffs, smaller and denser, according to many consumers.
In 1962, the mascot character Sonny the Cuckoo Bird came out to represent Cocoa Puffs in marketing and advertisements. Donning a pink-and-white striped shirt, Sonny is known for his catchphrase, "I'm Cuckoo for Cocoa Puffs!"
His clothing was then redesigned in 1995 to a more Disney-like outfit, which was a little extreme. However, in 2004, his costume was simplified, which resulted in no clothing at all.
Cocoa Puffs are sold in Latin America, Europe, and Canada under the brand Nesquik, which is part of the Cereal Partners Worldwide agreement between General Mills and Nestlé.
Cocoa Puffs Are Not Vegan-Friendly
Looking at the ingredients, it's safe to say that each one is vegan-friendly except for the vitamins and minerals used in the cereal.
Check out these ingredients below.
Whole Grain Corn
Sugar
Corn Meal
Corn Syrup
Cocoa Processed with Alkali
Canola Oil
Fructose
Salt
Caramel Color
Refiner's Syrup
Baking Soda
Natural Flavor
If you notice, the ingredients used are vegan-friendly except for sugar, that's considered controversial by some picky vegans. Why?
Some companies that produce sugar use a filtration process involving bone char, which is obtained from animals like cattle, to achieve the white color in refined sugar.
Beets and coconut sugar don't go through the process with bone char, which is safe for vegans or picky ones.
The good news is that many sugar products are vegan-friendly, and they're easily seen on the shelves at your local grocer.
Just check the label to see if the brand is certified organic by the USDA or if it's unrefined or made with beets.
But going back to the matter of why Cocoa Puffs aren't vegan. Let's find out the culprit.
Vitamin D3

It could be simple to read that Vitamin D3 is simply a vitamin that's added to most food that people consume. However, this type of vitamin is derived from two different non-vegan sources.
These sources include fish oils, which are obtained from the skin of fatty fishes, and another is lanolin, which is derived from sheep's wool.
This is one major reason why most vegans are also avoiding food, drinks, and supplements that involve Vitamin D3.
Other vitamins and minerals used in Cocoa Puffs, though, are vegan-friendly. Some vegans may consume them, but many picky ones won't since Vitamin D3 is present in every box of Cocoa Puffs.
Cocoa Puffs are dairy-free but are not gluten-free since they contain wheat. This means that if you have Celiac disease, the cereal isn't meant for you.
For what it's worth, here's the nutritional information for a serving of Cocoa Puffs.
Calories. 100
Total Fat. 1.5 g
Cholesterol. 0 mg
Sodium. 100 mg
Potassium. 85 mg
Total Carbs. 23 g
Protein. 1 g
Are Cocoa Puffs Healthy?
It's always important to be healthy at all times. But every "too much" isn't healthy either.
Looking at the nutritional facts for Cocoa Puffs, everything is good if you're not picky about Vitamin D3. You just have to consider having at least one serving a day to cut down on your sodium intake.
The human body needs at least 500 mg of sodium daily to mobilize. Otherwise, you will get sick of not getting enough sodium.
However, if you exceed the recommended daily sodium intake by the Dietary Guidelines for Americans, you will get sick too.
The 2020-2025 guidelines recommend that you should consume sodium no more than 2,300 mg a day or less to keep adverse health effects at bay.
Excessive sodium intake can lead to high blood pressure, stroke, and heart disease. It can also increase the risk of stomach ulcers and cancer, as well as other adverse health issues.
Vegan Cereal Brands
Fortunately, many cereal brands have joined the vegan bandwagon, which is good news for all plant-based and organic consumers.
So if you're one of the picky vegans who doesn't want to include Cocoa Puffs on the list of favorite cereals, here's a comprehensive list that you'll find helpful.
These are available at your local grocer, or you can also find these online like Amazon. Note that these are also PETA-approved!
365 Everyday Value Organic Morning O's
Barbara's (Organic Corn Flakes, Peanut Butter Puffins, Original Puffins)
Cap'n Crunch (Crunch Berries, Peanut Butter Crunch)
Cascadian Farm Organic (Cinnamon Crunch, Graham Crunch, Fruitful O's)
General Mills Fiber One Original
Kellogg's Mini-Wheats Unfrosted Bite Size
Kashi Organic (Island Vanilla, Strawberry Fields, 7 Whole Grain Puffs
Nature's Path (Crunchy Maple Sunrise, Lightly Frosted Amazon Flakes, Rice Puffs)
Quaker (Original Life, Cinnamon Life, Puffed Wheat
But wait. You need vegan milk for your cereal, right? Here are some of my favorite brands that I highly recommend.
You can find them everywhere.
Blue Diamond Almond Milk
So Delicious Coconut Milk
Silk Cashewmilk
Good Karma Flax Milk
Pacific Hazelnut Original
Pacific Unsweetened Hemp Original
Pacific Organic Oat Original
Suzie's Quinoa Milk
Rice Dream Milk
Soy Dream Milk
How To Make Vegan Cocoa Puffs Even Healthier
If you're one of the picky vegans, here's a good alternative for you if you're a fan of chocolate cereals. This is not the real Cocoa Puffs, but a healthier and vegan version of the famous brand.
I've tried this version at home a few times, and trust me, it's delicious and easy to do too!
It's also sugar-free, which is definitely my favorite version of Cocoa Puffs.
Ingredients
Cocoa Powder (3 tbsp)
Coconut Oil (3 tbsp)
Maple Syrup (3 tbsp)
Quinoa Puffs (3 tbsp)
What you need
A mixing bowl
A baking sheet
Oven
What to do
First, preheat the oven to 350°F.
In the mixing bowl, add maple syrup, coconut oil, and cocoa powder. Mix thoroughly.
Add the quinoa puffs and mix well with the chocolate mixture, so they're coated well.
Put the coated cereal on the baking sheet and bake in the oven for about 5 to 10 minutes.
Separate any cereal that's stuck with each other using your hand.
Let it cool for five minutes, and serve with your favorite vegan milk!
So there. It's easy, right? And it's healthier too. The ingredients are also easy to find, which means there's no reason to skip your breakfast cereal!
Common Non-vegan Ingredients To Look Out For In Cereal
Non-vegan cereals are common, which you can easily find on the shelves in your local grocer. Many are made with animal-sourced ingredients, if not the vitamins and minerals used to make them healthier.
We're glad that Cocoa Puffs doesn't involve animal by-products except for Vitamin D3, which makes it non-vegan.
But before buying any cereal brand that you see at the supermarket, you should find out the ingredients first. Of course, you can skip that if it's already labeled organic or certified as vegan.
Otherwise, you should take time checking the ingredients because there are products that are accidentally vegan.
Nonetheless, you should look out for these non-vegan ingredients that are widely used in many cereal brands.
Butter
Milk
Eggs
Refined Sugar
Cheese
Yogurt
Whey
Casein
The Bottom Line
Cocoa Puffs, fortunately, don't contain animal-sourced ingredients, but what makes them non-vegan is Vitamin D3, which is used to make them healthier.
I've also discussed Vitamin D3 in one of my previous posts about Reeses Puffs Cereal, which you can also check here.
Vitamin D3 is unfortunately sourced from either fish or sheep, and obviously, it's not vegan-friendly.
However, there's always a healthier option for picky vegans like you. You can consider making your own version of Cocoa Puffs at home.
After all, being vegan often means home-cooked, especially since we get to control the ingredients we use in our food.