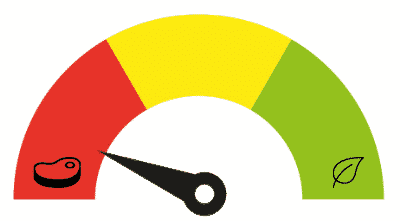 Speaking of, Cocoa Puffs is a popular chocolate cereal brand manufactured by Green Mills. The chocolate-flavored puffed cereal has a crispy base, crunchy hint of corn, and a savory yet sweet flavor of cocoa coating it. However, if you start to choose a vegan lifestyle, your Cocoa Puff love story may end here.
Unfortunately, Cocoa Puffs are non-vegan. This is because the product is made with two non-vegan ingredients: sugar and vitamin D3. There has been a long-time issue with sugar being processed with bone char. Meanwhile, vitamin D3 is obtained from lanolin which is from sheep's wool.
Read on to know why Cocoa Puffs are not for your vegan diet and some vegan alternatives that can still satisfy your morning cravings for chocolate cereals.
Ingredients Of Cocoa Puffs
Cocoa Puffs are made with a variety of ingredients. We made a chart of their vegan and non-vegan ingredients.
Vegan Ingredients
Whole grain
Caramel color
Vitamin C
Corn
Refiner's syrup
Vitamin B6
Cornmeal
Baking soda
Vitamin B2
Corn syrup
Natural flavor
Vitamin B1
Cocoa processed with alkali
Tricalcium phosphate
Vitamin A
Canola oil
Calcium carbonate
Folic Acid
Fructose salt
Zinc and iron
Vitamin B12
Non-Vegan Ingredients
Sugar
Vitamin D3
Nutritional Content Of Cocoa Puffs
Looking at its ingredients, we can already say that Cocoa Puffs contain some unhealthy ingredients. Aside from this, we can vividly see how high-calorie this product is. Now, below is a chart that presents Cocoa Puffs' nutritional value to guide you better. Take note that each box is for 16 servings, with 1 serving equal to ¾ cups.
| | |
| --- | --- |
| Contents | Amount per serving |
| Calories | 100 |
| Calories from fat | 15 |
| Total fat | 1.5 g |
| Saturated fat | 0 g |
| Trans fat | 0 g |
| Polyunsaturated fat | 0.5 g |
| Monounsaturated fat | 0.5 g |
| Cholesterol | 0 mg |
| Sodium | 100 mg |
| Potassium | 85 mg |
| Total carbohydrates | 23 g |
| Dietary fiber | 1 g |
| Sugars | 9 g |
| Other carbohydrates | 12 g |
| Protein | 1 g |
Why Is Sugar Non-Vegan?
You might have been confused when you saw sugar in the non-vegan ingredients list. Well, there has been a long-time issue with how companies process and refine their sugar. In order to achieve its pure and perfect white color, manufacturers use bone char.Â
Despite the fact that there are no traces of bone chars in the end product, vegans still treat this way as cruel and harmful to animals. Veganism is not only about health in nature, but also a political one. They fight against companies who exploit and abuse animals in order to gain huge profits.
However, it is important to note that the same process can be achieved in different ways other than using bone char. Some are using decolorizing agents such as raisins or carbon in achieving the same whiteness.
So, is the sugar used in Cocoa Puffs processed through bone char? We don't know the answer yet and the best thing to do now is to contact their company and ask the specific details about it. Just remember that it's hard to be 100% vegan, and the mere fact that you've decided to do a vegan lifestyle is already a huge impact.
What Sugar Should I Look For Instead?
If you're confused as to what sugar should you look for in a certain food product, there is no need to worry because we got you covered with our sugar alternatives.
Stevia
Stevia is a good vegan alternative for refined sugar. Just take note that it contains artificial additives and has an aftertaste that may trigger your tastebuds. Overall, you should at least give it a try.
Coconut Palm Sugar
Did you know that coconut palm sugar does not come from the coconut itself, but actually from the sap of the coconut palm tree? Well, as interesting as it sounds, coconut sugar is a good alternative for those who are after calorie intake reduction.
Date Sugar/Syrup
If you're looking for something to replace your syrup, this can be a friend to you. Date sugar/syrup is made from dried dates that give you a hint of extra rich sweetness to whatever you put it into. Also, it doesn't melt like granulated sugar does, making it more versatile and flexible to use.
Why Is Vitamin D3 Non-Vegan?
Vitamin D3 contains lanolin which is typically obtained from sheep's wool. Lanolin can be best compared to wax. Cocoa Puffs started to use lanolin as its ingredient when people became more health conscious in 2000.
What Is Lanolin?
Wool-bearing animals have very sensitive and soft skin. Lanolin is the layer between the skin and their wool. Therefore, it acts as the main skin protection of these animals from the threats and changing conditions of the environment and from their own wool as well.
So, the production and use of lanolin in products are being strictly condemned and discouraged by the vegan community as part of their political movements.
Are There Vegan Cocoa Puffs Alternatives?
For vegan chocolate lovers, there is no need to worry because there are a handful of chocolate cereals that can still satisfy your morning cravings. Below is a chart of pure vegan chocolate cereal products that you can easily find on Amazon, or in your favorite local store.
Aside from those listed above, here are some of the most popular vegan chocolate cereals that you can try:
Aside from the fact that it is GMO-free, Quality Assurance International certified it as being an organic product. It also contains a minimal amount of sugar so it's healthier than Cocoa Puffs. Some of its notable ingredients are pea protein, pressed sunflower oil, oat fiber, vitamin E, and Nature's Path Coco Chimps.
It also contains 140 calories, 2g of fat, 30g of carbohydrates, and 120 mg of sodium.
If you want something a little healthier for breakfast, Annie's Cocoa Bunnies can be one of your top choices. The product does not also contain any GMO and uses cane sugar instead of refined one. It's mainly made of rice, oats, and corn. Some of its notable ingredients are whole-grain cornmeal, invert cane syrup, calcium phosphate, natural flavors, and vitamin E.
It contains 140 calories, 2g of fat, 160mg of sodium, 29g of carbohydrates, 3g of protein, and 100mg of potassium.
For those who are more interested in gluten-free products, Nature's Path Coco Chimps is the one for you. It does not also contain any GMO and no artificial additives are added. It is USDA approved so you don't have to worry much about its nutritional content. Some of its ingredients to be noted are fair trade cocoa powder, molasses, and whole-grain cornmeal. It is manufactured in a facility that also uses soy, peanuts, and tree nuts.
It contains 150 calories, 1g of fat, 35g of carbohydrates, 10g of added sugar, 3g of protein, and 100 mg of potassium.
Can I Make My Own Cocoa Puffs At Home?
To those who are too tired to go out or buy online, you can definitely make your own chocolate cereal, like Cocoa Puffs, by just using some of your home ingredients.
Just prepare a mixing bowl, and mix in quinoa puffs, maple syrup, coconut oil, and cocoa powder. Bake it in an oven and you're good to go.
If you want to make some sugar-free Cocoa Puffs, just replace the maple syrup with a brand that has no sugar in it which you can easily find in a supermarket or Amazon.
Cocoa Puffs Are Not Vegan
Unfortunately, Cocoa Puffs are not for your vegan diet. This product contains sugar that might have been processed using bone char and vitamin D3 which contains lanolin obtained from sheep.
For chocolate lovers, you can still have your chocolatey mornings with some of the vegan chocolate cereal puffs that we enumerated above. You can also easily bake some at the expense of just simple home ingredients.