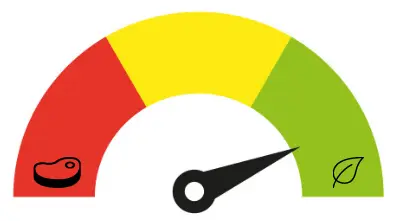 Kodiak Cakes produce high-quality, nutrient-rich snacks (such is also the brand's mission) ranging from pancakes, waffles, muffins, and more. They are also well-known for producing specific varieties that target certain consumers, such as vegans and athletes.
So, with that being said, let's take a look at the popular brand of Kodiak Cakes and see which varieties you might like to add to your daily vegan meal and which ones you shouldn't even think about.
Kodiak Cakes You Shouldn't Even Think About
Kodiak Cakes began in 1982 and today is a well-known brand of organic, whole-grain snacks and truly honest of their products. Yet, good as they are, if you really want to commit to a vegan diet, there are varieties you should definitely avoid.
| Contains Eggs | Contains Milk | Contains Processed Milk | Contains Honey |
| --- | --- | --- | --- |
| Original Frontier Flapjack and Waffle Mix | Original Frontier Flapjack and Waffle Mix | Original Frontier Flapjack and Waffle Mix | Original Frontier Flapjack and Waffle Mix |
| | | Power Cakes Buttermilk Pancake and Waffle Mix | |
| | | Power Cakes Cinnamon Oat Pancake and Waffle Mix | |
| | | Power Cakes Dark Chocolate Pancake and Waffle Mix | |
| | | Power Cakes Peanut Butter Pancake and Waffle Mix | |
Since Kodiak Cakes does not claim to be an absolute vegan brand, it's not surprising to see that many of their products aren't vegan, but as stated earlier, there are a few goods that may appeal to the vegan taste and diet.
Kodiak Cakes You Might Like to Add to Your Vegan Diet
If you like making and eating tasty pancakes for breakfast or any other part of the day, Kodiak Cakes Plant-Based Classic Flapjack & Waffle Mix is a qualifiable choice.
It is the brand's special variety formulated for vegans, and it does not fall behind the adequate nutrients that our body needs. It contains the following:
100% Whole Grain Wheat Flour
100% Whole Grain Oat Flour
Cane sugar
Pea protein concentrate
Brown rice protein concentrate
Wheat protein concentrate
Baking powder

Sodium acid pyrophosphate
Baking soda
Corn starch
Monocalcium phosphate (comes from inorganic substances)

Natural flavor
Sea salt
One serving (53g) of Plant-Based Classic contains 190 calories, 2g of fat, 12g of protein, and 33g of carbs, of which 8g is sugar and 4g is dietary fiber. Being low in fat, high in protein, and good carbs, this flapjack mix is definitely a great breakfast meal to keep your well-balanced diet.
Another interesting snack that Kodiak Cakes offer to vegans is Kodiak Cakes Plant-Based Power Waffles, which is also a preferable breakfast or snack when you're the always-on-the-go type of person. It contains pretty much as the former did, but more so:
100% whole grain wheat flour
100% whole grain oat flour
Water
Canola oil
Cane sugar
Wheat protein isolate
Wheat gluten
Sunflower lecithin
Brown rice flour
Natural flavors
Pea protein
Rice protein
Leavening (sodium acid pyrophosphate and sodium bicarbonate)
Sea salt
Guar gum
Each box of these goodies contains six pieces of waffles, and every two pieces equal one serving. A serving contains 10g of fat, 10g of protein, and 26g of carbs. Since this product contains 10g of fat, of which 1g is saturated, you might want to keep this one in moderation. Still, having 10g of protein is good, and containing 26g of carbs, of which 3g is dietary fiber and 5g is sugar, puts it in the middle-class of your healthy diet.
Are Kodiak Cakes Plant-Based Products Truly Vegan?
Sometimes you'd have people tell you that the vegan products of Kodiak Cakes aren't completely vegan because of certain processing issues, and in fact, Kodiak Cakes also labels a disclaimer on the description of the products. However, this really just depends on your preference.
They're Formulated for Vegans
Kodiak Cakes do its best to cater to all types of consumers with different dietary restrictions with the healthiest snacks they can provide, and vegans are their concern. Kodiak Cakes especially formulated plant-based products to reach out to the growing vegan community and also to offer them the nutrient-rich meals they deserve. So, it is only natural to assume that Kodiak Cakes' plant-based products are completely vegan.
They Only Have the Slightest Trace Amounts of This and That
Kodiak Cakes put a disclaimer in their Plant-Based Classic Flapjack & Waffle Mix that says it may contain some traces of eggs, milk, and soy due to shared processing equipment, and if that's enough for you to turn tail and run off, you can stop here.
However, it's not like they were there because they're supposed to be. They were only there as specks of dust and impurities leftover from other food processing. Meaning to say, that Kodiak Cakes still adhere to their honest manufacturing of a pure vegan product and are only ever affected by uncontrolled circumstances which present little to no immediate significance. It's really just up to you whether you're willing to ingest a dust-worth of milk in your pancake mix or not.
Are Kodiak Cakes Plant-Based Products Really Healthy?
Yes, they really are very healthy as they're made primarily of 100% non-GMO whole grains, and they barely contain any ingredients from animals. However, this doesn't completely throw away the possibility of negative effects when consumed uncontrollably.
They Are Organic
Kodiak Cakes boasts itself of products that are 100% non-GMO which means the ingredients are all-natural, untouched, and no wack scientific alterations to its genetics, making it a fake alternative. This is already a huge health benefit as there are no added unnecessary chemicals that may harm the human body.
They Are Made With 100% Whole Grain
Most, if not all, of Kodiak Cakes products, are made with 100% whole grains from wheat and oats; this simply means that they contain all the original parts and nutrition coming from the bran, germ, and endosperm. The bran is the outer layer of the grain and is rich in dietary fiber that is good for bowel health and blood sugar control. The germ is the inner layer and is nutrient-rich, including vitamin E, which is known for its antioxidant qualities. Finally, the endosperm is the bulk of the grain that contains many essential vitamins and minerals such as vitamin B, protein, and good carbs.
They Are Rich in Protein
With the Kodiak Cakes Plant-Based Classic Waffle Mix, we find that one serving contains 12g of protein for 190 cal already, and it doesn't take a genius to know exactly how important proteins are in our diet and nutrition.
Protein synthesis is necessary for the regulation and repair of our cells, healthy weight loss, muscle building, and efficient energy consumption. The average adult requires 0.5 to 0.8g of protein per pound of body weight daily to maintain effective protein synthesis, and just a couple of these flapjacks would already fuel you up well in the morning and throughout the day.
The Fewer Ingredients, the Better
Kodiak Cakes products have very few ingredients since most of these are natural and carefully processed. There are really not a lot of hardly understood ingredients in the mix except for those that are specially mentioned, such as monocalcium phosphate, which at first glance may already cause a few to raise an eyebrow, but this specific mineral is taken from inorganic substances such as limestone, so no calcium coming from milk at all. Simply put, the more complicated ingredients written on a product, such as the added preservatives, would only make you want to avoid those more.
Lastly, although not all, some of Kodiak Cakes products, such as Plant-Based Power Waffles, are actually bulked with fat and carbs, so you might want to watch your intake on that as too much fat is not very healthy either as with overloaded carbs. Some diets advise you to take in more fat nutrients than carbs, but that comes down to preference. At the end of the day, taking too much of anything would definitely not benefit you either. Also, watch out for your allergies to nuts and soy, as some of the plant-based products may contain them.
Is Kodiak Cakes the Only Brand Offering Vegan Products?
If you're still not satisfied with all that, or if you're still speculative about Kodiak Cakes' plant-based products, then you might want to check out these other brands that also offer vegan-friendly goodies.
Arrowhead Mills
Krusteaz
Bob's Red Mill
Hungry Jack
Aunt Jemima
Bisquick
Stonewall Kitchen
Maple Grove Farms
Is There Anything More to Do With Kodiak Cakes Flapjack Mix?
Your imagination is the only limit to what you can do with your Kodiak Cakes, waffles, and flapjacks. Simply enjoy it with whatever and however, you want to. That's what makes breakfast prep and eating a lot more fun.
Spice It Up With Your Favorite Vegan Flavors
If you want your flapjacks and waffles fluffy and flavorful, try mixing in some tasty egg substitutes such as corn starch, applesauce, whipped tofu, or mashed bananas. You can add some cinnamon powder or vanilla extract for extra spice and fragrance.
Decorate It With Your Favorite Fruits
Whether they be strawberries, raspberries, blueberries, bananas, or more, add as much as you like and decorate your pile with amazingly tasty colors and sauces to bring out the best of your breakfast creativity. The possibilities for making the best and tastiest pancake pile are endless with Kodiak Cakes Plant-Based mix.
Takeaways
Kodiak Cakes Plant-Based products are definitely a good choice for vegan breakfast and snacks. They're very healthy with a good amount of carbs, fats, and proteins, and they also contain very few organic ingredients and are full of natural nutrients and flavors.
Although not all Kodiak Cakes products are vegan, you shouldn't be too much concerned about this as the brand honestly caters to all types of people and already has products made specifically for vegans as well. Despite the disclaimer of trace amounts of impurities, this is not done on purpose and has little to no significance at all. It still depends on whether you want your breakfast to be 101% vegan or 100% with a few dusts of this and that.
Still, Kodiak Cakes is not the only good brand out there that promotes healthy vegan snacks, there are still a lot of other alternatives and choices that you may want to check out.
Whatever you choose, it would really be because you want to enjoy your meals, especially breakfast, and snacks with prime vegan ingredients that would best suit your needs and preference. So, pick up one of these plant-based products by Kodiak Cakes or some other brand and let your craving be satisfied and your creativity shine through.