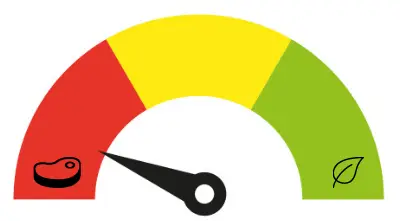 Whether kids or adults, Reese's Puffs is among the most favorite breakfast cereal brands today. It has been popular with its signature peanut butter flavor, with a hint of milk chocolate taste. The product guarantees you a bowl of corn-based cereal goodness for breakfast.
However, if you have just recently been vegan, you might have wondered if Reese's Puffs can be included in your diet. Sorry to burst your bubbles, but Reese's Puffs are off-limits to your vegan breakfast options.
The product contains vitamin D3, which is obtained from lanolin that is from wool animals. Moreover, there are also some issues concerning its sugar content. Some vegans argue, however, that consuming Reese's Puffs depends on your standpoint of being a vegan.
Read to learn more about Reese's Puffs and why you should avoid consuming them.
Being Vegan Is Not Just a Health Movement
Veganism is also about standing up against certain political advocacies. Living a vegan lifestyle means condemning and fighting against corporations that benefit from animal exploitation and cruelty. Thus, vegans don't typically consume any product coming from any animal.
The Ingredients of Reese's Puffs
Since we've talked about certain ingredients that come from animals, let's take a look at Reese's Puffs' contents. We made a chart of the purely vegan ingredients and those that aren't.
| | | |
| --- | --- | --- |
| Whole grain corn | Caramel color | Niacinamide |
| Dextrose | Trisodium phosphate | Vitamin B6 |
| Cornmeal | Natural flavor Vitamin E | Vitamin B2 |
| Corn syrup | Tricalcium phosphate | Vitamin B1 |
| Canola oil | Calcium carbonate | Vitamin A |
| Salt | Zinc and iron | Folic Acid |
| Hershey's cocoa | Vitamin C | Vitamin B12 |
Meanwhile, here are the Reese's Puffs' non-vegan ingredients:
The Issue With Sugar
Well, sugar itself is not an animal product. However, the issue lies in how some manufacturers refine and process their sugar. This is because, to achieve a perfect white color, these companies are using bone char.
Bone char, being a natural carbon, is widely used as a filter to decolorize sugar. This results in the desired pure, white color on refined sugars. Even though there are no traces of bone char in the actual product, the vegan community is still against this kind of treatment.
Now, the question is, does Reese use sugar refined through bone char? Well, we can't answer that by now. The best thing to do is to ask the manufacturers directly and wait for their reply (which might take forever). Just remember that it's hard to be 100% vegan, especially with manufacturing companies having the same machine and tools for both their vegan and non-vegan ingredients.
Thus, choosing to live a vegan and healthy lifestyle is already a big impact alone.
Which Sugars Are Not Using Bone Chars?
According to the People for the Ethical Treatment of Animals, more commonly known as PETA, there are alternatives that we can use aside from those that use bone chars. They named Sucanat, turbinado, and beet sugar some of the alternatives. The PETA also encourages consumers to always ask for the manufacturers with their ingredients, as it is impossible to track every sugar product available in markets.
Why Is Vitamin D3 Non-vegan?
Also called cholecalciferol, vitamin D3 is used to help your body consume calcium. This is why we can see most of the commercial cereal breakfast products include vitamin D3 because most of them are prepared with milk, a product rich in calcium.
Now, vitamin D3 is non-vegan because it is generally obtained from lanolin. Lanolin is a wax obtained from wool-bearing animals, such as sheep. It serves as the layer between the animal's skin and wool. Lanolin then acts as one of the main protections of these animals against various dangers and threats in their surroundings.
As we have mentioned earlier, vegans do not include any animal products in their diet as part of their political campaigns. Reese's puffs contain lanolin, and lanolin is an animal product. Thus, we can say that vegans should avoid consuming the product.
Nutrition Facts
As per the product's label, the serving size for every serving should be ¾ of a cup. And each product is for 1 serving only. The chart below presents the nutritional contents of Reese's Puffs Cereals per suggested serving.
| Contents | Amount per serving |
| --- | --- |
| Calories | 120 |
| Calories from fat | 30 |
| Total fat | 3 g |
| Saturated fat | 0 g |
| Trans fat | 0 g |
| Cholesterol | 0 mg |
| Sodium | 160 mg |
| Total carbohydrates | 22 g |
| Dietary fiber | 1 g |
| Sugars | 10 g |
| Protein | 2 g |
| Vitamin A | 10% |
| Vitamin C | 10% |
| Calcium | 10% |
| Iron | 25% |
Just take note that the actual product contains peanuts, so if you have an allergic reaction to it, the product is definitely not for you.
Is This Product Gluten Free?
Generally, Reese's Puffs Cereal is gluten-free and is not made with any wheat products. The product is purely made with whole grain corn instead. However, there is a disclaimer that the product is manufactured in the same area where Reese's products that contain wheat are also being manufactured.
Thus, if you're following a strict gluten-free diet, the product is not for you.
Why Are Some Vegans Still Consuming This Cereal?
Honestly speaking, being a vegan is your choice. This means setting some limits and distinctions with your diet plan. Some believe that small amounts of these animal products are irrelevant, while some follow a strict standpoint.
As you see, Reese's Puffs Cereal contains only a small amount of vitamin D3. Plus, we are still unsure whether the company actually uses bone char in refining its sugar. Thus, some vegans see these as to why it is still acceptable to consume the product.
Again, the decision rests in your hand. Whether you will consume it or not depends on how you value veganism and how firm you stand with your decisions in living a vegan life. Don't let other people tell you what to eat or not.
Vegan Alternatives to Reese's Puffs Cereal
For cereal lovers that are devastated by Reese's Puffs not being vegan-friendly, don't worry because there many vegan cereal products out there. We listed some of the vegan alternatives that you can try to brighten up your mornings.
What's a better alternative to Reese's Puffs Cereals than a peanut butter cereal, right? The only difference is that Barbara's Peanut Butter Puffins are made 100% vegan and verified to be a non-GMO-containing product.
This is a very good choice if you want complementary flavors on your plate. With the perfect combination of flavors, Nature's Path Organic Optimum Blueberry Cinnamon is something you can look forward to every morning.
If you want a cereal that is not only delicious but packed with nutrition, this cacao cereal is definitely a must-try for you. The product is organic, kosher, and 100% vegan made. It includes dates made in chocolate, crunchy coconuts, and raw cocoa goodness. Aside from this, the product is certified to be gluten-free.
If you're into apple-flavored cereals, Back to Nature Granola Apple Blueberry contains bits of apple and blueberries. The product is also certified as a non-GMO product and does contain artificial preservatives, food colors, and flavors. Of course, this is made as 100% vegan breakfast cereal.
This cereal is certainly good for those who are working out and losing some weight. It is made up of whole grains and contains lesser calories.
Aside from these, you can also check out the following vegan cereal products and where you can find them:
To Conclude
Vitamin D3 in Reese's Puffs is the main reason for the product not being suitable for vegans. The product also contains questionable sugar contents that may have been refined using bone char.
There are many pure vegan and healthy cereals out there, so make sure to try them out the next time you crave a bowl of good cereal in the morning.