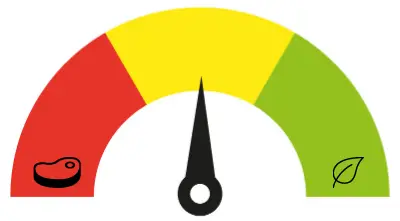 One of the greatest accomplishments a brand can achieve is to become a new word in the dictionary. Examples of such brands are Styrofoam and Band-Aid.
Though it has yet to reach the same level as these brands, Sharpie, a brand of writing instruments (e.g., markers, pens, highlighters), is getting closer to that goal, as people now use it interchangeably with the word "marker." However, as you might already be aware, there are talks on whether Sharpies are vegan or not.
Unfortunately, there's no way of knowing whether Sharpies are vegan as the brand doesn't fully disclose its ingredients list.
However, after gathering bits and pieces of information about the company, we've found that Sharpie products are more likely to be vegan than they are to be non-vegan. One of the main reasons for this is because the company did actually disclose its ingredients list a decade ago, as required by law.
Potential Ingredients Of Sharpies Ink
Though it may have been around ten years ago, the Sharpies Company actually did partly disclose their ingredients list. You can look into it via this link under Section Three: Composition. According to this document titled Material Safety Data Sheet (MSDS), Sharpie Ink consists of the following ingredients:
Butanol
Diacetone Alcohol
Ethanol
Propanol
Additives
Dyes
Pigments
As you can see, there are seven different ingredients in Sharpies Ink.
Of course, their recipe may no longer be the same as ten years ago, but as stated earlier, this is the most in-depth ingredients list you can find on Sharpies.
So, where does each of these components come from? Considering they're not common terms, it's only understandable if you're not aware of what they are.
In that regard, this section will look into each ingredient in-depth:
Butanol
Butanol is ultimately a product derived from petroleum, though companies can produce the material in different ways. In Sharpie's case, they have not disclosed how they produce butanol. But butanol should be vegan regardless of production method. Butanol is often used as a solvent for paints and also probably ink.
Diacetone Alcohol
Although a quick search on Google would show information that diacetone alcohol is found in cow milk, it can also be derived from other sources.
The diacetone alcohol used in ink and paint, for example, can come from acetone via various methods. Sharpie most likely uses barium hydroxide condensation to achieve their desired result for diacetone alcohol. In short, diacetone alcohol should be vegan. It's used in clean ink, as a primer, or as a solvent.
Ethanol
Ethanol primarily comes from corn, mainly via fermentation. While companies also chemically synthesize plant sources, or more specifically, their starches, to produce ethanol, it still comes from a plant and is therefore completely vegan. Similar to the previous ingredients, ethanol is most effective in ink as a solvent.
Propanol
Propanol can be found naturally in very small amounts during the fermentation process of plants, similar to ethanol. Hence, propanol is completely vegan. Also, unlike the first three ingredients, ink manufacturers mainly use propanol to improve the quality of ink by enhancing viscosity, wetting, and reducing foaming.
Additives, Dyes, And Pigments
The last part of the Material Safety Data Sheet's Section Three might be where you'll get a bit confused. After all, rather than disclosing the ingredients, they simply added in "pigments, dyes, additives," though it's understandable if they wish to avoid getting their recipe stolen. So, what does this tell us?
Unfortunately, it doesn't tell much as far as being vegan is concerned. Certain types of pigments, dyes, and additives are vegan, while others are not.
The reason why we concluded that Sharpies are more likely to be vegan than it is to be non-vegan is that permanent ink usually doesn't use animal-derived ingredients for practical reasons. For starters, animal tissues are biodegradable, so it'd mean Sharpies are actually not permanent makers if they use such dyes.
Then again, there's no guarantee that Sharpies are actually vegan or not. Moreover, you must keep in mind that the aforementioned ingredients don't apply to all products. If you look closely into the MSDS, it only includes these products:
Esterbrook by Sharpie
Sharpie Aluminum Barrel
Sharpie Brush Tip Marker
Sharpie CD Marker
Sharpie Chisel Tip Marker
Sharpie Extra Fine Marker
Sharpie Fine Point Marker
Sharpie Grip Marker
Sharpie King Size Marker
Sharpie Liquid Tip Marker
Sharpie Magnum Marker
Sharpie Micro Marker
Sharpie Mini Fine Point Marker
Sharpie Premium
Sharpie Pro
Sharpie Pro King Size
Sharpie Pro Magnum
Sharpie Retractable Fine Point Marker
Sharpie Twin Tip Marker
Sharpie Ultra Fine Point Marker
Super Sharpie Marker
Super Sharpie Twin Tip Marker
Now, you might be wondering, what are the chances that Sharpie's other products are vegan as well? Well, to answer that question, you must first understand that Sharpie products can belong to four categories.
Different Materials For Sharpies Ink
While there are different types of Sharpies according to tip style and ink, the tip really doesn't have anything to do with whether the product is vegan. It's almost certainly going to be made of plastic or metal. The ink, on the other hand, may or may not be vegan, depending on what the pigment is made of.
For that reason, this section will discuss the different ink types of Sharpies and see whether there's a specific ink or pigment you must look out for.
Alcohol-Based
The very first ink type of the Sharpie brand is alcohol-based, and it's the category to which the aforementioned products belong. It's the standard ink for other brands of permanent markers as well, not just Sharpie. This is mainly because alcohol-based is "permanent" and is, therefore, the most suitable for permanent markers.
Furthermore, the alcohol-based ink is resistant to water and fading and can dry fairly quickly. And as already mentioned, the alcohol used is generally vegan.
Unfortunately, alcohol-based ink consists of more than alcohol. It also contains dye, which can potentially be vegan or not, depending on the ingredient. To conclude, alcohol-based sharpie ink should be completely vegan unless, of course, the dyes that Sharpie specifically uses contain animal byproducts.
Water-Based
Water-based ink is best known for being the safest type of ink there is, not just among Sharpie products but also among other brands. After all, water poses the least threat between alcohol, oil, and wax, which are all core ingredients of marker ink. And since water is vegan, water-based ink is also completely vegan,
Oil-Based
As the name suggests, oil-based ink consists mainly of oil. Oil-based ink is known to be fade, smear, and waterproof, similar to alcohol-based ink. Perhaps the main difference between this type and alcohol-based ink is the fact that it works on more surfaces, be it a rock or a dusty surface. It's fairly versatile.
Unlike water and alcohol-based ink, there are different types of oil you can use to make oil-based ink. Alas, Sharpie doesn't disclose what type of oil they use.
However, most types of oil that can be used for oil-based ink are vegan, so there's not much to worry about, apart from the dye that can potentially be non-vegan.
Wax-Based
Crayons are mostly made of wax, but a marker made of wax was unheard of at least a few years ago. Now, Sharpie has a new line of products that uses wax for its ink. Though it is unconventional, it works surprisingly well on any surface. But aren't crayons not vegan, especially since they contain stearic acid? you may ask.
If you're not aware, stearic acid is derived from beef fat, but this ingredient is only used to provide crayons with a distinct smell. Markers don't have such a smell.
In other words, wax-based markers, or rather, their ink, most likely don't contain stearic acid or any other animal byproduct and are therefore vegan.
To conclude, the four different ink types of Sharpies are most likely vegan, though it ultimately depends on whether Sharpies uses a non-vegan ingredient for its dye. But then again, the company doesn't disclose its ingredients. There are, however, marker brands that are fully transparent with their ingredients.
Vegan Alternatives To Sharpies
There are tons of vegan alternatives to Sharpies out there, but some are not transparent about it. There are, however, two products that are confirmed to be vegan, namely (1) Chartpak and (2) Copic. Chartpak isn't fully vegan since they only disclosed the ingredients of some of their products. However, we do know that at least their ADMakers and Spectra ADMakers are vegan.
Copic, on the other hand, should be completely vegan as they have disclosed the ingredients for all their products, and so far, no animal is involved.
Closing Thoughts
Apart from the ingredients, you must also find out whether the company is cruelty-free or not. Again, there's not much information on whether there's animal cruelty going behind the scenes in the Sharpie Company. Regardless, the aforementioned vegan alternatives, Chartpak and Copic, both use no animal products for their markers and are cruelty-free.