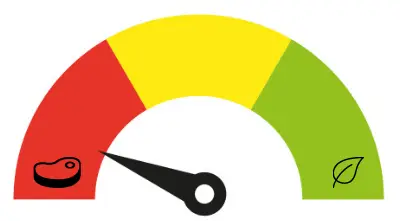 Usually, whenever we see cream, butter, cheese, and sometimes even chocolate or caramel on food labels, we automatically assume that those products contain a form of milk, cow milk, specifically. Butter popcorn, caramel lollipops, and sour cream-flavored chips all fit this bill of common assumptions.
Most branded sour cream and onion chips are non-vegan, and it's because they usually put a lot of dairy-based proteins in there, such as skim, whey, and buttermilk. The good news is there is a brand of chips and snacks that do offer vegan-friendly sour cream flavors, Earth Balance.
What exactly is sour cream, how it's made, and what we can substitute it with, as well as which vegan brands innovated to mimic sour cream chips, all will be right here. You don't have to limit your taste buds to just vegan sour cream and onion flavors, though, as there is a collection of other vegan-friendly chips and varieties that you can enjoy.
What Makes Sour Cream Non-Vegan?
It's made of cream. Sour cream is a dairy product fermented with a lactic acid culture. The cream naturally consists of about 20% fats and lipids, and the fermentation process causes it to develop a tart taste and a thick texture. Sour cream is also rich in saturated fats and is desired due to its acidic taste that tickles the cheeks and palate. It's a favorite dip, combined with green onions, among people who love eating crispy chips with a hint of sour creaminess.
According to Healthline, sour cream has little to no well-proven benefits. Since it's mainly used as a garnish, it's not a necessary component in any diet and is especially not ideal for those who follow a vegan lifestyle.
What Is Vegan Sour Cream?
Like milk, butter, and cheese, sour cream has vegan substitutes that neglect the use of dairy products. There are also a lot of recipes and substitutes that entirely replace empty sour cream with a plant-based garnish that are healthier and tastier.
Since Healthline is aware that many people are lactose or milk intolerant, they've provided a list of great, non-dairy sour cream substitutes that would benefit the vegan diet.
Cashew
A plethora of vegan-friendly milk substitutes come from nuts such as almond milk, coconut butter, and of course, cashew cheese. Did you see the coconut butter there as a "nutty" substitute? I'm just messing with you, coconuts aren't real "nuts."
Well, cashew nuts make an excellent replacement for sour cream as their natural fatty, creamy texture makes up for more than the natural nutrition and mouthfeel of sour cream. Plus, it's easy to make cashew sour cream.
Simply soak 225 g of raw cashews in water overnight, or if you're in a rush, soak them in hot water for an hour. After that, drain the water and transfer the cashews into a high-speed blender with 3/4 cup of water, 2 tbsps fresh lemon juice, 2 tbsp apple cider vinegar, and a half teaspoon of fine sea salt. Blend until the mixture turns smooth, and add water as necessary.
Finally, put the mixture in an airtight container and chill in the fridge until the cream thickens. Serve and dip!
Cashew sour cream serves as a great, tangy dip for your veggies and chips and a garnish for soups, but it's not ideal for baking since the cashews were originally solid. So you might risk getting clumps of cashew sour cream in your baked goods, which would also offset the taste and texture of your final product.
Eating cashew nuts is also very healthy and should be included in your diet from time to time. They contain about 18 g of protein per 100 g compared to the original sour cream, which barely contains a gram of protein per serving. They also have 12 g of fats per ounce, most of which are unsaturated and lower the risk of premature death and heart disease.
Judging by its contents alone, I'd take cashew sour cream every day over regular sour cream. The nutritional benefits of cashew sour cream overrun regular sour cream by a storm.
Coconut Cream
Coconut cream also makes quite a popular sour cream substitute, and this might be because you can use this version for baking. Coconut cream is the thick, creamy substance resting over a saucepan or pot of coconut milk. This plant-based cream can be skimmed off, and blended with apple cider vinegar, lemon juice, and sea salt to produce coconut sour cream.
Unlike cashew nuts, you don't need to presoak coconut flesh or milk at all, and more so, you can buy a can of coconut cream. It's much easier and quicker to make than cashew sour cream, and since it's a liquid base, you can safely use this for baking.
Although coconut cream barely compares to cashew sour cream in terms of healthy fats and proteins, this is because coconut cream is more saturated fat than it is anything else. In 100 g of coconut cream, there is less than a gram of protein, 20 g of fats, and about 60 g of carbs. The carbs in coconut cream are mostly sugars.
It's rich in potassium and calcium, though, but not very significant since we don't consume coconut cream or sour cream in yogurt-like amounts.
Would I opt for coconut sour cream? I would if I needed the tanginess of sour cream when baking, but not at all if I needed a dip or dressing.
Soy Milk Or Soy Cream
There are commercialized products of soy cream and soy sour cream. Although they're palatable and convenient, they're not always healthy as most have added preservatives and fatty oils that may come from palm oil. According to PETA, there's a bit of orangutan suffering in every drop of palm oil.
Soy milk can be used to make sour cream and even creme fraiche, but the process may be more complex and time-consuming than cashew and coconut sour creams. Due to this, we won't list the entire recipe and procedure here, but you can always check them out from a dozen recipe sites, and perhaps you can also buy soy sour cream with the least number of ingredients and additives.
Soya sour cream simply consists of fermented soy milk, lemon juice, fine sea salt, and cane sugar. Once you've made soya sour cream, it contains similar nutritional values to the original sour cream, calories, carbs, and fats, but what may set them apart is the naturally high protein content of soy.
It's tasty, convenient, healthy, and adaptable to baking, and you can also make soya sour cream from silken tofu, sometimes referred to as "failed tofu." Would I want to use soy sour cream? I would if I had enough time and determination to make it since it has more uses than either cashew-based or coconut-based sour creams.
Vegan Sour Cream And Onion Chips
I know we've been on quite a rabbit trail discussing vegan sour cream, but let's go back to the main point. Now, let's see the ONLY brand that claims a vegan-friendly sour cream and onion-flavored snack.
Earth Balance Vegan Sour Cream & Onion Kettle Chips – They don't give insight on the base of their vegan sour cream, and the product contains calcium lactate. Calcium lactate isn't an alarming substance for vegans though it sounds like one. It's a food preservative derived from lactic acid, which naturally comes from legumes, cereals, and fermented vegetables. Manufactured or artificial lactic acid may come from animals though, so be wary.
Other Vegan-Friendly Flavored Chips
As I've said, if you're craving a crispy snack, don't limit yourself to sour cream and onions. So here are a few of the best vegan-friendly chips out there!
Lays Classic Potato Chips
Doritos Spicy Sweet Chili
Fritos Original Corn Chips
Kettle Brand Potato Chips – most vegan flavors are currently unavailable.
Pringles Original Potato Crisps
SunChips Original Multigrain Snacks
Forager Project Cheezy Greens
Enjoy Life Plentils
Beanfields Chips (All Varieties)
Siete Grain Free Tortilla Chips (All Varieties)
PigOut Original Pigless Bacon Chips
Homemade Vegan Chips
You can pretty much take a potato, cut it into thin slices, bake it, and season it with a dry mix of nutritional yeast, garlic powder, onion powder, sea salt, and chive slices and there are your DIY vegan potato chips.
You can also season fresh kale with sea salt and bake it to make kale chips that are crispy and enjoyable. Any vegetable you can slice very thinly and bake with sea salt and spice powders can be your vegan-friendly snack chips. There are hundreds of simple recipes out there, and it all comes down to preference.
I'd still love to take some Doritos and nachos with my homemade vegan sour cream dip or perhaps bake my crispy platter of vegetable chips. I love crispy snacks, especially when they're healthy and cruelty-free.
Bottom Line
Sadly, there aren't a lot of brands as of yet that sell vegan sour cream chips, but we still ought to be thankful for the only brand that does. However, there are still a lot of other tasty snacks and chips that are vegan-friendly, and making a vegan sour cream dip shouldn't be too hard if you put in enough effort and time.