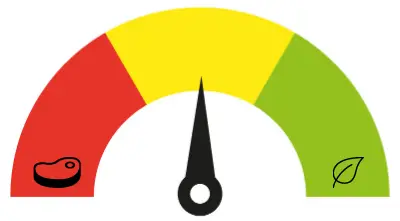 Generally, sprinkles are not vegan because most brands include confectioner's glaze as their ingredient. Confectioner's glaze is shellac made from a substance secreted by lac beetles. However, there are some 100% vegan sprinkle brands that you could alternatively use.
Whether you want to decorate or add more sweetness and texture to your all-time favorite vegan dessert— sprinkles will surely make your day. With this, most of the members of the vegan community are curious whether sprinkles are actually vegan.
Unfortunately, sprinkles are, most of the time, not vegan-friendly. This is because of one of its main ingredients, the confectioner's glaze. We will be discussing the said ingredient as we go along with the article. Nevertheless, there are still vegan sprinkle brands that vegans can run into whenever they feel like decorating desserts.
Read more to learn about why sprinkles can be a red flag to your vegan diet and find some alternative brands you can try for vegan sprinkles!
Sprinkle Ingredients
When you think of sprinkles, one ingredient comes to mind— sugar. The table below presents the complete list of sprinkles' ingredients.
However, it is to be noted that this can be subject to changes depending on the brand you purchase. Make sure to read the labels carefully for some other red-flag ingredients. Non-vegan ingredients are bolded.
Sprinkle Ingredients
Sugar
Vegetable Oil
Cornstarch
Confectioner's Glaze
Dextrin
Food Coloring
Natural And Artificial Flavor
Soy Lecithin
Carnauba Wax
As you have noticed on the table, sprinkles contain confectioner's glaze, which is not a vegan-friendly ingredient. Continue reading as we deep dive into why the said ingredient is off-limits for vegans.
What Is Confectioner's Glaze?
Confectioner's glaze is a type of shellac primarily used to give shine to food products, such as sprinkles. I know you're a bit confused since shellac is associated with household products like varnish, nail polish, shoe polish, and the like. Well, confectioner's glaze is also a popular product in the food-making industry.
Now your next question would be, is it safe to consume food products with shellac as it is used in strong household products? The answer is yes; it is safe to consume since these food items contain only 20-50% of shellac in them.
But, if you're on a vegan diet, food products that contain confectioner's glaze are not for you.
Why Confectioner's Glaze Isn't Suitable For Vegans?
Unfortunately, shellac is made from an animal product. This substance protects the eggs of lac beetles.
As statistics say, almost 300,000 bugs and beetles are being killed just to produce approximately 2 pounds of shellac.
The vegan community has been fighting against corporations that practice animal cruelty and violence in their manufacturing processes as their advocacy. More than just health reasons, the vegan movement is a step towards a caring world for animals.
Other Issues With Sprinkles
As you have noticed in the table above, there's vegetable oil on the list. While most vegetable oils are vegan, the vegan community has issues with palm oil.
Palm oil is vegan in nature as it is 100% plant-based. However, the palm oil industry reportedly uses dangerous and abrupt practices against wildlife and forests. With this, some vegan community members have taken a stand to boycott and exclude palm oil from their food list as part of their political movement.
However, the choice to consume palm oil is purely personal. Some vegans still consume or use palm oil because they believe it is acceptable and within their tolerance.
If you want to learn more about which vegetable oils are vegan, click here.
What Are The Vegan Alternatives To Sprinkles?
Luckily, we can still make our ice creams and cupcakes colorful with some vegan sprinkle brand alternatives. We have compiled the best brands that are both accessible and affordable for you. Some of these products may contain palm oil, which we discussed is an area of concern for some vegans. Make sure to read carefully to avoid any confusion.
Watkins Rainbow Sprinkles
These Watkins Rainbow Decorating Vegan Sprinkles add a unique touch of colors to your food with their seemingly dark yet vibrant color schemes. Plus, these are all gluten-free, certified not to contain GMO ingredients, and do not contain corn syrup. However, you must be careful with some of their products as they are not an all-vegan brand. Make sure to read the labels carefully before purchasing.
Chef's Quality Sprinkles
Do you like chocolate sprinkles? Well, these Chef's Quality Vegan Chocolate Sprinkles are the right sprinkles for you. Decorate and add a hint of chocolate to your favorite desserts anytime with this high-quality product. However, take note that these sprinkles contain palm oil. So, if you choose not to consume palm oil products, you can proceed to check out the rest of the list.
Wilton Rainbow Sprinkles
If you're looking for sprinkles with a rounder shape, then you should check out Wilton Naturally Flavored Rainbow Confetti Sprinkles. This does not contain any artificial flavorings like other famous brands. However, this actually contains hydrogenated palm oil, so make sure to consume it moderately.
Whole Foods Market Sprinkles
We can say that Whole Foods Market Rainbow Sprinkles is among the safest vegan sprinkle brands out there. These sprinkles are made with natural vegetables, like beets and cabbage. However, this product also contains palm oil, which can be an issue for some vegans.
Edward & Sons Sprinkelz
Let's have some organic sprinkles in the house! Edward & Sons Let's Do Organic Confetti Sprinkelz is a palm-oil-free (finally) product made with pure organic and gluten-free ingredients, like cane sugar, tapioca starch, and plant-based food colorings. If you follow a strict vegan diet, this is among the best and safest sprinkle products that you can opt to use.
Summary Of Vegan Sprinkle Alternatives And Where To Buy Them
The table below presents the five vegan sprinkle brands we discussed above, where you can find them, and if they include palm oil in their ingredient list. Take note that this may change as these brands continue to update their products from time to time. Make sure to read the labels carefully before buying them.
| Vegan Sprinkle Brand | Where To Buy | Does It Contain Palm Oil |
| --- | --- | --- |
| Watkins Rainbow Sprinkles | Amazon | No |
| Chef's Quality Sprinkles | Amazon | Yes |
| Wilton Naturally Sprinkles | Amazon | Yes |
| Whole Foods Market Sprinkles | Amazon | Yes |
| Edward & Sons Sprinkelz | Amazon | No |
Can I Make My Own Vegan Sprinkles At Home?
Well, our motto here is that anything is possible for our cravings. With this, it is affirmative that you can create your own vegan sprinkles at the expense of your home ingredients. You can choose to sprinkle toasted coconut, grate vegan chocolate bars, chop peanuts, or simply use dried fruits.
It may not taste as sweet and festive as typical sprinkles, but it is 100% guaranteed to be healthier and suitable for your diet. So, what are you waiting for? Head to your kitchen shelves and find the best vegan alternative you can sprinkle around for your next baking session!
Commercial Sprinkles Are Not Vegan
It is true— sprinkles are not designed for vegan consumption. This is because they include the confectioner's glaze, which comes from lac beetles. Also, most commercially available sprinkle products contain palm oil which is a gray area for some vegan folks. Thus, more and more vegans are trying to find better alternatives for sprinkles.
Luckily, there are some vegan sprinkle products that we have enumerated above. Moreover, you can easily pick your favorite food ingredient and turn it into your own vegan sprinkles. Very easy and affordable, right?
So, the next time you need to put some fun and color to your favorite ice cream or cupcake, you already know which sprinkles to get.