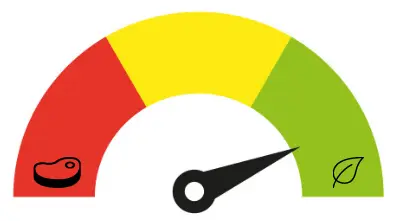 We've addressed whether AHA Sparkling Water is vegan or not and will also discuss the ingredients of AHA Sparkling Water.
While AHA Sparkling Water is a vegan product, there will be a list of other vegan sparkling water brands later on in this article.
Before we progress any further, it is essential to know what sparkling water is.
What Is Sparkling Water?
Sparkling water is carbonated water infused with carbon dioxide gas under pressure. The result is water that is bubbly and is also known by other names:
Club soda
Soda water
Seltzer water
Fizzy water
Usually, water used to make sparkling water is from a mineral spring and is rich in sulfur compounds and other minerals.
Ingredients of AHA Sparkling Water
Ingredients:
Natural flavors
Carbonated water
Caffeine
Calcium
Magnesium chlorides
Potassium bicarbonate
Ingredients:
Carbonated water
Natural flavors
Ingredients:
Natural flavors
Carbonated water
Caffeine
Calcium
Magnesium chlorides
Potassium bicarbonate
Ingredients:
Carbonated water
Natural flavors
Ingredients:
Carbonated water
Natural flavors
Ingredients:
Carbonated water
Natural flavors
Ingredients:
Carbonated water
Natural flavors
Ingredients:
Carbonated water
Natural flavors
All eight flavors of AHA Sparkling Water are free of GMOs, artificial sweeteners, calories, and sodium.
Other Vegan-Friendly Brands of Sparkling Water
As discussed, sparkling water is infused with carbon dioxide. However, some brands artificially add carbon dioxide and artificial flavors to sparkling water, so vegan dieters need to know which brands are vegan-friendly.
San Pellegrino
San Pellegrino is a prestigious sparkling water brand; it is so popular that it has even been part of many songs. San Pellegrino is an Italian brand, and sparkling water is manufactured in Bergamo. Nestle acquired the brand in 1990.
The flavor that is a hit among customers is Blood Orange; however, nothing beats the original taste due to its freshness, crispiness, and simplicity.
Perrier
Perrier is a French brand, and its water is popular worldwide. Perrier sells its water in an iconic tear-dropped-shaped glass bottle, which makes it unique and allows it to stand apart from its competitors.
In a single Perrier sparkling water bottle, there are more than fifty million bubbles. Perrier sparkling water is sourced in France; it is free of caffeine and sugar and is available in several restaurants worldwide.
La Croix Sparkling Water
Despite having a French name, La Croix is an extremely popular American sparkling water brand. It comes in colorful packaging and is available in several flavors. The favorites are these flavors:
Voss Sparkling
Voss not only manufactures high-quality mineral water but has also launched a wide array of sparkling water flavors recently. The Voss sparkling water is sourced through a natural aquifer in Norway.
The sparkling water comes in Voss' signature bottle that is exclusively designed for Scandinavia. The Voss sparkling water is also free of:
Calories
Artificial flavors
Artificial sweeteners
Sugar
This sparkling water comes in numerous flavors, but Lime Mint and Tangerine Lemongrass are the most popular.
Spindrift
Spindrift is also an American sparkling water company and is based in Boston. The company was founded in 2010, and it manufactures high-quality sparkling water. Spindrift is free of artificial flavors and instead contains flavors that are naturally extracted from fruits.
Consuming natural fruit flavor has its benefits, and it gives you a nice boost of essential vitamins. The flavors of Spindrift that customers like are Cucumber and Raspberry Lime.
Waterloo
Waterloo is a brand of sparkling water that is based in Austria. Waterloo is the main competitor of La Croix. The Waterloo sparkling water comes in colorful cans and is available in different flavors. This product is free of calories, sodium, and sugar.
The flavors of Waterloo sparkling water that stand out are:
Bubly
PepsiCo owns Bubly sparkling water. This product also comes in colorful cans and is free of sweeteners and artificial flavoring. These three flavors of Bubly are very popular:
Grapefruit
Strawberry
Cherry
Polar
Founded by Dennis Crowley in 1882, the Polar sparkling water company is based in Massachusetts and is still owned by the Crowley family. This sparkling water has three key ingredients:
Water
Fruit flavorings
Sparkling bubbles
The company has stated that the manufacturing process has largely been the same over the past century. However, Polar does use high-tech equipment to manufacture its sparkling water and, over time, has added more flavors.
Some favorite flavors are:
Vanilla
Triple berry
Orange vanilla
Topo Chico
Topo Chico is a Mexican company that is based in Monterrey. This company was founded in 1895 and is sources water from Monterrey valley. Coca-Cola acquired the company in 2017.
People have had high praise for Topo Chico, but unfortunately, it is only available in two countries:
Health Benefits of Sparkling Water
If you are struggling to drink regular water, try using sparkling water as a substitute. Sparkling water contains fewer calories and provides more hydration than soda. Sparkling water has some health benefits as well:
Weight Management
To lose weight, you need to stay hydrated. Sometimes, when you're feeling hungry, it might be due to dehydration. However, your body cannot pinpoint dehydration as a reason for your hungriness.
This is why water is necessary for consumption and will help you stay satisfied for an extended period.
Improves Digestion
Research has shown sparkling water can aid digestion. A study that was done on 21 participants concluded that consuming sparkling water relieved constipation and indigestion.
Improves Swallowing
Studies show that sparkling water can improve swallowing ability in both adults and kids. In one study, sixteen participants were told to swallow different liquids. The research showed that carbonated water could stimulate the nerves that are responsible for swallowing.
Another research showed that the combination of carbonation and cold temperature could improve swallowing. When 72 people who had a persistent need to clear their throat were studied, it was discovered that cold carbonated water eased throat issues in 63% of the participants.
Increases the Feeling of Fullness
Sparkling water can also help increase the fullness after a meal to a greater extent than regular water. Sparkling water may also help food stay in your stomach longer, which triggers a longer phase of fullness.
However, more studies need to be conducted.
Does Carbonated Water Affect the Heart Health?
Research indicates that contrary to popular opinion, carbonated water can help keep your heart healthy. However, more research is needed in this regard, and the evidence is limited.
Research conducted on eighteen postmenopausal females showed that carbonated drinking water rich in sodium could reduce blood sugar, cholesterol, inflammation, and LDL. In addition, these women also experienced an increase in HDL, which is good cholesterol.
It was also discovered that those who consumed carbonated water had a lower chance (35%) of developing heart illnesses than those who drank regular water.
However, you will need to take this discussion with a pinch of salt, as this is only one small study; more thorough research is required.
Does Carbonated Water Harm Your Bones?
Most people believe this age-old myth that carbonated water weakens your bones because they are highly acidic. However, research proves that the reason behind those weak bones is not carbonated water.
An observational study with 2500 participants discovered that people who consumed cola drinks were at risk of developing bone-related issues. The same study concluded that carbonated water does not affect the health of bones.
Cola drinks have one ingredient that carbonated water and clear soda don't have; they are full of phosphorus. Researchers have suggested that cola drinkers consume a large quantity of phosphorus and their calcium intake is dangerously low, which increases the risk of bone damage.
Research conducted on teenage girls who drank carbonated water or drinks concluded that they had lower bone density. However, this was the case because they consumed more carbonated water than milk, so their calcium intake was low.
Another controlled study on eighteen postmenopausal females who drank sodium-rich sparkling water for eight weeks showed better calcium retention than regular drinking water.
The research done on animals also has positive results, as carbonated water helps improve bone health.
Conclusion
The focus on most occasions is on what you should eat; however, vegan dieters are careful about what they should drink as well. This article was able to answer a very crucial question: is AHA Sparkling Water vegan? And the discussion above proves that not only Aha but almost all sparkling water brands are vegan.
The discussion then focused on other vegan-friendly brands of sparkling water that are available in the market. Towards the end of the article, we elaborated on the benefits of sparkling water. Sparkling water is good for your health and helps you stay hydrated.