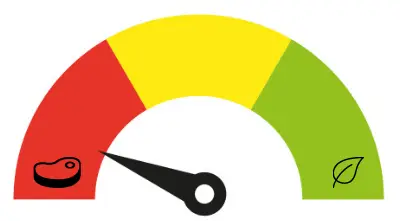 Is Bone China Vegan?
Now that we have the answer to this question: is bone china vegan? Let's discuss other characteristics of bone china.
Bone china is a variety of porcelain and may contain animal products such as bone ash.
Let's briefly discuss the key ingredients of bone china before moving forward.
What Is Bone China Made Of?
Usually, bone china consists of the following ingredients:
Kaolin
Bone ash
Feldspathic
Why Is Bone China Non-Vegan?
Bone china is not considered vegan-friendly becomes it contains bone ash. Bone china uses animal bones that are discarded from slaughterhouses, especially cow bones.
While most bone china products contain approximately 25% bone ash, the amount can rise to 40 to 50%. The bone ash is added during the manufacturing process in the clay mixture to give it a translucent appearance and milky texture.
Is Bone China Cruelty-Free?
While bone china does not slaughter the animals for their body parts and sometimes acquires bones of animals that died naturally, they take bones from slaughterhouses.
Is There a Vegan Version of Bone China?
Yes! Thanks to developers and researchers, a 100% vegan-friendly version of bone china exists. The name of this version is new bone china, and it contains zero animal products.
The chemical makeup of new bone china might differ from bone china, but the quality is the same.
The main ingredients of new bone china are:
These two ingredients have characteristics similar to bone ash.
Main Differences Between Bone China and New Bone China
While both bone china and new bone china have similar whiteness and smoothness, the texture and raw materials of the two products differ.
Below we have discussed some differences:
Raw Material
Bone china contains approximately 36% bone ash; on the other hand, new bone china has no bone ash content.
Firing
Bone china is formed by firing it twice, whereas new bone china is only fired once, like other porcelain products.
Features
Compared to new bone china, bone china has a softer white appearance, is more lightweight and transparent. Therefore, in appearance, bone china is much better than new bone china.
Price
The big advantage that new bone china has over bone china is price. New bone china products are priced lower than bone china products.
Is Bone China Ethical?
Defining something ethical or unethical is a challenging task because the topic of ethics is considered subjective.
This argument is considered old-fashioned, and due to bone china, many animals are killed in slaughterhouses regularly. Bone china and the meat industry are equally responsible for killing animals for their body parts.
Vegan Dinnerware Brands
This brand of dinnerware is non-toxic and comes with side plates that are made of recycled porcelain. This dinner set also contains the following:
Dinner glasses made from recycled glass and colored with natural dye
Hand-painted main plates
This dinnerware is shatterproof and lightweight and is made from the following ingredients:
Zungleboo creates products that are:
Eco-friendly
Family-friendly
The bowls and plates in this dinner set are plant-based and are also dishwasher and microwave-safe.
Etsy is a brand that manufactures antique dinnerware such as English, Belgian, and French dinner sets. This set comes with the following:
Plates
Bowls
Cups
Silverware
This Ekobo dinnerware is an eco-friendly product and comes in various sizes and colors. This product is made from upcycled bamboo, is durable, and is also:
Dishwasher safe
Microwave safe
Little Moon, the founder of Bilbo, was born in Vietnam, and the company makes products in an ecologically responsible way. This dinnerware contains plates, bowls, and servers that are handcrafted from bamboo that is sustainably grown. In addition, all the items in this dinnerware are colored with natural pigments.
East Fork manufactured its dinnerware through eco-friendly methods. This dinner set contains the following. East Fork also produces the following products:
Kitchen textiles
Pottery
Glassware
All the products of East Fork are manufactured in Asheville, North Carolina.
Newly is a certified B-Corp and a sustainability-minded company. Newly manufactured products from 100% recycled materials. Vases and cups are produced from recycled glass, and boards are sourced from reclaimed wood. This dinnerware set has been praised for its quality and is expected to last a long time.
Ames was founded by a native Colombian, Calderson Kayser. Ames is a brand that focuses on artisan-made home décor. Ames collaborates with local Colombian craftspeople and brings their products to the market.
Each Ames product is made using traditional methods and natural materials such as:
Chairish produces dinnerware that is vintage and unique. This brand comes with beautiful pieces that are carefully curated and come from different eras. Chairish also manufactures antique dinner sets such as:
Late 20th century Tiffany and Co Leopard Spot Plates
1930s German Plates
1800s Blue Dinnerware
However, Chairish is an expensive brand.
Slash Objects manufactures Eco-home décor pieces such as sustainable tabletop pieces. All the products are made from recycled rubber sourced from manufacturers in the U.S.
This company is woman-owned, and all the products are manufactured in Brooklyn.
Fairtrade dinnerware from the Middle Kingdom is made with a lot of care and is manufactured in Jingdezhen, China. The dinnerware is ethically manufactured, is rooted in heritage, and honors the traditional artisans.
This Fable, New York dinnerware is durable and eco-friendly. Fable New York produces products from non-GMO corn starch, organic bamboo, and food-grade melamine binding. The plates in this dinner set are also made from bamboo and are safe to use in a dishwasher.
Animal-Free Crockery
Bone china has been in the market for a long time, and many people use their products worldwide. However, not many people cared about the word bone, which refers to the use of bone char in producing bone china crockery. However, below are some crockery items that are free of animal products.
Alternatives for Bone China
There are some cruelty-free crockery items in the market that vegan dieters can use. Below are some crockery items that are free of animal products:
Opal/Crystal Glass Crockery
The Kampala brand manufactures a glass and crystal crockery range stamped with the green vegetarian symbol, and this product is also free of bone ash.
A few years ago, LaOpala started an advertisement campaign that stated: 'Vegetarians Love Their Meal More on LaOpala. 100% Bone Ash Free'.
Clay/Ceramic/Porcelain Earthenware
The Earthenware crockery comes with an aesthetic design and is available in:
Mother Earth
Fabinda
Craft Bazaars
Tribal Art Shops
Crockery Stores
Lifestyle Stores
However, a note of caution, according to the BWC (Beauty Without Cruelty) in India, states that the ceramic crockery might have ceramic glazing. Shellac is acquired from one of these insects:
Shellac is a type of resin and consists of the following body parts of the insects:
Over 100,000 insects are slaughtered to produce shellac worth 333 grams. Shellac is also used in a variety of other products, such as:
Crayons
Optical frames
Grease-proof paper
Dental plates
Dried fruits
Crockery
Confectionery
Electrical insulation
Nutties
Gems
Printing inks
Pastes
Adhesives
Stainless Steel Crockery
Stainless steel crockery is free of animal products so that vegan dieters can use it.
How Is Vegetarianism Different From Veganism?
Generally, vegetarians do not consume the following:
Meat (beef, lamb, mutton, etc.)
Poultry (chicken, turkey, etc.)
Shellfish
Fish
Insects
Gelatin
Rennet
Animal protein
Animal fats
However, some vegetarians might consume animal byproducts that don't necessarily involve the slaughtering of the animal:
Dairy products (cheese, yogurt, and milk)
Honey
Eggs
Typically, vegetarians consume a wide variety of:
Fruits
Nut
Vegetables
Grains
Seeds
Pulses
Meat substitutes
Vegetarianism is less strict than veganism and has several variations:
Lacto-ovo vegetarian: These people avoid all meat and fish products but consume dairy products and eggs.
Lacto-vegetarian: People on this diet avoid eggs, meat, and fish but do consume dairy products.
Ovo-vegetarian: People on this diet avoid dairy products, fish, and meat but eat eggs.
Pescatarian: Those who follow this diet eat all seafood and fish but do not consume other meat varieties. Pescatarian is also referred to as flexitarian or semi-vegetarian.
Conclusion
Traditional bone china is not vegan-friendly. As you read the information discussed in this article, you will come upon a vegan-friendly version of bone china called new bone china.
New bone china has similar characteristics and is also cheaper than bone china. Towards the end of this article, there is a discussion on other vegan alternatives for bone china.