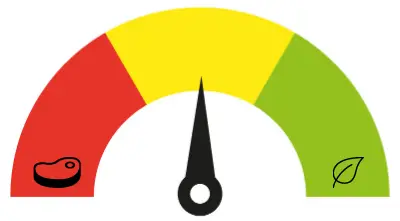 Borax has been a common cleaning agent and ingredient in detergents, disinfectants, toothpaste, and pesticides for ages, and although it's not as popular today due to health concerns and controversy, borax remains an essential ingredient in world-renowned products such as the original 20 Mule Team, Lysol, The Good Home, and Tide.
Since 1891, borax has been labeled "all-natural" by the brand that promoted its commonality and plethoric uses, the 20 Mule Team Borax. So named by the method of hauling wagons of borax crystals from California and Nevada. Borax is indeed a naturally-occurring mineral, hence it was called a "green" chemical.
Borax doesn't contain any animal ingredients, it's naturally made of sodium, oxygen, and boron, and is scientifically known as sodium tetraborate. However, borax is generally non-vegan because mainstream borax is tested on animals.
Originally, borax didn't have to be tested on animals since their first household application was as a detergent booster. Topical and food additive applications for borax didn't exist back then, but when borax retailers explored more ways to use the mineral for disinfectants, toothpaste, and food preservatives, animal testing became widespread.
The 20 Mule Team Borax Detergent Booster wasn't tested on animals when it was first introduced, but today, the brand is owned by the Dial Corporation, a subsidiary of Henkel, both of which are known to test on animals when required by law.
Although we register individual products as vegan or non-vegan more often than entire brand companies, borax retailers provide little information about how they test and get their products approved, and so if a company takes the stance of allowing animal testing as required by law or via a third-party tester, then it would be best to avoid all products coming from them.
Here, you will find the borax retailers that do allow animal testing for their products and those who don't, the controversy of the "green" borax, and alternatives to borax. After all, veganism isn't all just about what you put in your mouth, but also the clothes you wear, the furniture you have, and all the chemicals that you use to keep you, your apparel, and your house neat and clean.
Borax Companies That Conduct Animal Testing
We've already mentioned the current owners of the 20 Mule Team, which is a century-old brand that has long been synonymous with borax. So here, we'll list the other borax/borax-infused products retailers that are known to test on animals, whether actively or occasionally.
LYSOL

Professional Clean & Fresh Multi-Surface Cleaner
Clean & Fresh Multi-Surface Cleaner

OxiClean Max Force Laundry Pre-Treater Gel Stick
Tide (Proctor & Gamble)

Hygienic Clean Heavy Duty 10X Detergent
Plus a Touch of Downy Liquid Detergent
Simply Clean & Fresh Detergent

Gain by Proctor & Gamble

Liquid Detergent with Baking Soda
Cruelty-Free Borax Companies
Although most pure borax and worldwide borax-infused products are not cruelty-free, some US-based brands and companies strictly adhere to a no animal testing policy, both they and their suppliers, nor do they allow their products to be tested on animals by third party groups or be sold in states and countries that require animal testing.
Here's a list of well-known cleaning brands:
The Good Home
Perhaps one of the best and most well-noted household cleaning brands among the vegan community is without a doubt, The Good Home Company. The company began in 1995 by Christine Dimmick who initially handcrafted her wonderfully scented cleaning products in her kitchen, living in New York. Since then, her home care products have increased in popularity for being natural and non-irritating.
The Good Home was featured in a PETA article that praised it for its vegan-friendliness and amazing innovation toward homecare solutions. The organization has rewarded the company and owner with a Trail-Blazer Award for being a leader and prime example to those who should stand for a "no animal testing" policy.
The Good Home has a full arsenal of home and self-care products ranging from dish soap, surface cleaner, tile and tub cream cleanser, laundry detergent, dryer sheets and sachets, and hand lotion. They also assure consumers that all their products are 100% vegan and contain no animal ingredients.
The Good Home Co. Stain & Odor Remover and Pet Stain & Odor Remover contain borax and are only tested on good people and house surfaces.
The Laundress
Laundress takes after the Good Home's agenda toward a cruel-free and clean world. Not only do they not allow animal testing, but they also ensure that their products are 100% plant-derived. They do tests on their owners/founders, Gwen Whiting and Lindsey Boyd, and are fully committed to not using any animal products and by-products whatsoever.
Their products are also void of synthetic substances such as petroleum, SLS, phosphate, phthalates, and dyes. SLS is short for sodium lauryl sulfate, and according to Healthline, it's irritating to the eyes, skin, and lungs in prolonged exposure and long-term use.
In the UK, the Laundress isn't considered cruelty-free since it hasn't joined any cruelty-free organizations as of yet, nor has it received any cruelty-free certifications from such groups. Despite Laundress' claim to use vegan, eco-friendly, and cruelty-free ingredients only, without proper certification, the UK cruelty-free board discredits the Laundress from being a cruelty-free brand.
The Laundress Home Cleaning Liquid Dish Detergent and Signature Laundry Detergent contain borax.
Puracy
Puracy is a Texas-based company that mainly sells soap, cleaning compounds, stain removers, and toiletries. They are keen to use all-natural products and are certified cruelty-free by PETA. They perform their safety tests on their people and non-organic surfaces.
Puracy Natural Stain Remover, Free & Clear contains borax and is only tested on stained surfaces.
Learn more about them, their certificates, and their ingredients here.
The Honest Company
The Honest Company is an American company that was started in 2012 by well-known actress, Jessica Alba, and other equally important co-founders. It was inspired by Alba's first child, Honor, and heavily motivated by Alba's desire to create a line of safe, natural, and eco-friendly household chemicals that didn't cause irritation and illnesses to young ones.
With the help of co-founder Christopher Gavigan, they identified and addressed the various toxins children may be exposed to in everyday cleaning products. This became their leverage to push for healthier and milder substances to be incorporated into their products.
While the Honest Company did get certified by PETA as a cruelty-free brand, some of their beauty and skincare products may contain beeswax.
The Honest Co. Stain Remover contains borax and is only tested on stained surfaces.
Persil
Persil is a German brand of laundry detergents that are marketed by Henkel in the US, and by Unilever in the UK. Persil is named after its two original ingredients: sodium perborate and sodium silicate. Despite the US brand Henkel being notorious for its openness to animal testing, Persil is committed to a future without animal testing.
They claim that there's no need to test their products on animals or humans simply because they use special laboratory equipment and methods to assess the safety of their products.
Their continuous work with animal care organizations and other scientifically led groups usher the path toward a more sustainable, cruelty-free, and human-safe chemical production. Persil takes it upon themselves as a special mission to educate and lead others toward a future of safety assessment via pure science, and with no animals involved.
The Puracy ProClean Power-Liquid Detergent is a liquid laundry detergent that contains borax.
See their products here.
The "Green" Borax Controversy
Today, many people are convinced that borax is a harmful and irritating substance to all types of skin, and certain precautions must be met before using borax-infused products. Yet, before we jump into the looming health controversies about borax, we must first understand what it is and where it comes from.
Origin
Borax is a naturally occurring substance that is an opaque, white crystal mined in open quarries but is also often found in dry lake beds such as the California Death Valley where water evaporation has left rich mineral deposits.
It is the combination of sodium, oxygen, and boron. Borax is a hydrate salt of boric acid. It is important to know that borax and boric acid are similar, but not the same. They have completely different chemical compositions and uses. More on that later.
Uses
Once processed, borax is a powdery substance that may be labeled as sodium borate, sodium tetraborate, or disodium tetraborate. Borax works effectively as a detergent, stain remover, and deodorant.
In other countries, borax was widely used as a toothpaste additive and food preservative but was later banned in the US, China, and other Asian countries. Borax was also used as a slime base for children's experiments, but now, it's been replaced with food-grade corn starch.
Beyond these, borax is also used for flux, fire retardants, anti-mildew and anti-fungal sprays, anti-pests, curing agents, precursors to boric acids and adhesives, and more.
Toxicity
Borax is not acutely toxic, meaning that it takes a considerable dose and exposure before borax actually becomes hazardous to one's health. It is toxic when ingested, especially to children and pets. So as the products suggest, keep them safely away from children and pets.
If your children and pets accidentally ingest boron, first rinse their mouths and call your local poison prevention division immediately.
Direct exposure to borax is non-problematic short-term, but long-term and prolonged exposures to powdered and liquified borax are a concern. This is why borax miners and factory workers are required to wear safety gear to lessen their exposure to the fumes, which do irritate the eyes, nose, throat, and lungs during lengthened contact.
For home use, it's also advised to wear gloves and optionally masks and goggles when using borax or borax-infused products. This safety precaution ultimately depends on how long you plan to be exposed to borax.
Borax is non-carcinogenic and is only as skin-irritating as washing soda and baking soda. It's boric acid, which is the product of borax and hydrochloric acid, that's more irritating to the skin since it's commonly used as a pesticide. Despite being a non-carcinogenic and weak acid, boric acid must still be treated with care.
Animal Testing
Both borax and boric acid have been tested on animals such as mice, rats, guinea pigs, and even dogs to determine their toxicity and irritating properties. Since the animals were exposed to high doses of the substances for prolonged periods, they did develop painful rashes, skin burns, and even hormonal degradation such as infertility, genital disorders, and pregnancy disorders.
Today, companies who say no to animal testing responsibly source their borax and boric acid from providers that don't test on animals, but the history remains.
Alternatives To Borax
Mainstream borax companies are known to test on animals, therefore they aren't cruelty-free. If you also find yourself unconvinced of the safety of borax even from companies that responsibly source the substance, then there are good alternatives.
Baking soda for pest repellants, cleaning agents, and detergent boosters.
Diatomaceous Earth for pest repellants, but keep away from children and pets due to toxicity.
Cornstarch for flubber and slime.
Conclusion
At the end of the day, borax can be considered a gray area subject for vegans, because the 20 Mule Team Borax and Milliard Borax are owned by companies that conduct animal testing, but other cruelty-free companies source borax and boric acid from responsible providers that don't test on animals. The Good Home and Puracy companies are good examples.
While borax is a widely used substance and isn't as bad as we might assume, it's an optional ingredient and product for home cleaning. Meaning that it's not necessary and can be easily replaced by other safer alternatives such as food-grade baking soda and cornstarch.