Answer: No. Scarlett Johansson is not vegan, although she was one for a few years.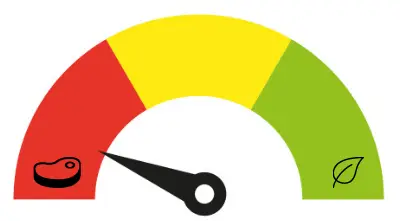 Who doesn't love the actress for her iconic roles, such as Agent Natasha Romanoff, known as Black Widow, though?
Scarlett Johansson has been a vegetarian for many years. She has also tried veganism due to her different TV roles that require several body changes. However, Johansson follows a flexitarian diet, which means she occasionally eats small portions of meat and seafood.
Let's find out more about the award-winning actress.
Who Is Scarlett Johansson?
Scarlett Ingrid Johansson is a Danish-American actress who also describes herself as Jewish from her mother's side.
She was born to her Danish father, Karsten, an architect. Her mother, Melanie, is Jewish with roots in Russia and Poland.
Johansson was born in New York City on November 22, 1984, and has a twin brother, Hunter.
At an early age, Johansson was already interested in an acting career and started auditioning for TV commercials. She later dropped the idea and pursued a career in film and theater.
Her first stage appearance was in a New York City theater with actor Ethan Hawke in a play titled Sophistry.
In 1994, nine-year-old Johansson first starred in a fantasy comedy flick North. That was the start of her many different appearances in films.
This includes the 1996 movie Manny & Lo, which earned her a nomination for the "Independent Spirit Award for Best Lead Female."
Her peaceful aura, beauty, and charm have led her to many more movie roles, making her one of the most influential people in the world in 2021 to Time Magazine.
In 2018 and 2019, Johansson was the world's highest-paid actress.
Johansson is also a decorated actress, having been nominated for five Golden Globe Awards and two Academy Awards, among others.
Her iconic roles include the Black Widow in Iron Man 2, The Avengers, Captain America, and her solo film in 2021 of the same name.
Johansson was married to actor Ryan Reynolds and later to Romain Dauriac, a French businessman.
In 2020, she got married to comedian Colin Jost. She also has two children, one with Dauriac and the other with Jost.
As an influential celebrity, the Black Widow star has encouraged people to eat healthily and stop doing unhealthy diets.
Scarlett Johansson Is Flexitarian
Scarlett Johansson has been both vegan and vegetarian for many years, but she occasionally eats meat and seafood.
However, she is mostly on a plant-based diet and sometimes a raw vegan, which depends on her roles in different movies.
Johansson would eat more lean proteins, fruits and vegetables, oatmeal, and salad. She also works out regularly.
Diet and Workout
Depending on Johansson's role, she extensively goes through workouts, and diet meal plans to effectively portray her roles.
For instance, for her role as Black Widow, Johansson had to go through 12-15 hours of fasting.
She also had to undergo core training like an athlete and intermittent low-high carb and low-high fat consumption.
While cycling through her meal plan, she also had to maintain protein intake.
Her former trainer, Bobby Strom, also revealed that Johansson's diet is mostly vegan and raw. However, she also includes eggs and salmon in between her meals.
For instance, her breakfast would include an egg omelet, fresh fruits, and oats. She would eat quinoa and turkey salad topped with lemon juice and olive oil for lunch.
She eats apples and nuts like almonds. For her dinner, she gets a protein-rich meal like steamed salmon with vegetables like broccoli and cabbage.
Johansson also loves cheese, which she also has to balance.
She would include cheese as part of her high-fat and low-carb intake for her carb cycling diet when she's not working out.
But when she worked out, she would eat high-carb and low-fat meals.
Johansson's core training also focused on integrated fundamental strength, including yoga and mixed martial arts.
Circuit training and flexibility training are also included in her workouts. The Black Widow star trains seven days a week during her entire shoot for her roles.
Vegan Beauty Campaign and Business
In March 2022, Scarlett Johansson launched her new beauty line, which is vegan and free from nut allergen, gluten, cruelty, and fragrance.
Johansson also describes her new skincare line as sustainable with recyclable and refillable packaging.
Her new skincare line, The Outset, features a prep serum, cleanser, night cream, moisturizer, and eye cream.
According to Johansson, it took her many years to learn the ropes in producing vegan skincare, which she considers a new beginning.
Her beauty line is described as consciously clean, minimalist, and free from harsh ingredients, as well as age and gender stereotypes.
The Black Widow star also revealed that she had convinced her husband, Colin Jost, to try and test her new skincare line.
In an interview with Allure, Johansson revealed that Jost had used her new eye cream regularly for a year before she launched The Outset in March 2022.
She also said they hope to release more products by the end of 2022 and see how people respond to this sustainable skincare line.
The Outset will also donate one percent of its annual sales to environmental organizations to support its cause.
Moreover, there have been several celebrities who have also started their own vegan-friendly and cruelty-free beauty products.
Kylie Jenner, Jennifer Aniston, and Ariana Grande are among the notable celebrities to have launched their own vegan-friendly beauty products.
Vegan Celebrities
Many celebrities have also gone vegan for many reasons, including a healthy lifestyle, environmental impact, and animal welfare.
These celebrities have also promoted sustainability through their social media platform to help address many environmental issues.
Luckily, many celebrities have followed a vegan diet, influencing many, especially their fans.
Check out these notable celebrities who are all vegan like you!
Beyonce
Jenna Dewan
Billie Eilish
Zac Efron
Benedict Cumberbatch
Miley Cyrus
Ariana Grande
Venus Williams
Natalie Portman
For years, many celebrities have switched to veganism for different reasons. Others did it for the ethical reasons that they could no longer stomach the slaughter of animals.
Some decided to go vegan for health, while others did it for the environment.
Regardless of their reasons, it's still great to know that celebrities are helping us leave a positive impact on this world that we live in.
How to Go Vegan
Like many other people, going vegan can be daunting, especially when some options aren't readily available to you.
I've been there too, but things went well because of the will to become vegan for many reasons. So, if Scarlett Johansson can eat healthily, you can too!
Some vegan meat may not be available to you, but there are many options to choose from.
You also have to understand that going vegan means replacing the vitamins and minerals you get from meat, poultry, and seafood.
Dairy gives you calcium, vitamins B12 and D, animal protein, and omega-3 fatty acids from fish. These are the most important vitamins we should get from fruits and vegetables.
But the good news is that plenty of fruits and vegetables provide the same vitamins and minerals. All you need is balance, which is easy for a vegan diet.
For instance, legumes like soy and beans, nuts, whole grains, leafy greens, seeds, and many other vegetables are all rich in protein.
Brocolli, spinach, collard greens, kale, oranges, papayas, blueberries, bananas, and apples, among others, are packed with vitamin B12 and calcium.
Flax seeds, chia seeds, flaxseed oil, edamame, walnuts, and seaweed are also loaded with omega-3.
Too many options are available when getting enough vitamins and minerals from a vegan diet.
Moreover, many food manufacturers have produced plant-based meat, also known as fake meat.
Beyond Meat, Impossible Foods, Trader Joe's, Tofurky, and many vegan brands have a wide selection of vegan meat.
These products are made from chickpeas, lentils, tofu, tempeh, jackfruit, seitan, and many other plant alternatives.
You only have to balance everything, especially since fake meat is high in sodium content due to salt and seasoning as flavor enhancers. This attempt makes vegan meat taste more like real meat.
The Dietary Guidelines for Americans suggest limiting your sodium intake to up to 2,300 mg a day or even less. This will keep any health problems at bay.
High sodium intake increases the risk of high blood pressure, strokes, heart diseases, certain types of cancer, and many more.
The Bottom Line
Scarlett Johansson is not vegan but follows a flexitarian diet, eating meat and fish occasionally in smaller portions.
She has urged the public to always go for a healthy diet.
Many vegan chefs promote their cooking online if you've just started as a vegan. This includes Sauce Stache, who uploads all his fake meat creations on YouTube.
You can check this article I wrote to learn more about this cool guy. Enjoy!