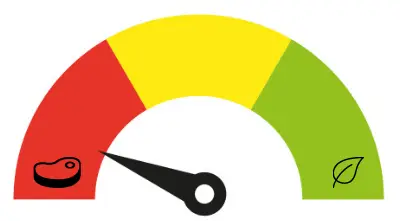 Despite being one of the most versatile foodstuffs, egg white is a no-go zone for vegans because vegans oppose animal cruelty, and egg white is animal-based.
What Is Egg White?
Egg white is the transparent jelly-like part of an egg that surrounds the yellow egg yolk. It contains 90% water and 10% protein which is 67% of the protein in an egg.
The protein found in egg whites is nutrient-rich, with all nine amino acids in sufficient amounts for the body.
Nutritional Contents of an Egg White
*Amount per 100 grams – Source: USDA
| Nutrient | Amount |
| --- | --- |
| Protein | 11g |
| Calories | 22 |
| Sugar | 0.7g |
| Sodium | 166mg |
| Potassium | 163mg |
| Total fat | 0.2g |
Alternatives for Egg White
You may be looking for foodstuffs with similar nutritional value, taste, or appearance to substitute egg whites.
Or you may be looking for ingredients to replace a function that egg white performs in a recipe. An example may be an ingredient to substitute egg white as a binding agent, thickener, etc.
Depending on your need, you may have to use a different substitute on different occasions.
In making your alternative pick, you will also choose natural vegan substitutes and commercial egg white replacements in the market.
Natural Vegan Alternatives
Even without the vitamin and mineral-packed egg yolk, egg white is highly nutritious. Notably is it's high protein and low-calorie makeup; 4 grams of protein and 17 calories in the white of one large egg.
Vegans who watch their weight or are either athletes or bodybuilders need more protein and fewer calorie foods. Luckily, they can find egg white alternatives in the market.
Examples of natural vegan substitutes for egg whites are:
Pumpkin seeds contain 9 grams of protein in every 30 grams. This amount is higher than that found in one egg.
Commercial Vegan Alternatives
Finding a commercial egg white replacement is not easy. Most products available are substitutes for a whole egg. But because egg substitutes don't contain yolks, they serve well as egg white alternatives.
While an egg contains 6 grams of protein, commercial substitutes may have up to 10 grams in an equivalent potion as for an egg.
Examples of commercial vegan substitutes in the market are:
The Vegg Power Scramble. 20 grams contains 20 grams of protein, 110 calories, 2 grams of fat, and 290 mg of sodium.
Just Egg Folded. It contains 7 grams of protein, 100 calories, 7 grams of fat, and 300 mg of sodium per serving.
Just Egg. It contains 5 grams of protein, 70 calories, 5 grams of fat, and 160 mg of sodium per serving.
Follow Your Heart Vegan Egg. It contains 3 grams of protein, 35 calories, 1 gram of fat, 150 mg of sodium, and 1 gram of sugar per serving.
The Neat Egg. Protein 2 grams, 25 grams, 5 grams fat per serving.
Egg White Replacements in Vegan Recipes
Egg white may serve different purposes in different recipes. Therefore there cannot be a one-type-fits-all substitute for all white egg replacements.
Aquafaba. It's the liquid that is in canned chickpeas. It's a suitable replacement where a recipe requires whipped egg white to create lightness and fluffiness in desserts such as meringues, cakes, nougat, pavlova, and macarons.
Pureed Fruit. Applesauce is the best fruit puree substitute for egg white. It adds moisture and binds ingredients in cookies, muffins, quick bread, and loaf cakes. Other alternative fruit purees are mashed pumpkin and ripe banana.
Chia Seed Or Flaxseed. Grounded and mixed with water, these seeds form a gel-like mixture. Chia and flaxseed can substitute egg white as a binding agent in cakes, bars, cookies, muffins, and quick bread.
Silken Tofu. Pureed silken is a good egg white substitute for dessert recipes like custard dishes, vanilla and lemon cakes, and chocolate cream pies. The moist and creamy texture of silken tofu helps to bind and moisten.
Pureed Cauliflower. It's a suitable substitute for egg white as a thickener in savory dishes.
Last Thoughts
Given that most protein sources are animal products like pork, beef, chicken, and fish, it's difficult for vegans to get substitutes with the right protein levels, like that in egg whites.
To ensure that you find proper egg white alternatives, you need to be creative as a vegan.
First, you can mix various foodstuffs to get all nutrients as in egg whites. A substitute does not produce a good taste, texture, or color; you can look for vegan additions.
Secondly, there is no one-size-fits-all egg white substitute. Different ingredients might have other functions. It's especially true in cases where egg white plays the role of being a binding agent, moisturizer, and proofing argent in a recipe.
Lastly, though commercial egg white substitutes are a lifesaver for vegans, you need to check for non-vegan additives.