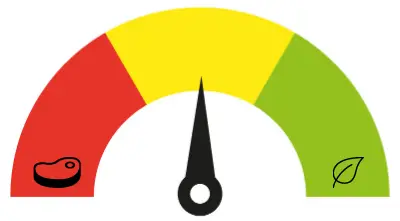 Jeremiah's Italian Ice is a famous frozen treat franchise in the United States, and most of its shop locations are scattered across the south and southwestern states, which are known for having hot and humid summers. The perfect areas to spread and share cool and refreshing ice sweets.
Originating from the brilliant mind of one high schooler operating an Italian Ice pushcart in 1988, now the so-called coolest frozen dessert brand in the nation with 77 franchises and more to arrive, and over 40 exotic and fruity Italian Ice flavors, Jeremiah's Italian Ice is one great scoop of success topped with deliciousness.
So the big question is, is it vegan?
Italian Ice, like other shaved ice treats such as the American sorbet or snow cones, is made from filtered water, fruit puree, and sometimes sugar or fresh fruit. Jeremiah's Italian Ice perfected this recipe with fresh fruit and so most of their flavors are vegan-friendly.
Despite its name, Italian Ice is an American dessert, and it's simply called that because it had Italian origins. Italian Ice is derived from the Sicilian ice treat known as granita and was originally made with water, sugar, and flavorings such as fruit juice, concentrate, or puree.
Jeremiah's Italian Ice has dozens of sweet, icy flavors of which we'll list which ones are vegan and which ones aren't, while they also sell their trademark "Gelati" and Soft Ice Cream, but according to their allergen info, all flavors from those two contain milk. While it's easy to confuse various other frozen treats with Italian Ice, we'll also explain each variation, how they differ from one another, and most importantly, if they're vegan.
Jeremiah's Italian Ice: Background
Jeremy Litwack was a hard-working and aspiring entrepreneur since high school when he was still selling Italian Ice via pushcart in front of the Philadelphia Mint. He studied marketing at the University of Delaware to build upon his dreams, and soon enough, his business grew into a pushcart and ice cream truck enterprise until finally, Jeremiah's Italian Ice was born in the summer of 1996 in Winter Park, Florida, where he continues as one of the establishment's most notable partners.
Jeremy continued expanding his business throughout Florida via franchising, and today, about 64 branches are active throughout the state. With its mantra: Life Life to the Coolest, Jeremiah's Italian Ice flourishes across the southern states with consistently delicious frozen treats, 5-star customer service, and a very vibrant brand.
Jeremiah's Italian Ice: Flavors
For a quick list of their nutrition info and allergen info, you can visit Jeremiah's Italian Ice web page here.
List of vegan-friendly flavors:
Bahama Freeze
Banana
Black Cherry
Black Raspberry
Blue Cotton Candy
Cherry
Chocolate (vegan if without chocolate chips)
Coconut
Cotton Candy
Key West Tropical
Lemon
Lemon Basil
Mango
Orange Smash
P-Nutty
Passion Fruit
Peach
Pina Colada
Red Raspberry
Root Beer
Sour Green Apple
Spicy Hot Chocolate
Strawberry
Strawberry Lemon
Sugar-Free Cherry
Sugar-Free Sour Green Apple
Sugar-Free Tangerine
Watermelon
List of non-vegan flavors:
Caffe Latte
Cake Batter
Cookie Butter
Cookies & Cream
Gingerbread
Horchata
Mango Margarita
Pistachio
Pumpkin Pie
Sea Salted Caramel
Scoop Froggy Frog
Most of Jeremiah's Italian Ice flavors have slices of real fruit, so that it's not all plain ice you're tasting, but you can also enjoy the natural taste and texture of classic and exotic fruits. The perfect treats to beat the southern summer heat, or perhaps just to chill during any other day.
Also, note that not all flavors would be available in every location, but fantastically, Jeremiah's Italian Ice franchises are mandated to make fresh ice treats every day and to give out free samples all day for every day!
More so, Jeremy's brand has been faithful to serving the community, whether it be educational, religious, or charitable events and occasions, Jeremiah's Italian Ice is more than willing to be a part of it. Also, Jeremiah's Catering is available to accommodate your events with Prepackaged Treats, Full-Service Scooping, and Jeremiah's Ice Truck.
So if you're thinking of launching a special vegan campaign around Florida in the summer, check out Jeremiah's Catering menu and allow your patrons to Live Life to the Coolest with Jeremiah's delicious Italian Ice treats.
Italian Ice: What is it?
Italian Ice is said to have been made by a woman from Sicily who settled in New Jersey and longed for her favorite, semi-frozen treat, the granita. Due to this craving, she invented a shaved ice treat dubbed by the Americans, "Italian Ice," referencing its origins.
The main difference between Italian Ice and granita is texture. Italian Ice is smoother than granita, so its texture is closer to a sorbet, while granita was originally made by pouring flavored water onto a wide, shallow pan, frozen slowly, scraped, mixed with a fork, and frozen again until it achieves a coarse, flaky texture.
Italian Ice, on the other hand, can be made the same way but is usually blended smoother. You can create various flavors by mixing different ingredients such as real fruits, fruit concentrates, fruit juice, fruit purees, liquid, and powdered drinks, artificial flavorings, etc.
Italian Ice isn't considered a healthy treat, since it's mostly sugar, but the real fruit bits make a difference for added nutrition and vitamins. Some say it's much better than ice cream since it doesn't contain fats and has very low calories. For more information on the health concerns of Italian Ice or granita, here's a detailed article.
Italian Ice Vs Sorbet
Sorbet is the next level of Italian Ice, whereas it's also called "water ice" in Philadelphia. According to Italian immigrants, Water Ice is a "variation on the more broadly-accepted Italian Ice."
Intriguingly, before Jeremiah's Italian Ice, Jeremy developed his own propriety Italian Ice recipes and distributed his products via food truck and pushcart under the name "Jeremiah's Water Ice."
So what makes a sorbet different from Italian Ice? Once again, it's the texture. Sorbet is even finer, smoother, and creamier than Italian Ice, most of the time. They're made from the same ingredients: water, sweetener, flavoring, and fruits, but their nutritional values may differ.
Since a sorbet is a smoother and more compact than Italian Ice, you can expect that it has more ingredients per scoop or cup than its grainier cousin, so consequently, it contains more calories. The nutritional value of either sorbet or Italian Ice depends on the types of flavoring used, and more so on added fruits.
Sometimes, alcohol or alcoholic beverages are added to a sorbet, bumping up its price and achieving an even silkier texture since alcohol lowers the freezing point of the liquid base.
Italian Ice Vs Sherbet
Although the term sherbet can be used interchangeably with sorbet, they're not exactly the same, especially since you can call sherbet the non-vegan version of sorbet. Essentially, they are produced similarly and have nearly the same creamy, smooth consistency, but either milk, cream, or egg white is added to the common recipe of sherbets, making them non-vegan-friendly.
The key difference between Italian Ice and sherbet is mainly that the latter can be made with dairy or egg whites. Sherbet is also creamier and smoother than Italian Ice, almost like dairy ice cream.
Italian Ice Vs Ice Cream
The main difference between Italian Ice and ice cream is once again – dairy. More so, the making of the two is drastically different. Italian Ice is made simply with shaved ice and blended with flavorings, but ice cream is first blended, pasteurized, and homogenized before it's frozen.
Additionally, while ice cream contains an ample amount of fat from its milk or cream base, Italian Ice doesn't have any fats or proteins. For example, the average, dairy ice cream in a 10 oz serving in the United States contains 570 cal, 30 g fat, 113 mg cholesterol, 10 g protein, and 63 g added sugar. While Jeremiah's small cup (10 oz) of Italian Ice contains 264-322 cal and 58-70 g sugar; no fats and proteins whatsoever.
When it comes to vegan ice cream, on the other hand, they're produced similarly to dairy ice cream, but they are known to have fewer fats and calories.
According to CNNhealth, non-dairy ice cream typically contains fewer calories and nearly no saturated fats, but one of the exemptions is coconut-based ice cream, which tends to have more saturated fat per scoop than dairy ice cream. More so, non-dairy ice cream also has virtually no calcium and proteins, therefore, they're not really that healthy either.
Ice cream is always for matters of sweet indulgence and special occasions. Eating ice cream every day is definitely not recommended.
Bottom Line
Italian Ice treats are mostly vegan, therefore a suitable frozen delight for vegans and others alike. They're also usually gluten-free and allergen-free, but it all depends on the flavoring and ingredients used.
A sorbet or dairy-free ice cream are great options too to beat the summer heat, but just remember to keep an eye on how much you're eating. Remember that these frozen desserts are made as "treats" and shouldn't replace your daily dietary choices.
They're mostly made of sugar and have barely any nutritional value, but as long as you can be disciplined, you can enjoy this sweet icy treat every once in a while.