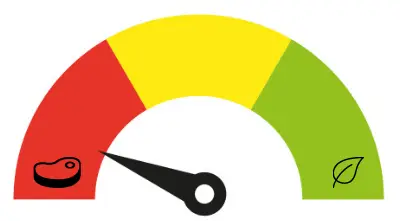 Also known as butterfat, milkfat, as its name suggests, is the fatty component of milk and the main constituent (80%) of butter. Milkfat is what protects butter from oxidizing and improves its shelf life.
Milkfat is not vegan because it consists of the fatty acids of animal milk. There isn't a clear vegan substitute for milkfat, but vegan cream, cheese, and butter do exist.
Butter is so widely used for cooking and baking, and perhaps you're never satisfied with your English muffin or crispy toast in the morning without a smear of butter, so after switching to a vegan diet, you've probably already thought of a substitute for butter before you made the life-changing decision.
Fortunately, finding and making vegan butter doesn't have to be a burden, as many brands and recipes are available to help you achieve that rich, smooth, buttery taste in your sauteed veggies, muffins, and toast once again.
Vegan Substitutes For Butter
Realistically, plant-based oils could easily replace dairy butter in most recipes because they contain enough fatty acids to give flavor and texture to your food. However, what separates these natural oils from butter is that butter is solid at room temperature and gives food a more peculiar taste and richness. Hence, we get the term "buttery goodness."
Switching over to a vegan diet, you know that there will be times when you'd miss this smooth and rich flavor in food and pastry that can only be accomplished with butter, but you don't have to because we can have margarine.
Margarine
Margarine was originally non-vegan when offered to Emperor Napoleon III as a cheap alternative to butter. The first margarine was made from refined animal fats and a bit of milk for taste and texture. Today, most brands of margarine in the US are labeled dairy-free and plant-based, but even so, always check the labels for notorious ingredients such as skim, whey, casein, lactose lecithin, and vitamin D3, which are possibly sourced from animals.
Margarine doesn't taste exactly like butter, but their fat content, consistency, and uses are very similar. Also, margarine is just as versatile.
In 1996, the FDA classified margarine as "made from one or more of the following vegetable oils;
canola, safflower, sunflower, corn, soybean, or peanut oil. With fat not less than 80%, and salt not more than 2%." Dairy may also be included in margarine, so not all brands of margarine are vegan.
Butter, by definition, is made of heavy cream, at least 80% consisting of milkfat, of which most are saturated fats and little transfat. While margarin is composed of 80% of fats from plant oils, most of which are unsaturated and followed by trans-fat and some saturated fats.
Now that we've established the main differences between margarine and butter, let's go over what we really came for – vegan butter.
Vegan Butter
Vegan butter is technically full-vegan margarine because, like margarine, vegan butter is also comprised mostly of plant-based fatty acids. So vegan butter and vegan margarine are interchangeable terms.
The only differences between vegan butter and common margarine are that the latter can be non-vegan, while the former can be made from other plant-based oils such as coconut, palm, avocado, almond, and olive. This means that vegan butter tends to have more saturated fat than margarine but still depends on its ingredients and process.
Vegan butter has gained popularity over the years as a dairy-free substitute for butter and margarine, so there isn't a lack of brands selling firm and delicious vegan butter. Usually, these brands would sell vegan butter in two forms: spread and sticks.
Buttery Spreads
While buttery spreads are a much broader spectrum compared to margarine, they're still inherently margarine because they use plant oils as their base. However, they're more complex, for they aren't bound by the same limitations as margarine is, such as:
Not limited to the following vegetable oils; canola, safflower, sunflower, corn, soybean, or peanut oil.
Can be light, fat-free, and transfat varieties.
Can be fortified with cholesterol-countering nutrients.
Like margarine, buttery spreads can be non-vegan as they're allowed to have up to 5% natural butter, dry and liquid milk, and fish oil containing omega-3 acids. So always opt for vegan brands and plant-based products.
According to USDA regulations, buttery spreads aren't allowed to have more than 5 g of saturated fat per tablespoon serving and no more than a trace amount of cholesterol. This still means that buttery spreads contain more saturated fat than margarine which mainly uses hydrogenated unsaturated fats or transfat.
Buttery Sticks
Buttery sticks have a more stable structure than spreads and are most commonly used for baking because of their ease of use and special composition. To achieve its solid-like form, buttery sticks are formulated slightly differently than their buttery-spread counterparts but can still be melted and spread like real butter.
Now that we've pinned down the variations and terms of margarine, it's time to look into a few of the best vegan butter brands.
Vegan Butter Brands
Earth Balance
I dare say that Earth Balance is one of the top vegan-friendly brands for buttery spread, sticks, and snacks. All their products are vegan, plant-based, and certified non-GMO. They also use environment-friendly palm oil from the roundtable on sustainable palm oil, ensuring their products are guilt-free. It's all due to these reasons that Earth Balance takes the first seat on our list.
They have more buttery spread products than sticks, consisting of only three variants: soy-free, vegan, and unsalted vegan. Think twice before purchasing their omega-3 spread because it's notorious for a fishy aftertaste due to algal oil.
Their buttery spreads include:
Pressed Sunflower Oil
Pressed Extra Virgin Olive Oil
Pressed Avocado Oil
Soy Free
Organic Whipped
Olive Oil
Omega-3 (worst-rated)
Organic Coconut (highly recommended)
European Style (highly recommended)
Original (best seller)
Nonetheless, Earth Balance Buttery Spreads and Sticks are still regarded as one of the best vegan substitutes for dairy butter due to their similarity in taste, texture, and use for baking, cooking, and spreading.
Nutiva Organic Coconut Oil With Butter Flavor
A single product with the simplest recipe: organic refined expeller-pressed coconut oil, organic natural flavors, and organic annatto extract. Nutiva vegan butter is highly rated and readily available on Amazon.
Two prime ideals apply to Nutiva Organic: when a product contains fewer ingredients, they're usually more natural and healthier, and when a brand focuses only on one variety instead of variants, they push its traits to the max: taste, texture, and versatility.
Although you must also be aware that this 14-ounce product is 18% fat, 60% of which is saturated, and it's also higher in calories per serving compared to other plant-based butter.
You can still be rest assured since this product is certified USDA-organic, vegan, kosher, and non-GMO. It's also good to use for baking and cooking and lets you experience the rich, buttery goodness of actual butter without dairy.
Melt Organic Butter
Looking for a vegan butter with a healthier twist? Melt Organic is USDA-organic approved with no artificial colors or flavors, and it's cholesterol-free with a load of omega-3.
Melt Organic Butter is made for one purpose, making plant-based butter taste and feel healthier. The slight tartness of this product may seem odd at first, but it's one you have to try.
The product consists of an expeller-pressed organic oil blend (virgin coconut, palm fruit, canola, hi-oleic sunflower, flaxseed), water, sea salt, sunflower lecithin, probiotic (organic inulin, bacillus coagulans gbi-30 6086), natural flavor, tocopherols, and organic annatto extract color.
Due to its probiotic bacterial culture, you may think that it's part yogurt, but the product boasts of being 10 times more effective than standard dairy yogurt cultures, and the probiotic culture of Melt Organic Butter comes from 100% plants and is all-natural.
Is Vegan Butter Healthy?
While plant-based oils have different health benefits and risks, most vegan butter and margarine are made of a blend of these oils, making comparisons between products almost invalid. So instead of comparing plant-based butter brands, I believe it'd be more beneficial to insist on the health benefits of these vegan butter products over dairy butter.
According to Healthline, plant-based butter is cholesterol-free and lower in saturated fat but higher in healthy mono and polyunsaturated fats than dairy butter.
In dairy butter, there is 215 mg of natural cholesterol, and according to one study comparing butter and olive oil, a moderate intake of butter leads to an increase in overall cholesterol, especially LDL or bad cholesterol. This is also a risk in vegan butter, but since it contains less saturated fats, it's less likely to cause high LDL cholesterol than dairy butter.
Now, monounsaturated fats are different than saturated fats, especially in terms of health. A tablespoon of Earth Balance Vegan Buttery Stick contains 5 g of monounsaturated fat and 3.5 g of saturated fat, and monounsaturated fats have been linked to increased benefits for heart health, blood sugar control, and bodyweight management.
We know polyunsaturated fats more as omega-3 and omega-6 fatty acids, both of which are essential to proper brain function and cell growth. Our bodies don't naturally make these acids, which is why they should be vital parts of our diets, and fortunately, vegan butter tends to have more of these necessary fats than dairy.
These polyunsaturated fats are commonly derived from seeds like chia and flax, also in vegetable oils, but overconsumption of these fatty acids may lead to a risk of inflammation. So even vegan butter must be consumed in moderation.
Conclusion
Butterfat or milkfat is what I usually call "butter in the raw," and it makes sense because dairy butter is 80% milkfat and probably won't stay as butter for long without it. We know that milkfat isn't vegan, and although there's no exact vegan substitute for butterfat, there's also no lack of vegan substitutes for butter.
Brands and recipes are all over the internet to ensure that butter stays your friend in the kitchen and on toast bread. Although vegan butter is much healthier and environment-friendly than actual butter, it must still be consumed in moderation, as too much of anything isn't always good. But always be sure to enjoy what you eat, and eat what you enjoy. Happy baking!