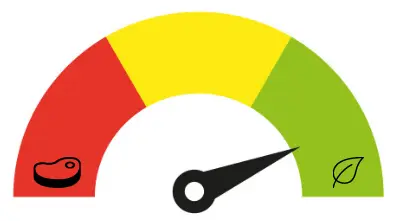 Regal Popcorn is vegan and gluten-free. Regal Cinemas uses canola oil and coconut oil to pop its popcorn. Its buttery toppings are also made with beta-carotene, partially hydrogenated soybean oil, and artificial and natural flavors.
If you're also a movie-goer and a vegan, this is definitely good news. Regal Cinemas is with us! The popcorn, salt, popping oil, and buttery topping are all vegan-friendly and gluten-free.
Ah, theaters. I've been a huge fan. As a movie-goer and a vegan, it can be challenging to get something from a theater that serves vegan-friendly snacks. Let's find out more about Regal Popcorn, and check out more vegan theater popcorn and snacks.
Regal Cinemas, A Brief History
Formerly named Regal Entertainment Group, Regal Cinemas was established in Knoxville, Tennessee, in 1989. Regal quickly grow its expansions, putting up cinemas in many suburban areas in the U.S. since its founding.
As of October 2019, Regal Cinemas has more than 7,200 screens in over 500 theaters with its subsidiaries Cinebarre, Edwards Theatres, Warren Theaters, and United Artists Theatres. British cinema company Cineworld acquired Regal Cinemas in 2017 for $3.6 billion.
Since then, Regal has become the second-largest global theater next to AMC Entertainment Holdings.
Regal Cinemas offers Premium Theaters such as:
RealD 3D
Regal Premium Experience (RPX)
IMAX
4DX
ScreenX
Regal Popcorn
According to Regal Cinemas in this tweet, its popcorn, buttery topping, popping oil, and popping salt are suitable for vegans and those who are gluten-sensitive. So, if you have celiac disease, going to Regal theaters and having its popcorn is definitely safe.
However, you may have to ask the crew as it may vary by location. All its ingredients mentioned above are vegan-friendly, except that some vegans may doubt artificial or natural flavors.
Natural flavoring is one of the controversial ingredients that most produced items have. According to the FDA, it can be derived from meat, fish, poultry, plants, vegetables, and fruits. However, FDA also pointed out that most natural flavors are sourced from plants, vegetables, and fruits, which in turn, is safe for vegans.
Other Theaters With Vegan Popcorn And Snacks
It's not just Regal Cinemas that offers vegan-friendly popcorn for movie-goers. Other theaters are also joining the bandwagon for cruelty-free snacks.
PETA also recommended these theaters, although there are flavors that you may have to avoid. Nonetheless, these are the cinemas that you can check out when it comes to offering plant-based popcorn and other snacks.
AMC Theaters. With locations all over the U.S., AMC Theaters' plain popcorn is vegan-friendly and uses canola oil for popping. It's buttery topping, though, may not be vegan in all locations. So, you may have to check by location.
Laemmle Theaters. It has several locations, especially in Los Angeles, that offer vegan-friendly movie snacks such as Meat-Free Sausage Roll, Gluten-Free "Chicken" Nuggets, and Original Veggie Hot Dog from Fry Family Food. You can also try Alternative Baking Co's vegan cookies.
Cinemark Theaters. Its popcorn is vegan-friendly, but the popping salt it uses contains soy and dairy. You can always ask to pop another batch without using its popping salt.
Cineplex. Its popcorn is gluten-free and vegan-friendly. However, it prepares its popcorn that may cross-contaminate with other non-vegan items.
Landmark Theaters. While its popcorn is vegan-friendly, some butter suppliers may vary by location. So, you may have to check with your local Landmark Theater. It also offers other vegan treats such as edamame, cookies, and more.
Apart from popcorn, of course, there are too many vegan snacks that you can have when you go to theaters.
Vegan Candies

Airheads
Dots
Sour Patch Kids
Skittles
Red Vines
Soft Pretzels
And of course, you can always go DIY. You don't go to prison if you bring your own vegan snack to a cinema, especially when you're in doubt about their ingredients.
Here's a list of vegan popcorn brands that you can actually grab from your local grocer ahead of your scheduled movie trip. You may have to choose which flavor is vegan-friendly, as listed below.
Earth Balance Popcorn
Pop Secret

Kettle Corn
Sea Salt
Sweet 'n Crunchy Kettle Corn
Pumpkin Spice
Kidz First Order Kettle Corn
Sweet 'n Crunchy Caramel
Popfetti
94% Fat-Free Kettle Corn

Angie's Boom Chicka Pop. These flavors are Kosher Certified, vegan, non-GMO, and gluten-free.

Sweet and Salty Kettle Corn
Sea Salt Popcorn
Light Kettle Corn
Sweet Barbeque Popcorn
Salted Caramel Popcorn
Chili Lime Flavored Popcorn
Avocado Oil
Rosé Flavored Kettle Corn

Orville Redenbacher

Orville Redenbacher Kettle Corn
SmartPop Kettle Corn
Naturals Simply Salt
Naturals Lightly Salted Simply Salt

Newman's Own Popcorn

Tinder White Popcorn
Sea Salt Popcorn

Skinny Pop

Original
Skinny Pop Butter Flavor
Sea Salt Flavor
Dairy-Free White Cheddar
Sweet & Salty Kettle
Sea Salt & Pepper
Twist of Lime

Smartfood

Sweet and Salty Kettle Corn Smartfood Popcorn
Sea Salt

365 by WFM

Organic Popped Corn Kernels
No Oil Flavor and No Salt Added Flavor

ProperCorn

Sweet Popcorn
Salted Popcorn

SkinnyGirl
Act II (2)
Jolly Time

Simply Popped Sea Salt
Kettle Mania
All other Kettle Corns

Good & Gather
Lesser Evil Organic

No Cheese Cheesiness Popcorn
Avocado-licious
Himalayan Gold
White Chocolate + Matcha
Himalayan Sweetness
Dark Chocolate + Himalayan Pink Salt

Quinn Snacks Microwave Popcorn

Just Sea Salt & Organic Popcorn
Maple Popcorn Microwave Popcorn

Latejuly Organic
Pipcorn

Vegan Caramel
Sea Salt
Truffle

Pop Zero

Simply Cinema
Cinnamon Toast
Sea Salt
Chili Lime
White Cheddar

Poppy Hand-Crafted Popcorn

Everything Bagel
Vegan Salted Caramel
Salt & Pepper
Thai Spice

BjornQorn
Nature's Nate

Avocado Oil
Sea Salt & Coconut Oil Pink Himalayan Sea Salt

Bohana

Soulful Sriracha Spice
Pink Himalayan Salt
Sweet Cinnamon Drizzle
Sea Salt Chocolatey Drizzle

Safe + Fair Food Company

Strawberry Shortcake
Dark Chocolate
Blueberry Cobbler
Birthday Cake

Cornucopia Popcorn
Rocky Mountain Popcorn
Pop Art

Thai Coconut Curry Popcorn

Bob's Red Mill
Tiny But Mighty
Popzup Popper
Amish Country Popcorn
What To Look Out For When Eating Popcorn
As vegans, it's important to look out for, especially the food's content, to ensure that you're still eating the right way. And we're not just talking about popcorns. This should also apply to any other dish that we consume every day.
But for popcorns, there are a few things that you need to consider, especially when it comes to its ingredients.
Fiber Content

Fiber is one of the most important nutrients that we need. Popcorn itself is 100% whole grain, which means that it's loaded with fiber. But remember that too much fiber can cause bloating, constipation, and gas. You know the drill, right?

Sodium Content

Popcorn is a salty snack, but it doesn't mean it's already unhealthy. The Dietary Guidelines for Americans suggested limiting your sodium intake to 2,300 mg daily. So, as long as you know how to consume it moderately, you're safe.

Oil Content

Most brands use vegetable oil for popping their popcorn. While vegetable oil is vegan-friendly, they also contain high amounts of fat. So, to be healthier, choose the ones that use heart-healthy popping oil, such as canola oil. olive oil. or sunflower oil.

Additives.

Natural or artificial flavorings are among the culprits of popcorn making. While the FDA has pointed out that natural flavors are mostly derived from plants or vegetables, it can't be denied that some are also sourced from animals. So, the best way to be healthy all the time is to consume food in moderation.
Make Your Own Vegan Popcorn At Home
If you prefer watching movies at home, here's an easy guide.
Ingredients:
2 – 4 tbsp. of extra virgin olive oil
1/2 cup of popcorn kernels
1/4 cup of nutritional yeast
2 tsp. of garlic powder
1 – 2 tsp. of salt
What to do:
Use a large pot, and heat the oil to medium-high temperature. You can add up to 4 tbsp. for a tastier flavor.
As soon as the oil is hot, add three to four individual kernels and cover the pot.
When they pop, add more kernels and cover the pot again. Shake it once in a while to avoid burning the popcorn.
When popping is done, turn off the heat. Add all the other ingredients and shake well to mix.
You may store the leftovers in an airtight container and consume them within five to seven days.
The Bottom Line
Regal Popcorn is vegan-friendly as well as its buttery flavor. However, it varies by location, so you may have to ask your local Regal Cinemas.
There are also a lot of vegan-friendly popcorn brands that we've rounded up in this article that you can make at home if you doubt buying one from the theaters. Or better yet, you can always make your own popcorn at home, especially when taking a trip to a local grocer is a pain.
Just be mindful of its ingredients and content to ensure that things are still healthy for you even when you're just watching a movie!