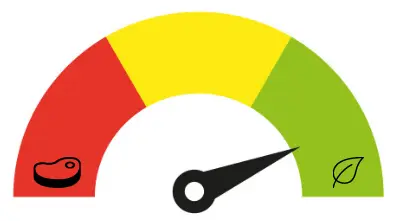 The Burger King Buns are vegan-friendly alongside the patty, called Impossible Burger 2.0 by Impossible Foods.
Burger, burger, burger. Can you imagine the world without it? I can't. And if I can't find any ready-to-eat vegan burgers outside, which is impossible, I'd rather make it myself at home. Sounds tempting, right?
Burger King Buns are fortunately vegan-friendly, and its vegan burger called Impossible Whopper, made with Impossible Foods' vegan patty, is definitely one for the books. Its key ingredients are soy, potato protein, coconut oil, and sunflower oil.
There are also other vegan options that you can find at Burger King, and that's what we will find out in this article. Let's start digging.
Burger King, Be Your Way
Insta-Burger King was a predecessor to Burger King, which was founded by Keith J. Kramer and Matthew Burns in 1953. Later in 1959, its franchisees David R. Edgerton and James McLamore acquired the company and renamed it, Burger King.
It was then sold to Pillsbury Company in 1967, but after a series of company restructuring, Grand Metropolitan acquired Burger King in 1989. Grand Met merged with Guinness in 1997 and formed their own holding company, Diageo.
Unfortunately, Burger King continued to decline in sales, and Diageo decided to sell the company to TPG Capital in 2002. The new owners successfully re-energized and revamped the company, but from 2007 to 2010 global financial crisis weakened Burger King.
It was then sold to 3G Capital of Brazil and decided to pull out its stocks from New York Stock Exchange in an attempt to fix its business structures. 3G Capital later announced its merging with Canadian coffee shop chain Tim Hortons.
However, U.S. politicians criticized the merger, resulting in tax inversion. The merger resulted in a new fast-food company called Restaurant Brands International Inc., headquartered in Miami-Dade County, Florida, United States.
In 2019, Burger King faced a lawsuit filed by Philip Williams, a vegan from Atlanta, Georgia, claiming that there was cross-contamination of its Impossible Whopper. The case, according to Global News, says that Williams bought the burger at a Burger King drive-thru and was grilled on the same griller where regular burgers are heated.
But Impossible Foods Head of Sales said that Impossible Whopper was only a plant-based option for meat-eaters. She also added that there is a non-broiler procedure for the burger upon request to avoid cross-contamination. The disclaimer was posted on their U.S. website.
However, Williams insisted that the disclaimer wasn't there when he bought Impossible Whopper on August 8, 2019.
On March 10, 2022, Burger King halted all its operations in Russia following the 2022 Russian invasion of Ukraine.
Burger King Buns And Other Vegan-Friendly Options
Burger King is among the biggest fast-food chains introducing vegan-friendly products to its customers. Its partnership with Impossible Foods has led the company to produce Impossible Whopper, a vegan-friendly burger using Impossible Foods' Impossible Burger 2.0 patty.
The buns used in making Impossible Whopper are also vegan-friendly. Recently, Burger King also introduced a new vegan mayonnaise, which would perfectly go with Impossible Whopper.
Impossible Whopper is available in Small, Medium, Large, and Just The Sandwich options. The toppings include tomatoes, ketchup, vegan mayo, lettuce, onions, and pickles.
To give the burger patty its meaty flavor, Impossible Foods uses heme iron extracted from genetically engineered yeast. It also uses soybean, which has leghemoglobin that provides meat flavor to its burger patty.
It's worth noting that burger patties are genetically modified (GMO). Impossible Foods explained that it's very difficult to produce a non-GMO patty that tastes like meat with quality, versatility, and accessibility.
Apart from Impossible Whopper, Burger King also has a few vegan-friendly alternatives that you can order from one of its locations. The list also includes Burger King's available vegan-friendly beverages.
Vegan Chicken Nuggets. These were introduced in October 2021 and contain soy, celery, wheat, gluten, and sulfur dioxide. They're made with a mixture of wheat flour, soybean, soy protein, sunflower oil, and other vegan-friendly spices. They may also contain sesame and mustard and are available in 6, 9, and 20 pieces, or you can also get the Nuggets Only option.
Hash Browns. These are nugget-shaped, made with potatoes, and fried in vegetable oil.
French Toast Sticks. These are among the breakfast options at Burger King and are accidentally vegan. And no, they're not made with eggs, milk, or butter, unlike traditional French toast. It's served with vegan breakfast syrup.
Classic Fries. These are made with vegetable oil, unlike McDonald's fries, which involve milk and natural beef flavor. You can ask for mustard or ketchup for a vegan dip.
Side Garden Salad. This includes non-vegan cheese, which you can ask to omit, and add other extras to make it more satisfying, mainly since it only contains lettuce and tomatoes. You can also ask for Ken's Golden Italian or Balsamic dressing.
Mott's Applesauce. It's not a meal, but you can pick this one to go with other Burger King vegan options. It also doesn't contain added sugar.
Oatmeal. It's made with either water or non-dairy milk.
PB&J Jamwich. It's on the kid's menu but may not be available in all Burger King locations.
Whopper Junior. You can order without the mayo and meat. This would leave the sandwich with only lettuce, tomatoes, pickles, ketchup, and sliced onions. You can also ask for vegan mayo.
Veggie Bean Burger. This is available on the UK Burger King menu, in case you're reading this from the UK!
Maple Syrup. It's not real maple syrup, though, but a flavored corn syrup.
Dr. Pepper
Frozen Coke ICEE
Frozen Fanta Wild Cherry ICEE
Hot Tea
Iced Tea. You can have the sweetened or unsweetened.
Minute Maid Orange Juice
Capri Sun Apple Juice
Coffee
How To Make Vegan Buns
Of course, homemade has always been a part of a vegan lifestyle. I admit that I'm really into it, especially since I often want to just stay home.
If you love burgers, now is the high time to make your own at home. Well, at least in making vegan buns. It's very easy, and the ingredients are accessible. You may already have them n your pantry.
Ingredients:
4 ¾ cups of all-purpose flour plus extra for kneading
2 tbsp. granulated sugar or maple syrup and agave
2 ¼ tsp. instant yeast
2 tsp. sea salt
1 ½ cup warm water
4 tbsp. olive oil or any vegan-friendly oil
3 tbsp. unsweetened non-dairy milk. Get one with high protein content.
1 tsp. maple syrup or agave syrup. Use only ½ tsp. if you want your buns sweetened.
1 tsp. regular or dijon mustard
1 tbsp. mix of sesame seeds for topping
What to do:
Add the flour, yeast, sugar, and salt to a large bowl, and whisk together.
At the center of the flour mixture, make a well, and slowly add the olive oil and warm water. Use a spatula to mix them until the dough looks shaggy.
Sprinkle flour on a clean surface and put the dough in. Also, put some flour on your hand and knead the dough for 10 minutes. If the dough is too sticky, you can add about 1/4 cup of flour while kneading. The end of the dough ball should be smooth with some tension.
Grease the dough with some oil and put it back in the bowl. Cover it with a paper towel and leave it for about one hour in a warm area so it will rise enough.
After an hour, punch the dough down and fold it over.
Make eight balls from the dough.
Line the balls on a baking sheet at least four inches apart.
Cover them with a paper towel and leave them to rise for another 45 minutes.
Preheat your oven to 400°F at least about 20 minutes later after leaving the dough balls on the baking sheet.
Brush the dough balls with egg wash using a pantry or silicone brush. Make sure to brush the sides too, and sprinkle them with sesame seeds or any topping of your choice.
Put them in the oven and bake for 15 minutes. Allow them to cool down, and they should be soft and fluffy.
Use them on your vegan burger patty and top with some veggies and vegan mayo. Enjoy!
How to make the egg wash:
In a small bowl, mix the non-dairy milk, maple syrup or agave, and mustard together.
You can lower each measurement to 1/2 tsp if you don't want some sweetness.
The Takeaway
Burger King Buns are vegan-friendly and are used in its Impossible Whooper, its vegan, and vegetarian-friendly burger. However, these might be grilled on the same griller that its regular burgers are made.
So, you may have to ask or request to make it using Burger King's non-broiler method to avoid cross-contamination. Just take note of its sodium content as well as the calories. Your sodium intake should not exceed USDA's recommended 2,300 mg and 2,000 calories daily.
If you'd like to check another rundown of vegan burgers, check this article that I previously wrote. It will also help you find great vegan-friendly burger options. Enjoy!