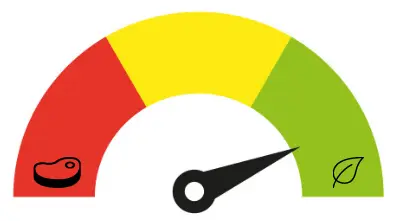 Old El Paso Taco Seasoning is vegan-friendly. Old El Paso has several seasoning flavors to choose from, and most are vegan-friendly except the Cheesy Taco and Guacamole Seasoning.
Who doesn't love tacos?
Old El Paso is known for producing Tex-Mex food seasonings, sauces, tacos, tortillas, dinner kits, condiments, and more. Their Taco Seasoning has become a staple to vegan cooking, especially in making homemade tacos, enchiladas, burritos, among others.
If you're also into Mexican cuisine and are curious about Old El Paso's products, let's find out more about them here.
Old El Paso, Your Original Tex-Mex Spice
The name Old El Paso is derived from El Paso City, Texas, and "Old" when the state of Texas was still part of Mexico. The company General Mills currently owns the Tex-Mex brand.
Old El Paso originally sold canned tomatoes and pinto beans. The name was officially trademarked in 1938 and became the very first brand to advertise and introduce to the U.S. market its full line of Mexican cuisine.
Using its famous tagline "Start Somewhere Fresh," Old El Paso has been marketed throughout the world, including Spain, the UK, Germany, France, Italy, Sweden, Portugal, among others. It's now one of the most popular Tex-Mex style food manufacturers globally.
Old El Paso is also a partner of the LeBron James Family Foundation, doing weekly community meals, monthly family parties, and Taco Tuesdays.
The Tex-Mex brand is famous for its shells and tortillas, seasonings, dinner kits, sauces, rice and beans, shredded cheese, and toppings. Fortunately for vegans, Old El Paso has a wide array of plant-based options. Yeah, we don't have to go somewhere else to have our Taco Tuesdays!
All About Old El Paso Taco Seasoning
Ah, tacos. It's definitely my comfort food. I can't even let my Tuesdays go by without getting my vegan tacos. I also love making them at home, especially since I get to choose what kind of ingredients to use for my own vegan tacos.
So, let's check more about Old El Paso Taco Seasoning, and find out what makes it vegan-friendly.
Ingredients:
Chili Pepper. This usually involves all plant-based ingredients such as ground dried chiles, garlic powder, cayenne pepper, paprika, cumin, oregano, and onion powder.
Maltodextrin. This is made out of vegetable starch and is usually vegan, and gluten-free. It's a type of carbohydrate and is water-soluble although it goes through an extensive process.
Salt. Yes, this is usually vegan, especially table salt and sea salt.
Onion Powder. This is made out of dried onions and ground finely to produce either flakes or powder texture.
Spice. As the name implies, spice is mostly vegan-friendly.
Corn Starch. Yes, this is vegan-friendly. It's simply made out of corn although there are many issues surrounding corn production in the U.S. But in its strictest form, corn starch is plant-based.
Sea Salt. This is produced directly from nature and is entirely vegan.
Vegetable Oil. As I've explained in this article, vegetable oil is plant-based. In the U.S., it can also mean soybean oil, but in a nutshell, it's extracted from vegetables, which makes it vegan-friendly.
Corn Flour. Just like corn starch, this is also plant-based made out of maize.
Silicon Dioxide. Also known as silica, this is a mineral that naturally occurs, which is suitable for vegans.
Citric Acid. This is a natural compound that can be found in fruits like lemon. Yes, it's vegan-friendly.
Sugar. When the process of producing sugar doesn't involve bone char, it's vegan-friendly. Beet sugar, muscovado, demerara, among others are vegan-friendly.
Natural Flavor. This can be a controversial ingredient for most vegan seasonings and other dishes. According to the FDA, Natural Flavors can be from fish, meat, vegetables, fruits, poultry, plants, or herbs. The FDA, however, reiterated that most natural flavorings are derived from plants.
Also, Old El Paso Taco Seasoning is relatively low in calories. Two teaspoons of it only give 15 calories and 13% of sodium, which is low enough to be unhealthy for you.
Old El Paso Vegan Seasonings
It's not just Old El Paso Taco Seasoning that's considered vegan-friendly. There are also several seasonings that made the cut, except its Guacamole Seasoning and Cheesy Taco as they contain skim milk and cheese.
Here are the Old El Paso seasonings that are suitable for vegans. You may some of them that say pork or other meaty names, but they don't bluntly contain meat.
Mild Taco Seasoning
Fajita Seasoning
25% Less Sodium Seasoning
Original Taco Seasoning
Chili Seasoning
Taco Seasoning Mix
Hot and Spicy Taco Seasoning Mix
Pork Carnitas
Al Pastor
Chorizo
Chicken Seasoning Mix
Other Old El Paso Vegan Products
Of course, it's not just the seasonings that we're rooting for Old El Paso. The Tex-Mex brand also has several products that are considered vegan-friendly.
Dinner Kits

Soft Tortilla Taco Bowls
Hard & Soft Taco
Hard & Soft Twin Pack
Soft Taco
Fajita
Hard Taco
Stand N' Stuff
Enchilada
Caribbean Taco
Asado Chicken Street
Korean Taco

Shells and Tortillas

Tostada Shells
Super Stuffer Shells
Stand 'N Stuff Shells
Crunchy Taco Shells
Blue corn Taco Shells
Southwest Seasoned Tortillas
Crispy Flour Tortilla Shells
Flour Tortillas. This is great for burritos or soft tacos and fajitas.
Restaurante Grande Tortillas
Whole Wheat Taco Bowls
Regular Wheat Taco Bowls
Mini Soft Tortilla Taco Bowls

Sauces and Salsas

Taco Sauce
Thick n' Chunky Salsa
Red Enchilada Sauce
Fresh Salsa
Green Enchilada Sauce

Pre-Made Vegan Rice and Beans

Spanish Rice
Vegetarian Refried Beans
Black Bean Refried Beans
Spicy Fat-free Refried Beans
Cilantro Lime Rice

Condiments or Toppings

Chopped Green Chilis
Jalapeno Slices
Other Vegan Taco Seasoning Brands
If Old El Paso Taco Seasoning isn't accessible to you yet, there are many vegan brands that you can find at your local grocer, or you can even order them on Amazon. So to help you out, these are my favorite vegan seasoning brands that you might also want to consider if you're looking for one.
Simply Organic Southwest Taco
Taco Bell Seasoning Mix
McCormick Taco Seasoning
Best Vegan Seasonings And Spices You Must Try
These are entirely vegan and are safe for any vegan dish that you may want to make at home. I also have some of these in my pantry, especially since I only want to stay home for lunch or dinner.
Allspice
Caraway
Cardamom
Cayenne Pepper
Cinnamon
Cloves
Coriander
Cumin
Fennel
Garlic
Ginger
Mustard
Nutmeg
Paprika
Peppercorns
Red Pepper Flakes
Saffron
Star Anise
Turmeric
Make Your Own Vegan Taco Seasoning
Vegans love homemade, don't we? What I love about doing it on my own is that I get to choose the ingredients and adjust the flavor according to my preference.
Since we all love tacos, it's time to learn how to make vegan taco seasoning without breaking the bank. The ingredients might have already been in your pantry, so it's time to spice up your tacos!
Ingredients:
2 tbsp. chili powder plus 1 tsp.
½ tsp. garlic powder
½ tsp. onion powder
1 tsp. paprika
1 tsp. ground black pepper
1 tsp. cocoa powder
1 tsp. ground coriander
2 tsp. sea salt
2 tsp. ground oregano
3 tsp. ground cumin
What you need to do:
If one of your ingredients is still not ground, use a spice grinder, a mortar and pestle, or a blender to grind them.
Once everything is ground, mix all the ingredients well.
Use an airtight container to store your taco seasoning and keep it in a cool, dry place. Its shelf-life is about two to three years.
Yes, I know it's very easy. Even your two-year-old can make it at home.
Top Vegan Taco Shops
I admit. There are times that I feel bored and lazy to make my own meals at home. Whenever I feel the urge of eating tacos even if it's not Tuesday, I grab my keys and just make a trip straight to a taco shop nearby. Of course, I make sure it's vegan.
If you're in the U.S., it's worth checking these vegan spots out.
Tiki Loco in Dallas
Tacotarian in Las Vegas
Jajaja in New York City
El Cocinero Restaurant in Van Nuys
El Cantaro Vegan Mexican Restaurant in Monterey
Nissi Vegan in Austin
Nuno's Tacos & Vegmex Grill in Dallas
Taco Party in Somerville
El Veganito in La Mesa
Chachos Tacos in San Diego
Craft and Taco Lounge in Escondido
Green Door Cafe in La Jolla
Tuetano Taqueria in San Diego
The Takeaway
Old El Paso Taco Seasoning and most of its other mixes are suitable for vegans. They may include natural flavors, but as the FDA pointed out, most natural flavorings are derived from vegetables and plants.
However, if you're still not convinced with its ingredients, making your own taco seasoning comes in handy. Or if you're too lazy sometimes, take note of those vegan taco shops nearest you. You don't have to wait for Taco Tuesdays.
Most importantly, always eat in moderation!