Answer: Yes. Sazon is a known Puerto Rican spice that doesn't include animal by-products, making it suitable for vegans.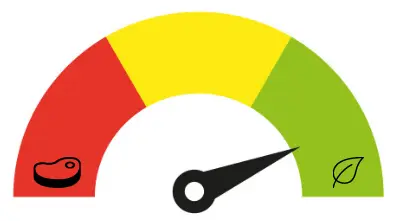 This spice is famous among Hispanics, especially in Puerto Rico, Dominican Republic, and Mexico.
Sazon, or Sazón as written in Spanish, is an all-around blend of spice, a staple of Puerto Rican cooking and the rest of Latin America. One of its key ingredients is achiote, which gives the red hue of Sazon. This and all its other ingredients are vegan-friendly.
If you're new to this seasoning, let me help you learn more about it.
What Is Sazon?
Sazon, or Sazón is the go-to seasoning in Puerto Rico, but it has also reached the rest of the world, especially in Latin America and the U.S.
Sazón means seasoning in Spanish.
It also indirectly means sabor in Spanish although it's literally sabor. Puerto Ricans and some Latin Americans would still use Sazon instead of sabor.
Its color and flavor are distinct to Puerto Rican cooking, and one can easily identify the dish by its taste when Sazon is involved.
Sazon, like any other seasoning we use, is an all-around spice blend used in many cooking styles, whether for a marinade, soup, stew, or many more.
It's found in most Puerto Rican dishes, equivalent to Tony Chachere's or Lawry's, which are also prevalent in the U.S.
Sazon Is Vegan
Fortunately, Sazon is vegan-friendly and is safe to use on any vegan dishes. The traditional Sazon is a blend of achiote, also known as annatto, cumin, coriander, oregano, garlic powder, salt, and pepper.
Sazon is a mixture of these ingredients that are thankfully vegan-friendly and easy to find in the supermarket.
Store-bought Sazon mostly involves MSG and artificial colors, considered vegan but not as healthy as the traditional one.
Most Puerto Ricans prefer the traditional Sazon, which doesn't include any artificial colors and no fillers. They also prefer making their own Sazon instead of buying from the supermarket, especially since most of them already have MSG or artificial colors.
But for Puerto Ricans, it will never be Sazon without achiote or annatto seed powder. This is obtained from the seeds of the achiote tree.
Also called Bixa Orellana, the tree is native to tropical Americas. Achiote is known for its red or orange hues on food and gives aroma and flavor.
How to Make Homemade Sazon
Many Puerto Ricans living in the U.S. would make their own Sazon at home for a good reason. Sazon has a special taste for Hispanic people, which identifies the dish.
Sazon typically describes culture, history, and identity.
Here's what you need to do if you wish to make your own Sazon at home. Although having one is easy, it's still worth making your own for health purposes.
And good news! You may already have some of these ingredients, if not all, at home. Otherwise, they're easy to find in your local grocer or supermarket.
Ingredients:
Ground Coriander
Ground Cumin
Ground Achiote or Annatto Seeds
Garlic Powder
Dried Oregano
Salt
Cayenned Pepper
What you need:
Mixing bowl
Small spatula or spoon
What to do:
Measure the ingredients according to your preference.
Mix them all together in a mixing bowl using a spoon or a small spatula until they're well combined.
Store your Sazon in an airtight jar or container. It should last for six months or even longer!
Pro Tip: If you can't find ground annatto seeds, you can always replace them with turmeric. For a spicy kick, you can also add red chili pepper flakes.
Sazon Seasoning Brands
One of the most popular Sazon brands in the U.S. is Goya Foods, which is widely used and recognized in the American market.
Today, there are six different options for Goya's Sazon that you can find in most supermarkets and local grocers. It's also available on Amazon if you prefer to order it online.
Check out these brands and their options to see which fits your preference.
Sazon Goya. All of its options, though, contain Tri-Calcium Phosphate, MSG, artificial colors, and other spices, and some are even tested on animals. You'll have to check the label, especially if you're an ethical vegan and have food restrictions.

Goya Sazon with Coriander & Annatto
Sazon with Saffron
Sazon Natural & Complete
Sazon with Cilantro & Tomato
Sazon with Garlic & Onion
Sazon without Annatto

Loisa Organic Sazon with Sea Salt. This is highly recommended to vegans and those who have food restrictions. Its ingredients are pared-down, meaning they're all organic, with no artificial colors or fillers. It's gluten-free, USDA certified, non-GMO, and Keto and Paleo friendly.
Marshall's Creek Spices Sazon Seasoning. This is Kosher, has no MSG, no fillers, and is all-natural.
Badia Sazon Tropical. It's Kosher and gluten-free.
Sazon Iberia with Coriander and Achiote. This also contains MSG and Yellow 5, which is vegan but tested on animals.
Always remember to check the labels before adding them to your cart to ensure there are no ingredients that don't fit your diet and preference.
Is Sazon Seasoning Healthy?
Because it's only a seasoning, you're not expected to use much of it on your dish. When you're cooking, using seasoning only adds flavor and kick to your food.
More simply, seasonings must only be used moderately to avoid any health issues over time.
This is also the case for Sazon seasoning, which shouldn't be used excessively on your dish.
Although the traditional Sazon doesn't involve artificial colors or fillers, the most widely used brands, like Goya Sazon are considered unhealthy.
This is why it's important to use it in moderation.
But for vegans, Loisa Organic Sazon is highly recommended due to its pared-down ingredients and low sodium content compared to the widely used original Goya Sazon.
Loisa Organic Sazon's ingredients include Sea Salt, Achiote, Cumin, Coriander, Garlic, Oregano, and Black Pepper. All of these are organic, which means it only uses ingredients that are not genetically engineered.
For instance, the serving size of 1/4 teaspoon for Loisa Organic Sazon gives zero calories and 110 mg of sodium. And the fact that all ingredients are organic, it's safe to say that this is great for everyone, vegan or non-vegan.
On the other hand, it's still important to use Sazon seasoning in moderation to avoid any health problems in the future.
The Dietary Guidelines for Americans recommend consuming only up to 2,300 mg or less of sodium daily to keep things healthy.
Seasonings are always packed with sodium, which can cause heart disease, high blood pressure, stroke, and more when consumed excessively.
Puerto Rican Dishes That Go Well with Sazon
Because of its vibrant color and aroma, Sazon is widely used in many dishes, especially Puerto Rican cuisine.
Non-vegan eaters use it in their meat, seafood, or poultry dishes, while vegans love using it on fake meat, vegetables, and other cocktails.
If you're new to Puerto Rican cuisine, you should try these dishes out in restaurants or home-cooked restaurants. These are popularly made with Sazon seasoning, which is prevalent in the U.S.
Pasteles De Yuca
Tostones & Maduros
Arroz con gandules/habichuelas
Mofongo
Empanadillas
Pernil
Pollo Guisado
Rellenos de papa
Alcapurrias
Pastelon
Asopao
These dishes are typically made with meat, but vegan Puerto Ricans have also made plant-based options for these foods. Today, these vegan Puerto Rican dishes have become popular among hungry plant-based eaters.
Beans, lentils, jackfruit, tofu, seitan, tempeh, chickpeas, and many other plant-based options are famous substitutes for these Puerto Rican dishes.
Additionally, several Puerto Rican restaurants in the U.S. offer authentic Puerto Rican vegan dishes. Rejoice!
The Earthy Kitchen in Orlando, Florida
Casa Yari in Chicago, Illinois
Boca Fresca in Winter Park, Florida
Black Rican Pop-Up in New York
NuYo BODEGA in North Hollywood, California
Bar Bombón in Philadelphia, Pennsylvania
Cocina Plantosaurus in Charles Town, West Virginia
Sol Food in San Rafael, California
If you're in the neighborhood, you should check out one of these restaurants that produce vegan Puerto Rican dishes. It's worth the visit!
The Bottom Line
The traditional Puerto Rican Sazon seasoning is vegan as it only contains plant-derived spices. Some brands may have altered or added artificial flavors and fillers to their Sazon, which are sometimes tested on animals.
Ethical vegans avoid ingredients or products tested on animals because thousands of animals suffer in the lab due to testing.
So, if you're one of them, you should choose a Sazon seasoning brand that's organic and doesn't involve any ingredients tested on our four-legged friends.
But if Sazon isn't readily available, there are other vegan-friendly seasoning options you can try. Old Bay seasoning, for instance, is vegan-friendly and widely used in most dishes.
I wrote a detailed guide about it here if you have more time to check it out.
Overall, always check the label of every product you buy from the supermarkets to ensure no meat or seafood is involved in their ingredients.