Answer: It depends. Sazon Goya has a few ingredients in the gray area, although some of its flavors are vegan-friendly.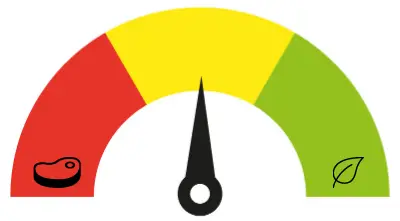 As a staple of Puerto Rican cuisine, the traditional Sazon seasoning is vegan-friendly. But for brands like Goya, controversial ingredients may need clarification.
Sazon Goya is a widely recognized seasoning in Hispanic cuisine and the U.S. One of its key ingredients is achiote or annatto seeds powder, which is vegan. This gives the seasoning red or orange hues and aromatic flavor.
If you're wondering about Sazon Goya, let's find out more about it in this article.
Goya Foods, "It Has to Be Good"
Sazon Goya is manufactured by the Spanish-American company Goya Foods, owned by the late Prudencio Unanue Ortiz.
Prudencio Unanue Ortiz was a Spanish immigrant who came to Puerto Rico, where he met his wife, Carolina, also a Spanish immigrant.
Together, they moved to New York City, where they started Goya Foods.
Goya Foods was founded in the 1930s, and its name was taken from a Moroccan sardine company. He also liked the name because of its association with Francisco Goya, a Spanish painter.
Also, he thought his last name was hard for Americans to pronounce, which convinced him to buy the name Goya for his company.
Goya Foods is now operated by the third generation of the Unanue family. Robert Unanue is the CEO since 2004.
Since its inception, the company has produced more than 800 food products, including beans, sauces, rice, and spices. Sazon Goya is one of their spices and seasonings sold around the world.
Goya Foods sells its products globally, especially in the United States and Latin American markets.
The company has previously faced issues within the family and the CEO's political views. It even led to a social media campaign to boycott their products.
However, the company isn't going anywhere, especially since it has rooted in many parts of the world.
What Is Sazon Seasoning?
Sazon or Sazón is a seasoning native to Puerto Rican cuisine, which has been the country's household name for cooking.
Authentic and traditional Puerto Rican Sazon only includes achiote or annatto seed powder, cumin, oregano, coriander, garlic powder, salt, and pepper.
Sazon means seasoning in Spanish and is usually associated with flavor or sabor. Its red and orange hues, as well as its aromatic flavor, are what identify a Puerto Rican dish.
However, Sazon, over time, has become a staple in many different cuisines, especially Hispanic cooking, such as in the Dominican Republic and Mexico.
For many Latinos. Sazon is not considered authentic without achiote or annatto seed powder. Its flavor and color distinctively identify Puerto Rican culture, history, and identity.
In the U.S., Sazon is widely recognized and is used in many dishes, Puerto Rican or not. The seasoning is popular in marinades, stews, soups, and many more.
Sazon Goya Flavors
Sazon Goya has six different flavors, which is great for those with food restrictions. But when it comes to ingredients, some of them are still in the gray area.
Let's take a closer look at these flavors and their ingredients.
Sazon with Coriander and Annatto
Low Sodium Sazon Natural and Complete
Sazon with Saffron
Sazon without Annatto
Sazon with Cilantro and Tomato
Sazon with Garlic and Onion
Most of the ingredients listed on the product label include Yellow 5, Red 40, and Tri-Calcium Phosphate.
Yellow 5

Also known as tartrazine, Yellow 5 is an artificial color widely used in many dishes to produce a lemon yellow dye.
It's generally made from petroleum and considered vegan-friendly, but it's tested on animals for the safety of human consumption.
According to research, Yellow 5 is also carcinogenic, a substance that causes cancer formation.
Yellow 5 can also cause hypersensitivity reactions.

Red 40

It's also called Allura Red AC, an artificial or synthetic food coloring made from petroleum.
Although it's considered vegan-friendly, Red 40 is still tested on animals.
Like Yellow 5, Red 40 causes hypersensitivity reactions and is also a carcinogen that promotes cancer formation.
It's also linked to mental disorders in kids, allergies, migraines, and many more.

Tri-Calcium Phosphate

Also known as tribasic calcium phosphate, Tri-Calcium Phosphate is an anti-caking agent used in agriculture and manufacturing.
This can be sourced from plants and mineral rocks, considered vegan-friendly. But more often, it's made from ground animal bones.
As for Sazon Goya, it's unclear whether Tri-Calcium Phospate that's present in its seasoning is sourced from animal bones or plants.
While this ingredient remains controversial, Tri-Calcium Phospate is considered safe for consumption, especially since it's a nutritional supplement for bone health.
On the other hand, excessive consumption can also increase the risk of kidney diseases, hypercalcemia, cardiovascular issues, and cancer.
Other Sazon Goya ingredients are vegan-friendly, which is great for those who follow a plant-based diet.
However, for ethical vegans, Yellow 5, Red 40, and Tri-Calcium Phosphate may be off, especially since these are tested on animals and maybe also sourced from animal bones.
Another thing is that these ingredients are linked with several health issues, and they were even banned in some European countries.
Goya Foods Seasoning Products
Apart from Sazon, Goya Foods also have other seasoning products sold in the market.
Some of them are vegan-friendly, while others contain animal products. You just have to check the label first.
These seasoning products have a variety of flavors to choose from.
Goya Adobo
Latino Seasoning Mixes
Bouillon
Dry Chiles
Sazonador Total
Sazon
Fajita Seasoning
Spices
Homemade Puerto Rican Sazon
A Puerto Rican can easily identify Sazon from other seasonings by its color, taste, and smell. This is because Sazon is their go-to seasoning for almost all dishes they create.
Many would prefer making their own Sazon instead of pre-packaged ones, which already contain MSG and artificial colors.
So if you're new to Sazon, or you're still exploring vegan-friendly seasonings but cannot find a good one in stores, there's only way solution to that. Make your own Sazon at home!
You will need coriander or dried cilantro flakes, cumin, ground annatto seeds, oregano, garlic powder, salt or sea salt, and pepper.
These are the main and authentic ingredients of Puerto Rican Sazon. You only have to mix all of them together in a mixing bowl using a spoon until they're well-blended.
Some Latinos would want a spicy kick to their Sazon and add ground red chili pepper to the mixture. Others would also add saffron for a little sweetness and floral hint.
Also, some would use turmeric in place for achiote powder when it's not available. Although it's not the same as the authentic Puerto Rican Sazon, others are good with it, especially since turmeric's aroma isn't far from achiote.
Best Vegan Seasonings to Buy
While it's easy to make your own Sazon at home, there might be a time that you'd better buy from the supermarket, which is understood, especially when your hands are full.
Apart from Sazon, many vegan-friendly seasonings are commercially available. You may have to consider the ingredients that may cause health problems over time.
But it won't be an issue if consumption is in moderation.
To help you out, check these brands at your local grocer or supermarket. Most of them, though are available for order on Amazon.
Eggcellent Tofu Scramble Seasoning
McCormick Sunshine All-Purpose Seasoning
Orrington Farms Slow Cookers Seasoning Mix
Spice + Leaf Shakshuka Blend
Maya Kaimal Organic Indian Marinade
Sisi Lola Collard Green Seasoning
Foddies Mixed Herb Seasoning
Reggae Spice Company
Also, if you can't have these seasonings, it's best to have nutritional yeast, cumin, vegetable broth, liquid smoke, soy sauce, and turmeric, among others. These are vegan-friendly and are readily available in stores.
If you're also keen on having Sazon seasoning, apart from Sazon Goya, other brands like Loisa Organic Sazon, Badia Sazon, Sazon Iberia, and Marshall's Creek.
These seasonings are great for almost all kinds of dishes, whether American, Puerto Rican, Mexican, or many other cuisines.
In U.S. restaurants, especially those that offer Puerto Rican dishes, Sazon is widely used.
Some Latinos would even use Sazon in cocktails like Bloody Mary, Margarita, or any drink that needs a savory finish. Now that's an exciting thing to do with your drink, right?
The Bottom Line
Sazon Goya may be vegan or not vegan because of its controversial ingredients, such as Yellow 5, Red 40, and Tri-Calcium Phosphate.
Both Yellow 5 and Red 40 are naturally sourced, but they're tested on animals. Tri-Calcium Phosphate can be sourced from plants and mineral rocks, but it's mostly derived from ground animal bones.
Ethical vegans avoid these ingredients because of animal involvement. So it's best not to use Sazon Goya in your cooking.
There are other seasonings that I've also written about, like the Old Bay Seasoning. It's vegan-friendly despite its popularity as a seasoning for meat and seafood.