Answer: Yes. Synthetic Leather is made from natural or synthetic fibers, polyester, and other materials that are not derived or sourced from animals.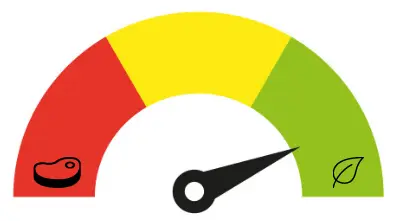 Do you own vegan shoes or bags? If so, that's awesome!
The only downside of Synthetic Leather is that it may not be environmentally friendly.
Synthetic Leather has been the go-to option for many vegans who want to own real leather-like stuff, such as shoes and bags. One of its key ingredients is polyester, which is given a leather texture and finish using dye, wax, polyurethane, or polyvinyl chloride (PVC). But it's been a subject of debate for some environmentalists, especially about waste disposal.
Let's get to the bottom of this.
What Is Synthetic Leather?
Synthetic Leather, also called artificial, faux, vegan, imitation, leatherette, pleather, or PU leather is used in clothing, upholstery, bags, footwear, and many others.
There are different methods used in manufacturing Synthetic Leather. One is by using a casting paper which is an embossed release paper.
Casting paper has the ability to copy the texture of top-grain leather, which is easier for manufacturers to produce.
The release paper is coated with a plastic finish, commonly PVC or polymer and the like.
The manufacturing process includes the achievement of color, fabric, foam layers, surface finish, adhesive, and a reverse finish.
This will depend on the process method, but the layers can be wet or cured partially during the integration.
As soon as the Synthetic Leather is cured, the casting paper is removed and can be reused for the next manufacture.
Synthetic Leather may vary by texture, depending on how it was made. It can be waterproof and impermeable or porous and breathable.
In terms of clothing, one of the most widely used faux Synthetic Leather is the porous faux leather with a non-woven microfiber backing. This is due to its breathable texture, which offers ease and comfort when worn.
Many people like Synthetic Leather being used in cars because it's low maintenance compared to genuine leather.
Synthetic Leather also doesn't fade or crack easily, although its surface may be worn out with age.
Prestoff, a German artificial leather invented in the 19th century, is one of the earliest faux leathers. It became a thing during World War II.
Rexine, a leathercloth fabric, is another faux leather manufactured in the UK in the Manchester area. It was used as a bookbinding material and widely used as a covering for motor vehicles produced in the 1920s in Britain.
Types of Synthetic Leather Construction
Synthetic Leather can be made in three different types: Silicone, Polyvinyl Chloride (PVC Viny), and Polyurethane.
All these types are used in upholstery, clothing, and covering products, although each type has its own excellent function.
For instance, Vinyl Synthetic Leather works great in upholstery, footwear, and vehicle interiors. It's also great for bookbindings and gadget cases. It was first produced in the 1940s in the U.S.
PU Synthetic Leather or PU fabric is softer, breathable, and more flexible, making it more suitable for clothing and footwear. It was produced in the 1950s and introduced by American company Dupont and other chemical companies.
Silicone Synthetic Leather can be used in any kind of use as it has the same texture as PU and Vinyl. It was introduced in 2010.
Environmental Impact of Synthetic Leather
Some plastic materials come with the production of Synthetic Leather, which can be toxic to the environment and even to humans and animals.
The most common Synthetic Leather types are PU and Polyvinyl Chloride (PVC), which are deemed harmful to the environment's health.
Something to note is that Polyvinyl Chloride production involves chlorine and petroleum, both bad guys.
PVC, for instance, requires huge amounts of energy, which means it relies on fossil fuels that have a huge impact on the environment.
Another issue with PVC is that it doesn't decompose like genuine leather. It does break down into smaller pieces, and when they reach the landfills, they only add to the worse impact on nature.
PVC also releases toxins and other harmful chemicals into the soil and water, which are dangerous to animals, humans, and the environment.
These are carcinogenic byproducts that cause serious health issues in humans when they come in contact with these types of Synthetic Leather.
Silicone Synthetic Leather, on the other hand, isn't plastic and is made of sand-based silica. Many vegans and environmentalists have called for Silicone-based Synthetic Leather as it's more earth-friendly.
It's also considered non-toxic to both humans and animals. Because of this, silicone products are widely used in medical treatments.
Some vegans would also look for products made of pineapple-based leather or other plants. These are even more sustainable compared to most types of Synthetic Leather.
However, according to some reports, the production of Synthetic Leather is far more sustainable than the production of genuine leather.
The Environmental Profit & Loss Report in 2018 says that the environmental impact of Synthetic Leather production is third lower than genuine leather.
Kering, a French multinational corporation, produced this 2018 report. The corporation, which was founded in 1963, owns the luxury brands Gucci, Balenciaga, YSL, Bottega Veneta, and Alexander McQueen.
Overall, vegan leather is still the best choice for anyone who's earth conscious.
Top Synthetic Leather Brands
If you're looking for Synthetic Leather brands, there are plenty of them to choose from. In the U.S., vegan leather is also widely used.
Some of these products are imported from other countries such as the UK, Japan, and Russia.
To help you out, check these brands if anything is readily available or more accessible to you.
Piñatex
Alcantara
Winiw Eco Leather
Clarino
Fabrikoid
Naugahyde
Rexine
There might be other Synthetic Leather brands that are not on the list, but so far, these are among the most widely used in many faux leather products.
Best Vegan Leather Shoes and Bags Brands
Whether or not it's your first time getting involved with vegan leather, it's never too late. As vegans, we would still go for Synthetic Leather, especially since its impact on the environment is still lower than real leather.
So if you're looking for nice footwear or bags made with Synthetic Leather, here are the best ones you can have.
Stella McCartney
Doshi
Ethique212
Will's Vegan Shoes
Beyond Skin
Angela Roi
Wilby
Urban Expressions
Matt & Nat
Brave GentleMan
Gunas
LaBante London
Lulus
Melie Bianco
von Holzhausen
HFS Collective
Hozen
There are still so many vegan leather brands for you to choose from. But these brands on the list are as sustainable as others.
If you've just gone vegan recently, it's also time to make a switch when it comes to your clothing and footwear. Consider these brands as soon as you shop for the stuff you need!
How Beneficial Is Synthetic Leather?
Depending on the brand and how it was processed, Synthetic Leather lasts long, just like real leather.
So what's the point of buying brands made with genuine leather when you can have one that's vegan, animal, and environmentally friendly?
That said, here's why Synthetic Leather is more beneficial than its non-vegan counterpart.
Synthetic Leather is low maintenance. You'd only need water and a cloth to clean it.
It's more affordable than genuine leather.
Faux leather also offers a consistent appearance, especially since the materials come from the same stock.
It's also durable since it's not prone to peeling or cracking.
It's stain and UV-light-resistant.
Synthetic Leather is also fashion-forward as it can be printed or dyed with any color.
Synthetic Leather is also easier to cut and sew in sewing, especially since its needle marks don't show boldly. Threads also blend with faux leather even better.
Synthetic Leather is also realistic and doesn't just mimic genuine leather intentionally. It's made with different variations and has since improved its methods over the years.
The only downside of Synthetic Leather, which I'd say isn't severe, is that it's not tear-resistant and doesn't stretch.
Its durability isn't questionable, although it doesn't develop quality luster and patina like genuine leather over time.
But overall, Synthetic Leather is just as durable and high-quality as genuine leather. It's also kinder to animals and the environment compared to real leather.
The Bottom Line
Synthetic Leather is vegan-friendly, kinder to animals, and has a third lower impact on mama nature than genuine leather.
Apparently, vegan leather is still the best option if you were to shop for clothing, footwear, bags, and other products.
It visually mimics genuine leather but is not intentionally made to be that way. Instead, it was made to help lower production costs and consider animal welfare.
And what's more interesting is that nowadays, many popular brands have manufactured vegan stuff. For instance, Nike, known for its quality shoes, has also released vegan shoes.
Nike's Air Force 1, one of the company's latest Happy Pineapple Shoe Collection, is made with Piñatex. Here's a complete write-up about it that would excite and tempt you to buy one from Nike!