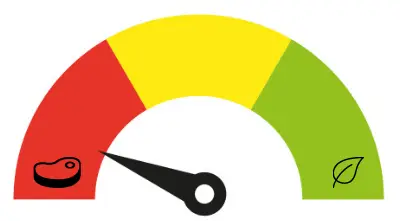 If you have just turned vegan and Thanksgiving is around the corner, it could be a real struggle for you. Turkey is the traditional Thanksgiving food you may have enjoyed all your life. However, now that you are following a vegan food habit, you may be asking – is turkey vegan?
Is Turkey Vegan?
No Thanksgiving family dinner would be complete without a turkey dish. However, turkey meat is not vegan, and you will need to find an alternative.
The most important thing is that health and taste preferences cannot be ignored when you opt for a vegan alternative to turkey meat. Vegans have many dietary restrictions, but that does not mean they cannot enjoy their family traditions. Even though there are many other vegan dishes that you could enjoy during Thanksgiving, craving something more meat-based is possible.
If such a scenario occurs, do not stress since there is an alternative food item you can enjoy when craving meat.
Vegan Alternative for Turkey
Finding a good and tasty vegan alternative to turkey meat is essential for enhancing your Thanksgiving spirit. Tofurkey is a great vegan alternative that is not just tasty but also very healthy. This is faux meat that has been sold since the 1980s.
One of the best Tofurkey products is from the brand Tofurky. However, there are other brands in current times which sell this faux meat product.
The ingredients used in the production of Tofurkey may vary according to the brand. However, the loaf has two common ingredients: tofu and wheat gluten. This turkey alternative comes with ready stuffing, which is where the difference exists.
While some brands might add onion and celery for their stuffing, others might use different organic vegetables. However, preservatives and salt seasoning are present in all these products.
If you are worried about the ingredients used in the stuffing, you can quickly inspect the package. Since Tofurkey is a vegan alternative, the brand generally uses organic vegetables in the filling.
Nutritional Comparison of Turkey and Tofurkey
Telling the difference between turkey and Tofurkey can be done with one look. However, the nutritional value of both these products is not too different. In the protein aspect, both turkey and Tofurkey have similar values.
You will find 34g of protein in a five-ounce serving of Tofurkey. On the other hand, turkey meat contains 42g of protein, especially turkey breast. Though the amount of protein derived from Tofurkey is lesser than from turkey, it is not a negative aspect.
The protein in Tofurkey is derived from tofu, a complete source of protein. Additionally, tofu contains the necessary amino acids that would benefit our bodies. The calorie count is also mostly similar for these products.
In a five-ounce service, Tofurkey contains about 209 calories, while Turkey contains 290 calories. The main difference in the nutritional profile is found in the carbs. Turkey lacks any carbs, while the net carbs present in Tofurkey is 17g.
Jessica Gavin, a known culinary scientist, states that the zero grams of carbs in turkey and low-fat levels exclude the stuffing. The stuffing is filled with heavy carbs and is eaten in large amounts.
Tofurkey contains 10g of fat, while turkey contains 3g without the stuffing. One great benefit of Tofurkey is the presence of extra fiber.
There are 5g of fiber in Tofurkey, while turkey lacks any extra fiber.
Health Benefits of Tofurkey
Faux turkeys are filled with many nutritional elements that make them a good alternative. Since they have soy content, there is a high protein level. Additionally, the absence of trans fat makes it a healthy choice for vegans.
Tofu is a source of minerals and vitamins like folate, selenium, calcium, and magnesium. When talking about the health benefits, you must remember that it is made from wheat gluten which contains carbs.
Many nutritionists prefer Tofurkey to be seasonal food and not for regular consumption. This is because store-bought Tofurkey can contain sodium and processed ingredients, making it less healthy than actual turkey meat.
One way to maintain the health benefits of Tofurkey is to make it at home. You can find the perfect Tofurkey recipe on many sites and add this to your Thanksgiving cooking list. This allows you to choose your organic stuffing and play around with taste and flavor.
Tofurkey Taste
One thing that people remain concerned about when looking for turkey alternatives is the taste. People who have been vegans since the early stages of their lives will not be able to feel the difference.
However, if you were a meat eater earlier and have recently shifted to veganism, you would know that taste plays an important role.
Store-bought Tofurkey is slightly bland in taste compared to the original meat. However, this also varies according to the brand that you are opting for. If you are unsure about the taste of store-bought Tofurkey, you can make one at home.
Making Tofurkey at home allows you to add different flavors to the product. You can enjoy your Thanksgiving dinner without eating bland and tasteless food. You can experiment with the stuffing and make alterations to the tofu and wheat gluten loaf.
The stuffing makes a major difference to the taste of the Tofurkey. When you make good stuffing, you will not have to worry about the Tofurkey tasting bad or less flavorful than real turkey meat.
One great option would be to stuff your Tofurkey with wild rice and make gravy alongside it. For making a lip-smacking Tofurkey dish, check out the different stuffing options.
Other Alternatives to Turkey
Nutritionists do not always favor store-bought Tofurkey, but a homemade one might be a completely different story. However, many people might not be comfortable with the idea of making Tofurkey.
It is better and healthier to go for alternatives other than Tofurkey in such a scenario.
Below are some common and healthy vegan alternatives you could use instead of turkey or Tofurkey.
Gardein Stuffed Holiday Roast
Gardein is a brand that manufactures mock meats like stuffed savory turkey. This vegan dish contains cranberry rice dressing inside a faux turkey roll. This roll is made from bread and is said to be a boneless turkey dish.
When you cut the rolls, it seems like turkey breast with a filling. This package is also available with gravy. The whole holiday roast package is enough to feed seven to eight people for Thanksgiving.
Vegan Whole Turkey
What better way to enjoy a Thanksgiving family dinner than to have a whole turkey on your table? However, the turkey should be vegan and follow all your dietary rules. Many brands provide whole faux turkeys made from non-GMO soy protein.
The color and shape of the faux turkey are precisely similar to a real turkey. You can feel the fake meat being moist and firm when you make slices. This faux turkey is available with gravy and stuffing. However, you can also opt for your stuffing and gravy.
The whole vegan turkey may be in the pricier range, but it is enough to feed about 10 to 16 guests. You will find different sizes of this product, which will require about an hour to warm up. Except for the stuffing, the faux turkey will come cooked.
Harvest Celebration Field Roast
The company provides turkey alternatives for both meat-eaters and vegans. However, here we will mention the vegan product from this brand. It is a flavorful turkey-like roast that contains stuffing of apples, herbs, and mushrooms.
It is a one-pound role that can feed about five people. You can use this roll when you have a small gathering or even as a snack option. Each ingredient used in the vegan version is natural and does not contain soy.
Final Words
Thanksgiving is a fun-filled but stressful time, especially if you have to prepare a meal for your family and friends. If you or any of your guests follow the vegan food style, you must be very cautious about what you make.
Finding a suitable alternative is not enough; you must ensure it contains proper nutritional elements and is tasty. Buying from a good brand might be wise if you opt for Tofurkey.
If you want other alternatives, you can check out some amazing recipes. The main motive here is not to miss out on the taste; nutritional value should be similar to or better than real turkey meat.
You can make many interesting vegan dishes at home which will fit perfectly with your dietary requirements.