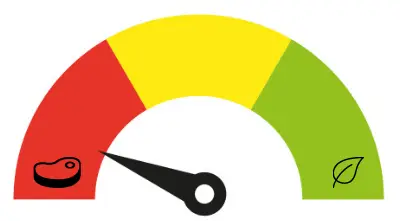 Yoo-hoo is not suitable for vegans, but it's perfect for lacto-vegetarians. This beverage is not primarily chocolate milk. Still, it does contain dairy products, such as whey protein.
Yoo-hoo History
In 1928, Yoo-hoo was developed by Natale Olivieri in Garfield, New Jersey. Despite several misconceptions, Yoo-hoo beverages are not actually chocolate milk. They are primarily made from whey, high-fructose corn syrup, and water.
If Yoo-hoo is not made of milk, why is it off-limit for vegans? As mentioned earlier, this beverage contains whey, a byproduct of dairy ingredients, including cheese and casein.
In addition, these three ingredients are just fundamentals; Yoo-hoo has several other dairy ingredients as well, making it suitable for only Lacto-vegetarians.
Who Are Lacto-Vegetarians?
A lacto-vegetarian is a person who avoids consuming eggs and animal products but eats dairy products. The diet of a lacto-vegetarian excludes eggs, poultry, fish, and meat, as well as foods that contain them.
These vegetarians consume plant-based ingredients and dairy products, such as butter, yogurt, cheese, and milk, as well as dishes containing them.
Ingredients of Yoo-Hoo
Why is Yoo-hoo non-vegan? As we know, vegans cannot consume dairy products, and the primary ingredient of Yoo-hoo is milk protein, making it an unsuitable option for vegans.
The basic hierarchy of chocolate beverages is like this:
Fat-Free Chocolate Milk These types of beverages are mostly water. The creamy texture of these drinks is achieved through modern food-processing technologies and artificial flavors.
1% Chocolate Milk Compared to other chocolate beverages, this one is less creamy but still has a rich taste.
2% Chocolate Milk These beverages are much creamier and tastier than the chocolate drinks mentioned above. They usually contain vegetable gums to achieve consistency.
Full-Fat Chocolate Milk – This stuff is delicious and rich in flavor. They taste like milkshakes. But unfortunately, there are no vegan replacements for full-fat chocolate milk.
The Yoo-hoo beverages are somewhere between chocolate syrup and fat-free chocolate milk. They are made of several ingredients.
Ingredients: Vitamin Fortification, Sucralose, Whey, Soy Lecithin, Spice, Salt, Mono and Di-Glycerides, Xanthan Gum, Guar Gum, Palm Oil, Dipotassium Phosphate, Calcium Phosphate, Sodium Caseinate, Non-Fat Dry Milk, Cocoa Processed, Water, Artificial and Natural Flavoring.
Non-vegan Ingredients of Yoo-Hoo
Along with whey, Yoo-hoo contains non-fat dry milk, sodium caseinate, and vitamin D3.
While sodium caseinate and non-fat dry milk are derived from milk, whey is a byproduct of cheese and other dairy ingredients. Whey is created during cheese-making by straining off the liquid from curdled milk. After that, this liquid is dehydrated into powder and sold as whey.
In general, Yoo-hoo is not an ideal staple for humans. However, to make it a more suitable alternative to milk, the company added several fortified vitamins to their beverages, such as:
Vitamin D3 (cholecalciferol)
Vitamin B2 (riboflavin)
Vitamin A (palmitate)
Vitamin B3 (niacinamide)
As vitamin D3 is loaded with lanolin, it is never vegan-friendly. Lanolin is a waxy substance concealed by wooled animals. Yes, we can also get vitamin D3 from lichen, which is plant-based and grows on walls, trees, and rocks. However, this type of Vitamin D3 is not yet utilized to fortify beverages and foods.
Is There Any Vegan Yoo-Hoo Flavor?
Well, the most straightforward answer to this question is NO. The brand has offered numerous variations of Yoo-hoo chocolate beverages, including chocolate banana, chocolate caramel, strawberry, chocolate PB, and many more.
Unfortunately, none of these flavors are vegan. In general, every Yoo-hoo product combines sodium caseinate, non-fat dry milk, high fructose corn syrup, water, and whey, making them an unsuitable option for vegans.
Is Yoo-hoo Healthy?
As mentioned earlier, Yoo-hoo chocolate beverages are suitable for lacto-vegetarians. So, it's rational to ask, is Yoo-hoo chocolate milk healthy?
Compared to chocolate milk and other beverages out there, Yoo-hoo is considered a part of a healthy diet. These beverages offer fewer fats and calories than milk. They also feature several essential nutrients and minerals, including vitamin A, potassium, calcium, and proteins.
However, it's worth noting that Yoo-hoo beverages contain high fructose corn syrup, up to 16 grams per 6.5-ounce bottle. A combination of high fructose corn syrup and sugar can increase the risk of obesity, cancer, heart disease, and diabetes.
Therefore, we recommend consuming Yoo-hoo beverages moderately and not making them a regular addition to your diet.
Vegan Alternatives to Yoo-Hoo Chocolate Beverages
Yoo-hoo chocolate milk is only suitable for lacto-vegetarian. However, fortunately, there are dozens of vegan alternatives to Yoo-hoo chocolate milk available in the market. If you are craving chocolate milk, you don't have to settle for Yoo-hoo. We recommend giving a chance to the following products.
A combination of soymilk and silk chocolate soy tastes like heaven. This chocolate milk is made of soy protein and is a perfect non-dairy alternative to milk. It is entirely vegan and is free from MSG, peanut, egg, casein, gluten, carrageenan, lactose, and dairy.
Silk chocolate soy is a powerhouse of nutritional goodness that offers 50% more calcium than regular dairy milk. It is an excellent source of heart-healthy protein and a healthier alternative to Yoo-hoo chocolate milk.
If you are looking for a glass of chocolate milk free from fats and sugar, ElmHurst Milked Oats chocolate milk is a perfect pick for you. It is not that thick and pours like water. However, this chocolate milk has a big, clean flavor without any added emulsifiers or gums.
ElmHurst Milked Oat Chocolate is made from the "HydroRelease" method. It is not free from artificial flavors, gluten, carrageenan, and dairy, making it a perfect vegan alternative to Yoo-hoo chocolate milk.
Pacific Foods offers several plant-based beverages. As an alternative to Yoo-hoo chocolate milk, their Hazelnut Chocolate flavor is perfect for your diet. This chocolate milk is low in sodium and is free from yeast, dairy, wheat, gluten, carrageenan, and soy.
If you love gourmet chocolate, you'll surely fall for Oatly Oat-Milk Chocolate. This Yoo-hoo alternative comes with a bold flavor of chocolate and a big hit of vanilla. This chocolate milk is entirely free from dairy and contains oats instead of milk.
To make this chocolate milk healthier, Oatly has loaded it with essential vitamins and calcium. This product is nothing if not versatile; you can consume it as chocolate milk or pour it over a morning bowl of cereal and go crazy.
This chocolate milk is not thick, but it tastes great. It comprises vitamin D2, vitamin A, sunflower lecithin, natural flavoring, potassium citrate, cocoa, cane sugar, and almond blend.
Almond Breeze Chocolate is wholly dairy and lactose-free. This product is quite healthy; it is free from saturated fat, trans fat, and cholesterol. In addition, Almond Breeze Chocolate is 100% plant-based and ultra-pasteurized.
Unlike other chocolate milk, this one also includes vegetables and fruits that make your drink tastier. This chocolate milk is made with organic oats that are ISDA-certified. In addition, it is entirely vegan and does not contain any dairy or animal products.
There is no denying that Chobani Oat Chocolate is delicious and worth the try. It is rich in calcium and vitamin A and D. Plus, this chocolate milk is entirely organic, which means it is free from gluten, artificial flavors, and artificial colors.
Another product that deserves a spot on our list is Silk Dark Chocolate Almond. This milk offers a rich chocolate flavor. However, according to some consumers, this one is way too sweet. It features 0g of saturated fat per serving and is free from artificial flavors, colors, cholesterol, carrageenan, gluten, and dairy.
Last but not least, we have chocolate oat milk offered by 365. It provides a maximum chocolate flavor and a creamy texture. 365 Chocolate Oat Milk is made of organic oats, cane sugar, sunflower oil, natural flavors, and more. Plus, this chocolate milk is free from dairy, making it a perfect vegan alternative to Yoo-hoo chocolate milk.
In Conclusion
Is Yoo-hoo vegan? No, Yoo-hoo contains dairy products, such as whey, sodium caseinate, and fat-free dry milk. In addition, most Yoo-hoo beverages contain vitamin D3, an animal byproduct.
Fortunately, numerous vegan-friendly alternatives to Yoo-hoo beverages are available in the market. Above, we have mentioned some of the most delicious and healthiest vegan chocolate beverages you can buy.