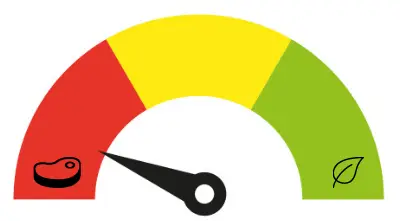 Many vegans avoid eating croutons because most of them contain dairy products, which are not suitable for vegans.
I love my salad with croutons. It helps give me a flavorful meal, which is hard to find in many salads that don't have croutons.
But I'm talking about the vegan version of croutons. Not the regular one, which is commonly non-vegan.
Croutons are mostly made with dairy products such as butter, milk, and eggs. These animal-sourced ingredients are non-vegan, which makes croutons not suitable for those who follow the vegan diet. So even if the bread itself used is vegan, the seasonings used may not be.
If you're here because you're curious about croutons, you're in the right place. Let's find out more about it!
What Are Croutons?
Croutons are rebaked pieces of bread that are often seasoned with cheese, butter, oil, and other spices and herbs.
They are cut into cubes and are commonly used to add flavor and texture to most types of salads like the Caesar Salad. Croutons are also used in soups and stews or simply as a snack.
Most of the time, you can see them in cubes, but there are also other instances when they are cut into bigger slices or just any slice for other cooking purposes.
It is derived from the French word Croûton or Croûte, which means crust. Originally, they were a slice of French baguette brushed with clarified butter or oil and then baked.
Another style of making croutons is that they're fried in butter or any vegetable oil until they're brown and crispy enough. Some would add cheese for a more flavorful taste.
Leftover bread is mostly used in making croutons.
Croutons Are Not Vegan
Unfortunately, vegans avoid eating croutons simply because they're made with ingredients that are derived from animals.
These ingredients include butter, cheese, whey, milk, and eggs. So no matter how vegan the bread is if the seasonings or ingredients used are sourced from animals, they're still considered non-vegan.
The most notable salads that are made with croutons or as toppings are Caesar Salad, Panzanella Salad, Greek Salad, Garden Salad, and Tomato Salad, among others.
But are there any vegan croutons to buy from stores?
Good news! There are many brands that you can choose from, and they're all delicious and healthy!
Store-bought Vegan Croutons
Luckily, many brands have produced vegan croutons to make many vegans' lives easier.
To help you out, these are among the best vegan croutons I find tasty and even healthier. You can find them at your local supermarkets or also on Amazon.
Fresh Gourmet (Focaccia Croutons [Roasted Garlic], Organic Croutons [Seasoned])
Trader Joe's Plantain Croutons
Rothbury Farms (Fat-Free Seasoned Croutons, Organic Whole Grain Seasoned Croutons)
Simple Truth Organic Garlic Onion & Parsley Seasoned Croutons
Edward & Sons (Organic Vegan Garlic Parmezen Croutons, Organic Vegan Zesty Ranch Croutons, Organic Savory Onion Croutons, Organic Italian Herb Croutons
Kelly's Gourmet Cheezy Garlic Croutons
Schwartz Brothers Bakery Organic Garlic & Herb Croutons
Quality Choice Salad Croutons
There may still be more brands out there that I haven't mentioned here. Feel free to try them as long as you know that they're vegan-friendly and of course, healthy!
Make Your Own Vegan Croutons
But what's more fun and exciting than making your own vegan croutons at home? I do this all the time when I run out of store-bought croutons and when I'm too lazy to go out and buy one.
It's easy, and the ingredients are just around the corner!
Ingredients
4 cups cubed vegan bread (leftover bread or any bread of your choice is totally fine)
1/4 tsp. dried parsley
1/2 tsp. garlic powder
1/3 cup olive oil
1/4 teaspoon sea salt
What you need
Mixing bowl
Baking Sheet
Parchment Paper or Silicone Mat
Cooking pan
Oven
What to do
Preheat the oven first to 325°F.
Line the baking sheet with parchment paper.
In the mixing bowl, add the garlic powder, bread, dried parsley, and salt. Mix well.
While mixing, drizzle the olive oil and keep stirring until the bread is well coated.
In the cooking pan, spread the cubes in one layer, and put them in the heated oven for about 10 minutes, or until its crispy and golden brown.
And you're done! You now have your own vegan croutons.
Important note: Using leftover bread cubes are faster and easier to bake compared to fresh bread. So, it's up to you which type of bread you'd like to use. Either way, it's still easy to make vegan croutons at home!
Ways To Use Croutons
Croutons are widely used in salads, but other foods make a great meal with these bread cubes.
Whether you're using store-bought vegan croutons or your own, there are several ways to use them for a healthy vegan meal.
Stuffed Tomatoes. Most stuffed tomatoes taste even better with croutons. Don't miss trying it out at home.
Tomato Soup. Like a stew, a tomato soup also tastes great with croutons.
Peas & Beans. Sautéed peas & beans are also delicious with croutons.
Green Bean Casserole. Without the involvement of any non-vegan ingredients, a green bean casserole tastes real good with croutons.
Pesto White Bean Salad. Here's one of my favorite salads that go well with croutons.
Feel free to experiment with foods that can go with croutons. Home-cooked meals are always the best, though.
Are Croutons Healthy?
But of course, before proceeding, we need to answer this question. Are croutons healthy?
Well, they're not the worst culprits in your weight gain, but they can add more calories to your diet. This means that you may have to adjust and balance your meal when croutons are involved.
Also, most croutons are fried in oil, adding more fat to your meal. And this is why it's best to use olive oil because it's healthier than butter, and of course, it's vegan.
It's worth noting that in every 100 g of plain croutons, you'll get 407 calories. Seasoned croutons give you 465 calories.
This is already a huge figure for one meal or just a salad with croutons.
The Dietary Guidelines for Americans recommend consuming 1,600 to 2,400 calories daily to keep things healthy.
Excessive calorie intake can lead to weight gain or obesity, diabetes, stroke, heart disease, dementia, insulin resistance, metabolic syndrome, and many more.
Another health risk that croutons bring is the high sodium content. In every 100 g of plain croutons, you'll get 698 mg of sodium, while the seasoned ones give you a whopping 1,089 mg.
This is quite alarming, especially when you eat croutons alone as a snack.
Excessive sodium intake over time leads to many adverse health effects such as kidney disease, heart disease, stroke, high blood pressure, stomach cancer, and more.
According to research, excess sodium is found to have been the culprit in death from heart disease. This is an important reminder to always look out for your salt intake per day to ensure that you're not excessing the recommended level of sodium.
And as for croutons, you can opt for the plain ones and cut them down to at least 50%. Better do it with other healthy green salads rich with flavonoids.
You can also increase your fruit intake to pair it with your fresh veggies if you can't give up croutons on your salad and other food.
Or the best thing I suggest is to replace croutons with healthier options such as roasted cubed root veggies, toasted nuts & seeds, crispy chickpeas, kale chips, and polenta.
These are really good with your salad and other vegan dishes.
Types Of Croutons
There are many different types of croutons, and most of them are non-vegan. Always refer to the list I suggested above for your convenience.
These are made in different styles or techniques, but you can also make your own vegan version of these at home. I always try out new things when it comes to vegan food because it's fun and healthier at the same as you get to control and choose the ingredients you like.
But to help you out, check these types of croutons as you will encounter them in many restaurants in the U.S. or anywhere in the world.
Seasoned Texas Toast Croutons
Seasoned Italian Croutons
Restaurant Style Seasoned Croutons
Garlic and Romano Croutons
Seasoned Organic Croutons
Baked Cheese and Garlic Croutons
The Bottom Line
Croutons can delightfully add a better taste to your salad and other vegan dishes. They're mostly non-vegan because of the seasonings and other ingredients used in making them.
They're also packed with sodium and calories, which can lead to adverse health effects in the future.
But you can always pair your croutons with other healthy options like delicious guacamole and other fruits and veggies. If you want to check more about guac, you can refer to my other article here.
However, there are many vegan-friendly brands that you can buy from your local supermarkets. You can refer to the list above for your guidance.
Or better yet, you can make your own vegan croutons at home, especially since the ingredients are easy to find. Most of them are already in your pantry, which makes things even easier for you.