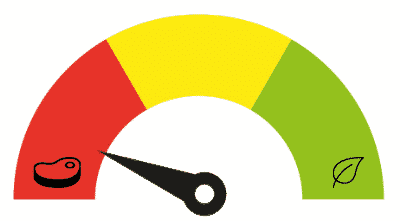 A crouton is a tiny piece of bread, which is either toasted or fried. You also get seasoned croutons that have a little taste of their own. Croutons are used as add-ons in soups and salads, giving them a carbohydrate element.
Croutons that you get in the market or restaurant contain animal-derived products. The essential ingredients include some milk product or its derivative, butter, and whey protein, or milk as a whole. More complex options might even contain cheese to amplify the taste.
However, there are a few brands that have kept their vegan audience under due consideration. Here is a detailed review of different types of croutons available in the market and whether they are vegan or not.
Why Are Croutons Non-Vegan?
As mentioned earlier, croutons are small-sized bread that adds a crunchy element to your salads and soups.
Butter Flavor
An essential animal ingredient used in making crouton is the natural butter flavor. The only popular source of butter is animal milk.
Though animal-based butter is the most common choice amongst popular brands, a few brands use different varieties. Some brands prepare croutons using natural butter flavoring that is perfectly suitable for vegans.
The source is either a nut or some other plant.
So, before rejecting croutons based on butter, check the label or ask the manufacturer about the ingredients.
Cheese And Other Protein Sources
Whey and casein, including some other protein types, are pretty commonly used in the making of croutons. The reason for the same is that the addition of protein helps improve the quality of food significantly.
The basic chemistry like viscosity, foaming, emulsification, solubility, etc., improves when adding whey or casein to the mix.
The croutons will likely contain some form of milk derivative for a better texture.
Sometimes you might also find cheese as a flavor ingredient in the mix.
So, make sure to check the ingredient label carefully. You might see a vegan-friendly butter being used, but you might get disappointed seeing the choice of protein.
Available Vegan Croutons
The basic set of ingredients used in making croutons seems unlikely to find a brand or restaurant serving vegan options.
However, there are a few brands that have provided delicious vegan croutons for their customers.
Edward And Sons Organic Croutons
When you checkout the Edward and Sons store, you will instantly get a smile seeing their tag line:
"Proud purveyors of innovative vegetarian groceries."
The company values its vegetarian as well as vegan audience. That is why they have a wide range of products that cater specifically to special dietary needs.
The organic croutons from the company are pure bliss. They are crunchy, light, and delicious. You can use them exactly like any other crouton.
Instead of using whey or casein and naturally flavored butter, they use pressed palm oil and yeast extracts. You get the same type of crunchy texture without the addition of any animal-based ingredients.
Olivia's Organic Garlic And Herb Croutons
Olivia's organic garlic and herb croutons are yet another great brand to consider for vegan crouton choices.
The company is known for using the best quality organic ingredients to deliver the most delicious croutons you can imagine. The bread is prepared using plant-based ingredients and seasoned with some quality-grade spices.
The bread used yeast and organic flours to give it a crunchy texture, which is necessary for croutons.
Kelly's Cheesy Garlic Croutons
Just the sound of these croutons is enough to make the vegans cringe. But you will be surprised to know that these sinfully amazing croutons are 100% vegan.
The company uses sourdough bread as the base for croutons. Along with that, they enhance the flavor and texture using cultured vegan butter.
Cultured vegan butter is prepared by using coconut oil, organic cashews, and organic sunflower oil.
The questionable ingredient is cheese.
The cheese used in these croutons is pure nut cheese made from cashews. It is the absolute cheesy goodness that is derived from plants.
However, if you have nut allergies, you should avoid these croutons.
Home-Made Vegan Croutons
Now, it may be a disappointment to see no solid crouton options for vegans. But that does not mean that you cannot fulfill your cravings.
Why not just DIY it and prepare something unique at home!
There are some fantastic crouton recipes that you can follow to make some delicious croutons at home.
Here is one easy recipe that will help you make crunchy, garlicky, and, most importantly, vegan croutons for your salads and soups.
To begin with, you will need some bread. The choice of bread is totally on you. You can opt for sourdough, multigrain, whole wheat, rye, etc. Once you have finalized your bread choice, cut the slices into cubes. Use a sharp-edged knife to cut the bread. Or else you will get mushed pieces instead of neat cubes.
Put these bread cubes in a mixing bowl. Add your favorite herb seasonings to the bowl. You can add salt, pepper, chili flakes, garlic, parsley, etc., to jazz up the flavor of the croutons.
Now add an oil of your choice to the bowl and toss everything together. This step ensures that every bread cube gets a fine layer of oil and seasoning on it. If you want to eliminate the oil step, you can use aquafaba instead.
Put these seasoned bread cubes on a baking tray and put them in the oven for 14 to 18 minutes at 400 degrees Fahrenheit. To ensure an even crunch throughout, make sure to toss the croutons a couple of times. Depending on the type and freshness of the bread, the baking time may differ. You can alter the same depending on the amount of crunch you want on your croutons.
Once you are satisfied with the texture, take out the tray from the oven, and voila! You have a stay full of healthy snacks ready to pair up with soups or salads or just for munching.
Vegan Ingredients For Croutons
Two ingredients make regular croutons unfit for vegans:
Whey, casein, or cheese
Natural butter flavor
There will indeed be texture variations in vegan and regular croutons, but it won't alter the taste significantly.
Cheese can be easily replaced using vegan cheeses.
Gone are the days when dairy products were a big no for vegans. Now there are hundreds of choices available.
A variety of nut cheeses can be used to replace the regular cheese in croutons. You will get the same taste, and your cheesy cravings will also get satisfied.
Similarly, the natural butter flavor can also be replaced with vegan butter, like cashew butter.
Vegan ingredients do not just fulfill the specific dietary restrictions but also make your food healthier.
Vegan Alternatives To Croutons
Croutons might be a delicious addition, but don't get disappointed if they aren't vegan. There are many vegan alternatives to croutons that can add that crunchy texture to your salads and soups.
Roasted Veggies
Crispy roasted veggies are an absolute delight. Seasoned with aromatic plants and roasted to perfection, vegetables add different layers of texture to your dish.
To top it all, you cannot find anything healthier than some veggies.
Toasted Nuts And Seeds
A lot of people prefer adding toasted nuts and seeds to their salads. They are a rich source of fiber and healthy fats.
They also add a different flavor to your food, making it more enriched and healthy.
Kale Chips
Kale is hype amongst people who focus on healthy eating. Kale is loaded with nutrients and tastes fantastic. This versatile vegetable goes well with everything. And it is also a great replacement for croutons.
Bake a few healthy and lush kale leaves in the oven. Let them dehydrate entirely and get a crispy texture.
Add these chips to salads or soup for some extra crunch.
Chickpeas
Chickpeas top the list of vegans. They make the most delicious dip or hummus.
Chickpeas can be baked and turned into tiny crispy seeds. They get a fine outer coating and can be seasoned with spices. They are a perfect addition to salads.
To Sum It Up
Croutons are indeed a delicious snack ideal for every occasion, be it a seasoning or a snack.
This detailed read will help you get your hands on some quality croutons available in the market. If you are not satisfied with them, blaze up your inner chef and make them yourself!