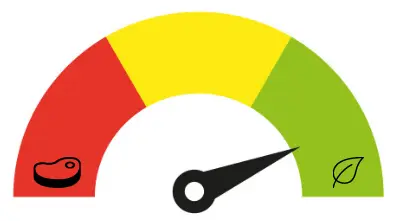 Guacamole has been a staple to food culture all around the world as a condiment, dip, spread, and salad ingredient. You can't have tortilla chips, tacos, nachos, among others without guacamole. And just like you, I can't imagine my life without it. Seems fair, right?
When you set foot at a Mexican restaurant, guacamole is a top choice when it comes to dip and spread. Sure you can enjoy your famous tacos without guacamole, but you know something is missing. And we know that Mexico is winning when it comes to guac!
Now that's we've learned that your favorite guacamole is vegan, let's find out more about it and what else we can have as its meal partner.
What Is Guacamole?
Shortened as guac in the U.S., guacamole is a Mexican original dip first made known in a 1697 book when an English privateer and naturalist William Dampier noted how it should be prepared. At that time, Dampier was on his circumnavigation to Central America. Avocados were first grown in South Central Mexico some 10,000 years ago, which was the start of guacamole production.
The name Guacamole originated from Classical Nahuatl, a lingua franca of Central, and Valley of Mexico during the Spanish conquest in the 16th century. It literally means avocado sauce, which is traditionally made from ripe avocados, lime juice, sea salt, cilantro, jalapeños, and onions. With the use of mortar and pestle, the peeled avocados and sea salt are mashed then mixed with other ingredients.
Others would include tomatoes, peas, basil, and sour cream for its ingredients although the latter would make it non-vegan. Anyhow, guacamole is known as vegan-friendly, and has been a popular dip and spread for most vegan or non-vegan Mexican dishes.
How Healthy Is Guacamole?
Guacamole is avocado-based, which means that most of its health benefits come from avocado. Rich in vitamins, minerals, and fats, guacamole boosts brain functions and lowers the risk of heart diseases and strokes. Avocados are packed with fiber, heart-healthy monounsaturated fat, beta-carotene, zeaxanthin, lutein, and phytosterols.
Compared to other dips, health experts say that guacamole is lower in calories. Avocados are also an excellent source of folate, vitamin K, B-vitamin, and 20 other vitamins and minerals. Guacamole provides 2 g of fiber per serving, which helps maintain healthy blood sugar and cholesterol levels.
And good news! There is no such thing as overeating or binge-eating guacamole. According to a dietitian, avocados have the advantage over other dips such as sour cream or mayo-based ones. Calories are relatively small for guacamole, and it's definitely not a bad idea to consume it more than you should.
How To Make Guacamole
As a crowdpleaser, guacamole is often the go-to dip and spread for most people, especially those who are sports fans and the like. While store-bought guacamoles are relatively healthy, others can include dairy products such as sour cream or mayo, which are not vegan-friendly. Unless they're prepared vegan.
The most possible way to have healthy guacamole is to make it by yourself at home. For guidance, check the list below.
What you need:

Ripe avocados. They should be peeled before they're mashed.
Onions. Mexico often uses yellow onions. Otherwise, you can use the red ones.
Tomatoes. Less juicy tomatoes are better. So choose Roma tomatoes if possible.

Jalapeños. If you want it little extra heat, you can have serrano pepper.
Garlic. This is optional. For those who love garlic, you can have some. Otherwise, you can skip this one.
Cilantro. Also known as Coriander, this is one of the major ingredients of guacamole, and also a staple to Mexican food.
Salt. Sea salt is 100% vegan and is highly recommended. A pinch will hold it together.
Lime. You will need fresh ones for guacamole. Just squeeze it on the mixture and things will get better for you.
What to do:

Scoop the ripe and peeled avocados and place them into the mixing bowl.
Use a fork to mash them gently. Others would use mortar and pestle to mash the avocados, but it doesn't matter as long as they're gently mashed to your desired chunk.
Add all the other ingredients to the mixing bowl, and stir them together.
You're done! Now you have tasty homemade guacamole.
How to store guacamole: If you have leftovers, you may wonder how to store them while keeping their color green. Avocados are very quick to oxidize and tend to go brown when they are left open. But with this hack, you can still enjoy your homemade guacamole for up to three days.

Place the guacamole in a storage container, and flat it down at the top firmly like there's no leakage. You can use a spoon to flatten it on top.
With about 1/2 inch of cold water, pour it on the flattened guac in the container.
Cover it with the container's lid and place it in the fridge. This works for three days, and it's magic!
If you want to consume it again, just pour or drain the water off. Stir again and enjoy!
You can also add some lemon juice to it, but it will only change the guacamole's texture and taste, which you may not like. So the best hack would be adding water at the top of the flattened guacamole to keep it fresh and green for a few days.
Vegan Dishes To Eat With Guacamole
Making guacamole shouldn't be complicated. There should be no fillers or other ingredients except avocados, lime juice, sea salt, jalapeños, onion, and cilantro. The same goes for eating vegan-friendly dishes with guacamole. It should only be tasty and memorable.
Check out these over-the-top vegan-friendly dishes that you can have with guacamole.
Baked Potatoes. There might be a lot of tasty toppings to pair with baked potatoes, but guacamole definitely works wonders with those potatoes. It's both tasty and vegan-friendly!
Soup. Are you surprised? It's real. Guacamole also works best as a delicious soup base.
Pineapples. There's no better food than a combination of healthy fruits such as pineapples topped with guacamole. It's a favorite!
Grilled Cheese. That cheesy sandwich is already one for the books, but with guacamole spread, melted grilled cheese has its own magic. Try it.
Pizza Topping. A vegan-friendly pizza topped with guacamole? Why not! It's one of my favorite pizza toppings and definitely a must-have!
Maki. While this is generally vegan, be careful with some makis out there as they may contain raw fish or sometimes with meat. Nonetheless, maki is best served with fresh guacamole, and it's just so exciting and tasty!
Pita Bread. So this is often partnered with tzatziki or hummus, but guacamole is worth a try whether as a dip or condiment on the pita sandwich. Spice it up!
French Fries. Yes, you can scratch ketchup off the list for now. Make way for guacamole to pair with your French fries, and tell me if I'm wrong when I say it's delicious as a dip!
Burger. Sure this can be dressed with mayo, but for an interesting, tasty twist, guacamole is the one. I'm also talking about a vegan burger, and guac is definitely a great idea.
Crunchy veggies. When we talk about crunchy veggies, there's so much to think about, including cauliflower, broccoli, cucumber, carrots, zucchini, celery, among others. And to add more to their crunchy, umami taste, use guacamole as a dip.
Toast. While there are so many spreads out there to think about when it comes to toasts, heart-healthy guacamole is such a feat. It's definitely delicious, and the breakfast of the champs!
Chipotle Cheddar Avocado Rollup. With vegan-friendly ingredients, this rollup can do a little dancing to your umami taste buds with tasty guacamole in a roll.
Avocado Puff Pastry. There's nothing that tastes like heaven other than a puff pastry filled with tasty guacamole.
Mango Salsa. If pineapples with guacamole are packed with heart-healthy carbs such as fiber, mango salsa with guacamole can compete too.
There might be more dishes to eat with guacamole, but the list above is among the top vegan-friendly food that you can have. Yes, they are seriously worthwhile and deserve a pat on the back!
The Bottom Line
Guacamole, in its strictest sense, is vegan-friendly, and you don't even have to worry about overeating it. With its heart-healthy benefits, we're sure that consuming plant-based food with your favorite guac is one of the best things you can do in life. While you can enjoy your tacos or burritos without guacamole, it's safe to say that it will never be the same without guacamole.
As experts said, avocados are generally lower in calories, and guacamole makes a perfect pair for your favorite snack or meal at any time of day. Additionally, the healthiest one is homemade as you can control the ingredients to make a vegan-friendly guac.
Some would include dairy products in making guacamole to make it creamier, but even most of the store-bought guac is actually cruelty-free. Vegans, rejoice!