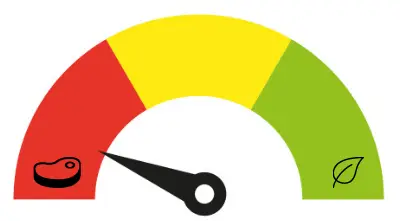 Domino's is best known for their pizza, which is perhaps why their cinnamon sticks became a popular item on their menu shortly after launch. They're sweet, buttery, cheap, go well with pizza, and most importantly, they use the signature Domino's dough. But while that may seem fascinating to most, avid consumers of Domino's would know that their dough usually contains milk in the form of whey.
So, to answer your question, no, Domino's cinnamon sticks, also known as Cinnastix, are not vegan primarily because one of their ingredients contains milk.
But of course, there are ways to circumvent this. You can, for example, make your cinnamon sticks.
It's quick, cheap, and most importantly, you can make it vegan. But that would require a bit of knowledge about the recipe. In that regard, this article should help you with that goal in mind.
Let's start by looking at its ingredients.
What's In Domino's Cinnamon Sticks?
Domino's cinnamon sticks contain four main ingredients. These include:
Sugar and cinnamon are inherently vegan, but that's not the case with the dough since, according to Domino's Pizza's official website, they use the following ingredients to make the dough:
Corn starch
Dextrose
Dough conditioner (l-cysteine, whey)
Flour (malted barley, wheat)
Leavening (calcium lactate, monocalcium phosphate, sodium acid pyrophosphate, sodium bicarbonate)
Preservative (calcium propionate)
Salt
Soybean oil
Water
Yeast
All of these are vegan, except for the dough conditioner, which is either whey or l-cysteine.
Whey is the protein component isolated from cow's milk. L-cysteine, on the other hand, is an amino acid found in cow horns and duck and chicken feathers, though there's a vegan variation.
However, according to Domino's customer support, the l-cysteine and similar enzymes they use for their dough are microbial-based. They are a byproduct of milk.
Therefore, both dough conditioners are non-vegan.
This is the main reason why cinnamon sticks are not suitable for vegans.
As for the butter, though it is indeed non-vegan since it comes from the protein and fat components of cow's milk, it's possible to request the crew to make it with an alternative, like soybean oil, for example.
Can You Order Cinnamon Sticks Without Milk At Domino's?
While you are entitled to customizing your orders and asking them not to add certain ingredients, the same doesn't hold true with their dough. They would always use the aforementioned ingredients.
So, no, you can't order cinnamon sticks without whey or l-cysteine from Domino's Pizza.
But then again, if you genuinely want to stuff yourself with cinnamon sticks, you can always make your own at the comfort of your home. It should be possible as long as you have the right ingredients and steps.
How To Make Your Own Cinnamon Sticks
As stated in the previous section, you need four ingredients to make this work:
Let's take a look at each ingredient in detail.
Butter
For butter, you can substitute it with vegan-friendly oils. Examples of such oils include:
Coconut oil
Soybean oil
Canola oil
Vegetable oil
Safflower oil
Olive oil
Cinnamon And Sugar
Cinnamon and sugar should be good as they are. Now, the main issue is the dough.
Dough
Fortunately, there are countless recipes for dough that do not use dairy or any animal byproducts. The only ingredients you'll need are all organic and come not from animals. Here's a list of what you'll need:
Active yeast
Bread flour
Oil (vegetable, canola, safflower, olive)
Salt
Water
When buying yeast, it's advisable to go for those in individual packets rather than getting them in bulk, as you'll rarely use yeast when cooking. As for the bread flour, note that it's not the same as all-purpose flour.
It has more protein, which means more gluten and a crispier and lighter byproduct.
Below are the steps you need to take to make the dough:
Place warm water and yeast into a bowl and mix them via whisking. Allow the mixture to rest until it bubbles up. This is a sign that the yeast has become active.
Add room temperature water and your chosen oil into the mixture.
Place the salt and flour into a food processor to mix.
Turn on the device and pour the yeast mixture into the processor.
Wait until the dough takes the form of a ball.
Place the dough ball in a bowl and wait for it to double in size.
With this, you now have all the ingredients you need to make cinnamon sticks.
Making Cinnamon Sticks
The process of making cinnamon sticks is pretty straightforward, even more so than making the dough.
Here are the steps you need to follow:
Warm up the oven up to 350°F.
While the oven is warming up, roll out the dough and cut it into several pieces.
Bake the cut pieces in the oven for around 15 minutes.
Meanwhile, combine the sugar and cinnamon into one bowl.
Spread the oil into the cooked dough and sprinkle the sugar-cinnamon mixture.
You now have cinnamon sticks that are vegan, homemade, and most likely delicious.
But if you don't exactly have the time or luxury to make cinnamon sticks by yourself at home and insist on eating out in Domino's Pizza, you can instead order the vegan options of the restaurant.
What Is Vegan At Domino's Pizza?
While Domino's currently only has one vegan-compliant pizza crust, they have a lot of other dishes that are suitable for vegans. Of course, it'll require a few changes here and there.
Let's take a look at your options.
Pasta
Domino's pasta primavera is made primarily with sauces and vegetables. It's one of their most popular dishes as it's completely customizable. While they usually make it with marinara and Alfredo sauces, which are both non-vegan, you can request a different sauce or order it without sauce altogether.
The Robust Tomato Sauce, in particular, goes well with their pasta and is the only vegan sauce you can find in the restaurant, though it's technically meant for pizza. Still, it should suffice.
Other vegan sauces that may or may not go well with pasta include:
Garlic Dipping Sauce
Kicker Hot Sauce Dipping Cup
Sweet Mango Habanero Sauce/Dipping Cup
You can then top it off with some vegan ingredients, such as:
Banana peppers
Diced tomato
Green/jalapeno peppers
Mushrooms
Onions
Pineapple
Spinach
Mediterranean Veggie Sandwich
As the name implies, the Mediterranean Veggie Sandwich caters to vegetarians.
It contains fresh baby spinach, onions, banana peppers, diced tomatoes, and roasted red peppers. Its original variation isn't suitable for vegans as it has cheese, but you can always customize your order.
Simply order it without cheese, and it should be 100% vegan!
Classic Garden Salad
If you're in the mood for a salad, Domino's Classic Garden Salad should fit your criteria.
Just make sure you ask the crew or chef not to add either croutons or cheese as both of these are non-vegan. As for the dressing, you can choose from the following vegan options:
Ken's Golden Italian
Ken's Lite Balsamic
Kraft Catalina
Marzetti Golden Italian
If you wish to learn more about Domino's menu, you might want to check out this vegan options guide.
Restaurants With Vegan Cinnamon Sticks
1. Cinnaholic
Cinnaholic is an entirely vegan and dairy-free cinnamon roll chain. They run a strictly vegan facility, so everything on their premises is made sans eggs, dairy, and even nuts, though it's available as toppings.
That includes their frosting, cinnamon rolls, and, most importantly, their cinnamon sticks.
2. Dillon's Cinnamon Sticks Restaurant And Bakery
Dillon's Cinnamon Sticks Restaurant and Bakery is a restaurant chain specializing in cinnamon sticks, as the name implies. It's also a vegetarian and vegan-friendly company, so there's a good chance they have vegan cinnamon sticks. Unfortunately, not much can be found about their offerings, much less their cinnamon sticks, but it's still worth a shot if you're craving this particular dessert.
Yes, two restaurants are not a lot, but since most baking goods contain dairy, it's pretty understandable why only these two restaurant chains potentially have vegan cinnamon sticks.
Wrapping Up
Domino's may be known for their pizza, but some people prefer buying non-pizza-related dishes from the restaurant, like cinnamon sticks. Unfortunately, as much as you'd like to try out this dessert, it's by no means vegan, though some people may believe it is. After all, the sticks contain l-cysteine, which, unbeknownst to many, is a byproduct of cow milk. This has been confirmed by Domino's themselves.
Nevertheless, you can always make your own cinnamon sticks at home, or if that's not possible, you can order this dessert from other restaurants.