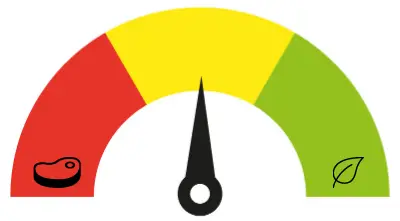 Egg Rolls can be both vegan and non-vegan because they can also involve meat such as pork in the process or not at all.
These are so delicious and have been one of my go-to starters. I'm talking about vegan Egg Rolls, by the way.
Egg Rolls are often referred to as a Chinese dish similar to spring rolls, which originally included pork, chicken, shrimp, shredded cabbage, and other fillings wrapped in a wheat flour wrapper and fried in oil. The wrapper can be made with eggs too, which is another reason why egg rolls can be non-vegan.
When it's about food, it's always worth checking it out. Let's find out if egg rolls are great for a vegan diet!
What Are Egg Rolls?
Egg Rolls are cylindrical rolls filled with veggies and meat with other seasonings fried in hot oil and are often dipped in any kind of sauce.
The most popular kinds of dipping sauce for the rolls are hot mustard, soy sauce, plum sauce, and duck sauce. These are typical in American Chinese restaurants that serve egg rolls as well as spring rolls.
It's unclear how they were named egg rolls, especially since they don't typically contain eggs in the filling. The wrapper, though, may or may not contain eggs, which depends on how it was made.
But theories suggest that both the words egg and spring have identical sounds in Chinese, which confused all diners and cooks.
Another theory, according to The Washington Post, suggests that Chinese cooks couldn't make thin noodles out of flour and water. This resulted in using eggs in the batter to flatten the noodle or the wrap.
Although the origin of egg rolls is unclear, a 1917 Chinese recipe pamphlet was published in the U.S., which appeared to be the same as the dish.
The recipe seemed different from the modern egg rolls, which show the fillings were wrapped in an egg omelet and served in slices.
An author also suggested that modern egg rolls were first introduced to the U.S. in the 1930s, although one recipe didn't include cabbage in the filling.
Modern American egg rolls have been altered and are made differently from the typical Chinese egg rolls in the early days.
One includes broccoli, which is uncommon in China and is measured approximately six inches in length and two inches in diameter. The New York-style egg rolls are also thick, crispy, chewy, and bumpy, with different veggies and flavors.
Egg Rolls May Be Vegan Or Non-Vegan
Rolls are common in Chinese cuisine, and what's more interesting about the appetizer is that they can be made vegan, vegetarian, or non-vegan.
But contrary to the name, egg rolls typically don't contain an egg in the filling except for the wrapper, which can be made with or without it. Luckily, there are many versions of egg rolls nowadays that are suitable for vegans.
And the good news is that you can make your own vegan version at home using a store-bought wrapper or your own wrapper.
The most common non-vegan ingredients in egg rolls are ground pork, chicken breast, shrimp, cabbage, carrots, and other spices and seasonings.
But for a vegan version, meat and shrimp are omitted. Instead, more veggies and spices are added.
Here's an easy way to do it.
Ingredients
12 vegan egg roll wrappers
1 or 2 tbsp. Vegetable oil of your choice
2 cups shredded green cabbage
1 shredded carrot
1 thinly sliced green onion
3 diced mushrooms
2 tbsp. chopped cilantro
½ tsp. salt
2 tsp. sesame oil
4 tbsp. soy sauce
1 tsp. crushed garlic
1 tsp. crushed ginger
What you need
Mixing bowl
Small bowl
Dutch oven or a Wok
What to do
In the mixing bowl, add all the filling ingredients and combine.
Put water in the small bowl.
On a flat surface lay a wrapper. Put and line 2 tbsp of the filling mixture close to the center of the wrapper.
Using your finger, run small water around the wrapper's edge, and fold the bottom part over the lined filling.
Fold both left and right corners over and roll. You can do the same with the other wraps.
Fry them in the wok in heated oil until they're golden brown and crispy.
Serve with your choice of vegan dipping sauce.
You can buy vegan egg roll wrappers at your local grocer, or you can also check on Amazon. The most popular vegan wrappers are Nasoya and Twin Dragon.
Vegan Egg Rolls Vs. Meat Egg Rolls
First things first…how many calories are you getting from your vegan egg rolls, and how do they differ from their non-vegan counterpart?
Calories, sodium, cholesterol, and fat are among the things that we need to keep watch of, especially when we're following a healthy, vegan diet.
Let's put it in comparison for every 100 g serving of vegan and meat egg rolls.
| Vegan Egg Rolls | Meat Egg Rolls |
| --- | --- |
| Calories: 196 | Calories: 222 |
| Total Fat: 4.7 g | Total Fat: 7 g |
| Cholesterol: 0 mg | Cholesterol: 14 mg |
| Sodium: 561 mg | Sodium: 407 mg |
| Potassium: 250 mg | Potassium: 212 mg |
| Total Carbs: 32 g | Total Carbs: 30 g |
| Protein: 7 g | Protein: 10 g |
The figures above are based on a 2,000-calorie diet
If you notice, almost all categories are higher in meat egg rolls compared to their vegan counterpart except for sodium.
Why are vegan dishes mostly higher in sodium than non-vegan ones?
The answer is simple. All vegan ingredients must be seasoned to achieve the flavorful taste of the meat, which does not apply to the non-vegan version.
For instance, meat egg rolls already have that meaty taste of pork or chicken, so there's no need to put more seasoning to achieve the taste.
Whereas for vegan dishes, more seasonings are needed to get the taste that you need.
But don't fret. As long as you don't exceed the recommended sodium intake of 2,300 mg daily by the Dietary Guidelines for Americans, you don't get sick. Do it with a balanced vegan diet, such as adding more fiber and flavonoid-rich fruits and veggies to your diet.
Know that excessive sodium intake over time can lead to stomach ulcers, kidney failure, heart disease, stroke, and high blood pressure, among others.
As for calories, meat egg rolls have higher content, which is difficult to burn in one sitting. Over time, excess calories become extra fat, which leads to weight gain or, worst, obesity.
But only that. Too many calories can lead to diabetes, insulin resistance, and metabolic syndrome. Your heart may be at risk too.
Consider limiting your calorie intake to up to 2,400 calories per day to avoid any adverse health issues in the future.
Types Of Rolls
In Chinese cuisine, rolls are pretty famous, becoming a household name in the food industry worldwide.
To name a few, many Asian-inspired rolls can be made vegan, which is also easy to make at home.
For your convenience, these are the types of rolls inspired by Chinese cuisine and other Asian countries.
Lumpia or Lumpia Shanghai

This is a smaller version of egg rolls, only that they're common in the Philippines. The filling can be either all veggies or meat with a vegan or non-vegan wrapper. It's another type of spring roll with a flavorful taste of Filipino delicacy.

Cha Gio

Originating in Vietnam, a Cha Gio is wrapped with a thinner rice paper wrapper filled with veggies like mushrooms and carrots. Ground pork is also included in a non-vegan version of Cha Gio.

Dosa

Although Dosa isn't always left rolled, some restaurants prefer rolling the soft wrapper filled with potatoes, egg bhurji, and more. Its wrapper is also fermented before serving, which results in a thin and light consistency.

Turon

Here's another version of egg rolls with thin ripe banana slices filling. It's also wrapped using the same egg roll wrappers, although it's glazed with brown sugar. In the Philippines, it's called Lumpiang Saging, meaning banana rolls.

Goi Cuon

This also originated in Vietnam but is uncooked. It's filled mostly with Vietnamese proteins such as meat, fish, and shrimp, as well as vermicelli, salad, and other herbs and spices in a rice paper wrapper.
Also, if you have Goi Cuon, the most common dipping sauce is called tuong cham. Yes, the sauce is important with this version.
There may be more types of rolls that I fail to mention here, but these are the most common and popular rolls that are always present in many households and restaurants.
The Bottom Line
Egg Rolls may be vegan or non-vegan, depending on how the wrapper is made and what ingredients are involved.
Many Chinese dishes pass vegan standards, especially those that use wrappers that are either vegan or non-vegan.
One good example is the famous Chinese dumpling called Wontons, which also uses wrappers for cooking. There's a post I wrote about it here if you'd like to check.
Nonetheless, it's important to check every new dish that you wanna try. It's always worth knowing whether or not they're vegan-friendly.