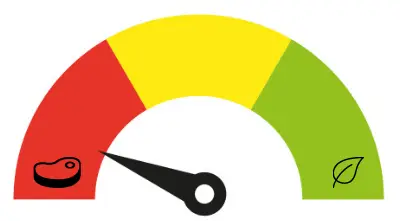 Funyuns by Frito-Lay is an onion-flavored snack that contains buttermilk, which makes it non-vegan. But there's no real onion that's involved in this snack. Its key ingredient is cornmeal, which is shaped like a ring and flavored using onion powder.
Snacks don't have to be difficult to find for hungry vegans. Many vegan-friendly snacks are readily available these days, and that's what we're actually living for!
If you're on the lookout for healthy vegan snacks, you're in the right place. Let's check more about Funyuns, and let's find you some vegan-friendly options.
Funyuns, Deliciously Different Snack
In 1969, George Bigner, a Frito-Lay employee invented Funyuns, which are made with cornmeal, and shaped into rings through an extrusion process. It's the onion mix and salt that give Funyuns the onion flavor.
Funyuns are sold as Cebolitos in Brazil, and Yangpa Ring in Korea. In 2021, Funyuns became available in Canada.
Funyuns was originally named OnYums, but it was later discovered that the name was Rudolph Foods' registered trademark. Jim Albright, a professor at the University of North Texas changed the name to Funyuns.
The snack's TV appearances were on AMC's Breaking Bad, How I Met Your Mother, Drawn Together, The Righteous Gemstones, and The Big Bang Theory. Comedian Donnie Baker has also mentioned Funyuns several times on his Bob and Tom Show, and in the studio with his band.
Funyuns Are Not Vegan
Funyuns used to have five different flavors. However, the company had to phase out the three other flavors. All of them though are not vegan-friendly.
Let's check these flavors and the ingredients that are currently available.
Original Funyuns (1969 – present)

Enriched Corn Meal (Corn Meal, Niacin, Ferrous Sulfate, Riboflavin, Thiamin Mononitrate, and Folic Acid)

Vegetable Oil (Corn Oil, Canola Oil, or Sunflower Oil)

Corn Starch
Sugar
Buttermilk. This is what makes Funyuns non-vegan. Buttermilk is a dairy product made out of fermented milk. It's the liquid that's left after butter is churned out of cream.
Maltodextrin (Made From Corn)
Onion Powder
Monosodium Glutamate
Hydrolyzed Corn Protein
Dextrose
Garlic Powder
Natural Flavors
Gum Arabic
Flamin' Hot (2007 – present)

Enriched Corn Meal (Corn Meal, Niacin, Ferrous Sulfate, Riboflavin, Thiamin Mononitrate, and Folic Acid)
Vegetable Oil (Corn Oil, Canola Oil, or Sunflower Oil)
Salt
Corn Starch
Corn Flour
Buttermilk
Sugar
Monosodium Glutamate
Yeast Extract
Cheddar Cheese ( Milk, Cheese Cultures, Enzymes, Salt). Despite the delicious spicy kick, this Funyuns flavor has more dairy ingredients compared to the original flavor, which only has buttermilk. Both Enzymes and Salt are vegan-friendly although the former can sometimes involve animal byproducts.
Artificial Color ( Yellow 6 Lake, and Red 40 Lake )
Citric Acid
Whey. This is a strained-off liquid that's obtained from curdled milk during cheese production. Whey, unfortunately, is non-vegan as a byproduct of cheese.
Onion Powder
Maltodextrin (Made From Corn)
Lactose
Garlic Powder
Natural And Artificial Flavor
Skim Milk. Fat may have been removed from skim milk, but it's still an animal byproduct.
Sodium Diacetate
Gum Arabic
Onion Extracts
Wasabi (2001 – 2002)
Chilli & Limón (2014 – 2018)
Steakhouse Onion (2015 – 2018)
Pro Tip: If you're conscious about the natural flavors that may contain animal products, the FDA points out that it's mostly derived from plants, vegetables, or fruits. However, there are natural flavors that are also extracted or sourced from meat, fish, and poultry.
Funyuns Nutrition Facts
Not only that Funyuns are packed with animal byproducts. They're also loaded with calories and sodium. But this is expected from non-vegan snacks that mostly rely on ingredients that contain animal sources.
So, if you're curious enough, here's what a pack or serving of Funyuns brings. A pack of Funyuns has about 13 pieces, which is equivalent to 28 g.
Funyuns Original Flavor

Calories. 140 of the Daily Value (DV)
Total Fat. 8% of the DV
Sodium. 12% of the DV
Total Carbs. 7% of the DV
Protein. 2 g
Calcium. 10 mg
Iron. 2% of the DV
Potassium. 40 mg

Funyuns Flamin' Hot

Calories. 140 of the Daily Value (DV)

Total Fat. 8% of the DV
Sodium. 13% of the DV
Total Carbs. 7% of the DV
Protein. 2 g
Calcium. 11 mg
Iron. 2% of the DV
Potassium. 43 mg
Pro Tip: Both flavors have a pretty huge amount of sodium, which is equivalent to 280 – 290 mg. It's worth noting that the USDA recommended limiting your sodium intake to 2300 mg a day. And to think that the 290 mg of sodium that a snack can give already sounds unhealthy.
Vegan-Friendly Alternatives To Funyuns
Since Funyuns are not vegan-friendly, you can't just worry now. I've been checking out many affordable, delicious, and healthier snacks that vegans can have.
I have most of them in my pantry, and I can assure you, these are tasty, vegan-friendly, and healthy. But be also mindful of the calories and sodium. Moderation is still important in everything you eat.
Most of these are vegan-friendly onions rings while others are cookies, chips, bars, and more that make a healthy snack.
Wise Onion Rings
Munchos Flamin' Hot Potato Crisps
365 Everyday Value Crispy Breaded Onion Rings
Ian's Gluten-Free Onion Rings
Alexia All Natural Frozen Crispy Onion Rings
Birds Eye Onion Rings
Ore-Ida Gourmet Onion Rings
Vegan Rob's Chips
Outstanding Foods PigOut Pigless Bacon Chips
Doritos Spicy Sweet Chili Flavored Tortilla Chips
Famous Amos Peanut Butter Sandwich Cookies
Louisville Vegan Jerky
Fritos The Original
SunChips Original
Kettle Brand Potato Chips Maple Bacon
Earth Balance Vegan Cheddar Flavor Squares
Nature Valley Crunchy Granola Bars Peanut Butter
Newman's Own Organics Pretzel Nuggets
Lenny & Larry's The Complete Cookie
Stacy's Pita Chips
Follow Your Heart Yogurt
Lindt Excellence Dark Chocolate
Make Your Own Vegan-Friendly Onion Rings
Yes, I understand that sometimes, we crave onion rings. And if we can't find a vegan-friendly brand near us. it's even more difficult.
But if you have those hands that work like magic when it comes to cooking, making your own vegan onion rings is never hard..at all. All the ingredients are very easy to find, and I'm guessing you already have most of them in your kitchen.
So, if you're adventurous enough for some cooking time, let's dig in!
Ingredients:
Wet Mix:
1/2 cup Flour
2/3 cup Unsweetened Plant-based Milk
1/2 tsp. Paprika
1/4 tsp. Turmeric
1/2 tsp. Salt
Dry Mix:
1 cup vegan Panko Bread Crumbs
1/2 tsp. Paprika
1/4 tsp. Turmeric
1/4 tsp. Salt
What to do:
Preheat the oven to 450°F. Peel off the onions and cut them into about 1/2 inches circular size.
Carefully remove the middle part of the onions away from the two layers using your fingers. It should be like a hollow ring.
In a medium bowl. add and stir all the wet mix ingredients.
Do the same with the dry mix ingredients using a separate medium bowl. Divide the dry mix into half and put the other half in a separate bowl.
Dip the onion rings one by one into the wet mix, and then into the dry mix, and coat with breadcrumbs.
Put the coated onion rings on a lined or greased baking tray, and bake in the oven for 35 minutes at 450°F temperature.
Serve warm with your choice of vegan dip, and enjoy your vegan-friendly onion rings!
Pro Tip: These onion rings will stay crispy for a few hours, but not until overnight. So, it's best to consume them while they're warm.
The Bottom Line
Frito-Lay's Funyuns are not vegan-friendly since they contain milk, an animal byproduct. These aren't a healthy option either, especially since they're packed with sodium calories although moderation helps.
But of course, there are a lot of vegan-friendly and healthier alternatives that you can consider buying. The brands that I listed above are great preferences if you're considering adding more vegan snacks to your pantry. You can either find them at your local grocer or supermarkets, or online like Amazon, Walmart, and more.
Or the best option, at least, for me, is homemade. I really like homecooked meals, and so do snacks. With home cooking, you get to choose your ingredients, which is a great way for vegans, especially since eating out has possibilities of cross-contamination.
When you make your own food at home, you also get to share it with your family, which is really fun. You just have to choose the vegan-friendly ingredients, especially when you're entire family is also practicing a vegan diet. For instance, onion rings can be made vegan or non-vegan even with the simplest ingredients you can have.
The breadcrumbs that I included above in the recipe can also be non-vegan depending on the brand. Panko Bread Crumbs are vegan, but you need to make sure that these are the original ones since there are a lot of versions of panko in the market. I've also discussed panko bread crumbs in this article if you want to learn more about them.
Lastly, enjoy veganism, and of course, your vegan snack!