Answer: No. Hi-Chews, unfortunately, aren't vegan. They contain gelatin.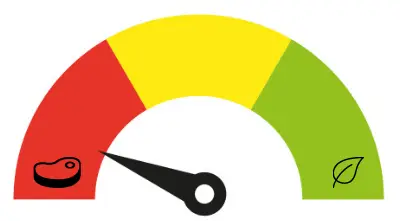 Hi-Chew is a chewy and soft treat that has been available since 1975. We'll investigate why they're inappropriate for vegans and check if anyone offers vegan alternatives.
What Are Hi Chews? Brief History
Throughout the 1930s, the mastermind Taichiro Morinaga attempted to develop a new type of sweet and chewy treat clearly influenced by bubble gums.
As a result, Chewlet was established in 1931. The first and original flavor was caramel. It was distinct from other candies in many aspects; however, what set it apart was its mouthfeel. This unique treat was instantly successful, so other flavors were quickly introduced.
Chewlets were relaunched in Japan around 1975 under the name Hi-Chew, following many decades of hard work improving the formula. Hi-Chew has grown to the point where 165 flavors have been produced, and it is now the most beloved chewy candy in Japan!
How Are Hi-Chews Made?
Almost a billion servings of this renowned Japanese treat are produced daily. Here's how it works!
The components are mixed with actual fruit juices and cooked to create a gooey consistency. Then they are chilled, and they move down the assembly line. A machine forms them into lengthy serpents and cuts them into even pieces.
Why Are Hi-Chews Considered Non-Vegan?
Gelatin
This protein is manufactured through cooking pigskin, ligaments, bones, and tendons and is used as a thickening in a wide range of sweets to deliver them a chewiness.
Of course, it renders any product that contains it non-vegan.
Hydrogenated Palm Kernel Oil
The production of palm oil has been killing rainforests, and it is gradually harming the natural environment of numerous species. Palm oil is a component to eliminate from a humanitarian and vegan standpoint.
Sugar
Sugar is frequently treated with bone char, obtained from cattle bones, to turn it into a much more desirable hue of white.
The issue is that it might be hard to distinguish which companies adopt this strategy and which ones don't. To be certain, seek beet sugar, natural sugar, or coconut sugar.
Stearic Acid
This is yet another element vegans should be aware of because stearic acid may be manufactured from animal fats. However, it is also possible to get it synthesized using plant fats.
Honey
This bee-derived component was not present in all the varieties, but some of them do contain it.
Dairy
Some Hi-Chew flavors contain yogurt.
Vegan Alternatives To Hi-Chews
You're probably already aware of how tough it could be to locate vegan-friendly confectionery alternatives.
Most sweets contain animal-based components, such as milk or gelatin. Also, vegan products frequently have added chemicals such as colors, preservatives, and flavorings.
The vegan sweets on this list were picked for the value of their nutritional profile, ingredients, and flavor.
Organic Chewy Candies by YumEarth
A vegan-friendly choice that is also gluten-free and non-GMO.
The following ingredients are listed in the component profile:
Organic Cane Sugar

Organic Rice Syrup
Organic Natural Flavors
Organic Palm Oil
Organic Sunflower Lecithin
Citric Acid
Organic Turmeric for Coloring
Colored From Organic Concentrates such as Carrot and Blackcurrant
Pectin
There are no animal-based ingredients!
Although many lollipops are created without animal-based products, they frequently include artificial colors that have undergone animal testing.
YumEarth Organic Pops, on the other hand, are organically colored with natural fruit and vegetable extracts.
Organic Chewy Candies by Lovely Co.
This product has no artificial additives or soy, and each pack has lemon, strawberry, and cherry tastes.
Surf Sweets Organic Fruity Bears are vegan gummy bears devoid of artificial flavors, colors, and preservatives.
These vegan gummy bears are certified organic through the United States Department of Agriculture (USDA), non-GMO, and gluten-free.
They're actually prepared in a laboratory that's clean of the top ten main allergens, making it an excellent choice for people who have food intolerances.
SmartSweets is an excellent alternative for individuals who want to fulfill their sweet taste in a low-sugar method.
SmartSweets Sweet Fish is a healthy option for Swedish fish candy, including 13 grams of fiber and 3 grams of sugar per bag containing 50 grams.
SmartSweets Sweet Fish are clear of added sugar, and artificial sugar substitutes and thus are sweetened with monk fruit extract and allulose.
Unreal is a large corporation recognized for producing gluten-free, vegan, organic, and artificial additive-free chocolates.
Unreal Dark Chocolate Crispy Quinoa Gems are manufactured using fair-trade dark chocolate.
These delicious vegan chocolate bits have a great texture thanks to the inclusion of natural quinoa crisps.
Lovely Organic Hard Candies are organically flavored and tinted using fruit and vegetable extracts and therefore do not contain excessive fructose corn syrup.
Gin Gins Spicy Turmeric Ginger Chews could be a nice alternative if you're looking for a delicious treat with a spicy bite.
The spicy ginger chews are prepared with only five ingredients, including turmeric and ginger, produced locally. These are vegan, non-GMO, gluten-free, and devoid of high fructose corn syrup, colors, and artificial flavors.
Ginger Chews are great remedies for upset stomach and nausea and fulfill your sweet craving.
Final Thoughts
Even if you choose to start a vegan diet, you don't have to give up eating sweets. You just have to look for vegan choices. But sad to say, Hi-Chews should not be on your list.
Luckily, it's not that hard to find delicious vegan substitutes for these chewy candies – many great options are available. Start with the ones listed in this article!