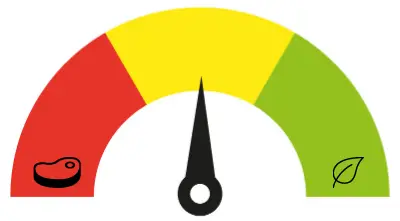 Ice cream is irreplaceable, be it as a comfort food or just as the perfect dessert. You must know that there are a plethora of delicious vegan ice creams available in every flavor imaginable. However, we enjoy having them in a crunchy waffle cone, and as a vegan, you may wonder, are ice cream cones vegan?
Well, the answer to this dilemma is pretty straightforward, as it ultimately depends on the cone you pick. As there are many ice cream cones available, you have to be proactive and choose vegan options. Besides, while vegan cones use almond flour and non-dairy milk, the non-vegan options typically contain dairy and eggs.
Hence, if you want to savor your icy treat with an ice cream cone, you need to delve into your options. In this post, we'll take you through everything concerning vegan ice cream cones.
Are Common Ice Cream Cones Vegan?
You can categorize ice cream cones into three major types: sugar, waffle, and wafer cones. While the waffle cones are typically non-vegan, sugar cones and wafer cones are primarily vegan. The reason behind it is that waffle cones use dairy and eggs as primary ingredients.
On the brighter side, if you're a non-vegan, considering veganism, even vegan cones offer a waffle-like texture. Moreover, the vegan cones use alternatives for eggs, making them safe for your consumption. Here are some insightful details to help you out.
Waffle Cones
The traditional waffle cone initially comes to mind when you think of ice cream cones. They are generally made fresh in stores or ice cream parlors and are exceptionally crunchy. However, they include eggs, butter, milk, and other dairy items; thus, they're non-vegan.
Sugar Cones
Sugar cones are highly processed and resemble waffle cones quite a lot in terms of texture. Additionally, they also have a waffle iron look on the outer surface. The best part is that apart from being delicious, they're vegan-friendly.
They don't constitute eggs and swap butter with vegetable oil and have a substantial shelf life due to additives. That way, even you, as a vegan, can enjoy your ice cream in a crispy cone. In addition to this, they also tend to contain the following ingredients.
Brown or white sugar
Oat fiber
Flour
Vegetable oil or shortening
Artificial flavors
Soy lecithin
Additives
Cake Cups or Wafer Cones
Due to their super light texture, you won't find them in mainstream ice cream brands. They are, however, vegan and come in various formulations.
Also, they taste great as long as they're fresh but tend to become soggy with time. Here are the most common wafer cone ingredients.
Vegetable oils
Enriched flour (wheat or multipurpose flour, B vitamins, and reduced iron)
Sunflower or soy lecithin (emulsifier)
Baking soda
Cornstarch
Salt
Flavorings (vanilla extract)
What Do They Taste Like?
Ice cream cones are crunchy and generally crispy, and that's why they pair well with ice cream. You may also find that they taste somewhat like crisp biscuits. The sugar cones are quite obviously sweet and offer you the texture of a waffle cone.
Also, most of them have a sweet aroma, accorded by vanilla extract or other flavorings. While it's evident that waffle cones have non-vegan-friendly ingredients, you must watch out for chocolate or dipped sugar and waffle cones.
Despite the cones being vegan or accidentally vegan, sometimes, you may find that they're dipped in chocolates or syrups. Besides, these syrups have dairy, eggs, and other non-vegan components.
Nutritional Value
Here are the nutritional details of a typical vegan-friendly ice cream cone. However, these may differ based on ingredients such as sugar.
Ice Cream Cone (serving size – 1 cone)
| | |
| --- | --- |
| Calories | 15 kcal |
| Fiber | 0 g |
| Total Fat | 0 g |
| Saturated Fat | 0 g |
| Cholesterol | 0 mg |
| Sodium | 15 mg |
| Total Carbs | 3 g |
| Sugars | 0.5 g |
| Protein | 0 g |
Health Benefits of Vegan Cones
Since ice cream cones are only there to enhance the flavor, they don't have benefits. However, some ingredients used to make vegan ice cream cones do have health benefits. You can choose an ice cream cone that uses healthy ingredients. Some of them are as follows.
Chia Seeds
These seeds deliver a large number of nutrients and only a few calories. They also contain relatively good amounts of fiber to help strengthen your digestive system. Moreover, these seeds are naturally gluten-free and hence suitable for you.
Furthermore, chia seeds are loaded with antioxidants. Almost all carbs in chia seeds are fiber, so they don't raise your sugar levels and make you feel fuller faster. Also, chia seeds are high in protein and omega-3 fatty acids.
Almond Flour
Some vegan waffle cones are made using almond flour. Almond flour is rich in minerals and nutrients that are important for your body. Manganese in almond flour especially helps in the breakdown of carbs and cholesterol. It also contains antioxidants and vitamin E.
Arrowroot Flour
Arrowroot is typically gluten-free and ideal for you. Moreover, arrowroot is known to aid weight loss and strengthen your immune system. It's a rich source of prebiotics that helps feed your gut bacteria. It even contains higher protein levels than other tubers.
Non-Dairy Milk
Non-vegan ice cream cones usually contain non-dairy milk. It may be almond milk, coconut milk, soy milk, oat milk, rice milk, and many more. Further, all these different types of milk have various health benefits. What matters is that they are all vegan and healthy to consume.
Stevia
A few vegan ice cream cones may contain a little stevia. This ingredient is helpful if you have diabetes and keeps your blood sugar levels in check. It's a nutritive sweetener and contains almost no calories. It's also found that stevia helps manage cholesterol.
Flax Seeds and Flax Egg
Flax seeds are loaded with essential nutrients known for their numerous health benefits. These seeds may reduce cancer risk and are rich in omega-3 fatty acids. They also contain high levels of dietary fiber and may help manage cholesterol. Flax eggs also have similar qualities.
Canola or Coconut Oil
Canola oil typically contains omega-3, omega-6 fatty acids, and 7% saturated fats to help cut cholesterol levels. It's even rich in vitamin E and K and helps in reducing skin problems. Moreover, coconut oil encourages fat burning and boosts heart health. It also has antimicrobial effects along with other benefits.
Do Popular Brands Offer Vegan Cones?
With many people turning vegan, popular brands are also moving towards providing vegan options to their customers. Here are some popular brands that offer vegan ice cream cones and some that don't.
Ben and Jerry's
If you're a vegan ice cream lover, you might already know that Ben and Jerry's offers you some vegan ice cream options. However, their waffle cones aren't vegan. They are like traditional cones made using animal products.
Nevertheless, their sugar cones are vegan. The sugar cones sold in their scoop shops aren't certified vegan, but the company claims they lack animal products. To be sure, you should ask about their scoop chop before consumption.
Joy
Joy is one of the most widely recognized ice cream cone brands. Hence, it's good news for you. Joy waffle cones and bowls are vegan. They may not be certified yet, but they are free of animal products. Their ingredients are usually brown sugar, wheat flour, salt, artificial flavor, oat fiber, etc.
Keebler
You can find these cones in many grocery stores. Furthermore, Keebler does offer vegan-friendly cones that are typically egg and dairy-free. They usually contain the same ingredients used in sugar cones. However, before purchasing, you must glance at the ingredients.
Baskin Robbins
While you won't get them in grocery stores, they are available in scoop shops. However, for you, it's not a good option. Baskin Robbins ice cream cones contain eggs and dairy; hence they are mostly non-vegan.
Tesco
Tesco is a good option for you since it has been offering dairy-free products for quite a while now. Tesco strawberry and vanilla cones are vegan-friendly with no dairy products. Even the chocolate-dipped variant of Tesco is vegan.
Carousel
This brand makes premium waffle cones that are also vegan-friendly. On the other hand, these cones aren't gluten-free. So, if you're also pursuing a gluten-free diet, these cones aren't for you.
Askeys
If you want something new, Askeys offers brandy snap baskets. These are ginger-flavored baskets that are vegan-friendly and delicious. Since these are small, you can eat them with vegan ice cream for dessert.
Revival
Revival ice cream also offers vegan and gluten-free ice cream cones. Moreover, these cones are handcrafted and look delicious. They are high-quality and can be bought online.
Final Words
Luckily, ice cream is a treat you can enjoy just as much as a non-vegan would. However, you don't have to let go of ice cream cones and can easily enjoy your favorite flavor with a crispy cone.
All you must do is watch out for certain types of cones and keep an eye out for the ingredients. We wish you a fruitful vegan journey ahead!