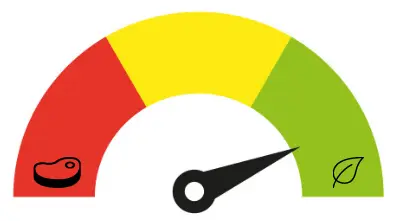 Trader Joe's marshmallows are vegan-friendly! Oh, that fluffy, sweety little thing that melts in the mouth!
Unlike the traditional marshmallows that contain gelatin, Trader Joe's marshmallows don't. One of their key ingredients is tapioca starch as well as tapioca syrup. And the additive called carrageenan, extracted from red seaweeds is used to stabilize them.
If you are a marshmallow lover, rejoice! Trader Joe's has something sweeter for you. Let's find out more about its famous and vegan-friendly sweet treat.
What Are Marshmallows?
Marshmallows are among the confectionaries that are traditionally made with gelatin, sugar, and water. The other two main ingredients can be considered vegan-friendly, but gelatin is always the culprit, as we have discussed in this article about Marshmallow Fluff. Not too cool!
Gelatin is made from animal body parts, especially the cattle' and pigs' connective tissues and crushed bones. Yikes! We don't want that.
But here's good news. There's vegan-friendly gelatin, but it's not really gelatin. It's called agar-agar, which is marketed as gelatin. It's made from the cell walls of edible red algae, considered vegan.
Back to the question, though. The traditional marshmallows were inspired by a medicinal confection, which is made out of the marshmallow plant called Althaea officinalis. The plant is native to some parts of Asia, Europe, and North Africa.
The marshmallow plant usually grows in damp areas and marshes. Marshmallows' origins are dated back to 2000 BCE, where Ancient Egyptians were the first to make use of the marshmallow plant to treat coughs and sore throats. They also used to heal wounds by boiling the root pulp with honey to thicken it.
Marshmallows made it to France in the early 1800s, where confectioners revised them using water, sugar, and egg whites. As the years passed, there have been many revisions done, and modern marshmallows now include a whipping agent called gelatin.
Marshmallows can either be eaten directly or used on other dishes and drinks. One of the best dishes to make with marshmallows is vegan Chocolate Marshmallow Muffins. Yum!
What Are Trader Joe's Marshmallows Made Of?
Marshmallows used to be non-vegan, and despite their fluffy, soft texture and mouthfeel, vegans can't indulge in them. But thanks to Trader Joe's version of marshmallows. We can now enjoy this confectionery that's not only a kid's favorite but also a thing for adults.
Upon checking, these are the ingredients I found in Trader Joe's marshmallows.
Tapioca Syrup
Cane Sugar
Water
Tapioca Starch
Carrageenan
Soy Protein
Natural Vanilla Flavor
If you notice, all ingredients used to make Trader Joe's marshmallows are plant-based. It's amazing how the food giant remains skillful in creating vegan-friendly products for its consumers. Trader Joe's marshmallows are available at your local grocer, or you can also order on Amazon.
Best Vegan Dishes With Marshmallows
What I like about marshmallows is that they're not just for plain eating but also as a condiment for other dishes, whether vegan or non-vegan. Of course, we always look for the best vegan dishes that are guilt-free or maybe healthier than others.
So, apart from vegan Chocolate Marshmallow Muffins, there are so many plant-based dishes that go well with marshmallows. Check what I personally picked from below, and let's see which one sounds great to you!
White Chocolate Blueberry Marshmallow
Marshmallow Cream Cake
Vanilla Marshmallow Shake
Chocolate Peanut Butter Marshmallow Fudge
Marshmallow Fluff
Dark Chocolate Chip Marshmallow Blondies
Fudgy Marshmallow S'mores Brownies
S'mores Bars
S'mores Cookie Bars
Chocolate Covered Marshmallows
S'mores Waffles
Rice Crips Cereal Treats
Vegan Fluffernutter Sandwich
Vegan Drinks With Marshmallows
Oh, wait. Let's not forget about the drinks. For sure we're all familiar with the childhood favorite marshmallows being toasted over a campfire during camping trips. Ah, childhood memories are definitely one for the books!
But of course, as we grow older, we would want some nice cocktails, whether on a chill night or at the beach getting some sun. Check out these amazing vegan-friendly beverages, including a chocolate drink with marshmallows on the rocks!
Blackberry Gin Cream Soda
Lemon Meringue Pie Martini
Campfire Smoke
Mudslide
Ginger Peaches and Cream Cocktail
S'mores Vodka Flip
Vegan Hot Chocolate Topped With Marshmallow Fluff
S'mores Coffee
Ghost Busted Cocktail
Marshmallow Popcorn Milkshake
Whipped D-Luxe Burger's S'mores
Marshmallow Cream Coffee
Gingerbread Hot Chocolate
Epic S'mores Iced Coffee
Unicorn Hot Cocoa Bombs
Blueberry Mint Spritzer
Boozy Cocoa Krispies Shake
Pink Passion Vodka
S'more Haute Cocoa
There are still a lot of vegan drinks with marshmallows that many baristas offer. But these drinks on the list are my favorites. A lot of favorites, right? And that's understood. Wink!
Vegan Marshmallows Brands
But it's not just Trader Joe's that produces vegan marshmallows. Hallelujah! Because of this, we can choose the one we like the most. Trader Joe's marshmallows are definitely my thing, but if you're exploring, these vegan marshmallow brands are worth trying.
And hey, these are also recommended by PETA. Super cool!
Ananda's Vanilla Gelatine Free Marshmallows
Dandies Vegan Marshmallows
Freedom Confectionery Pink and White Vanilla Mallows
Smucker's Marshmallow Topping
Suzanne's Ricemellow Creme
Sweet and Sara Dried Cereal Marshmallows
Yummallo Vegan Marshmallows
Funky Mello
Are Marshmallows Healthy?
Marshmallows aren't too bad, especially when you're trying to lose weight but still want to have some sweet treats. Well, you're lucky. Marshmallows are very low in calories and often fat-free, which is ideal for those who wish to maintain their tiny waistlines.
However, you don't get as many nutrients from marshmallows, although you can add them to your daily vegan diet as an ingredient. They're often gluten-free, so if you have celiac disease, marshmallows are safe for you.
On the plus side, the good thing about vegan marshmallows is that it doesn't include gelatin, which can sometimes cause allergy. The American College of Allergy, Asthma, and Immunology (ACAAI) claims that gelatin may cause itchiness, swelling, hives, shortness of breath, and sometimes anaphylaxis.
Gelatine allergy is very rare, but it's always better to be safe than sorry. So, vegan marshmallows are a great addition to your pantry in case you're on the lookout for new dishes and beverages.
How To Make Vegan Marshmallows
Marshmallows are among the joys of our childhood memories. Even to this date, we're still rooting for marshmallows. And of course, it's not exciting enough if we don't get to make them at home.
So to help you out, here's one of the best recipes for vegan marshmallows at home. The ingredients are easy to find, and you probably have them in your pantry. Get the bowl, pan, and stand mixer ready.
What you'll need:
4 tsp. agar-agar powder
1 cup powdered sugar
1/2 cup cornstarch
1/4 tsp. cream of tartar
1 cup water
Juice from one 15.5 oz. can of aquafaba (1/2 cup)
1 1/2 cup vegan cane sugar
1 1/4 cup corn syrup
1 tbsp. vanilla extract
1/4 tsp. salt
What you need to do:
Whisk the powdered sugar and cornstarch together using a bowl.
Grease the sides and bottom of the pan with canola oil spray or anything neutral.
Sprinkle some of the cornstarch mixture over the pan using a sieve. Don't skimp.
Add the cream of tartar and aquafaba into a stand mixer. Whisk slowly until high speed for about five minutes. Set it aside.
Using a pot under medium heat, add the water and agar-agar. Whisk until the mixture is boiled for three minutes and starts to thicken.
Add the corn syrup, and whisk. Add the cane sugar and keep whisking until they're dissolved.
Wait until the mixture boils. Don't stir. Use a candy thermometer, and set it to 240°F.
Remove the mixture from the heat. Immediately and carefully add in salt and vanilla, then whisk.
Set the stand mixer to low. Add the sugar mixture slowly to the bowl while increasing the speed gradually. Let the stand mixer process it for about eight minutes.
Transfer the mixture to the powdered baking pan. Use a spatula to spread the mixture evenly. You may also your hand. Just dampen it with water.
Let it sit for a maximum of 12 hours.
When it's ready, use more of the powdered sugar mixture to sprinkle on top. Then pull the marshmallow away from the sides using a spatula.
On a flat surface, sprinkle more of the powdered sugar mixture, and flip the marshmallow out of the pan you're using.
Spray the knife with canola oil and put some of the sugar mixtures. Cut the marshmallows according to your size preference. Toss them into the sugar mixture so they won't be sticky.
Keep them for 2 weeks in an airtight container.
Endnotes
Trader Joe's marshmallows are vegan-friendly and go well with any vegan drinks and dishes to balance your diet. They don't have a lot of nutrients to offer except that they're low in calories and have almost zero fats.
Moreover, it doesn't contain gelatin which may cause allergies and is sometimes fatal. Nonetheless, marshmallows are part of our childhood memories that we definitely love!