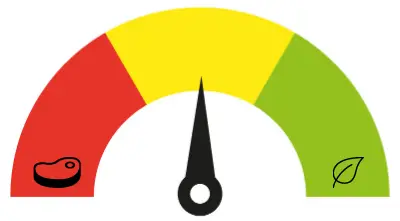 Uncrustables are the most favored quick-grab snacks for people on the move. The Smucker's came out with the fixed crustless sealed sandwich for those who hate the outer crust or bread covering. They also deliver on-the-go bites and roll-ups.
This sandwich comprises a filing encased between two layers of bread without crust or outer layer.
However, are Uncrustables safe for vegans?
There are several varieties of Uncrustables. For instance, the famous Peanut Butter And Jelly is vegan. But some other flavors contain non-vegan ingredients like milk.
Here, we have discussed all the vegan and non-vegan flavors of Uncrustables by analyzing their ingredients. Read on to know more.
What Uncrustable Flavors Are Vegan?
Some days you might want to munch on quick snacks or go-to treats while watching movies or reading books. But as a vegan coming up with a vegan snack or finding one in the stores can be challenging.
To your delight, many companies have been making vegan snacks accidentally. One among which is the Smucker's.
The vegan flavors available at Smucker's Uncrustables are:
Peanut Butter And Grape Jelly Sandwich
Peanut Butter And Grape Jelly Sandwich With Reduced Sugar
Peanut Butter And Strawberry Jam Sandwich
Peanut Butter And Strawberry Spread On Wheat With Reduced Sugar
Let's take a look at the ingredients of these Uncrustables:
Peanut Butter and Grape Jelly Sandwich
The delicious sandwich comes with peanut butter and grape wrapped in whole wheat bread. This snack is primarily animal product-free.
Primarily, it consists of three ingredients: bread, peanut butter, and grape spread.
The bread includes:
Unbleached wheat flour
Enriched whole wheat flour
Water
Sugar
Soyabean oil
Yeast
Salt
Dough conditioners
The components of the filling include:
Peanut butter: peanuts, hydrogenated vegetable oils, molasses, salt, mono, and diglycerides
Grape spread: grapes, sugar, water, citric acid, fruit pectin, and preservatives
The mono and diglycerides hold a controversial position in the vegan community. Their manufacturing process incorporates animal fats or vegetable oils. Therefore, they may or may not be vegan.
Besides, the product may also include milk, hazelnut, or hazelnut products. If you are an extra-judicious vegan, we recommend avoiding this product.
However, if the mono and diglycerides are plant-based, you can go for this snack. In that case, you will have to dive deep into knowing what the ingredients are comprised of and their manufacturing process.
The other alternative, Peanut Butter And Grape Jelly On A Whole Wheat is vegan-friendly.
Peanut Butter & Strawberry Spread on Whole Wheat
Another vegan delicacy you can carry around with you is the Peanut Butter And Strawberry Spread. The sandwich comes with a sweet and savory strawberry spread.
The ingredients of bread include:
Whole wheat flour
Sugar
Salt
Soybean oil
Yeast
Wheat gluten
Dough conditioners
Enzymes
The ingredients of the filling include:
Peanut butter: fully hydrogenated oils, peanuts, sugar, salt, mono, and diglycerides, molasses
Strawberry spread: sugar, strawberries, fruit pectin, water, calcium chloride, locust bean gum, citric acid, potassium sorbate (preservative)
This product may be unsuitable for those looking for an entirely vegan snack. The sandwich may contain milk and hazelnut spread.
The other alternative, the Peanut Butter And Strawberry Jelly On A Whole Wheat is healthier and contains about 25% less sugar than the regular Peanut Butter And Strawberry Jam sandwich.
Other Flavors of Uncrustables
These sandwiches come in two more flavors: Chocolate Flavored Hazelnut Spread and Peanut Butter And Honey.
However, the two contain non-vegan ingredients.
The ingredients of the bread are all the more exact in the sandwiches. It is the filling that makes Uncrustables vegan or non-vegan.
The chief ingredients of bread and different spreads in the two Uncrustables are:
Bread: Enriched unbleached flour, water, sugar, yeast, soybean oil, salt, and dough conditioners
Hazelnut spread: sugar, vegetable oils, hazelnuts, whey, cocoa processed with alkali, skim milk, sunflower lecithin, vanillin
Honey spread: sugar, water, honey, pectin, citric acid, caramel color, calcium chloride, natural flavor.
Whey comes from milk and is an animal product. Similarly, skimmed milk and honey are also animal products. In addition, according to Smucker's, they contain milk and hazelnuts.
Besides sandwiches, uncrustables also offer non-vegan bites and cheese sandwich roll-ups.
These tasty treats are, alas, not vegan.
Thawing Uncrustables Before Eating
Uncrustables are kept frozen until ready to eat. Before eating, you have to thaw them to be able to eat them.
The company does not recommend heating or microwaving to defrost the Uncrustables since the jelly inside can become extremely hot and open up since there isn't any crust.
The company recommends keeping them at room temperature for about 30-60 minutes to defrost them. You can eat the sandwiches later, within 6-8 hours of thawing.
If you need a quick snack, thawing can be time-consuming. Instead, you can rub Uncrustables with your hands to bring them back to room temperature. Another option is to keep it in a pocket/bag or under the sun to heat it.
You can also pour hot water to thaw Uncrustables or use a heating pad to heat them.
Are Uncrustables Healthy?
Uncrustables are indeed a delicious snack. They are great for people who scorn bread outer coverings. However, are they healthy? Should they be taken as a snack regularly?
Due to the high content of high fructose corn syrup, hydrogenated oil, and processed bread, these treats are really bad for you. It is okay to eat one occasionally, but it should not be considered part of the diet.
Uncrustables contain bread, peanut butter, and a jelly or jam filling. The filling contains preservatives that are pretty unhealthy.
On the other hand, most of the ingredients in the fillings are chemically processed, which scraps off additional nutrients. It is, for the most part, an unhealthy and non-nutritious snack.
Of course, you can take it from time to time, but including it in your daily diet is not a healthy choice. In addition, you can make one at home that contains all vegan ingredients and eliminates any unhealthy or non-vegan substitutes.
On the brighter side, homemade Uncrustables will be cheaper and healthier. Also, you can customize them.
You will need whole wheat bread, either bought from a trusted bakery or made at home, vegan peanut butter, and strawberry/grape jam. Since you will be making it yourself, you can adjust your sandwich to your liking by adding your favorite vegan jam.
After preparing the ingredients, spread the filling on a slice of bread, cover it with another piece of bread, and cut the outer lid. You can use the bread covering as breadcrumbs later. Therefore, your tasty snack is ready.
Things to Remember Before Buying Uncrustables
If you have nut allergies or gluten energy, please do not buy Uncrustables. Since it contains wheat, gluten, and nuts, it may pose a risk to people with allergies.
According to Smucker's, some sandwiches must contain milk and hazelnuts, while others may contain milk and hazelnuts. You can go for it if you are all right with these ingredients.
In addition, the sugar they use may also be non-vegan, according to PETA. Its manufacturing process is a bit controversial in the vegan world. When processing sugar, animal bone char removes impurities and bleaches it to white.
Before buying, please check the ingredient list of all products to see if they contain allergens. Additionally, vegan and non-vegan Uncrustables are manufactured with the same equipment, so cross-contamination is risky.
Please note that Smucker's does not explicitly manufacture vegan-friendly Uncrustables. The reason some of their sandwiches are vegan is accidental. Therefore, your sandwich isn't made by taking extra safety measures for vegan customers.
It brings the risk of cross-contamination. The utensils and equipment for making vegan and non-vegan snacks are the same. Do not buy it if you are not okay with the manufacturing process.
Final Words
Are Uncrustables vegan? The answer to the question is yes, some are. The sandwiches that do not contain honey and chocolate spread are vegan.
Vegan food and snacks, as widely assumed, are not necessarily boring.
However, note that there are chances of cross-contamination, and the sandwich might contain milk, a dairy product.
Also, vegan or not, you should not consume many processed foods. There's no denying the fact that they are unhealthy and stripped of nutrients. You can have them as a snack occasionally.