Answer: No. Halloumi cheese or halloumi is made from dairy milk; thus, it is not vegan.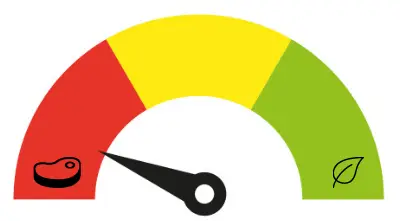 If you're quite new to this food item and want to learn more about it, just read on.
More About Halloumi Cheese
Compared to other traditional cheeses like cheddar, parmesan, mozzarella, or feta, Halloumi cheese is relatively newer. Hence, while some people may know what halloumi cheese is or why it isn't vegan, many aren't aware of what goes into making halloumi cheese and why vegans can't eat it.
Here is everything you need to know about Halloumi Cheese.
What Is Halloumi Cheese?
Halloumi, more popularly known as halloumi cheese, is originally from the Middle East, Cyprus. It is a semi-hard cheese with an unusually high melting point. In fact, due to its high melting point, halloumi is mostly grilled or fried for consumption. It tastes salty, similar to salty cheese curd, and has a rubbery texture.
What Makes Halloumi Cheese?
Similar to traditional cheeses, halloumi cheese also uses dairy milk. It is usually made from a combination of sheep's and goat's milk, sometimes even cow's milk. And since milk is direct animal produce, halloumi cheese is far from meeting the vegan criteria.
Besides milk, halloumi also uses rennet. Rennet is a type of enzyme that is found in the stomach lining of ruminants. This enzyme causes milk curdling, which is responsible for creating the finished product. Major parts of rennet used in cheese production come from the stomach of young and dead calves.
Hence, the inclusion of rennet for making halloumi cheese makes it unsuitable for vegetarians, let alone vegans.
The bottom line is that though halloumi cheese may sound quite new, it is not very different from other traditional kinds of cheese. It uses the same ingredients, such as dairy milk and rennet, which makes this cheese unsuitable for vegans.
Halloumi Cheese Alternatives for Vegans
Halloumi cheese has been gaining immense popularity in the US lately. And it seems like this Cypriot cheese has already established a special place in several households. This has caused several vegetarians and vegans to turn their heads and wonder if they can eat it too.
If nothing disappoints you more than not being able to taste this unique grilling cheese ever in your life, you shouldn't be anymore. Why? Because there are several brands out there selling halloumi cheese alternatives and plant-based halloumi cheese that taste almost the same as the usual halloumi.
Violife 100% Vegan Mediterranean Style Grill Me
The famous vegan company, Violife, has a perfect halloumi cheese alternative for all vegans under the name, Mediterranean Style Grill Me! It is 100% vegan and free from preservatives, dairy, gluten, soya, nuts, and lactose.
Each packet contains two perfect blocks of Mediterranean-styled vegan cheese that look and taste similar to traditional halloumi. Due to its unique texture and high melting point, you can easily grill it straight on a pan and savor it with some Greek salad or as a tapas-style snack.
MyLife Bio Cheese Halloumi
Here is another great substitute for traditional halloumi cheese for an immeasurable Mediterranean experience. It is a semi-hard cheese that you can eat raw or grilled.
The key ingredients used in the Bio Cheese Halloumi by MyLife include coconut oil, starch, sunflower kernel grounded, sea salt, vegan halloumi flavors, olive extract, etc.
Homemade Alternative
If you cannot get your hands on some commercial halloumi cheese alternatives, you always have the option to try a homemade version using tofu. The whole process is quite simple and hassle-free. Want to learn the recipe? Just read ahead!
The ingredients you'll need – are a half-block of extra firm organic tofu, one or two tablespoons of sea salt, one or two tablespoons of fresh lemon juice, one tablespoon of dried mint, two tablespoons of nutritional yeast, one or two tablespoons of olive oil, and a pinch of black pepper.
First, drain and press your tofu. Wrap the block in a clean cloth and slide it under a heavy pan. After about 15 minutes, unwrap the tofu and cut it into six medium strips. Next, mix all the ingredients in a bowl. Now, just put your tofu slices in the mixture, rub in the flavors well, and let it rest for about 30-40 minutes.
Once the marinating period is over, simply heat your Panini-style grill or waffle iron. Then, grill the tofu slices for around five minutes, garnish it with some fresh mint, tomatoes, and olive oil, and enjoy!