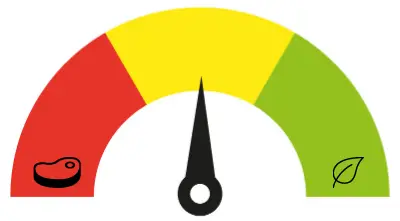 Is Mayo Vegan?
The good news is that The Earth Mindful Mayo offers two vegan choices, Earth Balance Mindful Mayo Original and Earth Balance Mindful Mayo Made With Olive Oil.
Hey, vegan folks! How many recipes have you rejected so far because nothing could qualify your vegan substitute for mayo? From shawarmas and burgers to sauces and dips, it has taken over the world of food. But let's not forget that the world is evolving, and the vegan industry is some serious business now. It is growing exponentially.
Many companies have jumped on the bandwagon and are coming up with their very own range of vegan products like vegan spreads, mayo, crackers, and much more. Earth Balance Company is an old friend in this regard, and its popular range of Mindful Mayo and spreads is vouched for by many.
Vegan vs. Non-vegan Ingredients
Vegan Ingredients (Plant-Derived) Include:
Fruits (apples, bananas, blueberries, kiwis, etc.)
Dried fruits (dried apricots, dates, dried figs, etc.)
Vegetables (broccoli, sprouts, bell peppers, etc.)
Grains (brown rice, quinoa, bulgur, etc.)
Seeds (chia seed, flax seeds)
Nuts (almonds, cashews, chestnuts, etc.)
Plant-based proteins (peas)
Tofu (bean curd)
Tahini (roasted sesame seeds paste)
Plant-based oils ( coconut oil, olive oil, avocado oil, sunflower oil, etc.)
Plant-based milk (almond milk, coconut milk, oat milk, rice milk, etc.)
Animal-Derived Ingredients Include:
Animal meat
Fish meat
Minced meat
Honey
Gelatin
Soy sauce
Dairy Products
However, it's not limited to the above ingredients only. It also depends on one's definition of veganism, so research in this regard is essential.
What Is Vegan Mayo?
Unlike regular mayo made by emulsifying a raw egg with oil, in vegan mayo, the egg is substituted with vegan ingredients (mainly plant-based proteins), for example, peas. The plant-based proteins are used mainly to give a creamy texture to the vegan mayo.
The vegan mayo is egg-free, which makes it also suitable for people with egg allergies. Vegan mayo is popularly called 'vegenaise.'
How to Choose a Vegan Brand
When it comes to choosing the right brand for any vegan products, one must keep in mind a few things.
The labeling and the ingredients list are the first things you need to pay the most attention to; therefore, familiarising yourself with the ingredients and terms is necessary. First and foremost, the brand must be a certified one with a logo or a sticker. It must not contain any animal or animal-based products. It should not have any dairy products as well. You must research the brand on Google and ask around on various social media groups or the people around you and consider their reviews.
Why Is Earth Balance Mindful Mayo Considered Vegan?
Taking the points above into consideration, The Earth Balance Mindful Mayo is considered vegan. Some of the reasons are:
Certifications: It is non-GMO verified. Their website claims that their spreads are certified to the RSPO Mass Balance Certification System and are Ethically Plant-Made.
Vegan Ingredients: Earth Balance Mindful Mayo is made up of plant-based proteins (vegan ingredients).
Moreover, it is:
Egg-free
Non-dairy
Nut-free
Does not contain any animal or animal-based products
A General Description
Earth Balance, a vegan food company, was founded in 1998 with the sole purpose of manufacturing non-GMO, fat-free, plant-based vegan products that are both high quality, vegan, and environment friendly.
The company is founded in Boulder, Colorado, and provides a wide variety of vegan products like vegan mayo, vegan spreads, vegan nut butter, etc.
One of their products that got the attention of the people was their expeller-pressed Original Buttery Spread. This brought in new flavors, and vegans still love substitutes for the vegan community and their products. Their vegan products are listed below:
Pressed Sunflower Oil Spread
Pressed Extra Virgin Olive Oil Spread
Pressed Avocado Oil Spread
Soy-Free Buttery Spread
Organic Whipped Buttery Spread
Olive Oil Buttery Spread
Omega-3 Buttery Spread
Organic Coconut Spread
European Style Spread
Original Buttery Spread
Soy Free Buttery Sticks
Vegan Buttery Sticks
Crunchy Peanut
Creamy Peanut
Creamy Coconut & Peanut Spread
Crunchy Coconut & Peanut Spread
Original Mindful Mayo Dressing & Sandwich Spread
Olive Oil Mindful Mayo Dressing & Sandwich Spread
Vegan Aged White Cheddar Flavor Puffs
Vegan Cheddar Flavor Squares
Nutritional Value
One of the main reasons why Earth Balance Mindful Mayo is given preference over other vegan mayo brands is its nutritional value. The sodium content is relatively less compared to other big brands. Not only is this mayo 100% plant-based, but it is also free of any preservatives. Here's what it says on the back of the label:
| | |
| --- | --- |
| Calories | 90 |
| Fat | 9g |
| Saturated Fat | 0.5g |
| Polyunsaturated Fat | 2.5g |
| Monounsaturated Fat | 6g |
| Sodium | 70mg |
| Total Carbohydrates | 0% |
| Total Proteins | 0% |
| Cholesterol | 0% |
Earth Balance Mindful Mayo Variations
The Earth Balance Mindful Mayo comes in two variations:
Earth Balance Mindful Mayo Original – made100% plant-based, vegan, dairy-free, egg-free, and soy-free with no added preservatives.
Earth Balance Mindful Mayo Olive Oil – This version is made up of olive oil and is used mainly in salad dressing and sandwich spread. It's vegan,egg-free,soy-free, gluten-free, and dairy-free.
What to Watch Out for When Using Earth Balance Mindful Mayo?
Most people believe that vegans should not consume palm oil used in vegan products as it is a controversial and contentious issue. There is an ongoing debate on its vegan status.
Palm oil is considered vegan by some because it is a plant-based oil. It is extracted from the fruit of oil palms. Some people say that if the oil comes from a sustainable farm, it is vegan.
Why is palm oil considered non-vegan?
Some people are of the view that palm oil production harms animals. Its production leads to habitat loss, soil contamination, and silting of rivers, affecting the environment.
The main crux of the above discussion is that palm oil is vegan in its raw form but where the difference of opinion comes from is its origin, its consumption, and its effect on the environment. Therefore strict vegans should watch out for palm oil in the ingredients if they're of a second opinion.
Other Alternatives for Vegan Mayo
So if you are a vegan and don't want to stick to a particular brand and are open to new flavors and want to try different brands, here are some alternatives for you :
Follow Your Heart Original Vegenaise – an egg-free, non-GMO product. Follow your Heart is also a plant-based food association, and their vegenaise is loved by many. They have a wide range of products like vegenaise, vegan cheese, cream cheese & sour cream, salad dressings, and even dairy-free yogurts. This is the best alternative for vegan mayo. Their vegenaise come in the following flavors:
Original Vegenaise
Soy-Free Vegenaise
Organic Vegenaise
Organic Garlic Aioli Vegenaise
Reduced-Fat Vegenaise
Grapeseed Oil Vegenaise
Sriracha Vegenaise
Roasted Garlic Vegenaise
Pesto Vegenaise
Chipotle Vegenaise
Horseradish Sauce Vegenaise
Tartar Sauce Vegenaise
Sir Kensington's Fabanaise – a non-GMO vegan mayo. It is kosher-certified and non-GMO. Its sodium content is 95mg per serving. Since it's gluten-free and is made with sunflower oil and aquafaba, this might be your second-best option.
Hellmann's Vegan Spread – The company approves that it is a certified product for vegans and is made with non-GMO sourced ingredients. However, its sodium content is 120mg/per serving, which is relatively high compared to the rest on the list. So if you're watching out for sodium, this might not be your favorite product.
How to Order?
The Earth Balance Mindful Mayo can be easily ordered through Amazon.
Almost all of its ranges are available on the site. The Earth Balance Mindful Mayo (Original) and The Earth Balance Mindful Mayo (Olive) has good review.
Since the Earth Balance Mindful Mayo isn't available in many cities, Amazon is the best option, and you might also get some products in bulk for a discounted price.
Conclusion
Now that you have a wide variety of vegan mayo to choose from, you can experiment and try out as many recipes as possible. Based on your definition of veganism, you are free to choose whatever product suits you the best. And do not forget to better familiarise yourself with the labels and ingredients.
And now that the vegan community and the industry are growing exponentially and more and more people are going plant-based, we might be introduced to some epic revolutionizing vegan products in the future. That means we won't be limited to a few brands and products then, which is like the ultimate dream of a vegan, and we all can surely relate.