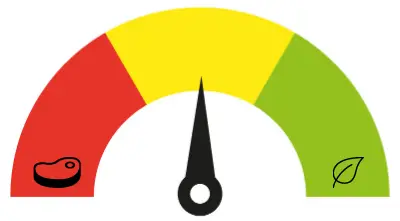 Alfredo sauce, also known as fettuccine sauce, has been one of the most popular crowd-pleasers when it comes to pasta noodles particularly fettuccine. Anyone, including myself, can enjoy it as a snack or a meal at any time of day. But we'll also have to find out how to make it vegan-friendly.
As the best choice for fettuccine, Alfredo sauce has been a staple to pasta lovers out there. This Italian special sauce is packed with a creamy cheese as a coating to pasta. And although it's traditionally non-vegan, many plant-based enthusiasts have come up with different options to make it dairy-free.
So if you're like me who loves pasta, it's worth finding out more about Alfredo sauce to see if we can enjoy it in fettuccine as plant-based. Keep reading below and let's see what it offers.
What Is Alfredo Sauce?
Often marketed and sold as a convenience food, store-bought Alfredo sauce is thickened with either eggs or starch. Its traditional preparation though is thickened by cheese, which is common in many restaurants, especially in Italian spots.
The classic Alfredo sauce is made from butter, cream, and parmesan cheese in particular. Some ingredients or seasonings are also added in the process to thicken it and achieve that smooth, melt-in-your-mouth texture. It's a white sauce made to lay over pasta such as fettuccine, and any other noodles that need the texture of Alfredo sauce.
Alfredo sauce is often associated with Fettuccine Alfredo, an Italian original pasta dish tossed with butter and Parmesan cheese. Named after Alfredo di Lelio who introduced the dish at his restaurant in Rome in the early 20th century, Alfredo sauce became popular worldwide, particularly in the United States.
To this date, Fettuccine Alfredo remains one of the famous main courses with commercialized versions. The sauce itself has also evolved, garnished with different seasonings and ingredients for a smoother and creamier texture.
How Is Alfredo Sauce Made?
A classic, traditional Alfredo sauce is made with whipping cream, butter, and cheese alongside other ingredients and Italian seasoning. These three major ingredients are not vegan-friendly as they're all animal byproducts. However, if you are on the lookout for vegan pasta dishes, we will also provide you with a comprehensive list of what you need to produce plant-based pasta.
It's worthy to note that these ingredients can either be vegan or non-vegan. If you can find one that's plain plant-based for your homemade Alfredo sauce, it would be really awesome. Check the ingredients below.
Butter. Salte or unsalted works fine with this sauce. This is not vegan-friendly, but there are many subs to check at the supermarket that you can use to make Alfredo Sauce plant-based. Brands like Follow Your Heart, I Can't Believe It's Not Butter, Violife, and Forager Project are great. You can consider Violife and Follow Your Heart because they're perfect for making a creamy sauce.
Whipped Cream. Heavy whipping cream is often used for a creamier and richer flavor of Alfredo sauce. This contains dairy, but there are ways to do it vegan. Look for a vegan one such as Silk Dairy-Free Heavy Whipping Cream. It's great for making the sauce.
Cream cheese. That thick texture of Alfredo Sauce is because of cream cheese. There are many vegan brands that you can actually get that are equally creamy as the non-vegan ones. Vegan cream cheese brands such as Wayfare, Trader Joe's, and Go Veggie are ideal for making sauces.
Milk. This can be optional, but if you want that extra creamy kick, you can add milk. You can have either almond, soy, or coconut milk. Pacific Foods, Trader Joe's, So Delicious, and Silk are among the best milk vegan brands that you can choose from.
Minced Garlic. Use fresh garlic for that extra tasty flavor. You can also have garlic powder in addition to minced garlic for a flavorful Alfredo Sauce.
Grated Parmesan Cheese. While parmesan cheese is known for its dairy content, there are also vegan brands that you can use for Alfredo Sauce that are approved by PETA. Check out Follow Your Heart Dairy-Free Parmesan (Grated), GO VEGGIE Vegan Parmesan Grated Topping, or GO VEGGIE Vegan Parmesan Grated Topping. These are among the best vegan grated parmesan cheese in the market.
Italian Seasoning. This is a combination of oregano, basil, rosemary, thyme, and marjoram that gives Alfredo Sauce its original, classic Italian taste.
Salt and Pepper. Yes, we all need these two to taste what we're cooking, including Alfredo Sauce.
Cornstarch or Flour. About five tablespoons of any of these would be great just to help thicken the sauce.
The steps to make vegan Alfredo sauce are as easy as 1, 2, 3.
Whisk the flour into the creamer and/or milk in the saucepan until you see no lumps.
Whisk the salt, butter, and minced or garlic powder.
Boil these mixtures under medium heat and stir occasionally until the sauce starts to thicken. It should only take 10 minutes of waiting to have it thickened.
When it's thick enough, turn the heat off and whisk the vegan cheese. Once it melts, you can add the Italian Seasoning, salt, and pepper to taste.
You're done! Now, let's try that tasty Alfredo sauce for your fettuccine.
How Healthy Is Alfredo Sauce?
Alfredo sauce is packed with heavy cheese, cream, and butter, which makes it really tasty for pasta noodles like fettucini. However, it's a standout contender for dishes with high sodium, fat, and calories.
According to the U.S. Department of Agriculture (USDA), Alfredo fettuccine gives you a whopping 535 calories, 36 g of fat, and 2,590 mg of sodium per 100 g of serving. To think that it's only 100 g of serving, that's already high. Experts recommend taking no more than 2,300 mg of sodium per day to avoid adverse health effects such as clogging your arteries.
However, if you're doing it plant-based, Alfredo sauce is healthier than what others think of it as a dish loaded with dairy products and oil. Olive oil, for instance, can also be used in replacement for butter, which is packed with health benefits.
So to make Alfredo sauce healthier for you, choose vegan ingredients that contain less sodium, fat, and calories. We have listed above the plant-based brands you can use in making Alfredo sauce without having to worry about its high sodium or fat content.
Best Vegan Italian Pasta Sauces
While vegan Alfredo sauce is very possible, there are also other vegan Italian sauces that you can try at home. Yes, at home, and they're easy to work on, especially when you have the right ingredients.
Let's check these healthy and tasty vegan sauces.
Marinara Sauce. Ingredients include two cans of whole tomatoes, finely chopped onions, minced garlic, extra-virgin olive oil, chopped fresh basil, dried oregano, salt, and pepper. Marinara Sauce is incredible for pizza and pasta!
Bolognese Sauce. Prepare diced celery, carrots, and sweet or yellow onions, chopped garlic, sea salt, veggie broth or oil, vegan wine, liquid smoke, crushed tomatoes, cashew or almond milk, ground black pepper, and dried garbanzo beans and short grain brown rice for that meaty texture.
Garden Vegetable Tomato Sauce. You will need chopped zucchini or yellow summer squash, carrots, sweet red pepper, green pepper, and onions, sliced fresh mushrooms, olive oil, minced garlic, Italian seasoning, Kosher salt, crushed tomatoes in puree, red pepper flakes, and dry red wine. This makes a great sauce for pasta noodles and pizza too!
Mushroom Sauce. Get chestnut mushrooms if possible, onion, plant-based butter, garlic powder, nutmeg powder, cloves powder, salt, oat milk, nutritional yeast, and cornstarch. Enjoy your creamy mushroom pasta!
Pesto Sauce. Ingredients include lightly packed fresh basil, garlic, pine nuts, olive oil, and vegan parmesan cheese. This makes the best vegan Pesto Pasta!
Bechamel Sauce. Here's an easy white, creamy sauce to make with only three major ingredients such as olive oil, flour, and soy or other plant-based milk. To taste, you may need ground black pepper, and sea salt.
Garlic Pasta Sauce with Roasted Tomatoes. Here's a truly comforting and satisfying vegan sauce that's perfect for any pasta noodles. You'll need grape tomatoes, olive oil, diced and yielded shallots, minced garlic, sea salt, black pepper, unbleached flour, unsweetened plain Almond Breeze, nutritional yeast, vegan parmesan cheese, and lemon juice.
Puttanesca Sauce. This is also one of my favorite pasta sauces, and would definitely have it in a second. Prepare olive oil, chopped onion, minced garlic, kelp flakes, tamari, red pepper flakes, tomato paste, crushed tomatoes, chopped Kalamata olives, drained capers, salt, pepper, chopped basil leaves, and a zest of lemon.
Endnotes
Alfredo sauce is traditionally non-vegan and contains high sodium, fat, and calories. While it can affect your health, eating in moderation still does the trick. But for vegans, a healthy pasta dish is the best option to avoid any adverse health effects that dairy products give.
Also, it's best to make your own Alfredo sauce at home as you can control the ingredients needed to make a creamy pasta sauce. Homecooked meals are still the best!