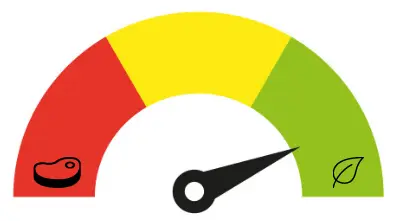 Wendy's is an international American fast-food chain founded by Dave Thomas in Columbus, Ohio. If you are a fast food lover trying to follow a vegan diet, you probably wonder, is Wendy's sweet and sour sauce vegan?
Well, all ingredients of Wendy's sweet and sour sauce are vegan. This sauce is free from dairy and animal products and contains only plant-based or synthetic ingredients.
Wendy's sweet and sour nugget sauce typically comes with non-vegan food, such as hamburgers, nuggets, and more. However, following a vegan diet, you can buy this delicious kitchen staple separately.
Wendy's Sweet and Sour Dipping Sauce
Wendy's sweet and sour dipping sauce is an Asian-inspired sauce with a delicate balance of tangy, fruity, and sweet. This sauce is bright orange and transparent. Due to its orange color and thicker texture, it looks like orange jelly at first sight.
This one is sweeter and thicker than other sweet and sour sauces. Wendy's sweet and sour sauce features a bold pineapple taste with tang and complexity.
Ingredients of Wendy's Sweet and Sour Dipping Sauce
To learn about the vegan status of Wendy's sweet and sour dipping sauce, it's essential to understand its ingredients. As mentioned earlier, Wendy's sweet and sour sauce contains no dairy or animal products.
Here are some of the well-known ingredients of Wendy's sweet and sour sauce:
Ingredients: Spice, Extractives of Paprika, Citric Acid, Caramel Color, Soybean, Bell Peppers, Sodium Benzoate and Potassium, Salt, Modified Food Starch, Pineapple Juice Concentrated, Distilled Vinegar, Water, High Fructose Corn Syrup, and Artificial Color: Red 40.
Despite common misconceptions, Red 40 is entirely vegan as it's not an animal-derived ingredient. The only element that you should worry about is artificial color. This artificial color is derived from coal tar or petroleum byproducts.
However, if you are a strict vegan, you should know that Red 40 is routinely tested on animals. So, in simple words, Red 40 is not an animal byproduct, but it's also not cruelty-free. While most vegans can use this ingredient, some might feel guilty consuming it.
Is Wendy's Sweet and Sour Sauce Healthy?
Wendy's sweet and sour sauce is free from artificial flavoring and harmful ingredients. Instead, most elements of this sauce have some astonishing health benefits, such as:
Paprika
Paprika comes in hot, smoked, and sweet varieties. This ingredient is not only rich in vitamins but also antioxidants and minerals. According to a report, paprika is a great source of iron, dietary fibers, carbs, protein, and vitamins A, E, and B6.
In addition, paprika can promote healthy vision and reduce inflammation. This spicy ingredient can protect you from autoimmune and inflammatory conditions, including digestive issues, nerve damage, and arthritis.
Pineapple Juice
One of the most common ingredients in Wendy's sweet and sour sauce is concentrated pineapple juice. Pineapple juice comes with various minerals and vitamins that can boost your immunity. It contains enzymes and vitamin C to activate a healthy immune system and protect you against the common cold.
Furthermore, pineapple juice also has anti-inflammatory properties, which trigger your body's ability to reduce swelling and fight pain. As pineapple juice can provide treatment for inflammation, it is pretty effective in eliminating the symptoms of osteoarthritis.
Bell Pepper
Bell pepper or great sweet pepper is generally considered a vegetable. However, these peppers are a type of fruit. With a slightly bitter taste, bell peppers are sweeter than yellow and red peppers. They are rich in potassium, fibers, proteins, and vitamins A, RAE, C, K, and B6.
Bell peppers are good for your gut health. These peppers can improve numerous health diseases risk factors, such as blood pressure, blood sugar, and elevated cholesterol levels. Plus, they promote your heart and eye health.
Nutritional Information
Wendy's sweet and sour sauce ingredients are vegan and healthy, but what about the sauce? Well, we don't recommend consuming this sauce regularly. As Wendy's sweet and sour sauce contains a massive content of sugars, carbohydrates, and sodium, we suggest limiting your consumption and finding a healthier alternative.
List of All Vegan Sauces and Dressings at Wendy's
For Wendy's lovers, we know Wendy's sweet and sour sauce is not enough. You cannot just order sweet and sour sauce every time you visit Wendy's. So, to help you out, below we have compiled a list of some of the most delicious vegan sauces and dressings at Wendy's:
BBQ Sauce
Yes, Wendy's barbeque sauce is vegan.
Wendy's BBQ sauce offers a bold flavor, which gives an excellent pick to your vegan foods. This sauce is sweet and super smoky, bringing the right taste notes to your every bite.
Ingredients: Extractives of Paprika, Xanthan Gum, Natural Flavors, Distilled Vinegar, Salt, High Fructose Corn Syrup, and Water.
Hot Sauce
Wendy's hot chili sauce is an excellent accompaniment to dumpling dishes and noodles. This sauce is super spicy and provides a bold taste to your vegan dishes without artificial flavors or animal products.
Ingredients: Xanthan Gum, Natural Flavor, Extractives of Paprika, Salt, High Fructose Corn Syrup, Distilled Vinegar, Water, and Caramel Color.
Honey Mustard
Another sauce that deserves a spot on our list is Wendy's honey mustard. Lightly tangy and sweet honey mustard with a rich but subtle, smoky flavor. This would be an excellent pairing with your vegan dishes if you fancy the intense flavor.
Ingredients: Citric Acid, Oleoresin Paprika, Molasses, Paprika, Xanthan Gum, Corn Starch, Sugar, Honey, Water, Vinegar, Dijon Mustard, High Fructose Corn Syrup, Soybean Oil, and More.
Ketchup
Wendy's uses Heinz's "Dip and Squeeze" ketchup which is entirely vegan. Instead of notoriously slow-dripping condiments, Wendy's ketchup is more balanced: sweet but with good acidity.
Ingredients: Natural Flavoring, Onion Powder, Spice, Salt, Corn Syrup, High Fructose Corn Syrup, Distilled Vinegar, and Tomato Concentrate made from Red Pipe Tomatoes.
Pomegranate Vinaigrette Dressing
Wendy's has been offering pomegranate vinaigrette dressing since way before it was cool. This tangy and sweet blend of flavors will surely increase the taste of your vegan dishes and apple pecan chicken salad.
It might take a little bit to get used to this dressing as it's on the sweet side. This one is probably the sweetest and most delicious than other sauces and dressings on our list.
Ingredients: Natural Flavoring, Xanthan Gum, Salt, White Wine Vinegar, Distilled Vinegar, Orange, Pomegranate Juice Concentrate, Cane Sugar, Canola Oil, and Filtered Water.
Light Balsamic Vinaigrette
Like all other balsamic vinaigrette dressings, Wendy's balsamic vinaigrette dressing is quite sharp in flavor. With underlying sweetness, this dressing is tart that comes out perfectly. In addition, this dressing has a wine-like, fruity quality, though it's pretty subtle.
Ingredients: Soy, Oleoresin Rosemary, Spice, Xanthan Gum, Natural Flavor, Extra Virgin Olive Oil, Sea Salt, Soy Sauce, Garlic, Shallots, Distilled Vinegar, Soybean Oil, Sugar, Corn Syrup, Balsamic Vinegar, and Water.
Light Spicy Asian Chili Vinaigrette
Recently, Wendy's introduced a new Asian cashew salad. This salad cannot be completed without delicious and mouth-watering Wendy's light spicy Asian chili vinaigrette dressing.
Ingredients: Brown Sugar, Chili Garlic Sauce, Lime Juice, Soy Sauce, and Roasted Peanuts.
Other Vegan Options at Wendy's
Most fast-food restaurants out there don't offer much for their non-meat-eating customers. Plus, you cannot just eat French fries with sauces when everyone around you enjoys hearty, full meals.
Keep reading to find out if Wendy's is any different. Besides French fries, sauces, and dressings, Wendy's also offers several delicious dishes for vegans, including:
Vegan Salads
Wendy's offers different salads, but none of them are vegan initially.
However, you can order some customized salads according to your vegan dietary guideline. Following are some salads that Wendy's can make for vegans.
Taco Salads
Apple Pecan Salad
Southwest Avocado Salad
Jalapeno Popper Salad
Summer Strawberry Salad
Fresh Fruits
Not a full meal, but if you are craving something healthy and sweet, you can order some fresh fruits are Wendy's, including strawberries and apple bites. Nothing so special about them; they are just fresh and simple fruits.
Seasoned Potatoes
Seasoned potatoes are pretty different compared to French fries. These potato wedges are flavored with different seasonings, including onion powder, garlic powder, black pepper, and other spices.
Plain Baked Potatoes
Along with seasoned potatoes, Wendy's also offers plain baked potatoes. If you don't like Wendy's French fries or seasoned potatoes and want something healthier, Wendy's plain baked potatoes are perfect for you. This dish is quite simple; it comes without any toppings or seasonings.
In Conclusion
Finding vegan products at a fast-food restaurant is not a piece of cake. However, if you wonder about the vegan status of wendy's sweet and sour sauce, you don't have to worry.
Wendy's sweet and sour cause is entirely vegan and contains no dairy or animal products.