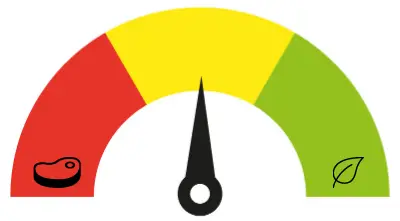 Finding a good vegan sauce that provides proper nutrition to the body and tastes fantastic can be difficult. Even in restaurants, it's pretty rare to come across any vegan options that taste amazing.
Is Curry Sauce Vegan?
Since curry sauce can be vegan, you will have various meal combinations. Therefore, if you're looking for a healthy vegan sauce that would go perfectly with any food, you should try a vegan curry sauce. It's very easy to make, and it includes some fantastic flavors. Most importantly, you can eat it with any food item.
Let us now look at the origin of curry sauce, its flavor profile, and how you can quickly make your own vegan sauce at home.
Origin of Curry Sauce: Reason Behind Its Amazing Flavor Profile
The origin of curry can be traced back to the Indian subcontinent. The word 'curry' is derived from the Tamil word 'kari,' meaning a sauce or soup that can be eaten with rice.
People in the Indian sub-continent used mortar and pestle to make curry from scratch. Using a mortar and pestle ensured that the spices were thoroughly mixed.
The following are the two types of curries based on their consistency:
Dry curry: It is made by roasting or stir-frying the various spices together in oil. After stir-frying them, you can either add them directly to your food or grind them into a paste.
Curry sauce or wet curry: It is made by adding water or cream to the dry curry paste. You can eat it by mixing it in your rice or using it as a dip with your bread.
Apart from dry curry and curry sauce, there is also curry powder.
Types of Vegan Curry Sauces All Around the World
Various types of curry sauces are made all over the world. They are so prominent and ingrained in multiple countries' diets that they are also known as national dishes.
The following are some of the famous vegan curry sauces from all around the world:
India
India is well-known for curries and how it's a prominent part of their cuisine. Vegan curry sauces in India are prepared mainly by adding various lentils and vegetables to the curry paste.
Most of them are water-based and are relished along with steamed rice or various Indian bread like roti and naan. Some examples of vegan or water-based curry sauces from India are Undhiyu, Rajma, Sambhar, and chickpea.
Bangladesh
Panch Phoran is a famous curry paste in Bangladesh. It's made by grinding cumin, black mustard seeds, fennel seeds, onion seeds, and fenugreek in equal parts.
You can add tomato paste or water to the curry paste and make a vegan curry sauce.
Burma
The base of Burmese curries is onion, red chilies, and Indian spices. They are oil-based curries and, therefore, come under vegan curry sauce.
The curry sauce is made by combining the following ingredients in oil: onion, garlic, chili paste, cumin powder, and turmeric, along with garam masala.
Nepal
The curry sauce in Nepal is highly influenced by Indian and Tibetan flavors. Lentil curry sauce, along with rice, is known as 'Daal Bhaat' and one of Nepal's staple dishes.
Vietnam
The majority of curry sauces make use of coconut milk as a base. The vegan curry sauce is made with the help of various vegetables, such as potatoes and taro roots.
However, the curry sauces resemble a vegetable stew's consistency and flavor profile.
We have discussed the famous vegan curry sauces in the Indian sub-continent. Let us now understand the difference between vegan and non-vegan sauce.
Vegan Curry Sauce vs Non-vegan Curry Sauce
The majority of the curry sauces in the Indian sub-continent are vegan as they don't make use of meat. They use either water or coconut milk as a base. However, many Asian countries make use of either meat or meat stock along with curry paste to make a curry sauce.
For example, curries made in countries like the Philippines, Sri Lanka, Japan, China, and Thailand, along with some states in India, make meat-based curries or curry sauce. They mostly make use of chicken and seafood in the curry sauces, making them non-vegan.
After knowing the difference between vegan and non-vegan curry sauces, let us look at the ingredients contributing to vegan curry sauce's delicious flavor profile.
Ingredients Required to Make Vegan Curry Sauce
Spices are said to be the soul of any curry. Therefore, if you're planning to make a delicious vegan curry sauce at home, you would need the following ingredients:
Oil
Onion
Garlic
Ginger
Black pepper
Curry leaves
Spices: coriander, turmeric, cumin
Garam masala: cardamom seeds, fennel seeds, peppercorns, mustard seeds
Red chilly
Tomato paste
Water or coconut milk
The ingredients and spices mentioned above make the base of any curry sauce. Apart from them, you can also add the following ingredients to your vegan curry sauce as per your taste:
Tamarind
Lentils
Amchur: dried mango powder
Herbs: basil, lemongrass, kafir lime, cilantro
Spices: nutmeg, cinnamon, clove
Any vegetable
Before discussing how you can make vegan curry sauce at home, it's essential to understand the difference between curry sauces and stew.
Curry Sauce vs Stew
Like curry sauce, a stew is also made of spices and vegetables. However, a stew doesn't need to have a smooth consistency. A stew can have chunks of vegetables floating on the top, whereas a curry sauce is always smooth without lumps.
Another difference is that curry sauce uses a lot of spices, whereas stew uses fewer spices and more vegetables.
How to Make Vegan Curry Sauce at Home?
Once you have all the ingredients to make a vegan curry sauce, you can make a basic one that would go along with almost every food item. It can be served as a main course with rice or bread or a sauce for dipping the side dishes.
There are multiple ways to make a curry sauce. They are:
Making Vegan Curry Sauce From Scratch
If you wish to make a basic yet delicious vegan curry sauce from scratch, you'd first need to make a curry paste.
You can make curry paste by following the set of instructions mentioned below:
Pour 2 tablespoons of oil into a large pan and heat it over a medium-high flame.
Add one large chopped onion and stir-fry it until golden brown.
Add two tablespoons of ginger and garlic to the onions and saute for a few minutes.
Add one to two tablespoons of all the spices mentioned above.
Cook the mixture on low flame until it turns into a curry paste.
Once you've made the curry paste, you can add tomato paste with some water or just water. After adding the liquid ingredient, cook it over low flame for a few minutes.
You would need to limit the number of liquid ingredients per your desired curry sauce consistency.
If you've made your curry sauce too thin, you can add 1 tablespoon of cornflour mixed with 2 tablespoons of water. After adding it, let it cook on a low flame until you get the desired consistency.
Making Vegan Curry Sauce From Curry Powder
To make curry sauce from curry powder, you would need to add some water to it and let it cook on a low flame.
The amount of water for each curry powder is different and is mentioned in the instructions at the back of the product. However, you would need to add around 1 cup of water to 1 tablespoon of curry powder by the rule of thumb.
Food Brands Offering Vegan Curry Sauce or Paste
Even though it's rare for food brands to offer vegan curry paste or sauce, the following brands offer vegan curry options:
Chef's Choice
Chipotle
Living Well Foods
Maya Kaimal
Sambar Kitchen
Saffron Road
S&B Curry Spices and Sauces
Spicemode
The Daily Grill
Final Words
There are very few food chains that offer vegan options. Therefore, if you're coming back home tired and need a fulfilling meal, you can quickly make yourself a vegan curry sauce.
It's pretty easy to make and can be eaten in different ways. You would need a variety of spices and water to make it. Also, it can be eaten plain if you don't have any leftover rice or bread.